The Guess How Many Peeps Game is a classic guessing game that can be played at any Easter event. Fill a jar with marshmallow Peeps and encourage guests to guess the number of Peeps in the jar. The person who guesses closest to the actual number of Peeps wins a prize. The game is simple, and people of all ages can participate at leisure!
How To Use The Guess How Many Peeps Game
Print the Guess How Many Peeps Game. Print as many guess cards as you need.
Cut the guess cards.
Fill a jar with Peeps – be sure to count them!
Frame the Guess How Many sign.
Find a bowl, box, or basket for people to put their guess cards in once they've filled them out.
Place the jar filled with Peeps, the sign, guess cards, pens, and guess card receptacle in a spot where everyone will see it.
Once everyone has placed their guess, go through the guess cards to find the person who guessed the closest.
Award the winner a prize!
Prize Ideas
This post contains affiliate links. When you purchase through an affiliate link, we receive a small commission at no additional cost to you. Disclosure.
Gift Card – A $10 Gift Card is always a good choice that will encourage party guests to take a guess. Since we had someone steal the money off of a gift card we purchased at a big box store, I'm a little leary of gift cards and chose to go with Costco Gift Cards this time around because they are not kept out in the open where they can be messed with by scammers. Plus, just about anyone can find something they like at Costco, and you don't have to have a membership to use a gift card at Costco.
Easter Basket – An Easter Basket full of Easter fun or gardening supplies could be a hit.
Easter Is S'more Fun With Peeps Basket – Place all the makings for s'mores in an Easter basket for a prize that fits the theme!
Bible – A nice new Bible is a good choice for an Easter prize!
Get Your Easter Guess How Many Peeps Game Here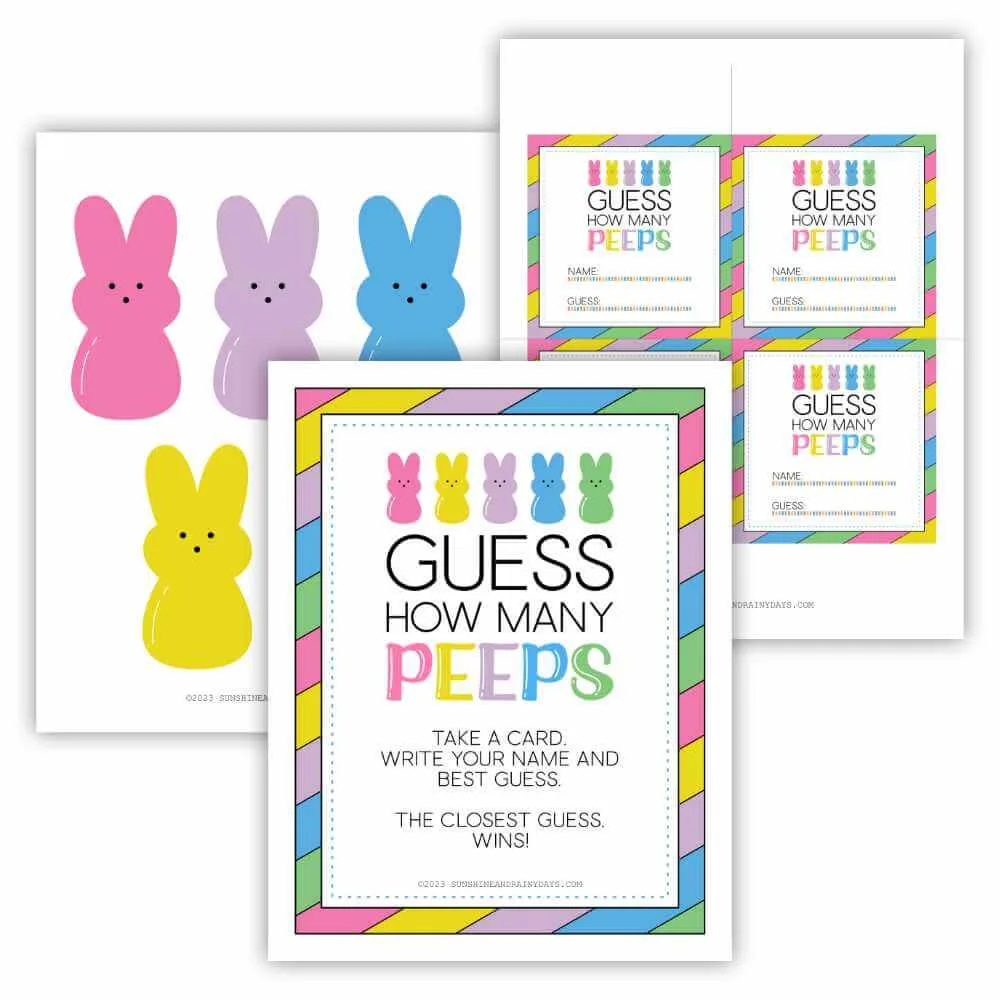 The Guess How Many Peeps Are In The Jar Game is an all-time favorite that has stood the test of time. It's a simple game that can be enjoyed by people of all ages and backgrounds, and it's a great way to test your guessing skills while having fun with friends and family.
More Peeps Ideas
More Easter Ideas