This is the New Year's Party Game that party guests can participate in, at their leisure! The Guess How Many New Year's Party Game should be left where all can see. Just fill a jar with your favorite festive item like Hershey's Kisses or Party Poppers for an easy game that anyone can participate in!
How To Use The Guess How Many New Year's Eve Party Game
Print the Guess How Many New Year's Eve Party Game. Print as many guess cards as you need.
Cut the guess cards.
Fill a jar with Hershey's Kisses, Party Poppers, or anything festive – be sure to count them!
Frame the Guess How Many sign.
Find a bowl, box, or basket for people to put their guess cards in, once they've filled them out.
Place the jar, filled with your choice of a festive New Year's item, the sign, guess cards, pens, and guess card receptacle in a spot where everyone will see it.
At the end of your party, go through the guess cards to find the person who guessed the closest.
Award the winner a festive prize!
Prize Ideas
This post contains affiliate links. When you purchase through an affiliate link, we receive a small commission at no additional cost to you. Disclosure.
Gift Card – A gift card to Target or a local favorite business is always a hit. I usually purchase a $10 gift card. It's super simple, for me, and worth working a bit for, for guests.
Sparklers – Help the winner celebrate midnight with their very own sparklers.
Planner – With a new year, a new planner could be very helpful.
Sparkling Cider or Champagne – To share at midnight!
Disco Lights – Who wouldn't want to turn on Disco Lights and start a dance party?
Year Glasses – Because who doesn't want glasses, with the year, on their face?
Get Your New Year's Eve Guess How Many Game Here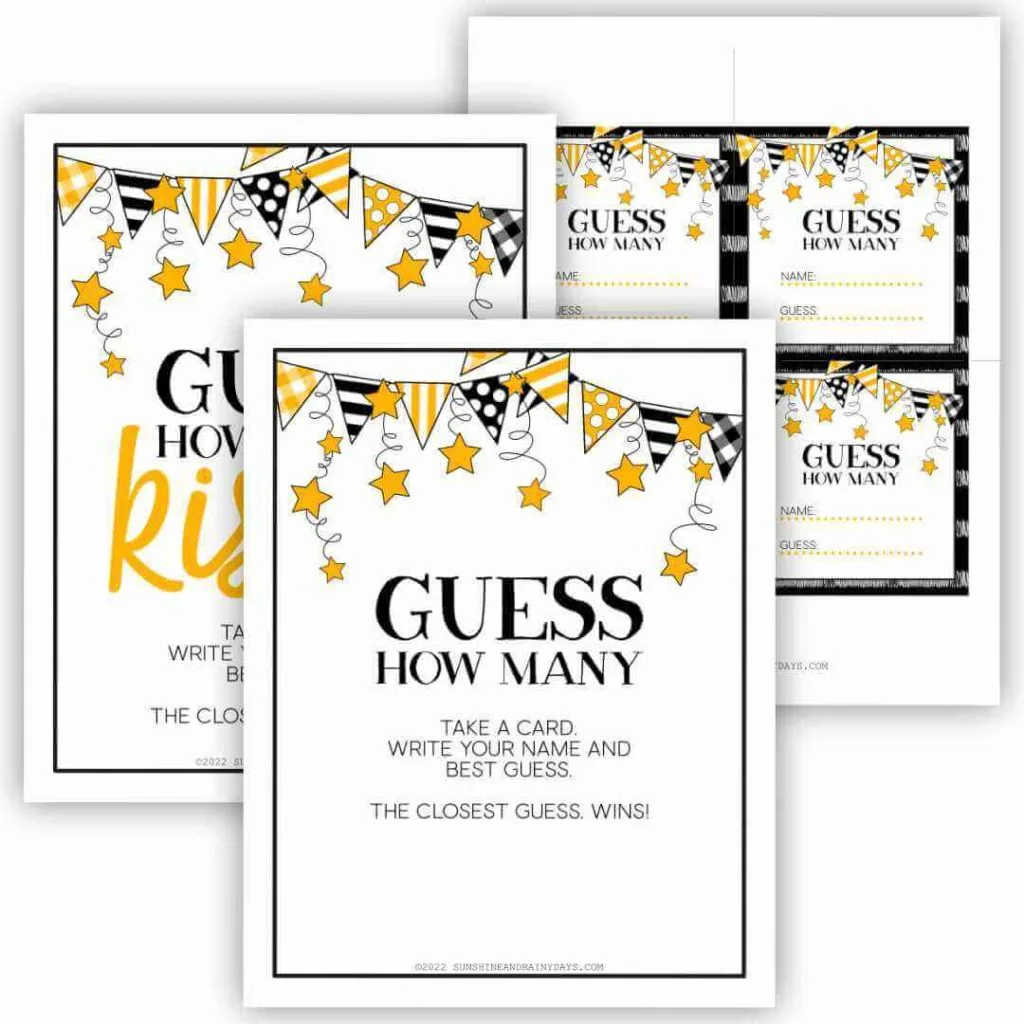 More New Year's Eve Ideas
New Year's Trivia Questions And Answers + Game Cards
Black And Yellow Banner Flags You Can Print At Home
Wishing You A Poppin' New Year Microwave Popcorn Tag