You've likely read blogging income reports and heard people talking about making so much money, on their blog, that their husbands quit their jobs. All from working online, right from the comforts of home. But, is it true? Can you really make money blogging? It's hard to imagine this could be real but if they can do it, why can't you? After all, you would love to work from home and earn a full time income, while doing it!
Blogging can be a great way to make money but, for most, it doesn't come fast or easy. There's a lot to learn and it takes time for your posts to be recognized by search engines.
If you are willing to work hard, collaborate with other bloggers, and exercise patience, you might find yourself writing about how YOU make a full time income, working online!
How to Make Money Blogging (Beginners Guide for 2021)
This post contains affiliate links. When you purchase through an affiliate link, we receive a small commission at no additional cost to you. Disclosure.
1) Have a clearly defined topic.
You will often find your topic referred to as a niche. More than ever, your clearly defined topic is super important. Sunshine And Rainy Days, the blog you are reading right now, is not based on a clearly defined niche and it has taken a lot longer for me to grow this blog because of it. I have watched friends, with clear topics, quickly rise and surpass me, in much less time. Your topic matters.
2) Set your blog up the right way.
The right way will mean different things to different people but here's what I know to be best practice:
Set your self-hosted blog up on WordPress.
I use Agathon to host my blog and appreciate the personalized service they provide. There are less expensive options that can also be considered but be sure to do your research as many hosts give a nice affiliate payout and are often promoted because of this.
---
Choose a clean theme that is up to date and optimized to give you fast loading times.
I use Trellis, by Mediavine. There are a few other themes that are known to work well, in 2021, and are used by people I know. Those are Kadence and GeneratePress. If I didn't use Trellis, I may also consider Acabado, by Income School.
3) Create good quality content.
Use keywords.
Keywords, in a nutshell, are generally a phrase that relates to your topic. Do a search for topics you want to write about and pay attention to the words Google suggests and the questions that pop up on the search page. These are good guides that tell you what people are searching for and, if you use those keywords in your title and headings, it will help your post be discovered a bit easier.
Let's say you want to create a gift guide for 14 year old boys. When you type 'gift ideas for a 14 year old boy' into search, the words will pop up before you finish. Hit enter and you'll find a list of questions:
What are good gifts for a 14 year old boy?
What do 14 year olds want for their Birthday?
Those questions will give you a good idea of what to include in your post. Your keywords will be gift ideas for a 14 year old boy and your title will include those words. A title idea for this post might be The 18 Best Gift Ideas For A 14 Year Old Boy.
Use pictures.
A picture says a 1,000 words … that's what they say, right? Use good quality pictures and be sure to give them a uniform size and compress them, before uploading on WordPress. I use Affinity Publisher to size my images and use the dimensions of:
1200 x 627 pixels
1000 x 1500 pixels (this size works good for Pinterest).
When I export my images as JPEG's, I reduce the quality so the file size is no bigger than 150 kb. Then, I run them through TinyPNG, to reduce them further and clean up any extras.
When using stock images, I use BigStock to purchase the images. It's important to use images that come from a reputable source, which means you will need to pay for your images. This will help you avoid issues, in the future, as there are people who will come after you for using images that were not sourced right.
Use headings appropriately.
In WordPress, an H1 heading should be reserved for your title. Throughout your post, you will use H2 headings with H3 and H4 headings, under those, in outline style.
4) Reserve your blog name on social media.
You may never plan to use Twitter or TikTok but it's important to go ahead and reserve your blog name on social media accounts, just in case. It will also prevent others from using your name on those accounts.
Facebook
Pinterest
Twitter
TikTok
5) Build traffic to your site.
Once you have a few articles written, it's time to start promoting them through social media. There is some controversy on this as some feel you should have at least 20 blog posts written before you start to promote so that when people come to your site, they will have plenty to look at. Others will tell you to promote from the first post because it is highly unlikely you'll have a lot of visitors, at this stage, anyway.
You will want to promote your posts on social media platforms that people interested in your topic would hang out at.
Pin to Pinterest
Get involved in Facebook groups, related to your topic, and give meaningful feedback, incorporating a link, if it's allowed in the group.
Collaborate with other bloggers.
Share with family and friends.
6) Start an email list.
You will want to gather emails from people who visit your site so you can email them, on a regular basis, and they keep coming back! To do this, you will need an email service provider (what many call an ESP, for short). An email service provider will give you the resources to create forms, to place on your site. These forms will give people the space to enter their name and email address.
Set up a customized email address.
But wait! First, you need to set up a customized email address. You can do this through your host or through G Suite. What this means is instead of using an email address like this: sunshineandrainydays@gmail.com … I use this email address: bridget@sunshineandrainydays.com.
Choose an email service provider.
There are many ESP's. Here are just a few:
Mailchimp
Mad Mimi
ActiveCampaign
Flodesk
---

I have used ConvertKit, for many years, and it integrates well with other platforms and gives me all of the resources I need to create email sequences and automations.
Create an opt-in incentive.
Not many people will hand out their email address, just for fun. They need a good reason to do so. What I have found works well is to provide a free printable, in exchange for their email address. This is an opt-in incentive. It doesn't have to be a huge document, just a one page printable, that is useful for the reader, works great!
Design a form in your email service provider.
Once you have your opt-in ready to go, it's time to design a form, in your email service provider. Attach the opt-in, to your form, so it is automatically delivered to readers, as they sign up.
Attach your sign up form to posts on your site.
Now that your form is complete, you can add the form to your site using code or your ESP's plugin.
Email your subscribers.
It is important to email the people who subscribe to your list on a weekly basis so they become familiar with you and get used to seeing you in their inbox. This becomes more and more important as time goes on and you offer digital products or affiliate items to sell to your list.
7) Monetize your blog.
There are many different ways to monetize your blog. It is important to earn money blogging from different sources. This can be done by placing ads on your site, selling digital products, and through affiliate marketing. I will go into more detail on ways to monetize your blog, in just a bit!
8) Keep creating content.
When you first start your blogging journey, most of your time is used creating content. As time goes on, many different aspects of blogging will take your focus away from creating content but it's important to keep content creation going. Instead of posting three articles a week, like you did in the beginning, you may drop it down to one article a week or two articles a month. At this point, many bloggers choose to hire virtual assistants to write posts for them so they can spend their time doing things behind the scenes.
9) Update old content.
After you've written 100 posts or so, it's a good idea to revisit old content to see how you can make them better. Start with your most popular posts and methodically work your way down. There is the thought that if a post is ranking in the top three spots, in a Google search, that you may not want to touch it. Keep that in mind. If you have a post ranking at position eight, take a look at it and see if there are changes you can incorporate to make it rank on the first page.
How Long Does It Take to Make Money Blogging?
According to Ricky, of Income School, if you follow their plan and work hard, these are your potential results:
| | | | |
| --- | --- | --- | --- |
| Months | # of Blog Posts | Page Views/Month | $ Potential |
| 6 | 60 | 150 | $0 |
| 12 | 100 – 120 | 5,000 – 10,000 | $110 – $220 |
| 18 | 130 – 150 | 30,000 – 50,000 | $1,800 – $2,000 |
| 24 | 160 – 200 | 100,000 | $4,000 |
---
As you can see, blogging is NOT a way to get rich quick. A few get lucky and have quicker results while others take longer to see results like the ones above.
7 Ways To Monetize Your Blog
In order to make money blogging, it's important to diversify your income streams. There are many different ways to earn money blogging. From selling ads on your site, posting affiliate links, or creating your own digital products, the ways to monetize your blog seem endless … and they are. It would be a challenge to implement them all so I suggest you incorporate them one at a time, in a methodical way, and use the money making methods that make the most sense for you.
1) Utilize Advertising
Once you have your blog up and running, you may want to think about incorporating ads, on your site. There are many ad management companies that will pay you to place ads on your site.
Here are a few to consider:
Mediavine – Requires at least 50,000 sessions a month.
AdThrive – Requires 100,000 monthly page views.
I started with Google Adsense and moved to Mediavine, when I became eligible. Once I had Mediavine place ads on my site, my blog became self sustaining and I no longer needed to use money from our family budget to pay for blog expenses.
In order to make a substantial amount, through ads, you need to have good traffic. The more traffic you have, the more money you'll make with ads.
2) Use Affiliate Marketing
Affiliate marketing is a way to earn a commission by promoting a product or service sold by another company. For example, when I wrote an article that lists $10 Dirty Santa Gift Ideas, I linked to products that I can earn a small commission on. The affiliate commission is earned at no additional cost to the buyer so, whether someone purchases through my link or directly from the company, they would pay the same price.
Some companies have their own affiliate program that you can apply to.
There are affiliate marketing networks that allow you to partner with brands so you can utilize affiliate marketing. A few of those networks are:
3) Sell Freelance Services As A Side-Hustle
It can take a while to actually start earning money from your blog so many bloggers provide freelance services to supplement their income.
Write Blog Posts
Create Graphics
Design Printables
Schedule Pinterest Pins
Work As A Virtual Assistant
4) Sponsored Posts Add A Revenue Boost
Once your blog is well established, you may choose to reach out to a company or they may reach out to you to write a sponsored post. This means that the company will pay you to write a post to promote one of their products. The benefit to the company is they get their product in front of your audience, which will, hopefully, generate sales.
It is important to keep your audience in mind, when you accept sponsored post opportunities. To keep it authentic, you should only promote products that you actually use and like, yourself.
5) Sell Digital Products Like Printables
If you like to design worksheets, checklists, games, artwork, or holiday printables and do it in a professional way, you may be able to make money selling printables.
This is the main way I have monetized Sunshine And Rainy Days!
There are many different programs and apps you can use to design printables and quite a few platforms you can use to sell and deliver your printables. I talk more about how I create printables here:
How To Make Money Selling Printable Products On Your Blog
6) Write And Sell Your Own Ebooks
You have expertise in your niche or a series of blog posts with information that could be made into an ebook, to help others. Those ebooks can be sold to make you a profit!
I would suggest an app like Affinity Publisher to create your ebook and a platform like Gumroad or Shopify to sell your ebook. You can start with the free plan on Gumroad so you have less risk, while you determine if your product will sell.
7) Create Online Courses And Workshops For Extra Cash
You have the potential to earn money by teaching others what you know! Even if the information seems elementary to you, there are likely others that need the information and want to learn from you.
There are platforms, such as Teachable, that provide you with a great space to incorporate video, text, and files in your course.
---
The Bottomline: There are tons of ways to make money blogging! Pick one or try them ALL!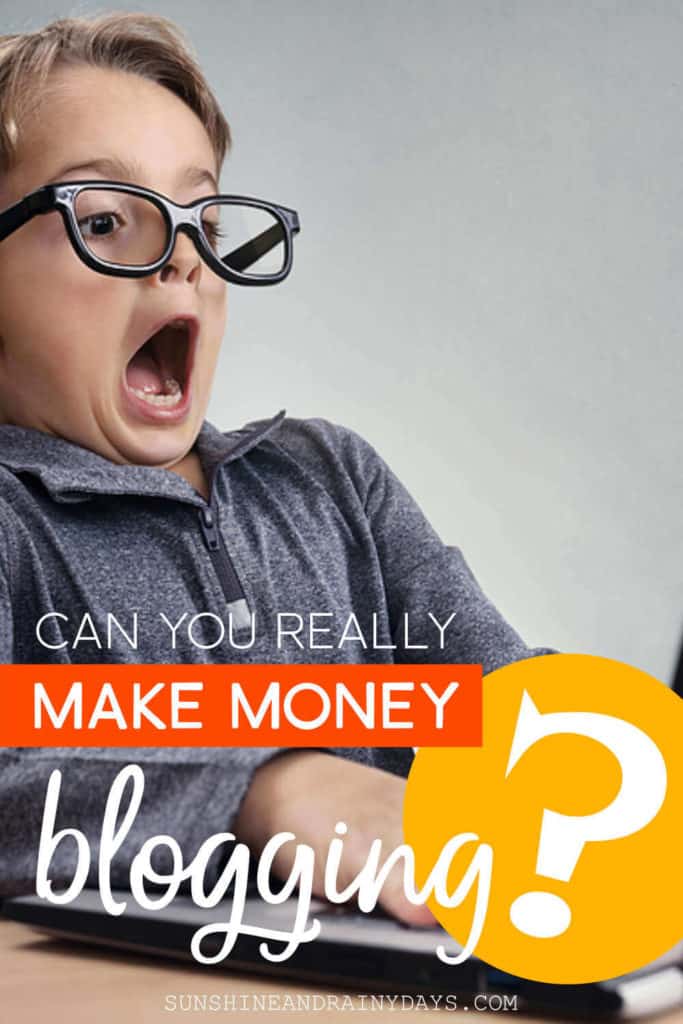 More Blogging Resources