After being diagnosed with Hashimoto's a few years ago, my journey to health included visits to new specialists. Of course, each new specialist wanted to hear all about my medical history. They expected me to remember every prescription I've had an allergic reaction to, surgery dates, and every supplement AND dose I'm taking.
Goodness Gracious!
After digging through loads of medical files for the umpteenth time, I decided there had to be a better way.
Time is valuable to both you and your doctors. Make that time as efficient as possible by creating a Medical Binder with Medical Binder Printables containing all of your pertinent medical information.
Why, yes, I did try Selenium. I started taking it January 17, 2015 and stopped April 23, 2016 because it was doing nothing for me. I have the labs to prove it right here!
Wow! That's empowerment right there!
Carry your Medical Binder to each appointment and you can be empowered too! All the cool kids are doing it!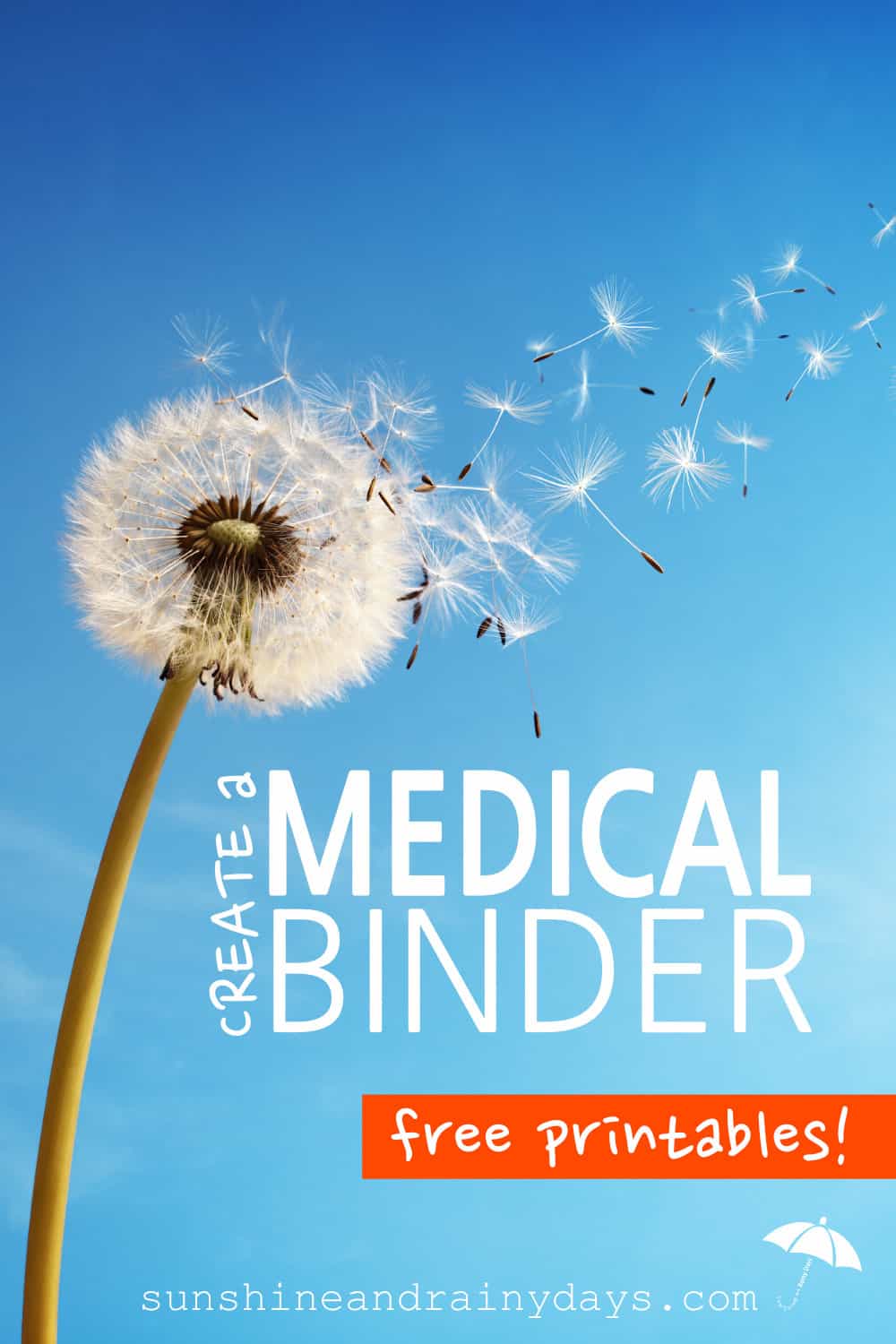 Medical Binder Printables
This post contains affiliate links. If you purchase through an affiliate link, the price remains the same for you and we receive a small commission. Read our disclosure.
Medical Binder Supplies
Binder
The Avery Dividers with pockets are awesome for this Medical Binder! The pockets are an excellent place to put future lab work slips for the corresponding doctor or to place doctor's notes until you get home to that hole punch. The possibilities are endless. Trust me. You'll be thrilled with the pockets!

Card Stock is great to use for the Medical Binder view pockets, especially if you want to utilize the spine printable. You could certainly use it for the printables inside the Medical Binder as well.
Paper
You probably already knew that! Regular typing paper is great for printing off these awesome Medical Binder printables!
Don't you just love office supplies? Now that you have all those fun office supplies, it's time to get those Medical Binder Printables rolling!
Medical Binder Printables
Bada Bing Bada Boom! Here's my favorite part of the Medical Binder!
If you haven't already, check out the Supplement and Medication Chart Printable.
With room to list your allergies, diagnosis, and surgeries, you'll be sure to have pertinent information at your fingertips the next time your doctor asks!
Keep track of where you've been and where you're going. List the date, doctor, notes, and when to return for a follow up.
The last time I was at the Naturopath, I had mentally prepared a list of questions to ask. Guess what? Once I was there I drew a blank. Sound familiar? We all do it!
Write those questions down as you think of them and you'll have them when you need them most.
Binder Cover and Spine
Here's the catch! If you like the printables so far, I'm betting you will like printables I create in the future!
Subscribe and receive access to exclusive printables like the Binder Cover and Spine printables absolutely free!
Assembling the Medical Binder
You have everything you need, now it's time to put together your Medical Binder!
The way you assemble your Medical Binder will be the way it works best for you! It's a personal thing! Even so, I'm hoping to help you out a little by giving you a few suggestions!
Tab Dividers
Depending on your personal circumstances, your tab dividers will likely be different than mine. Here are a few to consider:
Chiropractor
Dentist
Dermatology
Immunizations
Labs
Naturopath
Orthodontist
Specialists
Tests
GP (General Practitioner)
Doctor's Name (I have two favorite doctors and prefer to use their names)
Printables
But where do the Medical Binder Printables fit into those tabs?
Suggestions:
In front of it all! This makes it easy to locate when refilling your pill box!
Right behind the Supplement and Medication Chart Printable in the front.
It would make sense to place this printable in the front as well OR you could print one off for each doctor and place it behind the appropriate tab.
This printable works well behind the tab of each doctor you visit! This way you can write specific questions for each doctor. After all, you may not need to ask your dentist about the wart on your toe!
More Medical Binder Printables
Track Your Thyroid Labs Free Printable
Supplement And Medication Chart Printable
Once your Medical Binder is put together with those handy dandy Medical Binder Printables, you can sigh a deep sigh of relief!
Now that you are organized, the stress of what to do when, and where all the information is, will vanish, be gone, kaput! And we ALL know stress needs to vanish for the good of our health!
Do you love this so much you want more? You are in luck! Push the button below to see every Medical Binder Printable I have created all in one easy to purchase spot! You won't be sorry!
JOIN OUR EMAIL LIST
Subscribe (free!) to gain access to my Resource Library full of FUN Printables! Once subscribed, you will receive weekly emails with Printables, DIY Projects, and FUN for your Everyday Life!
By subscribing, you are agreeing to our Privacy Policy.