After being diagnosed with Hashimoto's a few years ago, my journey to health included visits to new specialists. Of course, each new specialist wanted to hear all about my medical history. They expected me to remember every prescription I've had an allergic reaction to, surgery dates, and every supplement AND dose I'm taking.
Goodness Gracious!
After digging through loads of medical files for the umpteenth time, I decided there had to be a better way.
Time is valuable to both you and your doctors. Make that time as efficient as possible by creating a Medical Binder with Medical Binder Printables containing all of your pertinent medical information.
Why, yes, I did try Selenium. I started taking it January 17, 2015 and stopped April 23, 2016 because it was doing nothing for me. I have the labs to prove it, right here! That's empowerment!
Carry your Medical Binder to each appointment and you can be empowered, too! All the cool kids are doing it!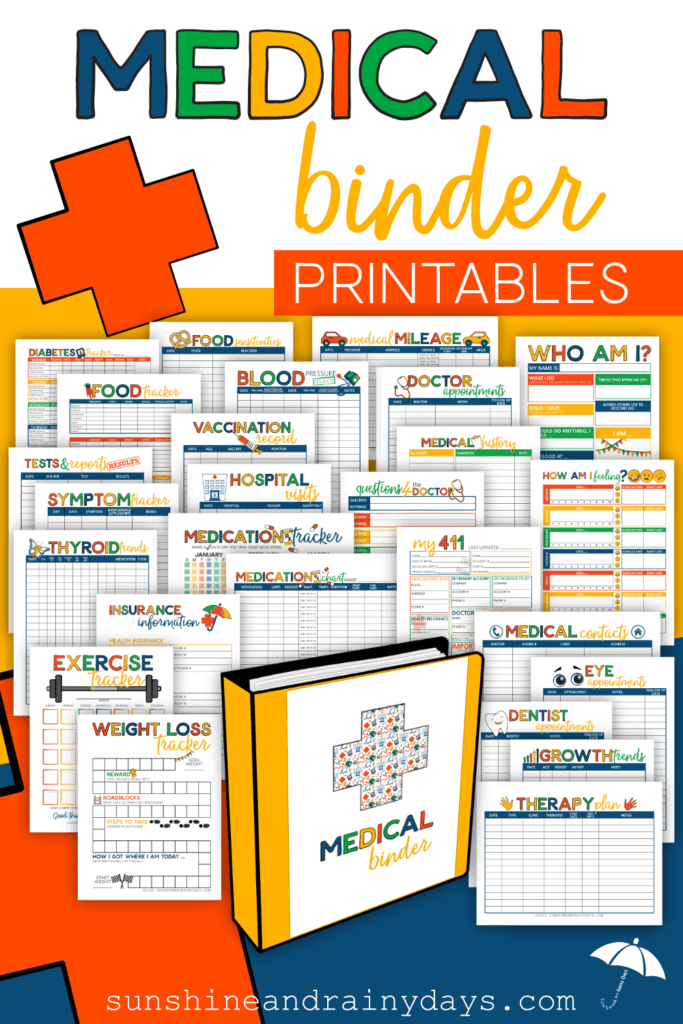 This post contains affiliate links. If you purchase through an affiliate link, the price remains the same for you and we receive a small commission. Read our disclosure.
Medical Binder Supplies
Binder
Dividers – The Avery Dividers, with pockets, are awesome for this Medical Binder! The pockets are an excellent place to put future lab work slips for the corresponding doctor or to place doctor's notes until you get home to that hole punch. The possibilities are endless. Trust me. You'll be thrilled with the pockets!
Card Stock – Card Stock is great to use for the Medical Binder view pockets (cover), especially if you want to utilize the spine printable. You could certainly use it for the printables inside the Medical Binder, as well.
Paper – You probably already knew that! Regular copy paper is great for printing off these awesome Medical Binder printables!
Don't you just love office supplies? Now that you have all those fun office supplies, it's time to get to those Medical Binder Printables!
Medical Binder Printables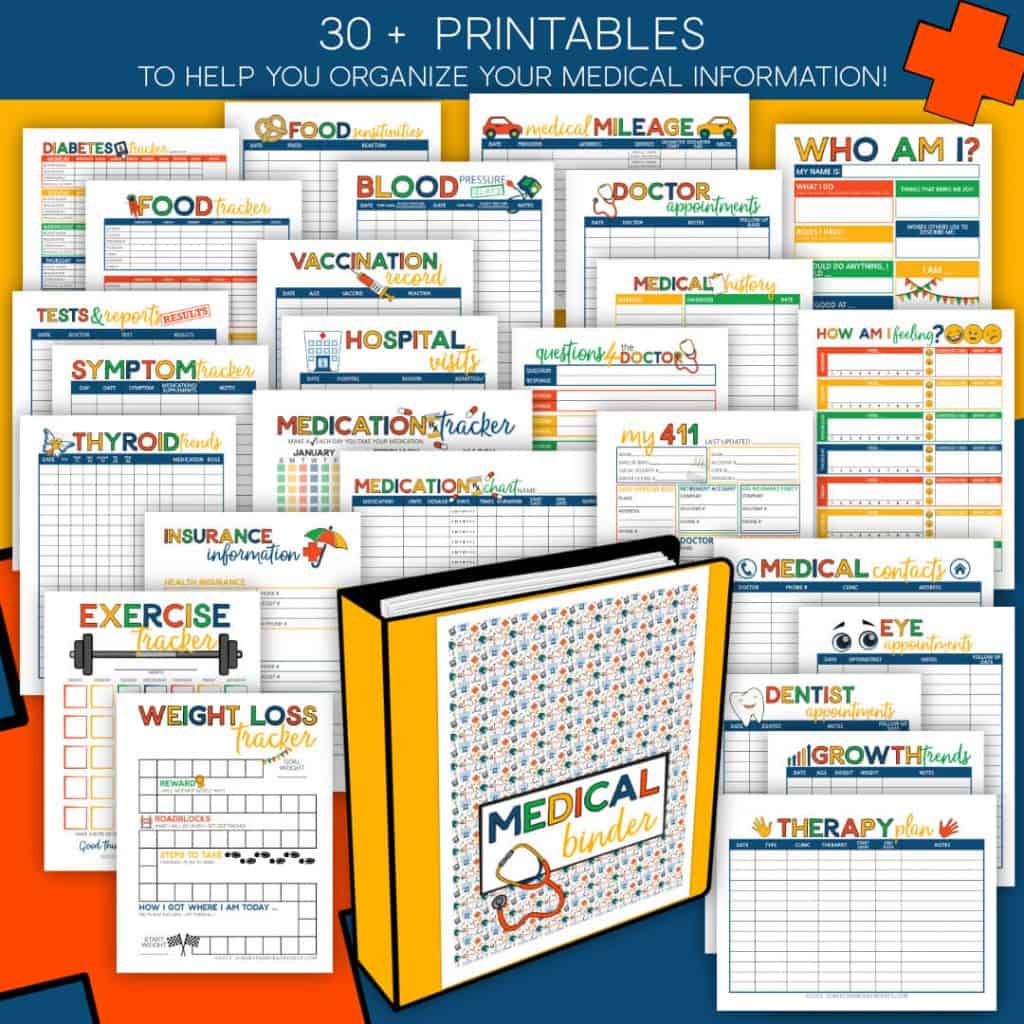 What Printables Should You Put In A Medical Binder?
Each person is different and will have different needs for their Medical Binder. You can purchase the full Medical Binder Printable Pack or you can purchase just the Medical Printables you need.
The Medical Binder Printable Pack will likely have printables you won't use BUT it is a great way to get many Medical Printables, at a great price!
The Medical Binder Cover And Spine will take your Medical Binder from boring to FUN and easily identifiable! Your personal medical information organizer deserves a great cover!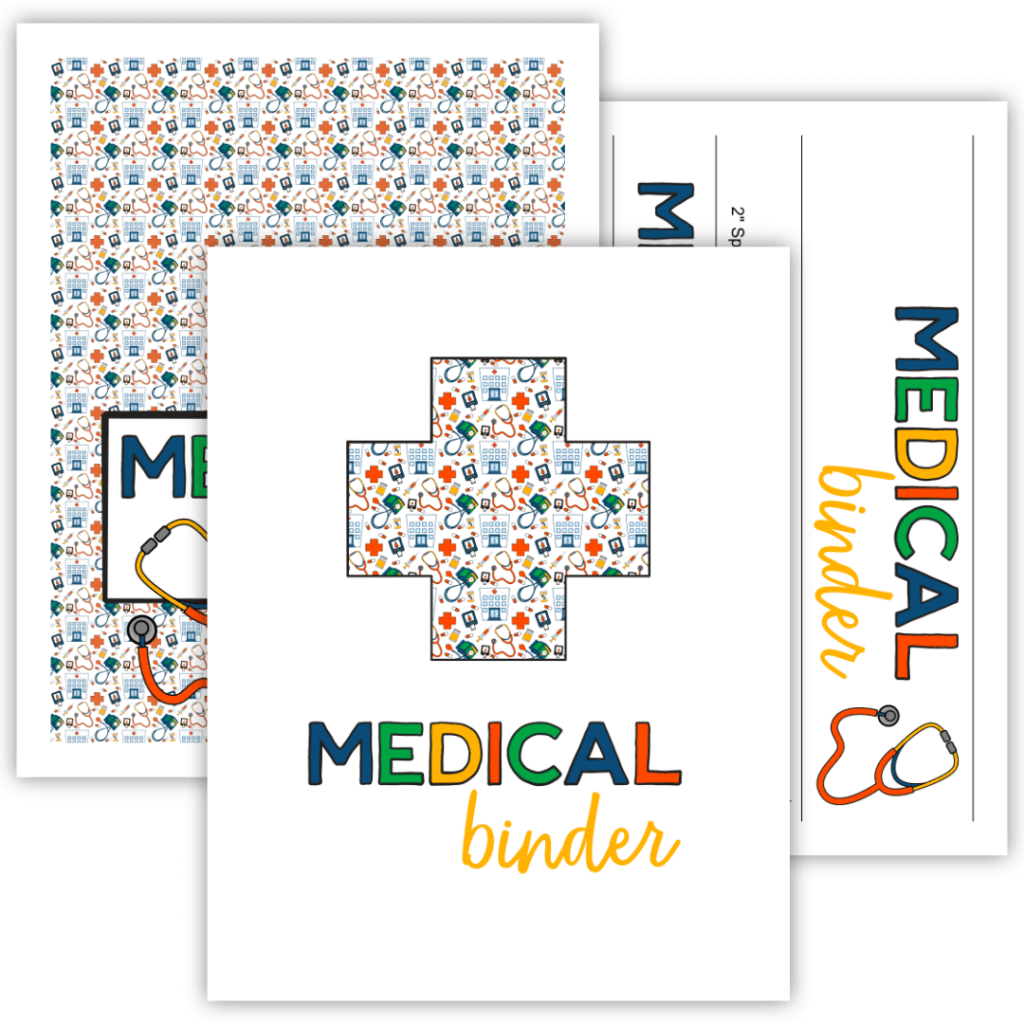 Track your blood pressure with the Blood Pressure Diary!
The Blood Pressure Diary Printable is a one page PDF and provides the following columns:
date
time (am)
blood pressure – systolic/diastolic
date
time (pm)
blood pressure – systolic/diastolic
notes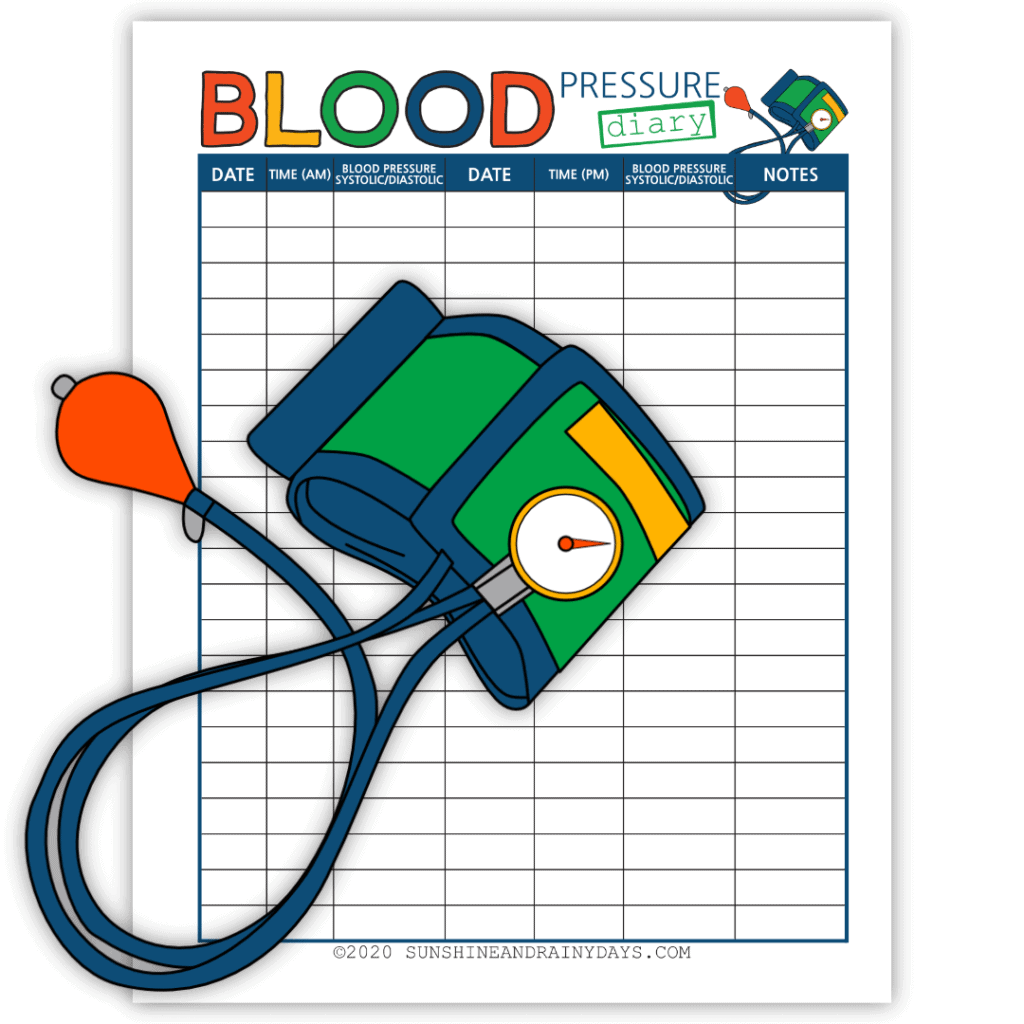 Never wonder when you had your last Dentist Appointment again! Track your dentist appointments and KNOW when you're due to get those teeth cleaned again.
The Dentist Appointments Printable is a one page PDF with the following columns:
date
dentist
notes
follow up
As simple as it is, why not make tracking your dentist appointments FUN with our Dentist Appointments Printable?
The Diabetes Tracker provides a place to track a week's worth of information pertinent to those with diabetes.
It is a one page PDF with space to record Blood Sugar, Insulin Dose, Carbs/Meals, and Physical Activity for each meal and snack you have throughout the day.
Keep track of where you've been and where you're going. List the date, doctor, notes, and when to return for a follow up.
Are you ready to make exercise a habit in your life? Our fun and colorful Printable Exercise Tracker is here to help motivate you!
How many times have you eaten a food, had a bad reaction, and THEN remembered you shouldn't be eating that food because you've had the same reaction in the past?
The Food Sensitivities Printable REMINDS you of those foods that make you feel bad before it's too late!
The Food Tracker provides a place to track what you eat for four weeks.
It is a one page PDF with space to record what you eat throughout the day. It also has room to track physical activity and a space for notes.
Track your child's growth with the Growth Trends Printable.
The Growth Trends Printable is a one page PDF and provides the following columns:
Be prepared! Track your Hospital Visits on this Printable so you don't have to try to remember the specifics when your doctor asks a few years down the road.
The Hospital Visits Printable is a one page PDF and provides the following columns:
date
hospital
reason
admitted
Even if you've only visited the hospital once, chances are you won't remember the date or exact circumstances a few years down the road. No worries! You can take care of those specifics right here on the Hospital Visits Printable!
The How Am I Feeling chart is perfect for anybody who wants to understand how they are feeling and why. Perhaps one day you are feeling lazy and the next day you are ready to take on the world.
The chart is meant for people to track how they feel and maybe find a correlation between that and their eating and exercise habits. By having a chart for the whole week, it is easier to see trends in how you are feeling and how you are taking care of your body.
If you are interested in if your mood is truly affected by your exercise and eating, this is the chart for you.
Do you find yourself running to grab your wallet every time you make an appointment or need to call your insurance to inquire about coverage? Leave your insurance cards in your wallet and use this Insurance Information sheet when it's time to make those calls!
Keep your Medical Contacts in one, easy to find place with this Medical Contacts Printable!
The Medical Contacts Printable is a one page PDF and provides the following columns:
doctor
phone #
clinic
address
Keep all of your Medical Contacts right here, on one sheet. Whether it's a doctor you see on a regular basis or one you see sporadically, you'll have the information you need to contact them, in one spot!
With room to list your allergies, diagnosis, and surgeries, you'll be sure to have pertinent information at your fingertips the next time your doctor asks!
You may or may not itemize at tax time but, if you do, it's a good idea to have your Medical Miles handy and ready to report!
The Medication Chart is a one page PDF ready for you to record the medications you take.
Keep your own medication history and track what you've taken, when!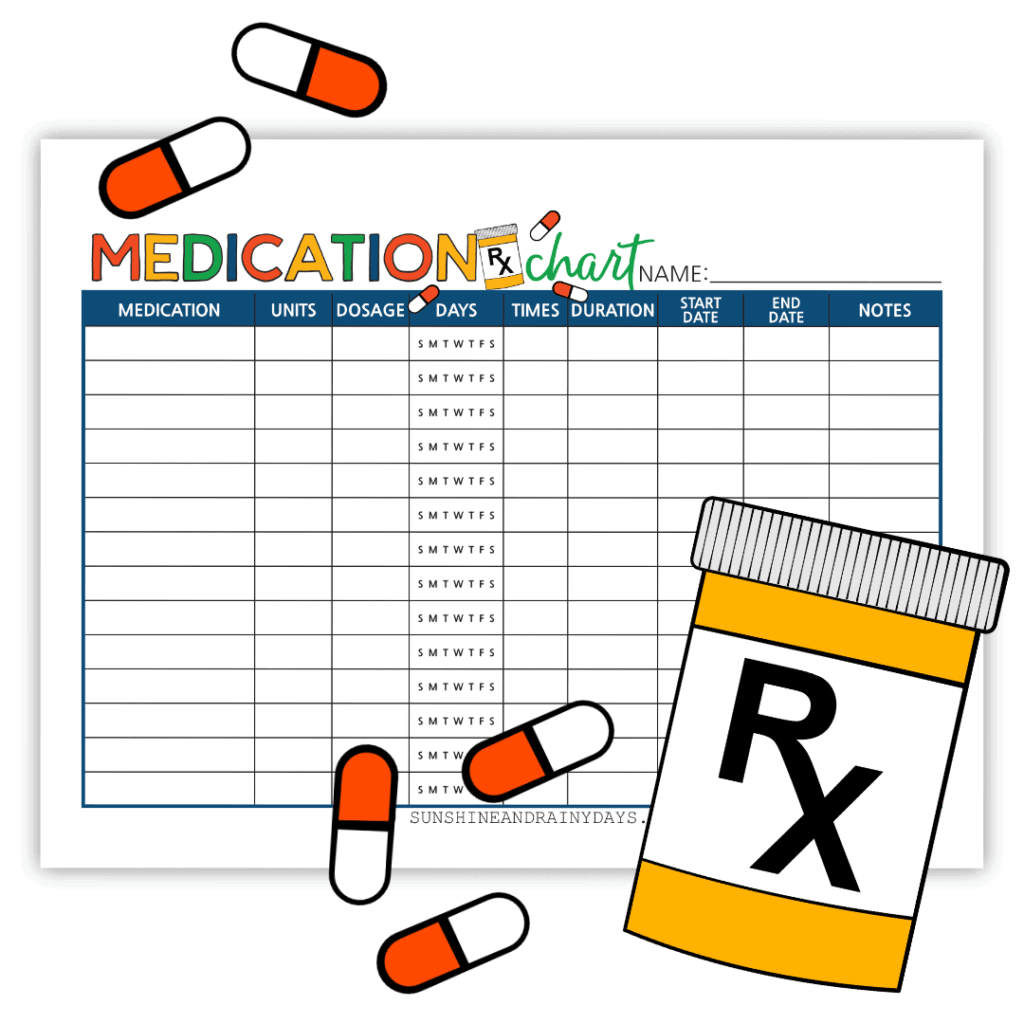 The hardest part of medications being prescribed is actually remembering to take the medications. Keep this Medication Tracker near your medications where you will see it.
The Medication Tracker works well with the Medication Chart!
It's super hard to think about but … what if an emergency situation came up and you were unable to communicate important information with your loved ones? The Personal Information Worksheet will guide you in your quest to make sure the people closest to you will know where to find important documents and have your personal information at their fingertips.
The last time I was at the Naturopath, I had mentally prepared a list of questions to ask. Guess what? Once I was there I drew a blank. Sound familiar? We all do it!
Write those questions down as you think of them and you'll have them when you need them most.
When sleep becomes an issue, it may be time to start a Sleep Diary so you can pinpoint what might be causing sleep disturbances or report your night wake up times to your doctor.
The next time you're at the doctor, there's no need to guess what supplements you're taking because you have it all written down on your very own Supplement Chart!
Keep your own supplement history and track what works for YOU!
Make life easier and track your symptoms with the Symptom Tracker Printable. Then, when you have a doctor's appointment, you'll have the information you need, in fine print!
You've had multiple medical tests but do you have a place to record the results of those tests? Can you quickly tell a new doctor what tests you've had so he doesn't order the same ones? Do YOU remember what medical tests you've done?
The Tests And Reports Printable is a one page PDF with space for:
The Tests And Reports Printable lets you know, at a glance, what medical tests you've had so you don't repeat them unnecessarily.
Track your Therapy visits with the Therapy Plan Printable!
The Therapy Plan Printable is a one page PDF with the following columns:
date
type
clinic
therapist
start date
end date
notes
Are you faced with thyroid issues and depending on your doctor to keep track of your lab work? It's time to take the butterfly by its wings and discover right where you stand with THIS awesome Thyroid Trends Tracker!
If you find your clothes aren't fitting well … and it isn't because they've shrunk … check out this FUN Weight Loss Tracker Printable.
Does the busyness of life have you wondering, Who Am I? Outside of busy, your responsibilities, and roles, Who Are You? What gives you JOY? What character traits make you who you are?
The Who Am I worksheet prompts you to discover who you really are!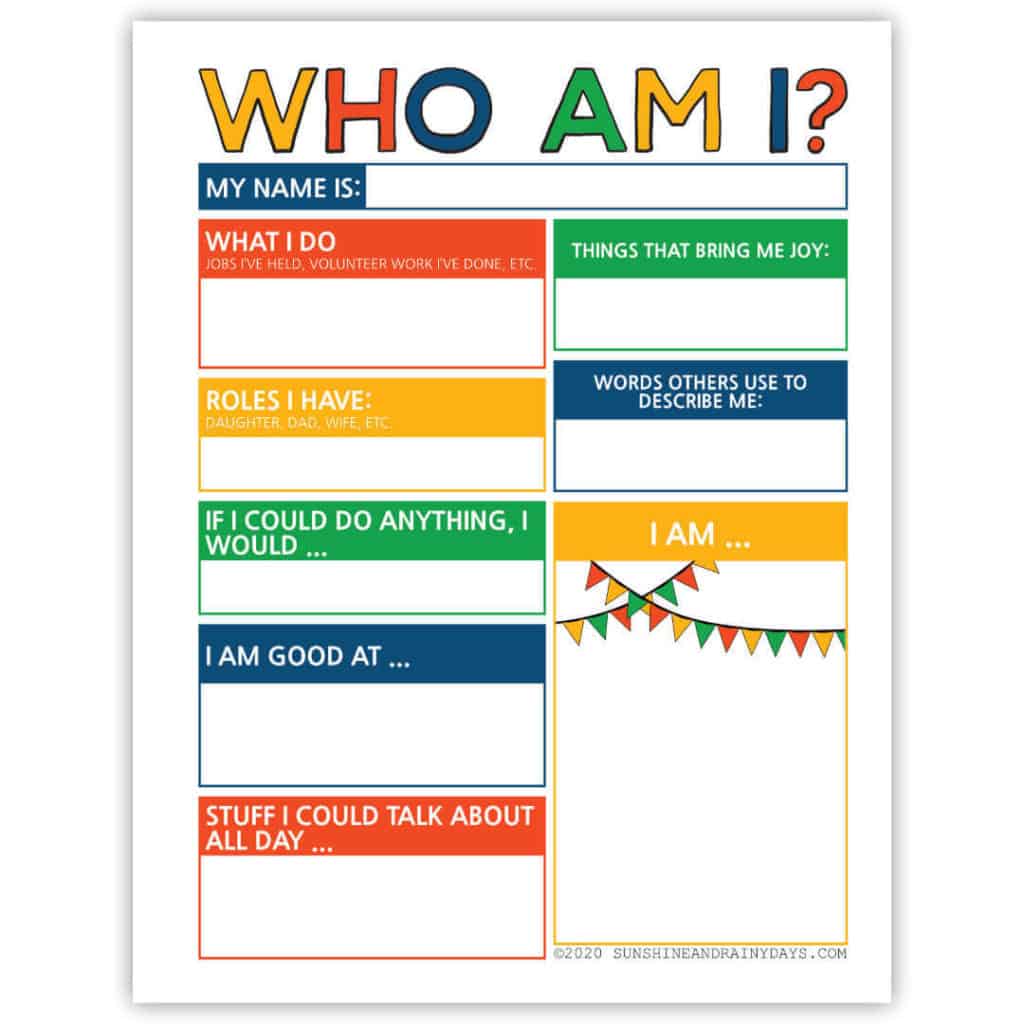 Once your Medical Binder is put together with those handy dandy Medical Binder Printables, you can sigh a deep sigh of relief!
Now that you are organized, the stress of what to do when, and where all the information is, will vanish, be gone, kaput! And we ALL know stress needs to vanish for the good of our health!