Binders have been my favorite way to organize paperwork that I need to refer back to easily. They sit nicely on a shelf and everyone in the family knows exactly where to find what they need. Since we have quite a few binder printables, I decided it was time to share my Favorite Binder Supplies!
Binder Supplies
There's nothing too fancy here … just the tried and proven supplies that I use, personally, and have come to appreciate.
This post contains affiliate links. When you purchase through an affiliate link, we receive a small commission at no additional cost to you. Disclosure.
The Avery Heavy Duty Binder is an excellent choice because it has a clear cover that you can customize and it's made to last. You can find fancy binders with lovely designs but will you remember what is in that pretty binder? Choose a binder that you can customize the cover and spine and be able to find what you're looking for, easily.
I purchased this paper not too long ago and I really like it! It's the perfect thickness. It used to be that I'd use cardstock for a lot of binder pages but, with this multi-purpose copy paper, that isn't necessary.
Cardstock is great to use for your binder view pockets (cover), especially if you want to utilize the spine printable, and for cover pages inside. Plus, cardstock is just good to have on hand. I also use cardstock for Christmas cards, Christmas Games, Graduation Announcements, and so much more!
This is the cardstock I use!
Of course, you'll need a way to hole punch your documents so they will fit nicely inside your binder. I have this hole punch and have been using it for years!
These are my all time favorite dividers. The Avery Dividers with pockets are awesome for your binder organization and the pockets are an excellent place to put papers that you don't want to hole punch. Trust me. You'll be thrilled with the pockets!
Sheet protectors always come in handy. I like to use them for manuals or important documents.
I know … it sounds weird, right? Trading card sleeves are perfect for organizing business cards, coupons, and identification cards you want to keep.
We use trading card sleeves in our kids' Big Book Of Everything to hold old ASB cards, permits, social security cards, etc.
I have this color laser printer and have been super happy with it!
Of course, fun pens are completely optional. You can totally use your favorite pen that you already have. Fun pens just make your binder organization … well, more fun!
I often use fine tip Sharpies but these pens are on my list to get!
I have created lots of printables to help you organize your paper life, in binders!
There's nothing like a few fun Binder Supplies to get you motivated to organize your paperwork!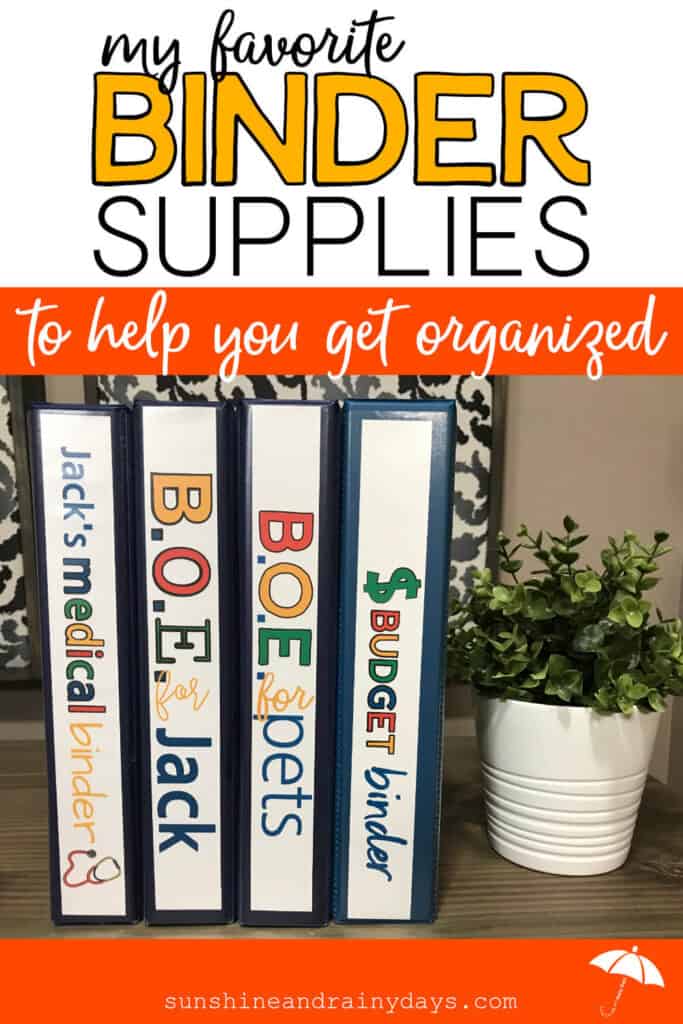 Discbound System Tools
I'd heard about the discbound system but didn't really know what it was all about and … it seemed a bit intimidating to figure out. THEN … I needed a way to organize my passwords … a way that would easily let me switch them out without messing up a whole book. So, I took the deep dive into the discbound system that seems more like a modern day Rolodex. I didn't have to dive too deep though because it's easier than you'd expect! I purchased a few discbound tools and got to work.
Binders are still where it's at but the discbound system has its place, too!
The discbound system doesn't use a regular hole punch. Instead, it uses this cool paper punch that allows you to press papers in and pull them out, easily.
Instead of a three ring binder, the discbound system uses discs to hold papers together. You can order different sizes, according to your needs. These are the ones I ordered and I like them a lot!
For another project, I used these 1 Inch Multicolor Discs. I love the colors and even mix and match the colors for a fun look!
These Monthly Magnetic Tabs work well when you don't want to use pocket dividers! My only wish is that they were brighter colors but they work well!
Here's what I've created, using the discbound system, so far:
Creating the Address Book and Password Keeper was a super simple process, using the right tools! Don't get me wrong though … there are a LOT of discbound system supplies you can purchase … like covers, and tab dividers, and refill pages and sheet protectors … but I didn't need all that for these simple projects.
Whether you like to organize using binders or the discbound system, the supplies listed will set you on the path to organizational success!