I searched high and low for a Password Book that would let me easily change password information without buying a whole new book or rewriting an entire page of passwords. This is it! The Ultimate Discbound Password Keeper provides the PDF documents for you to use with your discbound system!
Sounds a bit intimidating, doesn't it? I've been hearing a lot about discbound systems and finally took the plunge. I'm so happy I did! It's not as scary as it sounds … in fact, it's super fun!
The cool thing about this Password Keeper is that each page has just one password on it. This makes it EASY to remove and replace if an email or password changes. You don't even have to use pencil, in order to erase. It's just that awesome!
How To Create A Discbound Password Keeper
This post contains affiliate links. When you purchase through an affiliate link, we receive a small commission at no additional cost to you. Disclosure.
Imagine having a way to save your passwords that you won't have to replace! Instead, you can replace single pages, as needed, or get rid of pages you no longer need.
Create Your Own Ultimate Discbound Password Keeper
Print the Ultimate Password Keeper PDF on card stock.

Print as many of the password pages as you need!

Cut the Password Keeper Cover, Password Pages, and Alphabet Tabs on the black lines.

I used a paper cutter for most cuts and scissors for the Alphabet Tabs.

Laminate the front and back cover.

This step is optional but I figured it would help my Password Book last longer.

Use a Discbound Hole Punch to punch the top edge of the Cover, Password Pages, and Alphabet Tabs.

I purchased the Staples Arc Desktop Paper Punch and it worked like a charm!

Use Discs to attach your pages!

The Ultimate Password Keeper uses 5 discs.

Fill out your Password Pages!

Keep your Password Book in a convenient spot so you can refer to it easily!
Supplies Used For The Ultimate Password Keeper
With the right tools, the Password Keeper is a breeze to put together!
Cardstock – this is the Cardstock I use
Paper Cutter and Scissors
Laminator and Lamination Sheets – Optional for Cover
Discs for Discbound System – these are the ones I ordered and they are pretty sweet! I may need to get bigger ones though because I have a LOT of passwords!
I'm pretty excited about this NEW way to save passwords! It is just the right size to keep next to my computer and it is SO EASY to use!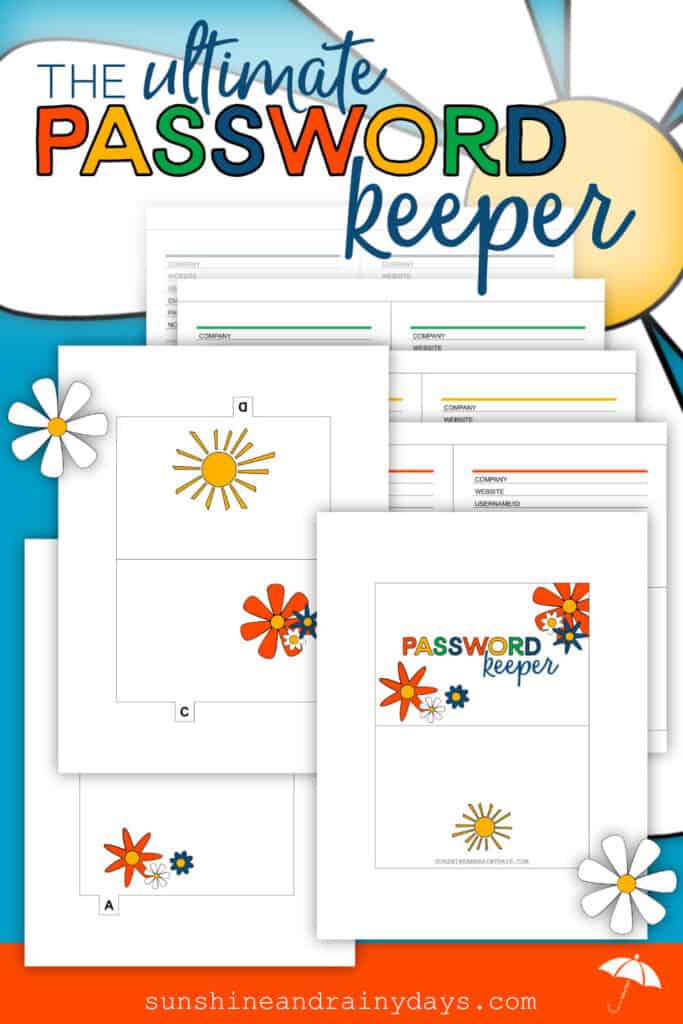 More Password Keepers
If you prefer to use a full page sheet for your passwords, check out our Printable Password Keepers!