The Home Project Planner is here to help you get organized so you can make your project ideas come to life!
On Valentine's Day, instead of a relaxing meal, I found myself wading in a sewage backup in our basement bathroom.
I went into the downstairs bathroom and ended up with wet socks so I quickly took off my socks and began soaking up the mess with towels. I went through about 15 towels and then began wringing them out into the bathtub … with my bare hands … in bare feet … not my smartest move.
About that time, my husband came home from work and grabbed the shop vac (why didn't I think of that?) to try to tackle the bathroom that was now more like a swimming pool.
Once we had the floor close to dry our son, Jack, discovered the water had gone through the walls to an adjacent storage room on one side and our daugher's room on the other.
In a panic, we started unloading boxes from the storage room and taking them to the mechanical room in order to let them dry out and assess the damage later. I'm not sure what the correct thing would have been to do but we ended up dripping sewage water in the process, cross contaminating a lot of the downstairs carpet.
Thankfully, we found a plumber who was able to come out at 10PM and clear the drain so we could use our plumbing again.
The next day, a mitigation guy came out to assess the damage and arranged for a mitigation crew to come out. If you'd like to see the damage, I've posted a bit about it on my TikTok and Instagram.
It's for times like this that we have an emergency fund. We haven't fully funded this emergency fund and are bummed to have to use it but can also breathe a bit easier knowing it's there.
I had a few contractor's come out to give us estimates on putting the downstairs back together and used my Construction Bid Comparison Chart to help me ask the right questions.
Then, I found myself with papers everywhere and needed to create a system where I could organize all of the paperwork and information that comes with a project like this.
This Home Project Binder is easy to grab and go when you're purchasing items for a project, need to refer to an estimate for a budgeted price, or take a look at inspiration photos you've printed.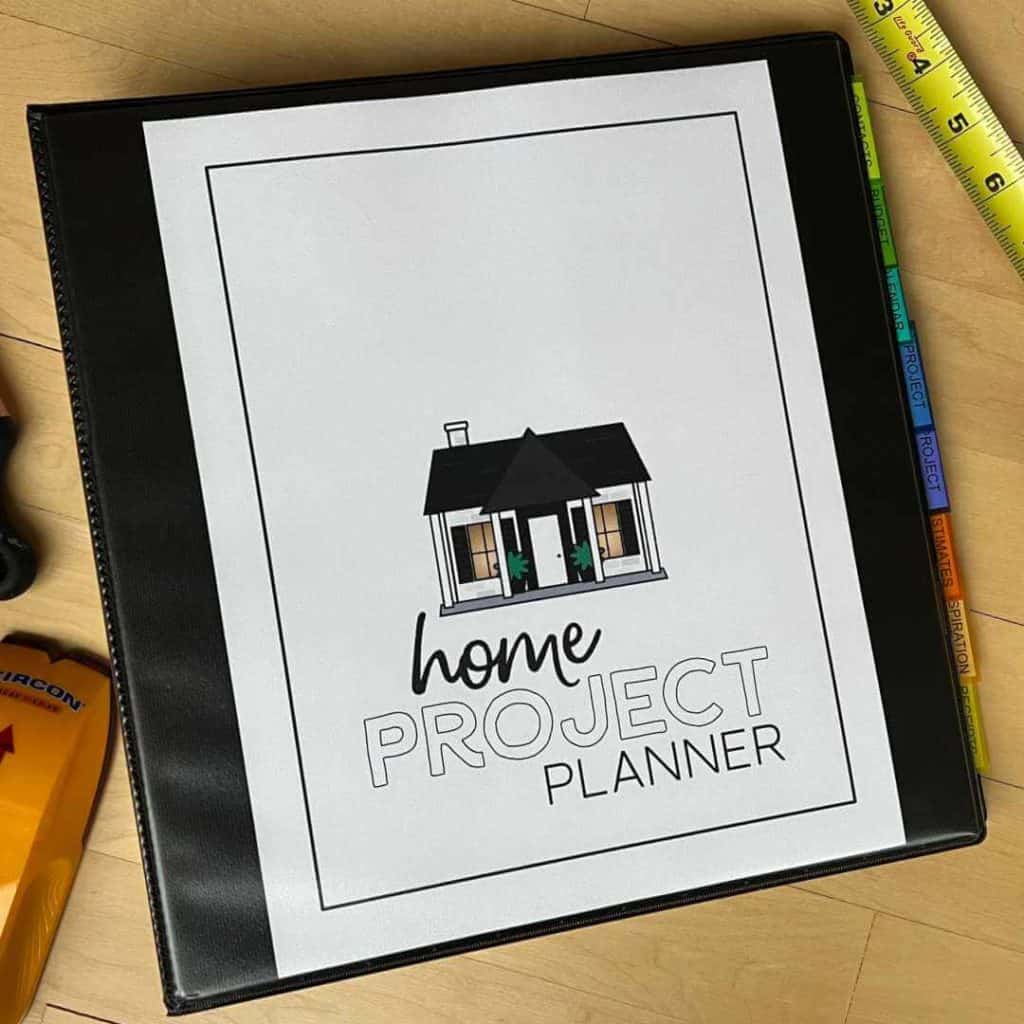 The Home Project Binder includes the following pages:
Binder Cover
Binder Spine Insert
This Home Project Binder Belongs To Page – Because you'll be carrying this binder around with you, be sure to put your name and email on this page just in case you leave it somewhere, while carrying around loads of sample carpet, tile, and paint.
Divider Tabs – Find what you're looking for, easily, by using divider tabs.
Project Contacts – So you have one spot to find the phone numbers you need.
Project Register – Where you can keep track of what you spend.
Project Budget – There's a lot of pieces to put together and you want to make sure you are staying on budget. Write each item on this Project Budget Sheet so you can get the big picture of money that will be spent.
Project Wish List – You may have grand ideas and this is the spot to list them, even if you know they may be out of reach.
Daily Planner – As your project gets into full swing, you'll have a lot of tasks to complete and the Daily Planner will help keep you on schedule.
Weekly Planner – The Weekly Planner gives you a space to write in what needs to happen each day.
Monthly Planner – The Monthly planner is the place to get a quick overview of your project's overall timeline.
Master Project List – Take a walk around your house, room by room, and write down every little project you'd like to tackle. Then, you can create a schedule to accomplish those projects.
Detailed Project Plan – This is where you get clear on exactly what needs to happen for each project. Make as many copies as you have projects!
Project Action Plan – Each project will likely have a To Do List, a Shopping List, and People To Call. This is the place to get it out of your head and on paper!
Project Estimate Comparison Chart – This chart prompts you on questions to ask contractors so you can choose the contractor that fits your needs best.
Project Inspiration – This sheet walks you step-by-step through a room and provides space to write what you'd like to see in that room.
Project Inspiration Blank Sheet – Have a picture of floors you love, a light fixture, or furniture you like? Adhere it to this sheet. Trust me, you'll be glad you did!
Notes – When starting any project, you will have lots of notes to take and this is the perfect spot to write them!
Get Your Home Project Planner Here!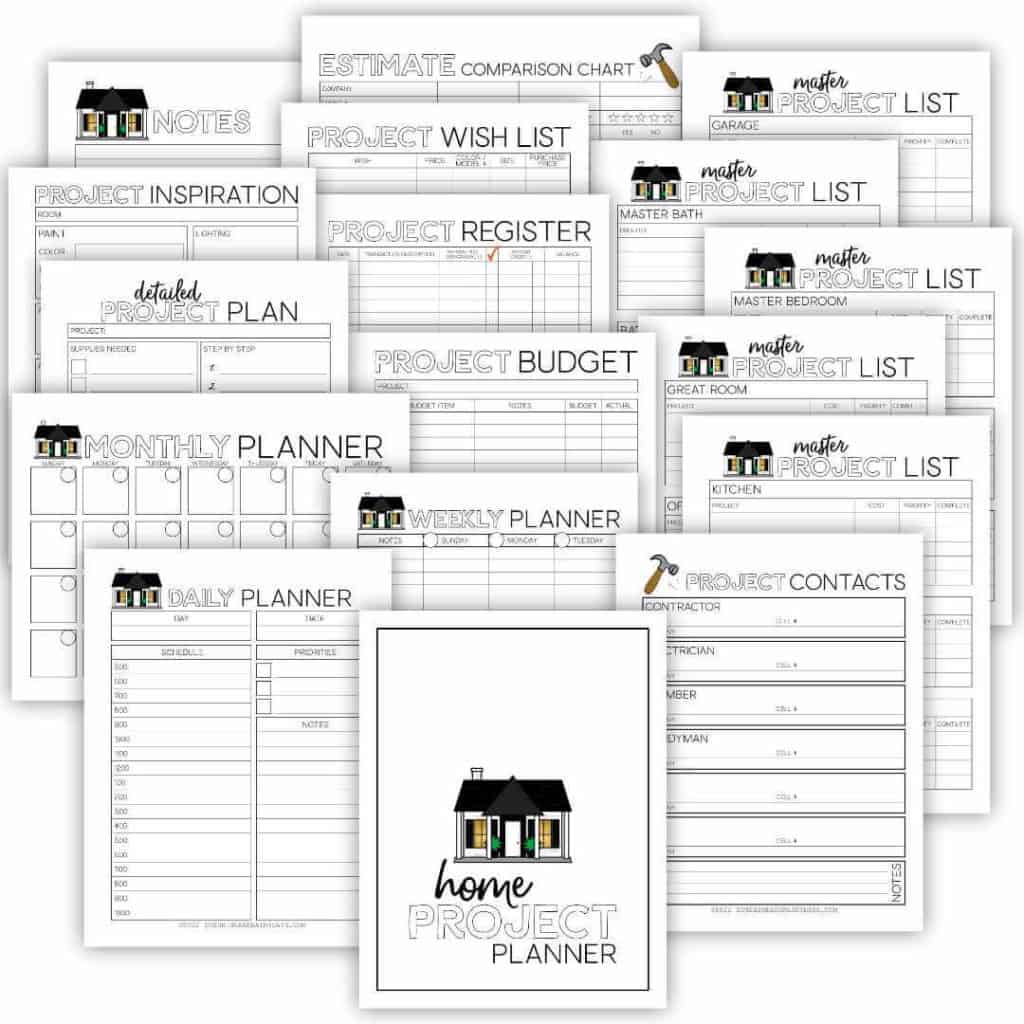 Whether you have a small project or a huge remodel, this Home Project Planner is here to help keep you organized and in the know of what's happening and the costs involved.
There are lots of choices to be made. Make sure you're making the right ones by getting a visual of all the pieces, first!