You want to go on vacation but you'd rather hire a house sitter to look after your home than to leave it sit empty. The House Sitter Handbook will guide you on the information you need to leave for your house sitter so he/she will be comfortable in your home and know what to do in case of an emergency. It will also provide space to outline the tasks you'd like the house sitter to do, while you're away.
What's in the House Sitter Handbook?
The House Sitter Handbook includes the following PDF pages:
Binder Cover Insert – So you can create a professional looking binder for your house sitter!
Spine Insert
Divider Tab Inserts For AVERY 11907 Dividers
Hello Page – To share neighborhood information your house sitter will find useful, like community social media groups and places and activities nearby.
House Sitter 411 – The quick reference with all the important information.
Important Contact Info For The House Sitter – In case he/she needs to get a hold of you or an emergency contact.
Important Contact Info For The Homeowner – For the homeowner to take with them in case they need to contact the house sitter or emergency contacts.
House Contractors – For long term stays.
Itinerary – So the house sitter knows where you are and has an alternate way to contact you, if needed. The itinerary also lets the house sitter know when you will return so he/she will be prepared to leave the home in good shape!
House Usage – Lets the house sitter know which bedroom you'd like them to use, your visitor's policy, whether or not they are allowed to use your vehicles, and spaces you'd rather they stay out of.
Home Systems – Provides space to list passwords for wifi and the alarm system as well as notes on how to use your computer and television.
Household Appliances – Gives a place to explain how your appliances work.
Just In Case … If the electricity goes out or there's a plumbing issue, your house sitter can check this sheet to know where to find flashlights or turn off the water.
When You Arrive At The House – Where should your house sitter park? What is the best way to enter your home? This sheet will spell it out for your house sitter.
When You Leave The House – Should certain lights be left on? Are there lights on timers? What about curtains or blinds to close? This is the spot to spell out your expectations.
Household Services – Mail, garbage, cleaning, or gardening services should be relayed to your house sitter so they can pick up the mail, not let the garbage pile up, and know when to expect someone at the house to clean or garden.
Plant Care – Indoor and outdoor watering schedule.
Daily Schedule – This is a perfect place to list out daily tasks, by time of day.
Weekly Schedule – A weekly schedule will allow you to list tasks that may only happen once a week, like garbage pick up.
Monthly Schedule – The monthly schedule can give a quick snapshot of what happens, when.
Notes – For any extra information you would like to share with your house sitter.
BONUS! Pet Care Information
Cover Sheet
Pet 411 – A quick, one page, information sheet on your pet. Have more than one pet? Print as many copies as you need!
Pet Sitter 411 – A snapshot of your pet's important information.
Chore Chart – A checklist so your sitter knows she's completed the tasks your pet is used to.
Exercise Tracker – A way to track that your pet has gotten the exercise he/she has grown accustomed to.
Pet Supplement & Medication Chart – Lists medications/supplements, units, dosage, and days they should be given, to avoid error.
Medication Tracker – The perfect way to track whether medications have been given so your pet doesn't end up with a double dose.
Pet Schedule – This is the place to list your pet's daily schedule so they can stay on their normal routine, while you are away.
Notes – To share any extra information about your pet, including their personality and habits.
Want to fill out the House Sitter Handbook fields on your computer, instead of writing by hand? Purchase the Fillable House Sitter Handbook here!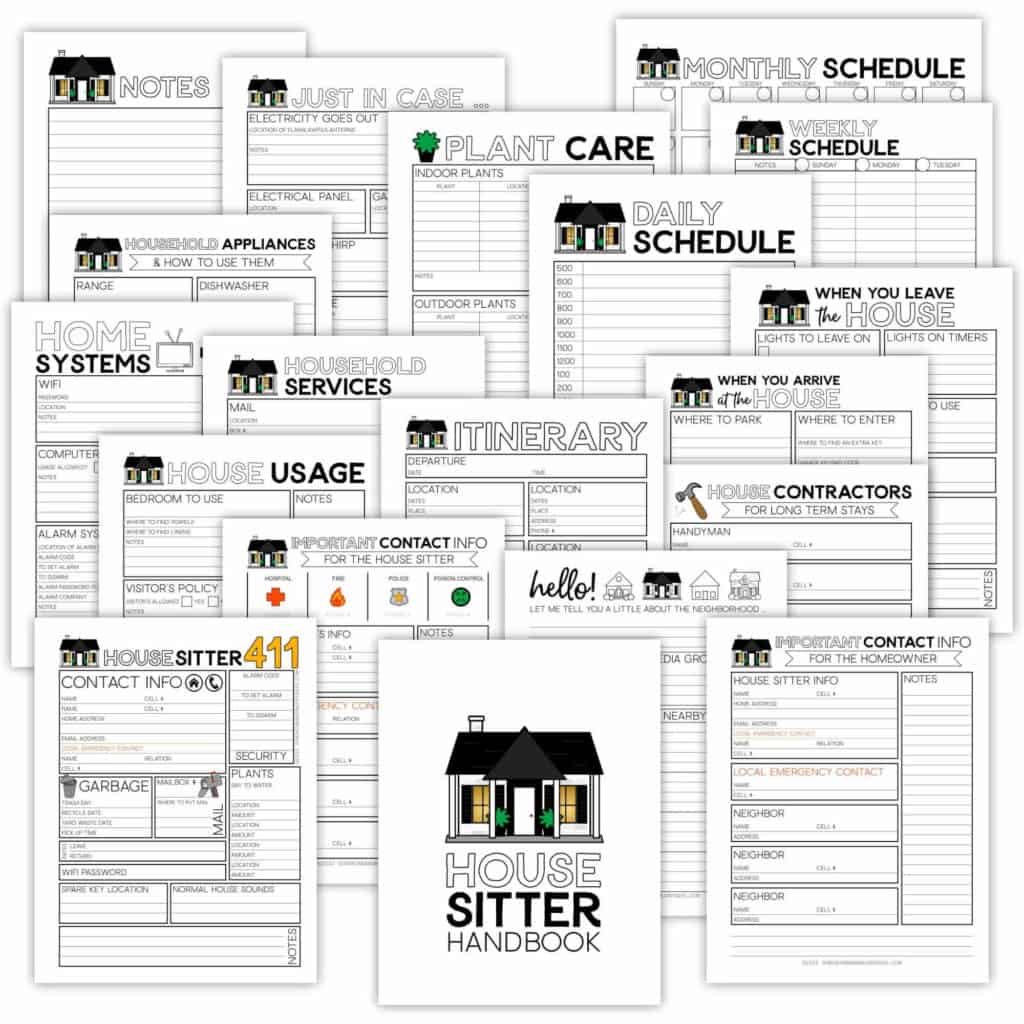 Leave your home with confidence that your house sitter knows how to keep your routine and what to do if something goes awry.