The Graduation Party Planner is here to help you organize your party so your graduate will have an awesome party and you can enjoy your guests, on the big day!
My sister came over the other day and started asking questions. Questions about my daughter's graduation party. I have to admit, we hadn't put much thought into it, until she brought it up, but the conversation propelled us in the right direction!
The next day, my sister called with even more graduation party ideas she had gleaned from my niece! I frantically scribbled ideas on scratch paper, as we talked. Yes, me, the printables fanatic, scribbled on scratch paper! You know what THAT means! Printables were brewing in my head!
This Graduation Party Planner was created to guide you in your quest to throw a fantastic party for your graduate!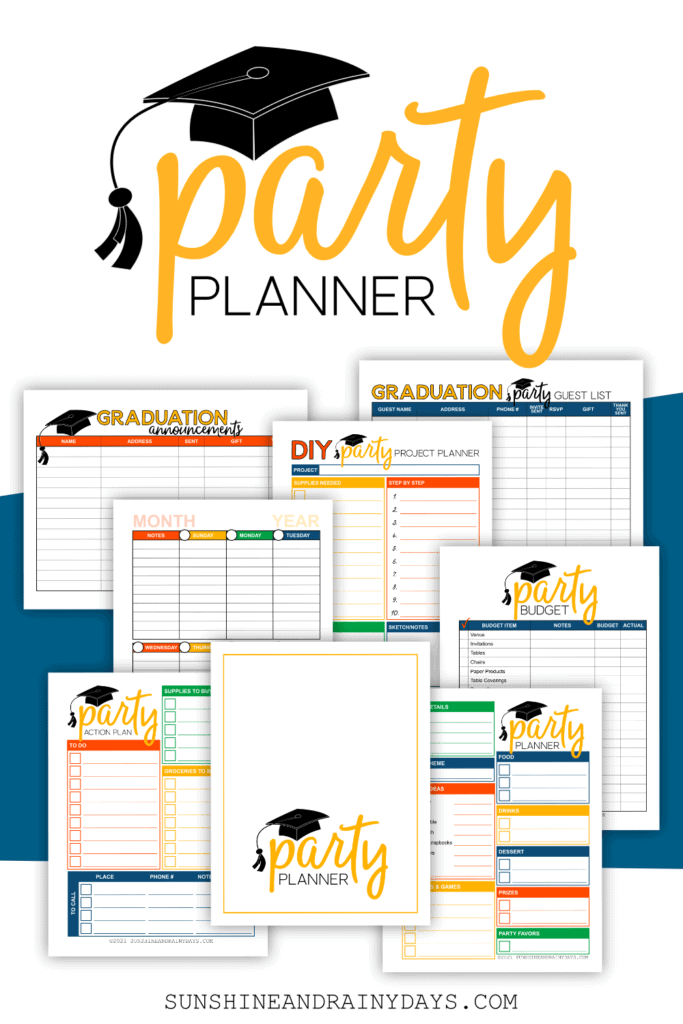 Graduation Party Planner Supplies
This post contains affiliate links. When you purchase through an affiliate link, we receive a small commission at no additional cost to you. Disclosure.
Paper
Graduation Party Planner – found below
3-Ring Binder
Hole Punch
Writing Utensils
A Creative Mind!
The Graduation Party Planner will guide you through party details, that you can go over with your graduate, so you feel confident that you're prepared to throw a memorable graduation party!
The Graduation Party Planner Includes:
Binder Cover & Spine
This Planner Belongs To Page
Undated Weekly Calendar – to print as many times as you'd like!
Party Budget
Party Planner
Party Action Plan
DIY Party Project Plan
Party Guest List
Graduation Announcements List
How To Plan A Graduation Party
1) Print the Graduation Party Planner.
Hole punch the pages and place them in a binder to keep all of your party information, in one place.
2) Sit down with your graduate and family members to come up with a plan, using the Party Planner.
Location – Determine the location you would like to use for your party. Are you happy to throw a party in your home? You could also reserve a spot in a park or use a community building.
Pick A Date! – Once you pick a date, get your invites out as soon as possible. This is a busy time of year and you will likely have a conflict in schedule no matter how hard you try.
Choose A Time – Will you be hosting an open house or serving lunch or dinner? The time will tell your guests what to expect. If you choose 11:00 – 2:00 or 4:00 – 7:00, guests will likely think you are serving lunch or dinner. Schedule a party between usual meal times like 1:00 – 4:00, and guests will know snacks will be served.
Pick A Theme! – You don't have to have a theme but it sure does help guide you in your plans. We chose to go with a Portland theme since our daughter would be attending college in Portland!
Decorations – How will you decorate? My niece had the fun idea to decorate each area with a Portland favorite. For example, the food bar would have a few food trays on stacked books to represent Powell's Books, in Portland! The dessert table would host donuts, representing a favorite donut store and the gift table would boast her college colors!
Activities And Games – Will you provide activities or games for your graduate's party? This seems to be a popular choice among many.
Food – What food will you provide? Will you have it catered? Prepare food yourself? Semi-catered? Is it a full meal deal or light snacks? Maybe you'll choose to do a mixture of it all!
Drinks – What kind of drinks will you provide? A few choices might be Jar Drink Dispensers with lemonade, iced tea, or flavored water. What about canned soda on ice?
Dessert – Dessert is a must have! Is cake your thing? You could also go a different route and do something like donuts, a candy bar, or your graduate's favorite dessert.
Prizes – Do you need prizes? If games and activities are on your list, prizes are an excellent addition!
Party Favors! – Who doesn't love a party favor?
3) Create a budget for your party.
Now that you have a plan for your party, it's time to get down to the nitty gritty and figure out how much money you will need to throw your party. While going over your budget, you may decide a graduation party at the swanky hotel, in town, isn't necessary and opt for a party at your home, instead.
A little creativity can go a long way to make your party special, without breaking the bank.
4) Come up with an action plan.
It's time to delete the 105 open tabs in your head and put your to do's on paper with the Graduation Party Action Plan! The Graduation Party Action Plan was designed to be used alongside the Graduation Party Planner. Once you have the plans, it's time to move into action!
To Do's – What do you need to do to make this party happen? Take a look at your Graduation Party Planner and list your To Do's, in order to put the plan into action.
Supplies To Buy – Go over your party plan and determine what supplies you need to purchase. This could be paper products, decorations, supplies or prizes for games, or party favors. You may also need to purchase an extra table or two, tablecloths, folding chairs, etc. If you can borrow some of these items, put the person you're thinking of on your To Call list.
Groceries To Buy – Check out your food, drinks, and dessert list from the Graduation Party Planner and determine what groceries you need to buy for your party.
To Call – List the Place and Phone # of those you need to call. If you plan to cater your party, host it in a community building, or want to ask a friend to help, write the phone numbers down and make a plan to call them.
Put your mind at ease with a Graduation Party Action Plan!
5) Plan any projects that need to be completed.
Do you want to build a sweet photo backdrop, create a space to show off your graduates pictures and memorabilia, or make table centerpieces?
Supplies Needed – Write down the supplies you will need to complete your project.
To Buy – Out of the supplies you need, for the project, what do you have on hand and what do you need to buy?
Step By Step Directions – Record the steps you need to take to complete your project.
Sketch/Notes – Make a sketch of your project or write down anything you need to remember, for this project.
6) Create a graduation party guest list.
Your graduation party plans are in place and you know what needs to be done, now it's time to invite guests!
Make a list of the guests you and your graduate would like to invite.
Write out their addresses and phone numbers.
Place a checkmark next to your guest names, once you have sent the invite. This is an important step because you will second guess yourself and wonder if you've sent an invite to Sally Sue. Your list will tell you!
As your guests RSVP, record that information so you can prepare for them.
On the same guest list, write in any gift your graduate has received, from each guest. This makes it super easy when it comes time to write thank you notes as you already have their addresses written down!
After your graduation party, have your graduate go through the party guest list and write thank you notes, making a checkmark next to each name, as they write the thank you.
7) Send graduation announcements.
Not everyone will be able to attend your graduation party so it can be good to send graduation announcements to family and friends who live far away.
Create a list of people you would like to send graduation announcements to.
Write down their addresses and phone numbers.
Place a checkmark next to their name, once you've sent the announcement. I referred to this list quite often, in order to not send duplicates or leave someone out.
If your graduate receives a gift from someone they've sent an announcement to, have them record what the gift is.
Use this list to write thank you notes and record, once they've been sent.
8) Create a Timeline
Use a calendar to create a timeline for accomplishing the things you'd like to do for your graduation party. This will keep you on task and help you to avoid last minute chaos because you forgot to pick up the tables you were going to borrow or you ran out of time to dig out the scrapbooks.
Graduation parties are meant to be a fun and relaxing time to spend with friends and family. Make a plan so you can avoid the last minute scurry and host a graduation party your graduate will be proud of!
More Graduation Resources
Graduation Party Favor Idea That POPS!