Are you looking for inspiration for a Graduation Party? Take advantage of our Graduation Party Planner! Watch your creative juices flow as work your way through our planner with your graduate!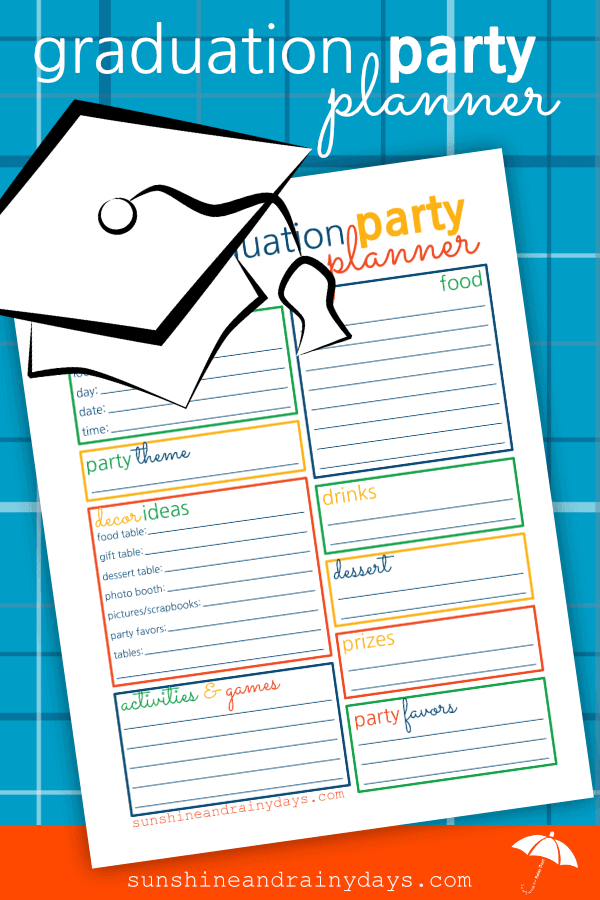 Graduation Party Planner
My sister came over the other day and started asking questions. Questions about my daughter's graduation party. I have to admit, we hadn't put much thought into it until she brought it up but the conversation propelled us in the right direction!
The next day, my sister called with even more graduation party ideas she had gleaned from my niece! Woot! Woot!
I frantically scribbled ideas on scratch paper as we talked.
Yes, me, the printables fanatic, scribbled on scratch paper!
You know what THAT means!
A printable was brewing in my head!
This Graduation Party Planner was created to guide you in your quest to throw a fantastic party for your graduate!
Graduation Party Planner Supplies
This post contains affiliate links. When you purchase through an affiliate link, we receive a small commission at no additional cost to you. Disclosure.
Printer – I just purchased this one and it is ah-mazing! You will love it!
Paper
Graduation Party Planner – found below
Writing Utensils
A creative mind!
How To Use The Graduation Party Planner
Print the Planner – found below.
Sit down with your graduate and family members to come up with a plan.
Location – Determine the location you would like to use for your party. Are you happy to throw a party in your home? You could also reserve a spot in a park or use a community building.
Pick A Date! – Once you pick a date, get your invites out as soon as possible. This is a busy time of year and you will likely have a conflict in schedule no matter how hard you try.
Choose A Time – Will you be hosting an open house or serving lunch or dinner? The time will tell your guests what to expect. If you choose 11:00 – 2:00 or 4:00 – 7:00, guests will likely think you are serving lunch or dinner. Schedule a party between usual meal times like 1:00 – 4:00, and guests will know snacks will be served.
Pick A Theme! – You don't have to have a theme but it sure does help guide you in your plans. We chose to go with a Portland theme since our daughter will be attending college in Portland!
Decorations – How will you decorate? My niece had the fun idea to decorate each area with a Portland favorite. For example, the food bar will have a few food trays on stacked books to represent Powell's Books in Portland! The dessert table will host donuts representing a favorite donut store and the gift table will boast her college colors!
Activities And Games – Will you provide activities or games for your graduate's party? This seems to be a popular choice among many. We aren't sure if we will have activities and games at our party. Time will tell!
Food – What food will you provide? Will you have it catered? Prepare food yourself? Semi-catered? Is it a full meal deal or light snacks? Maybe you'll choose to do a mixture of it all!
Drinks – What kind of drinks will you provide? A few choices might be Jar Drink Dispensers with lemonade, iced tea, or flavored water. What about canned soda on ice?
Dessert – Dessert is a must have! Is cake your thing? You could also go different and do something like donuts, a candy bar, or your graduate's favorite dessert.
Prizes – Do you need prizes? If games and activities are on your list, prizes are an excellent addition!
Party Favors! – Who doesn't love a party favor?
Sisters are the BEST! If you don't have a creative family member to guide you through this exciting time, use our printable to motivate you!
More Graduation Resources