For my daughter's graduation party, we chose to focus the graduation party theme on the city where she would be going to college. My sister and niece helped us come up with awesome graduation party ideas, and we went to work planning a graduation party that would be memorable and fun!
Every graduation party needs to have certain elements to it, and we chose to designate each of those spaces as a popular part of Portland since she would be attending the University of Portland.
A Unique Guest Book
I got this Oh, The Places You'll Go idea from my friend at Joyfully Thriving, where you write meaningful Bible verses that accompany the storyline. For the guest book table, I made a sign with her college name to represent her college, placed a University of Portland sweatshirt, and used an Oh, The Places You'll Go book as the guest book. Party guests could choose any page to write a message on or sign their names.
The nice thing about this guest book is that she can put it on a shelf with her other books, so she can easily look back at it and read what people wrote!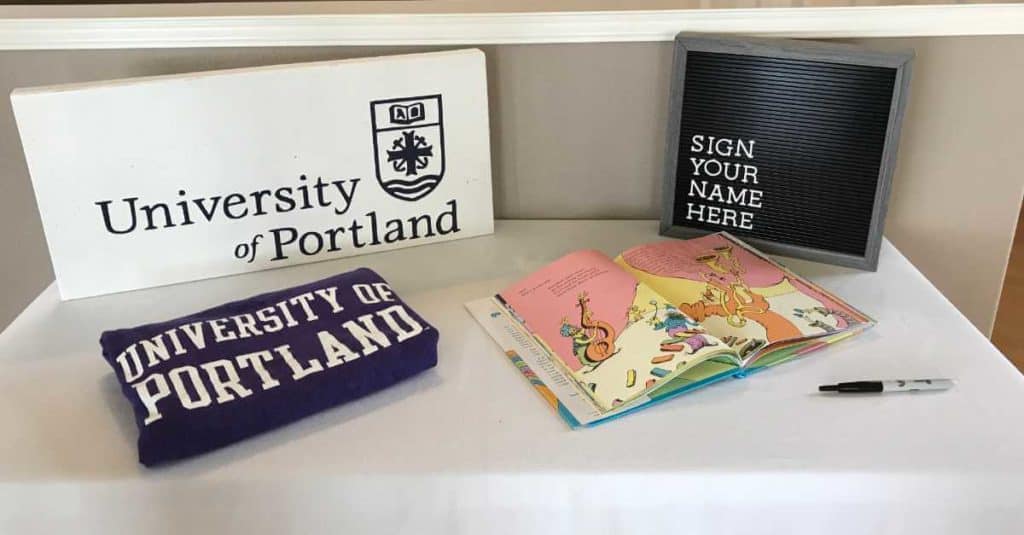 A Place To Display Photos And Memorabilia
Graduation parties are all about the graduate, so it's important to share photos and memorabilia that highlight them.
I built this picture and scrapbook display out of 1 x 3's, hinged at the top, and decorative boards as shelving. It worked perfectly, and we dubbed it Powell's Books, a popular bookstore in Portland.
Justine is an avid reader who loves bookstores, so this was a good part of Portland to represent at her party!
Underneath the display, you'll see a basket with a quilt inside. This is a quilt Justine made out of her dog, TeddiBear's, scarves he got from the groomer. She made it to take to college with her.
We also had a slideshow running on the television.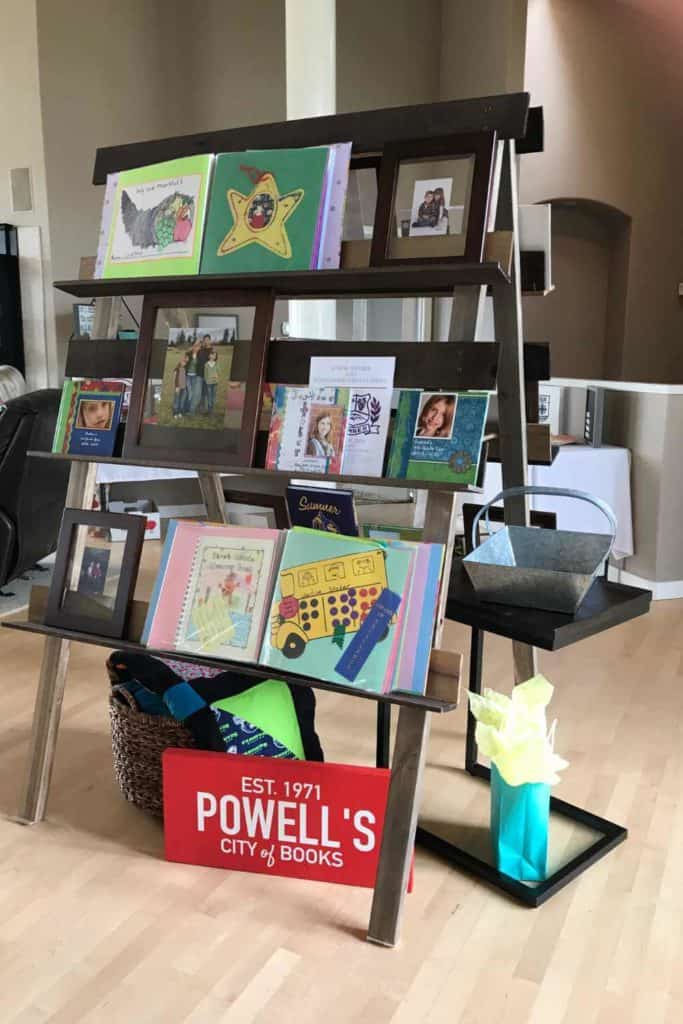 Card Receptacle
Every graduation party needs a designated space for guests to put cards and gifts. We used a metal basket on a C-shaped couch table we already had and placed it next to the photo display.
If you're choosing a party theme, your card receptacle might be something like a small open suitcase for an Oh, The Places You'll Go graduation party theme or a large Mason jar for a rustic theme.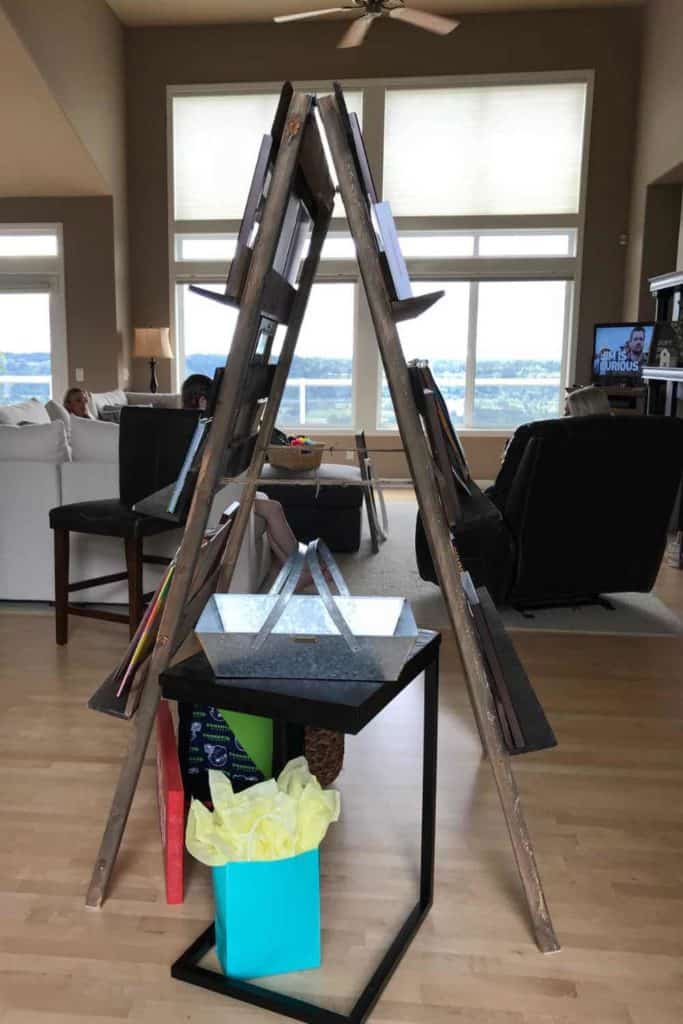 Beverages
Whether you're doing a full meal or serving snacks, drinks are a must-have. The good thing is you can make it as simple or elaborate as you'd like.
We chose to serve water and iced tea in jar dispensers and had cans of pop in a galvanized bucket full of ice. Jars make easy glasses that you can use for any party and save on the cost of plastic cups. Plus, they're just nicer to drink out of!
Food That's Easy To Serve
You won't want to be stuck in the kitchen for the graduation party, so be sure to serve food that you can prepare in advance. Then, designate a friend or family member to help refill things so you can enjoy your guests.
Going along with Powell's Books idea, we used a few of Justine's books to add height to our food counter. This shows that you can use things you already have to create a fun theme for your graduation party.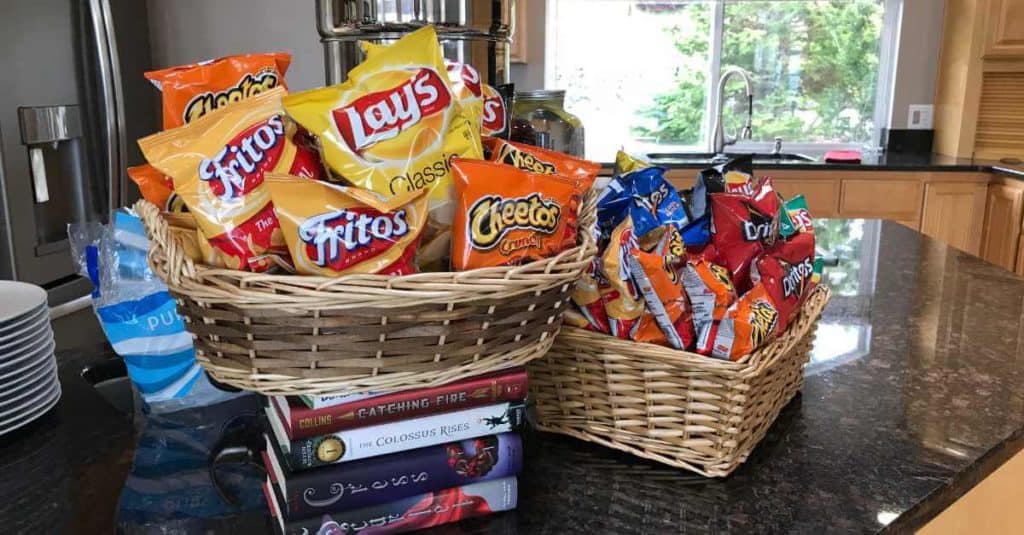 If you like the idea of a catered meal but don't like the price, you can incorporate catered or take-out food with simple foods to go along with it for the perfect mix.
We chose to order and pick up Mini Jimmys to go along with snack-size chips, fruit, and veggies.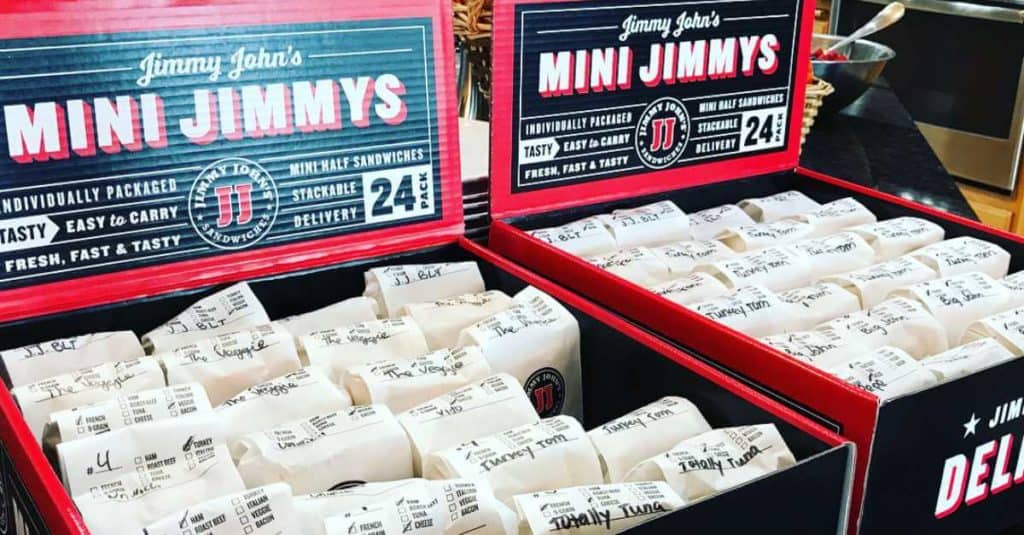 Borrow Tables And Chairs
It's likely that you have neighbors, friends, or family that have tables and chairs you can borrow for the graduation celebration.
We chose to keep the table decor simple with tulle and flowers in school colors.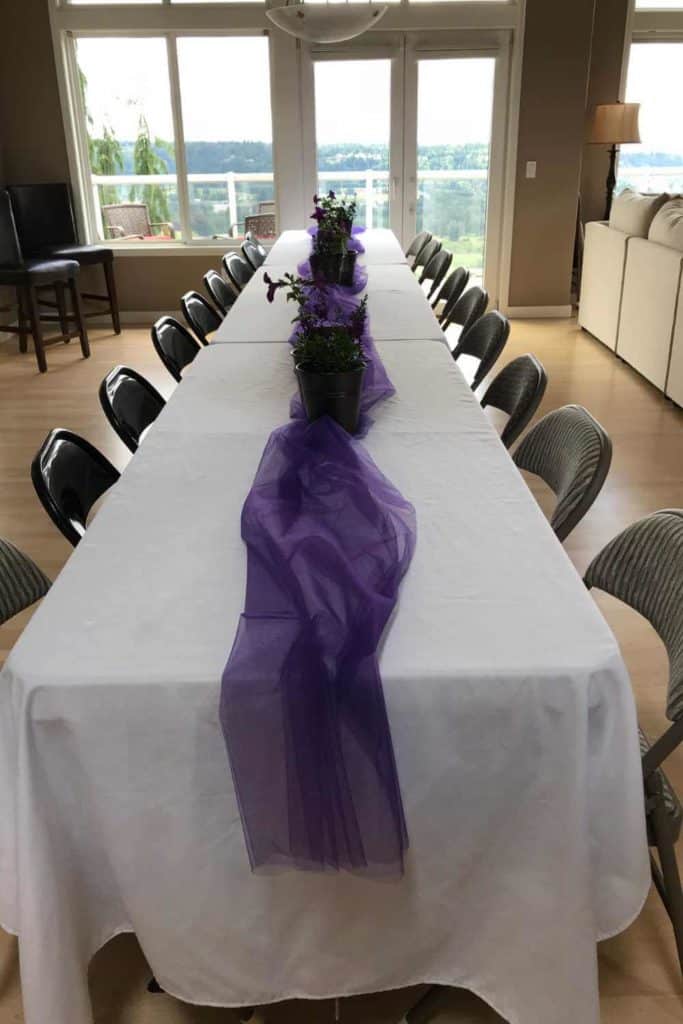 A Dessert The Graduate Will Love
Keep the graduate in mind when you plan a dessert. Avoid the box cake from Costco with Congratulations scrawled across it in favor of a dessert that the graduate will love, and that goes with the theme your graduate chose.
Pip's Original Doughnuts is a popular doughnut shop in Portland, so we thought doughnuts would make a perfect dessert for Justine's graduation party. Of course, the doughnuts we served were from a local doughnut shop in Washington, but they served as a good representation!
You might notice that we used real plates! Although the upfront cost was more than purchasing paper plates, we've used these dishes over and over, so it's been a good long-term investment.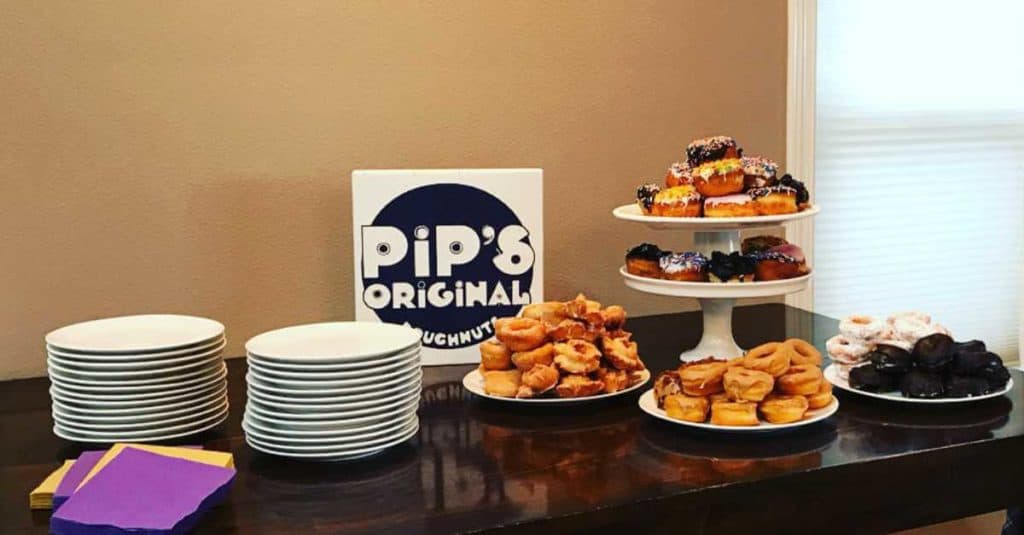 Festive Party Favors
Party favors are a fun way to show your appreciation to your guests for taking the time to celebrate your graduate.
We had been to the Saturday Market in Portland a few times and decided to call our party favor table The Saturday Market. We purchased various items that guests could choose from as their parting gift, and it was well received! We had coffee from my sister's coffee roasting company and fruit from my niece's produce stand, along with plants, candy, signs, and IKEA bags we thought her friends might like for moving into their dorms.
You could also make your party favors as simple as this Graduation Party Favor Idea That POPS!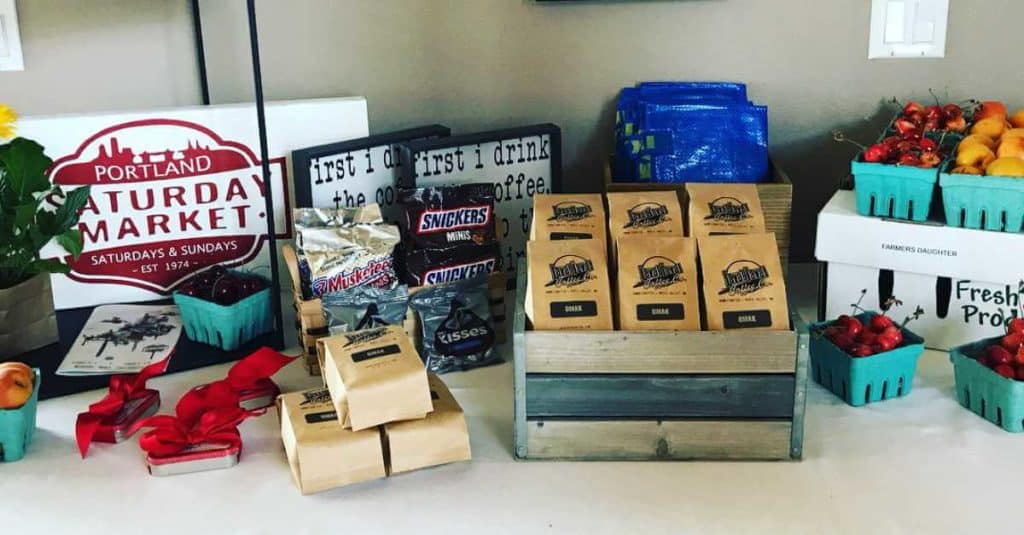 I made the signs of 2 x 12's that I had painted and then used my Silhouette to create stencils to paint on a place like Pip's Original Doughnuts or Portland Saturday Market. If you're interested in making signs like these, I have made similar signs and explained how to make them in detail here.
Photo Backdrop
When family and friends get together, pictures are a must, and you can provide a space that encourages more picture-taking!
We didn't create a photo backdrop for Justine's graduation party, but we did provide a few props that we placed in the living area.
Hot Tip: Pick up year glasses at New Year's to use for the graduate's party!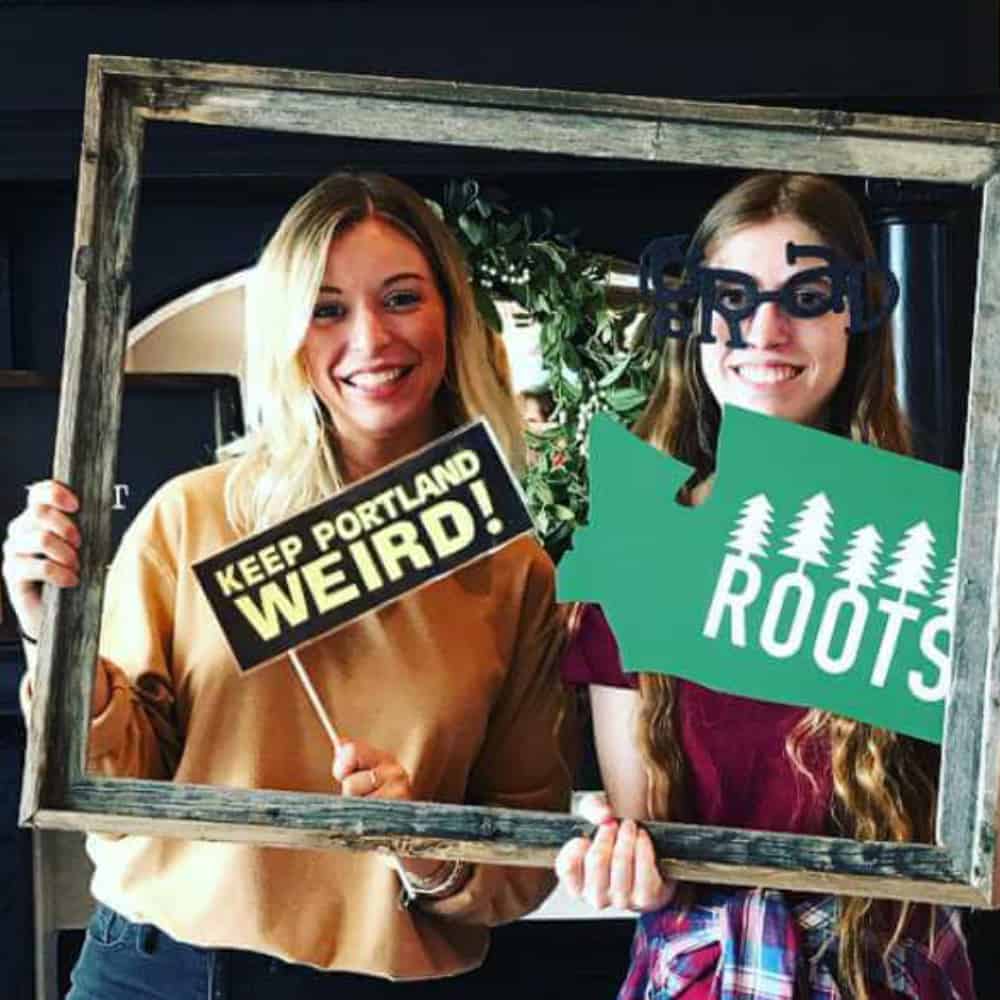 Decor
I have to admit I've never been big on party decor, but there are a few simple things you can do to dress up your space a bit without pulling out the crepe paper streamers.
Graduation Sign
Print this graduation sign right at home, and place it in a regular 8-1/2 x 11 frame for a quick and easy piece of decor you can use at your graduation party or to celebrate the graduate.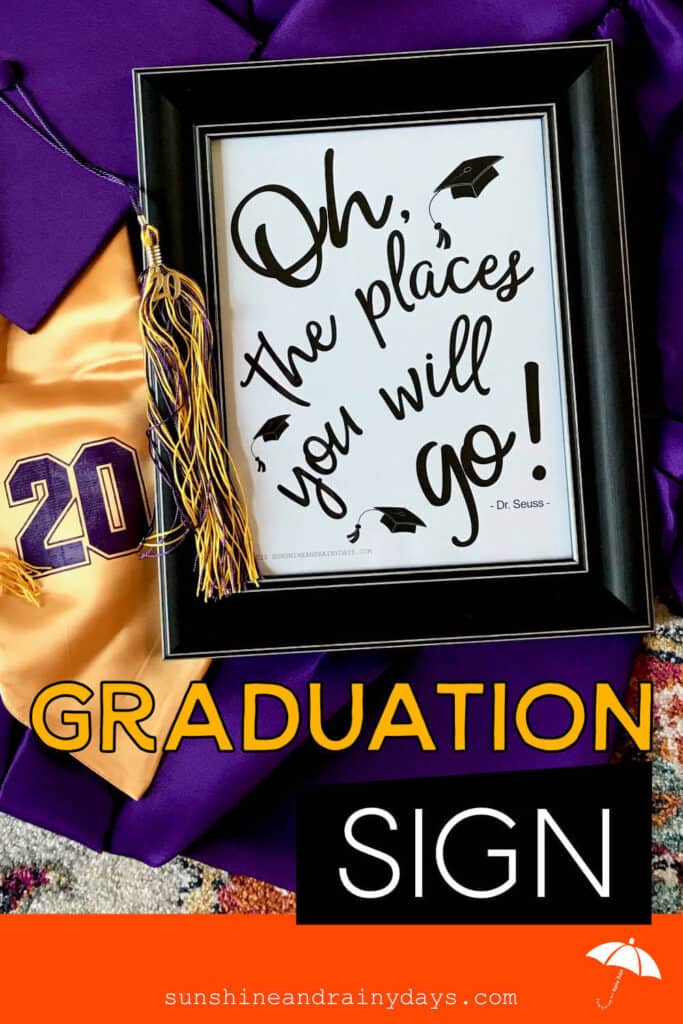 Banners
From a banner to adorn your fireplace mantel to large banner flags you can print, laminate, and use outside, banners are always a good way to decorate for parties.
Games And Activities
It's always nice to have games or activities available at graduation parties because you will probably have guests that don't know each other and don't want to dominate your time. A game or activity will give them something to do and maybe even help them meet a few people too.
Guess How Much Money Is In The Jar Graduation Party Game
This graduation party game is easy to put together and won't require you to get everyone's attention to play. Instead, it's a game guests can participate in at their leisure when there's a lull in conversation or they need something to do.
It was fun to catch up with friends, family, and even old neighbors at Justine's graduation party! It was a memorable time that focused on her and was simple enough that we could enjoy the day as well.
Graduation parties are meant to be memorable and FUN! Use these simple graduation party ideas to make your graduate's day a special one that doesn't leave you broke!
More Graduation Party Ideas