A graduation party is a momentous occasion that celebrates the achievement of completing an educational milestone. One of the most exciting aspects of planning a graduation party is choosing a theme that reflects the graduate's personality and interests. Let's explore some creative graduation party theme ideas to inspire you to plan a party that will be remembered for years to come.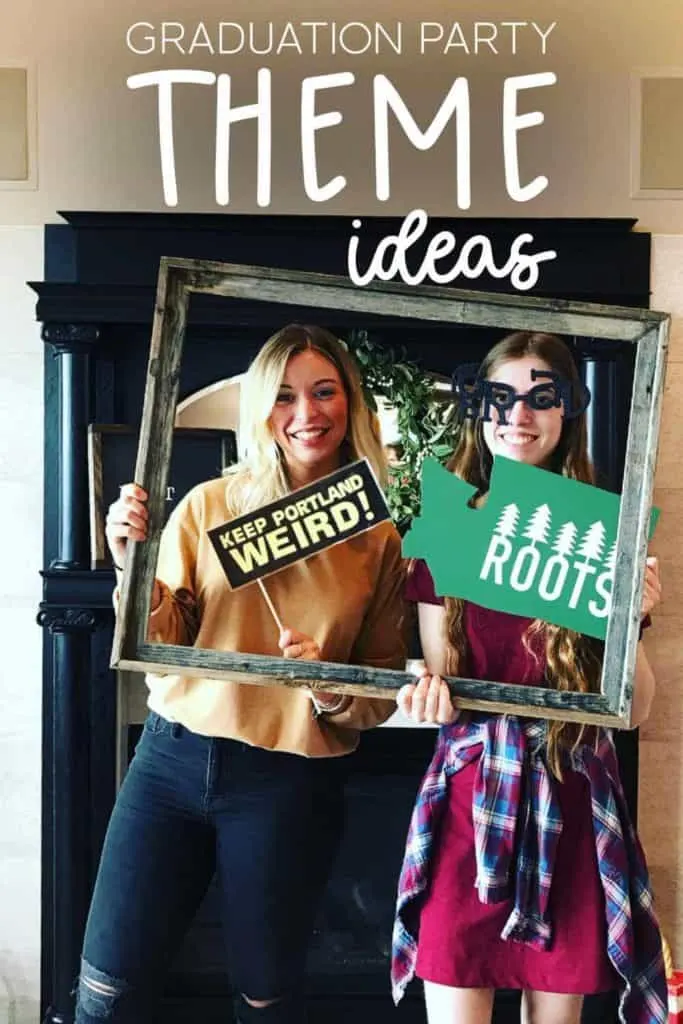 Graduation Party Theme Ideas To Inspire You
This post contains affiliate links. When you purchase through an affiliate link, we receive a small commission at no additional cost to you. Disclosure.
Hollywood Glam: For the graduate who is a movie buff, roll out the red carpet and make your guests feel like stars. Decorate with movie posters, have a photo booth with props, and serve hors d'oeuvres on fancy platters.
Beach Bash: If the weather will be nice and the graduate loves the beach, a beach-themed party would be perfect. Decorate with seashells, palm trees, and beach balls. Serve seafood and tropical drinks, and play beach volleyball.
Sports Spectacular: If the graduate is a sports fan, this theme is a great choice. Decorate with jerseys and sports equipment, serve snacks like hot dogs and nachos, and play games like cornhole or basketball.
Travel the World: Celebrate the graduate by exploring a country they will be visiting through a study abroad program. Decorate with flags and maps, serve food the country is known for, and open a suitcase to use as a card receptacle.
Game Night: Gather friends for a night of fun and games. Set up tables with board games, card games, and video games. Serve snacks and drinks and award prizes to the winners.
Future Career: Celebrate the graduate with a theme related to their chosen field. Decorate with symbols and objects related to the career, serve food related to the industry, and dress up as professionals in that field.
Cityscapes: For the graduate who will be moving to a new place, create different spaces at the party that represent the popular places and events of that city. Serve food that iconic restaurants might serve and give favors that are relevant to that city.
Graduation Day: Celebrate the big day itself with a graduation-themed party. Decorate with caps and gowns, diplomas, and banners. Serve food and drinks in the colors of your school.
Retro Decades: Take a trip back in time with a retro decades party. Choose a specific decade or mix and match. Decorate with vinyl records, lava lamps, and vintage posters. Serve food and drinks from the era.
Backyard BBQ: For a more casual party, you could host a backyard BBQ with picnic tables, red and white checkered tablecloths, and summertime classics like burgers and hot dogs.
DIY: For the graduate that likes to craft, get creative with a DIY party where guests can create their own crafts or projects. Provide a variety of supplies, like jewelry-making materials or macrame supplies, and offer tutorials and tips. Serve easy finger foods to eat between projects and give a handmade item or a craft kit as a party favor.
Concession Stand: For the sports enthusiast, go concession stand style with pizza, hot dogs, hot pretzels, and popcorn. Then, provide different activities or games that go along with the theme.
Food Trucks: The foodie might like a food truck or two at a local park or parked right in front of your house! Go with the idea and make the party market style with a busker, veggie starts as party favors, and a craft or two.
Go Rustic: Use burlap for a photo backdrop, old ladders with boards between the steps for a photo display, barrels as table bases, and serve hamburgers and fries in paper trays. Then, serve ice-cream sundaes for dessert.
Oh, The Places You'll Go: For the adventurous graduate, use the Oh, The Places You'll Go Dr. Seuss book as a guest book and place an Oh, The Places You'll Go Sign on your mantel. Provide snacks from World Market and give globe beach balls or a bag of travel-sized toiletries for your guests' next adventure as party favors.
There are endless possibilities to make your graduation celebration unforgettable and customized to your graduate's interests. I hope these graduation party theme ideas have inspired you to plan a graduation party that your graduate will love!
More Graduation Ideas