When we moved our daughter into a dorm room, we had just about EVERYTHING on the campus ready dorm room lists. We wanted her to be prepared for anything! However, a lot of that stuff came home, at the end of the year, without ever being touched. Now that it's our son's turn to move into the dorms, we are just buying the basic dorm room essentials that he will actually need.
This post contains affiliate links. When you purchase through an affiliate link, we receive a small commission at no additional cost to you. Disclosure.
Dorm Room Essentials
Bedding Essentials
The bedding confused me because there seemed to be so many pieces and I didn't understand how they all fit together. Here, I will share the process of how to set up your college student's dorm room bed along with links so you can see what I'm talking about.
Most dorm rooms have XL twin beds so you will want to purchase bedding in that size.
Mattress Protector – The first thing you need to do when you move your student into a dorm room is cover the mattress with a mattress protector. This is important because if the mattress has bed bugs, you don't want them getting into your student's stuff. Seal up that mattress with a mattress protector.
Mattress Topper – Place a mattress topper on top of the mattress protector. This makes the dorm mattress comfortable to actually sleep on. There are wide price ranges for mattress toppers but thankfully, we were gifted a really good quality mattress topper from my niece's dorm room days. I felt better knowing my daughter would be able to have a comfortable night's sleep!
Mattress Pad – The mattress pad goes over the mattress topper and the mattress that is enclosed in the mattress protector. This protects your mattress topper and combines it all into what looks like one mattress.
Sheets – It seems many young people these days don't use flat sheets but at the very least, purchase a twin XL fitted sheet or two.
Comforter – This is where your student can have fun in deciding what style they would like for their dorm room.
Blanket – An extra blanket may not seem necessary but they will want one. Take my word for it!
Pillows – The number of pillows your student usually sleeps with along with pillow cases.
Hopefully, I've helped make the dorm room bedding a little more understandable!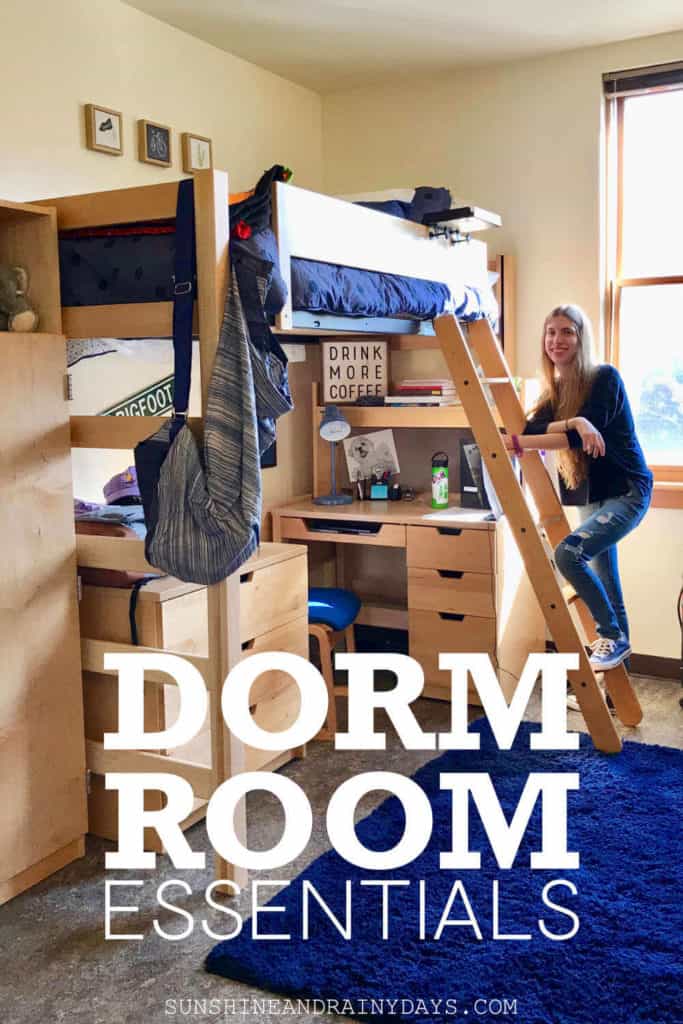 Community Bathroom Essentials
Towel Sets – College students can usually get by with 3 sets if they are okay with using towels more than once, before washing.
Shower Caddy – Carry your shampoo, soap, and anything else you need in a shower caddy.
Flip Flops – When using a community bathroom, it's important to have flip flops for sanitary reasons.
Rolling Cart – These carts are good to have around as you can find so many uses for them. Justine had a sink in her dorm room and used a rolling cart to hold her shower caddy and towels.
You may also want to purchase a robe for moving back and forth to the showers, however, we purchased one for Justine and she didn't end up using it.
Private Bathroom Essentials
If your student is lucky enough to have a private bath, their needs may be different depending on the bathroom set up and how many people are sharing.
Toilet Paper
Hand Soap
Hand Towels
Towel Sets
Shower Caddy – Optional, depending on if they want to leave their shower necessities where others sharing would have access to them.
Flip Flops – If multiple people are sharing the same shower.
Plunger
Toilet Brush
Cleaners
Shower Curtain – If needed.
Bath Rug – Optional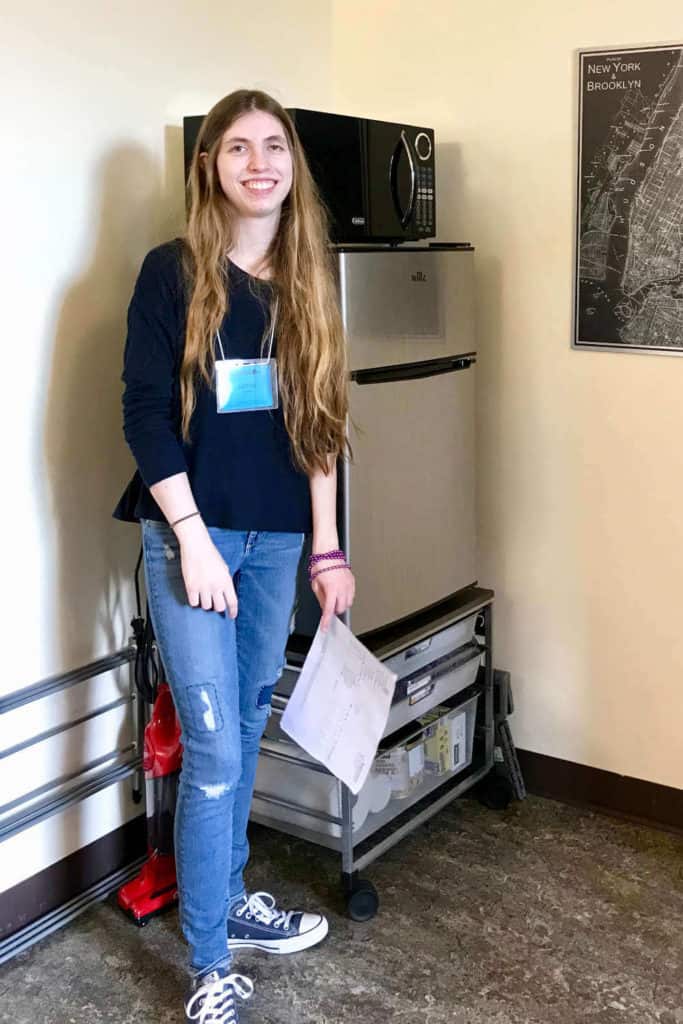 Kitchen Essentials
If your student prefers to cook on their own, they will have different needs. This list is for those that plan to use on campus dining halls but would like to store leftovers, from eating out, or make convenience meals once in a while.
Refrigerator with Freezer
Microwave
Water Bottle – Many campuses have water filling stations. You may also want to invest in a Brita water pitcher. My daughter had one but chose to use the water filling stations, instead. My kids prefer Hydro Flasks because they keep water colder, longer and hot drinks hot, longer. They also like to put fun stickers on them!
Storage Cart – We used the Elfa Rolling Cart for food storage and placed the refrigerator on top!
Disposable Utensils
Paper Plates/Bowls
Disposable Cups
Paper Towels
Napkins
Favorite Snacks
Favorite Microwavable Meals
Justine didn't want to worry about doing dishes in a dorm room and opted for disposable dishes and utensils.
Laundry Essentials
Clothes Hamper – Your student will likely need to do their laundry on a different floor than their room so a clothes hamper that is easy to carry is important! There are clothes hampers that are collapsible, have backpack straps, and even room for laundry detergent!
Laundry Detergent – My daughter preferred Tide Pods, for ease of use.
Dryer Sheets
Mini Sewing Kit – Justine actually used hers a little!
Money – Likely, your student will use their student ID to pay for their laundry and money can be loaded to that. There may still be some colleges that use quarters and, if so, you'll want to load your student up!
Some people may highly recommend drying racks and a clothes steamer. This will be dependent on your student. Justine didn't use either and I doubt Jack would either.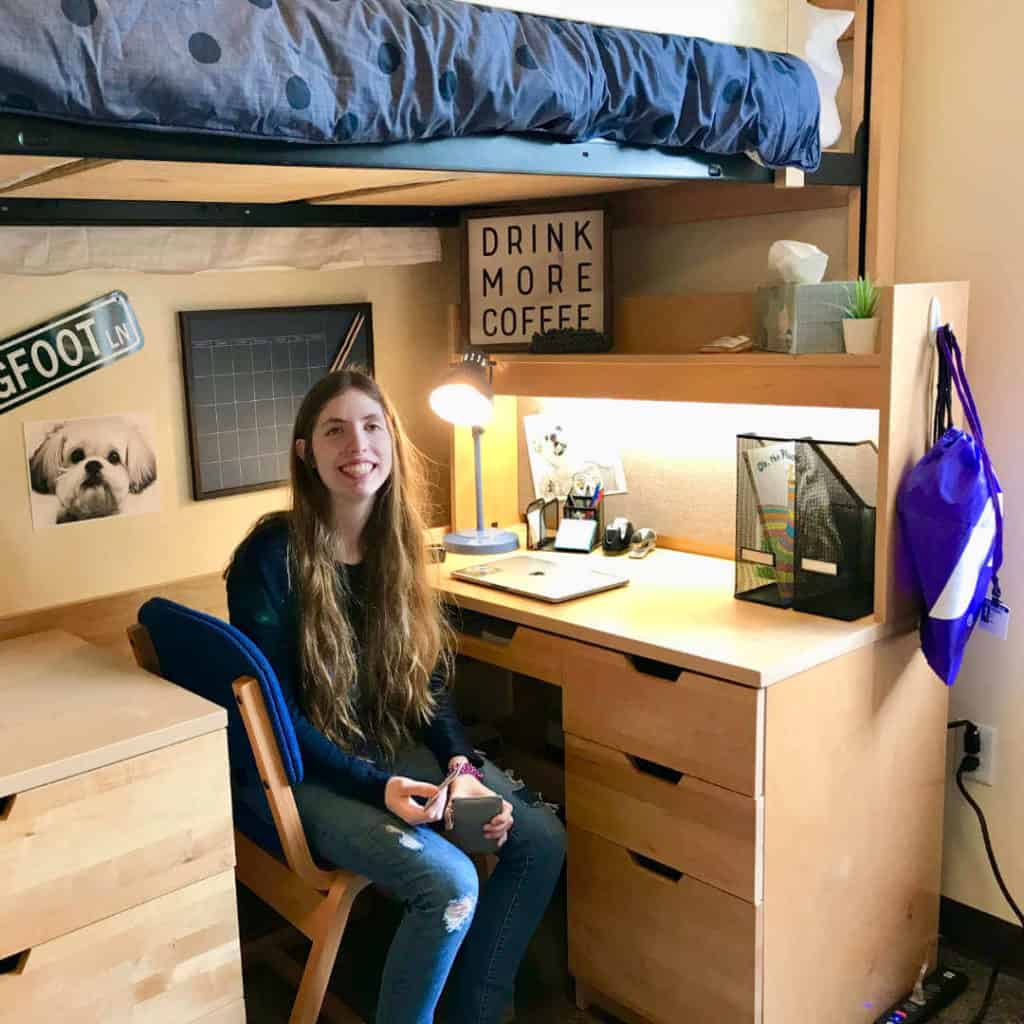 Desk Essentials
Since space is limited, think of your college dorm room desk as a place to not only store stationary supplies but also things like a first aid kit, sewing kit, a tool kit, back up batteries and lightbulbs, and even a flashlight.
Desk Lamp – Be sure to pack replacement lightbulbs, too.
Surge Protector
Desk Organizers – We used boxes to organize Justine's desk drawers and magazine files on top of the desk!
Tape, Stapler, Pens and Pencils, Post-It Notes
Push Pins – If your desk has cork board, you will want to have push pins to put up your favorite pictures and notes!
Clothing Storage Essentials
Clothing storage will depend on your student's room, what clothes they plan to bring, and what storage space is provided. My daughter didn't feel the need to take her entire wardrobe and the drawers and closet space provided were sufficient. Jack's room has quite a bit of hanging space so we will utilize a hanging clothes organizer so he doesn't have to hang everything.
Here are a few organization items to consider:
Command Hooks – For hanging lanyards, purses, towels, and coats.
Hangers
Under The Bed Storage
General Dorm Room Essentials
Security Box – Your student will need a safe place to keep important documents and valuables. Even if your student knows their roommates, they should still have a way to secure things that are important to them and that others might find valuable. They may have guests in their room or doors may be left unlocked so be sure to avoid the hassle of trying to replace valuable items or deal with a stolen identity by taking this simple step. A security box with a cable that can be wrapped around a desk leg or bed is ideal.
First Aid Kit – Make sure your student will be prepared if they need a bandaid, have a headache, or need to take their temperature.
Tool Kit – A simple toolkit you create yourself or a pre-purchased kit will come in handy at move in and other times throughout the year. My daughter once had a ring stuck on her finger. No amount of soap would get that thing to budge. Thankfully, she had wire cutters in her toolkit and her roommate was able to cut the ring off.
Flashlight – In case he/she needs to walk at night or the power goes out.
Batteries – Back up batteries for any of their items that need it.
Cleaning Supplies – A Swiffer or small vacuum and a multi-purpose cleaner should work just fine.
Fun Dorm Room Extras
Rug – A rug is cozy for their feet when their dorm room has hard floors.
Full Length Mirror – Use Command Hooks to attach it to a door or wall.
Fan – Many dorm rooms don't have air conditioning so a fan is good to have. It is also a great way to create white noise when your student wants to sleep or study.
Door Stop – It's nice to have a door stop to prop dorm doors open so others can easily pop by to say hi! We also used a door stop for move in.
Wall Art, Tapestry, or Photographs so your student doesn't have to stare at bare walls. Don't forget Command Strips for hanging!
Decorative Pillows for their bed.
Simple Chairs or Ottomans, if space allows.
Bedside Shelf – If you decide to loft your dorm bed, it is nice to have a shelf that attaches to the side of the bed so you have a spot to put your phone or a glass of water. However, we discovered Justine's dorm room already had something that would work.
Many students like to use string lights and tension rods with curtains. Let your student be the guide on what they would like and, keep in mind, the year will fly by. There's no need to deck it out perfectly when this is a bit of a temporary stay.
Now, my daughter lives in a rental house with roommates and her needs are much different. She and her roommates have had a lot of fun collecting things for their home and recently refinished a table they got free from a Buy Nothing group.
It's important that you help your student collect the dorm essentials they need and let them slowly accumulate the extras as they'd like!
Where do you buy dorm room essentials?
There are a few good places to purchase dorm room essentials.
Marshall's often has dorm room bedding, at certain times of the year and you can always find decorative items there.
Target is a good place to find everything you need for a dorm room.
Costco sometimes carries dorm room refrigerators and bedding. Of course their towels are a good buy as well.
The Container Store is an excellent place to find different things to help you get organized in a small space. This is where we purchased a rolling cart to put Justine's small refrigerator on and Jack will use it, too!
Amazon is a good way to order things to send straight to the dorm room or even after you've moved your student in and have discovered things they still need.
Shopping Tip: Use Rakuten, when shopping online so you can earn money back to help pay for things like … college tuition!
Things you DON'T need for your dorm room.
Umbrella – We live in Washington state and rarely use umbrellas. I doubt your college student will either.
Dry Erase Board – Justine didn't use hers but she is a planner type of girl. Still, before you spend the money, consider if your student would actually use it.
Printer – Most assignments are turned in online and, if they need to actually print something, the library is available to make that happen!
Drying Rack
Steamer
Iron
Lint Roller – I sent one with her but she never used one at home so I don't know why I thought she'd start using one in college.
Can Opener – Unless your student is really into cooking, this will likely go unused.
Ear Plugs – The packages we sent came home unopened.
Step Stool – Not sure why she would need this either but it was on a list, somewhere, so we bought one. Thankfully, we found a folding one at Marshall's so it didn't take up too much space.
Wastebasket – The dorm room had a wastebasket already so this was unnecessary.
Robe – It sounded like a good idea but it went unused.
Television – It's easy to stream, right on a computer.
Alarm Clock – They use their phones as alarm clocks!
Massive Amounts Of Make Up
An Entire Jewelry Collection
Every Pair Of Shoes
This is a time to embrace simple living and to enjoy all that a college campus has to offer! Encourage your student to not fill their room with everything they own but, instead, to take their favorite clothes and essentials they will need to live for 10 months. Keep in mind, they will get to come home on breaks and can swap out clothes when they do!
Get Your Dorm Room Checklist Here!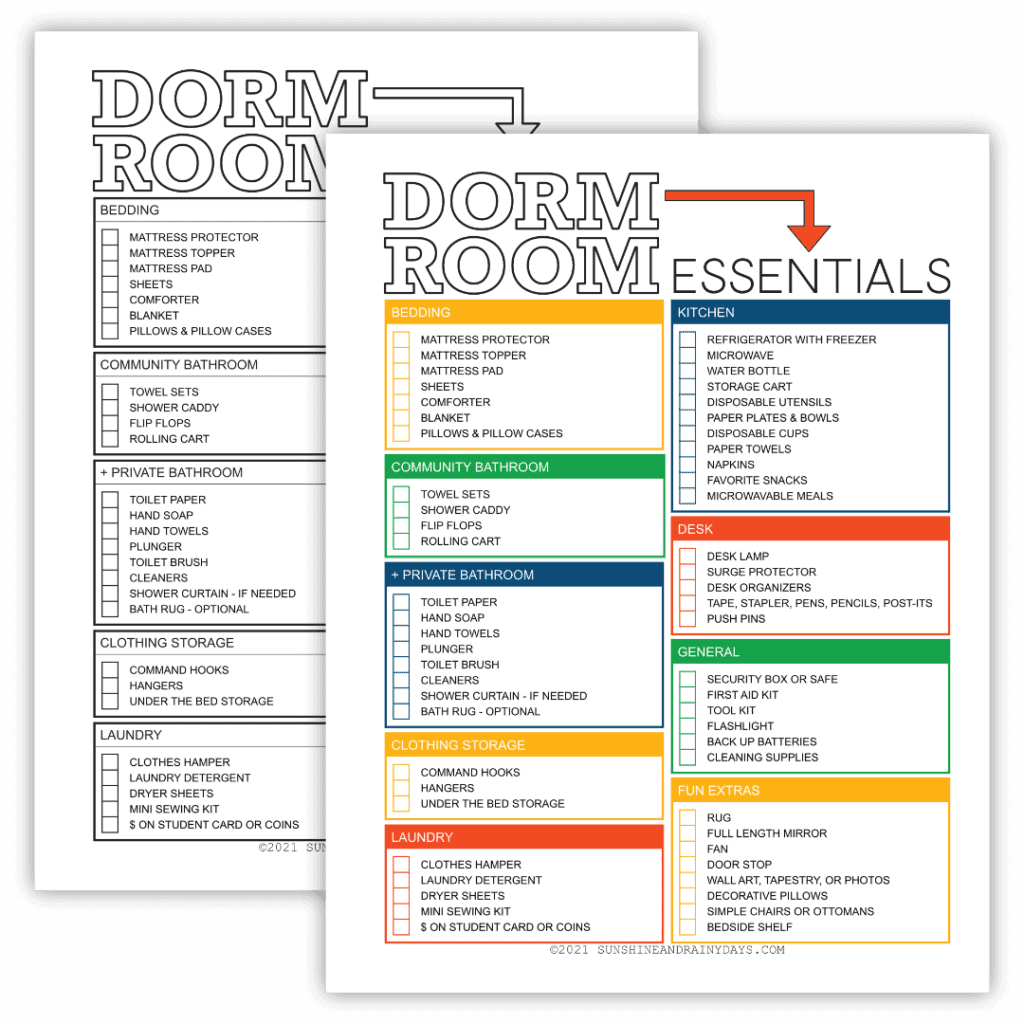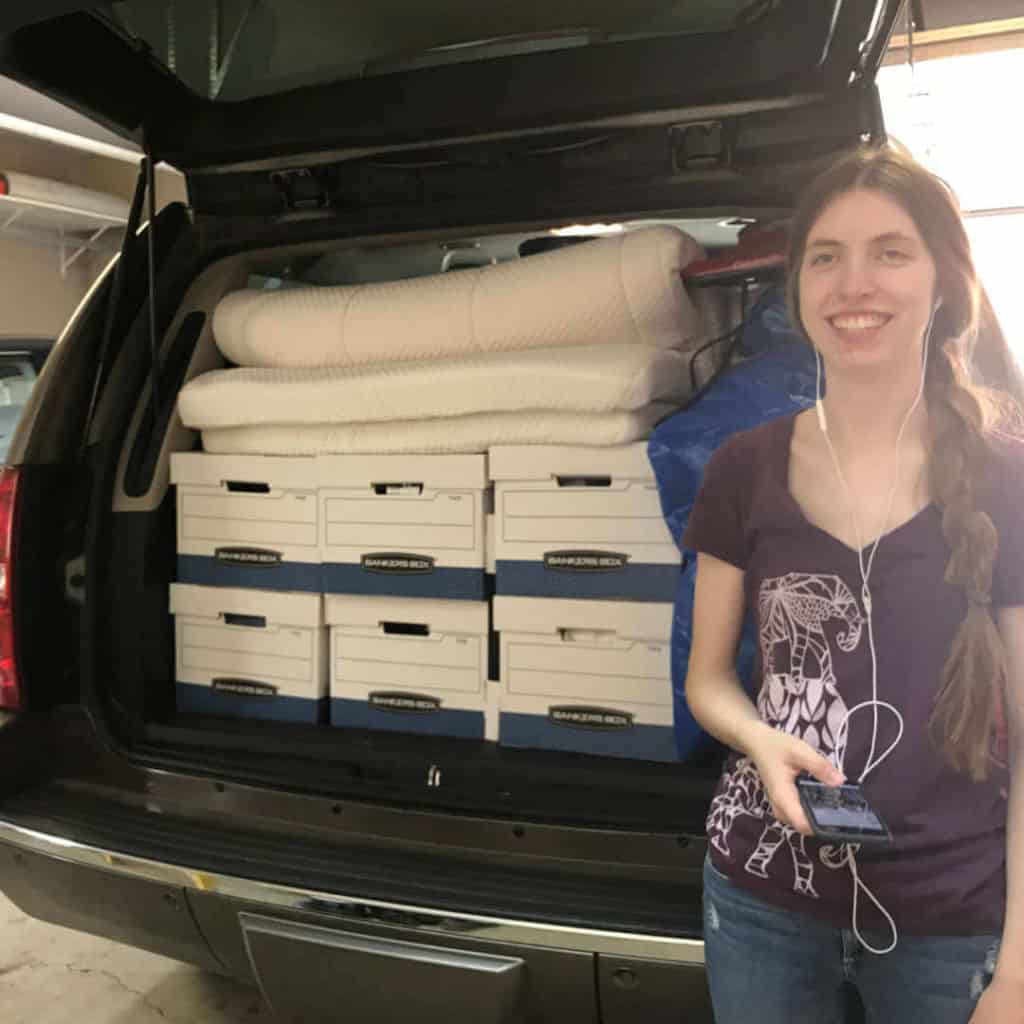 College Move In Tips
There were a few things we did that helped make college move in a little bit easier!
Pack cleaning supplies and rags to do a good clean before unpacking. College kids are responsible to leave their rooms clean and … let's just say they leave them less than clean. We did a quick wipe down of everything and our white rags were black. We felt good knowing we were helping to set our daughter up in a clean space.
Use a collapsible dolly. The big bins they use for move ins were all in use. Instead of waiting, we used our own dolly!
Use IKEA FRAKTA blue bags with zippers for bedding, clothes, and towels. These bags are easy to stuff things into and good at fitting in the car!
Pack in file boxes. We have file boxes around from when we temporarily moved into an apartment and didn't want to unpack everything, yet needed access to it. They have come in quite handy for moves and have even doubled as shelves, when needed!
Bring snacks and plenty of water. Move in is a fast paced process that will have you moving and doing a lot of lifting. Be sure to take care of yourself by drinking plenty of water and stopping for a snack break here and there.
More College Posts
Care Packages For College Students