There's a lot of stuff that needs to be stored in your garage and if you work it right, you should be able to use your garage as storage space and for its intended purpose of parking your cars! These garage organization tips will give you ideas on how to organize your garage so you can avoid adding a storage shed in your backyard or paying for extra storage at a self storage facility.
Take Inventory Of Everything That Needs To Find A Home
A visual inventory is adequate. There's no need to spend time making a paper inventory. Gather everything that needs to find a home and take note of the different categories you have.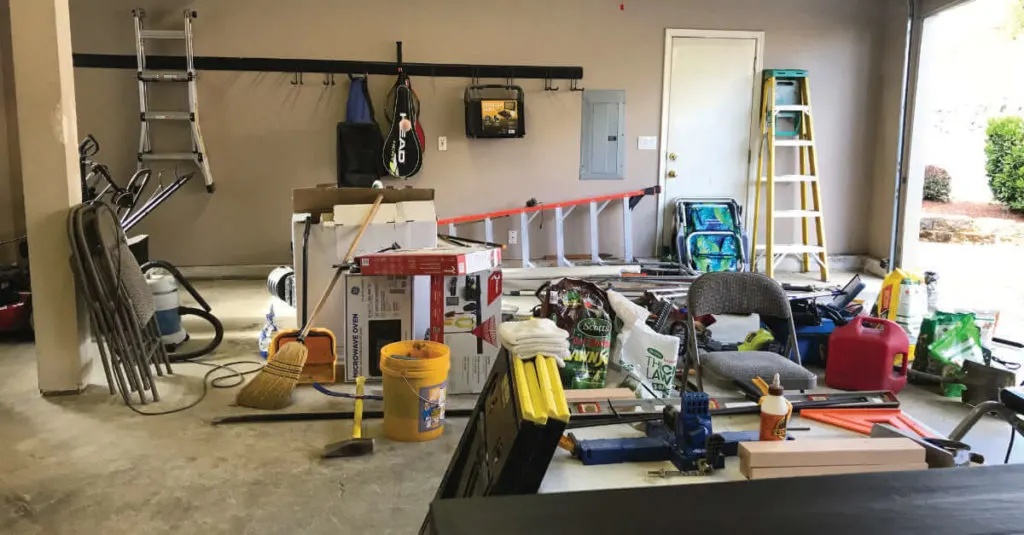 Get Rid Of Things You No Longer Want Or Use
Some of your things may not be worth the space they would take to store. If you no longer use or want an item, this is the time to get rid of it.
There are multiple ways to get rid of things you no longer need:
Give it away on your local Buy Nothing Facebook group.
Sell it on Facebook Marketplace or OfferUp.
Host a Garage Sale!
Start With Storage Boxes
Move storage boxes together and sort them according to their category (Christmas, seasonal decor, memorabilia, etc.) and decide on the best space for them.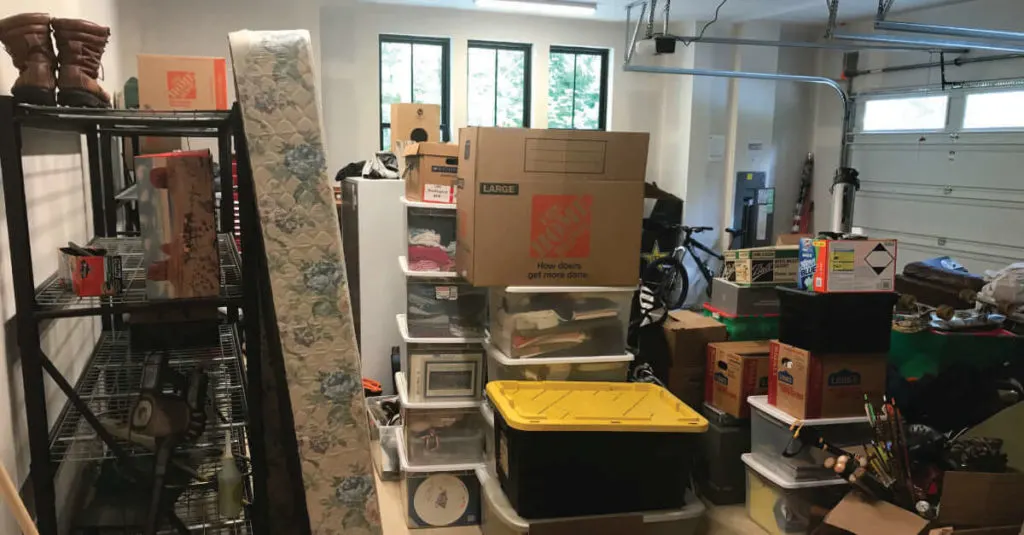 Use Overhead Storage
Whether you line the top edges of your walls with built in shelves or hang an overhead garage storage rack, be sure to take advantage of the ceiling space in your garage. This is an excellent place to store items you don't need to get to more than once a year.
Seasonal Decor
Memorabilia
Garage Sale Supplies
Garage Sale Items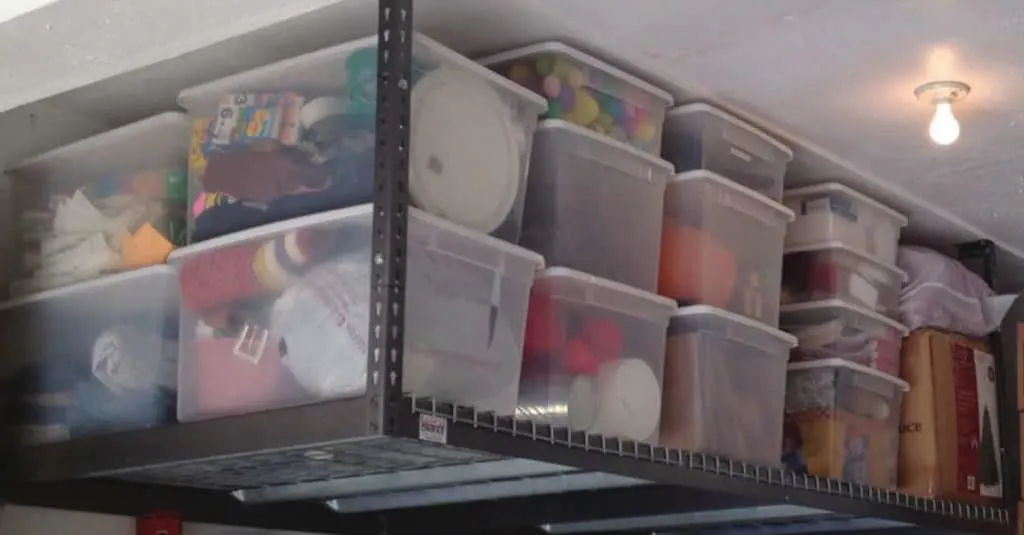 Label Your Storage Boxes
Create labels so you can easily see what each storage box holds. Keep it simple and label just the basics. There's no need to have a complete inventory of every box or a complex numbering system with a coordinating binder that lists every item. That is way too much to keep up with and things will change from year to year. Save yourself the headache and give your boxes a clear label that lets you know the basics of what's inside.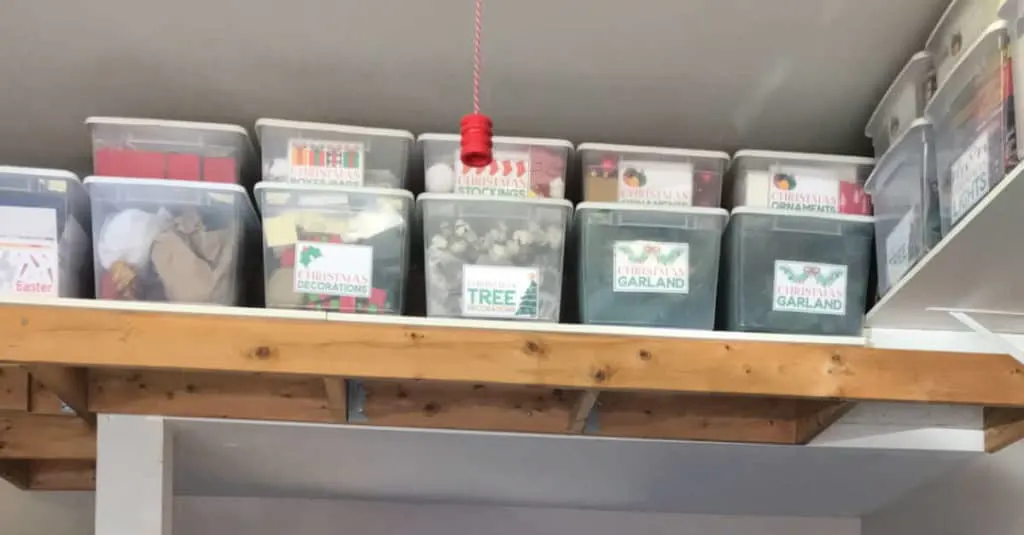 Work In Sections
You may be overwhelmed by the sight of your garage and the thought of organizing it all seems nearly impossible. Instead of looking at it as a whole, try working in sections. Pick one wall to organize, remove everything on that wall, clean the area, and organize things that make sense to be in that space.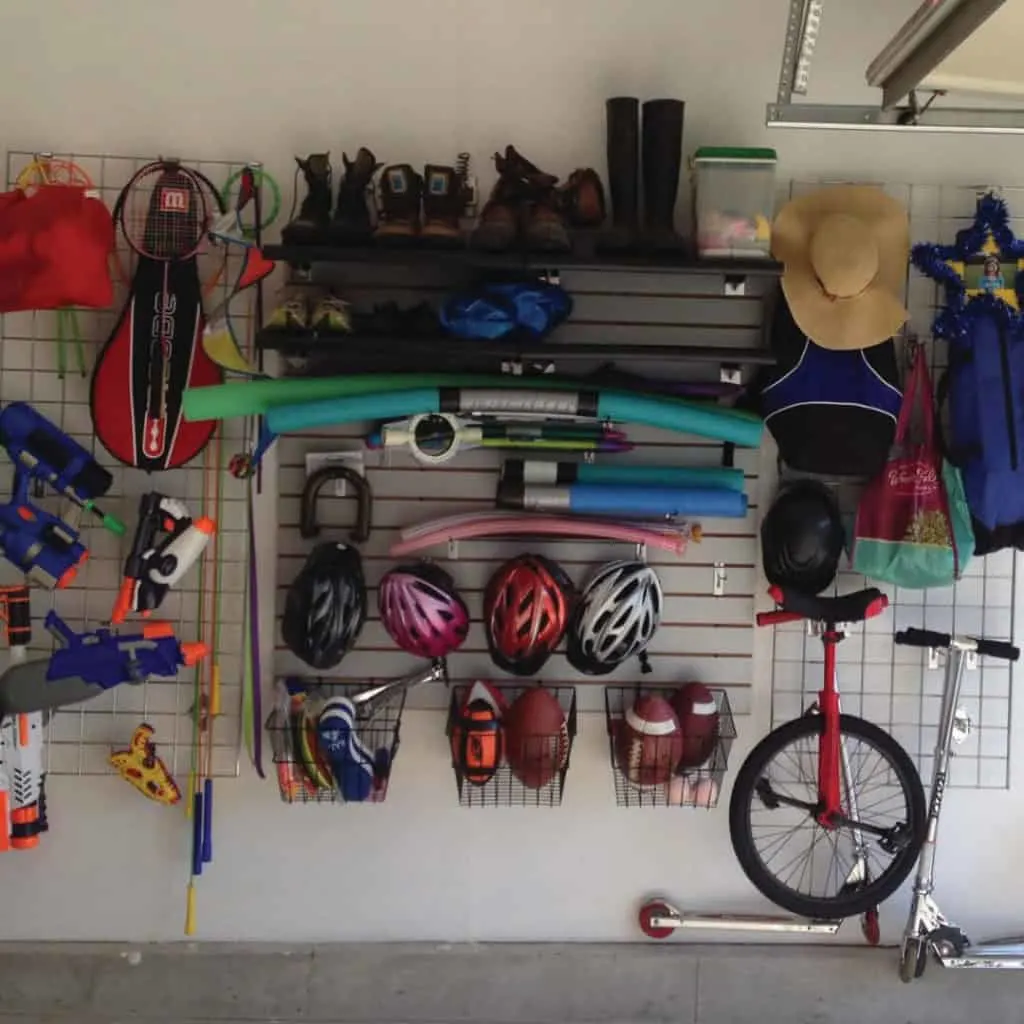 Use What You Have
Organizing systems for the garage are awesome but it doesn't always make financial sense to deck out your garage in expensive cupboards and shelving. There's also no need to wait until you've budgeted the money to buy fancy built ins for your garage. You can successfully organize the garage without a huge expense!
Make a table do double duty as a shelf or workbench.
Use recycled boxes for storage.
Recycle jars to store nails and screws.
Using what you have may not be as pretty as expensive built-ins but it will help you get your garage organization done and allow you to spend your money on things that matter more to you.
Use Shelves Or Enclosed Storage
Shelving or enclosed storage will help you store all the little things like tools, car wash supplies, paint supplies, bungee cords, jumper cables, tools, extension cords, etc.
Consider what you'll be doing in your garage. If you plan to use part of your garage as a workshop, you may want to incorporate enclosed storage to eliminate dust getting on everything. If dust isn't an issue, open shelving could work best for you especially if you like to see everything without opening drawers or doors.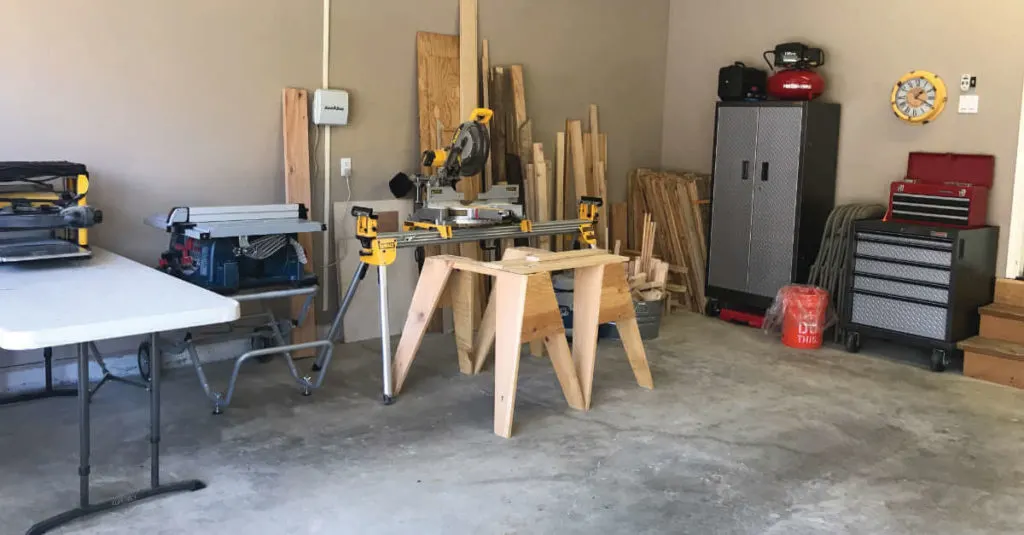 Group Like Items Together
Make life easy on yourself by grouping like items together so you will know exactly where to look for the thing that you need.
Here are a few ideas for grouping like items together in a garage:
Workshop
Gym Equipment – Check out these garage gym flooring ideas.
Tools
Car Items (jumper cables, car wash bucket, bungee cords)
Food Storage
Seasonal Storage
Yard Maintenance Tools
Sports Equipment
Kids Outdoor Toys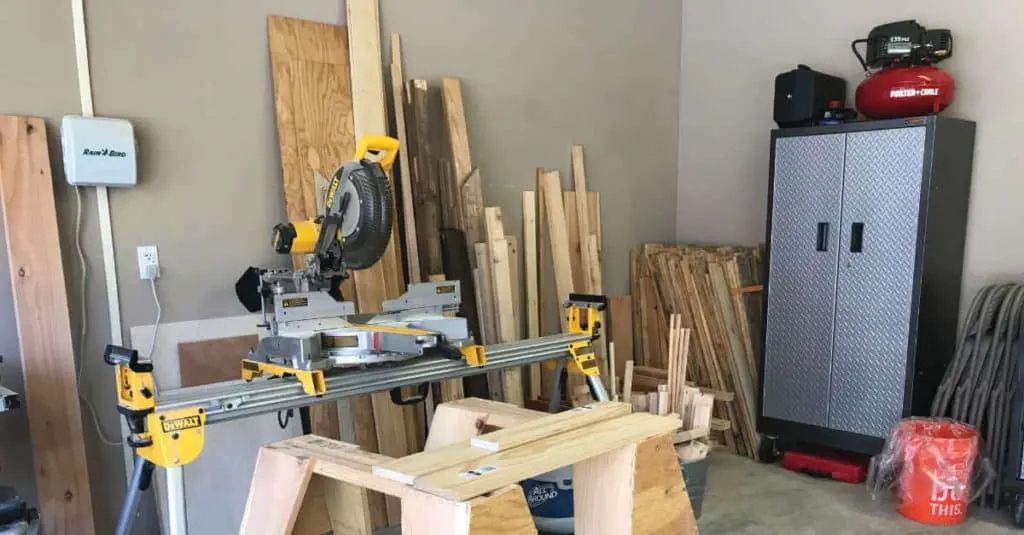 Utilize Wall Space
Your garage walls should be utilized to store things in your garage. Wall storage helps keep the floor space clear so you can actually park in your garage.
Think of every nook and cranny in your garage as potential spots for storage.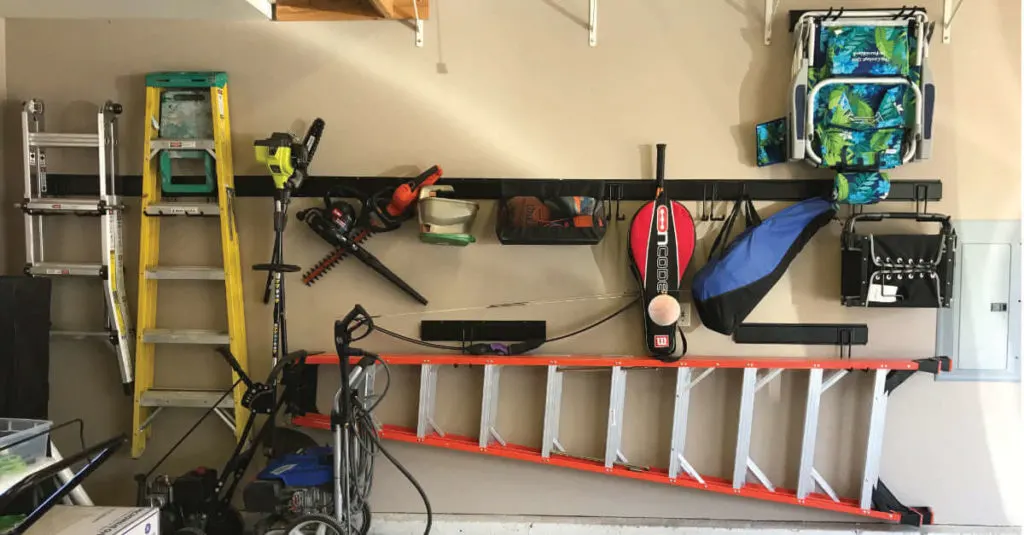 There are many different options to help you use your wall space and get things off the garage floor.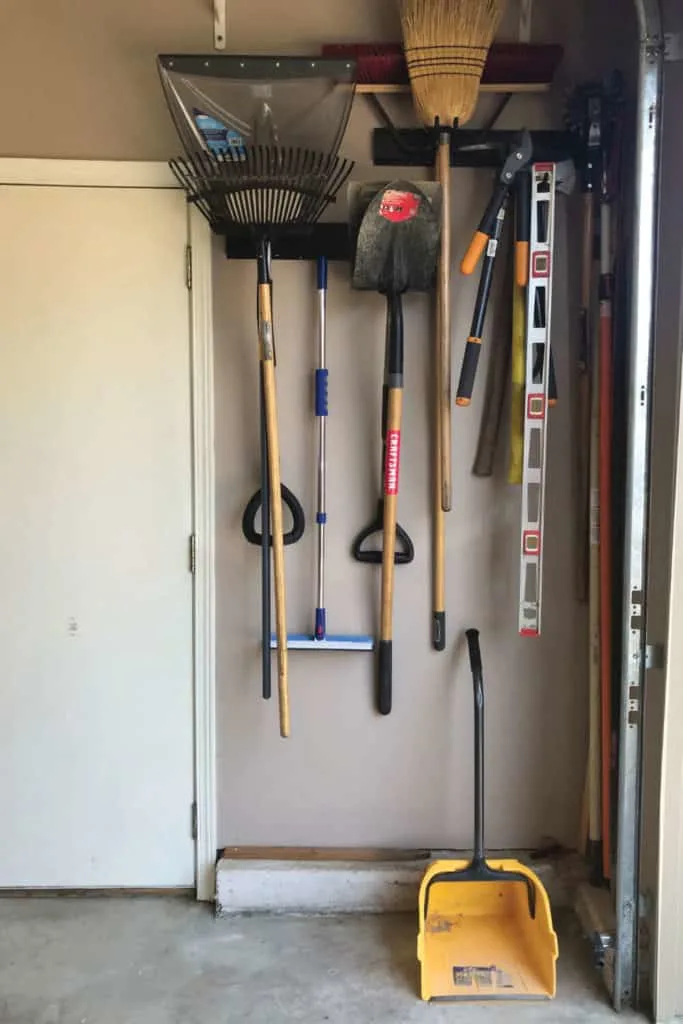 This post contains affiliate links. When you purchase through an affiliate link, we receive a small commission at no additional cost to you. Disclosure.
Pictured above is the Richelieu Garage Organization System and below is the Gladiator Garage GearTrack.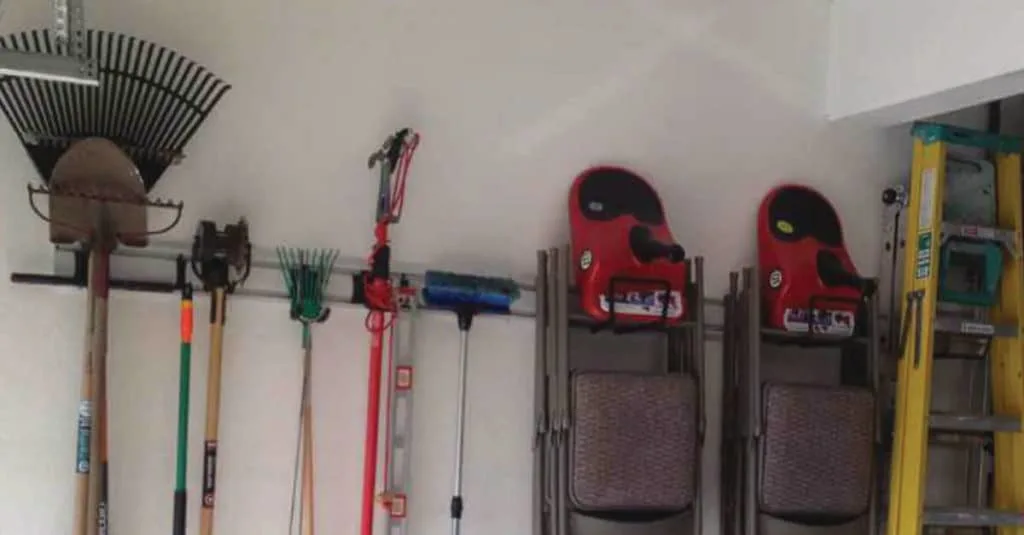 Keep Most Used Items Easily Accessible
If you have to move cars and boxes to get your garbage can out on garbage day, you are needlessly wasting time and energy that could be better spent on more important things.
Store things you need to get to often, in a spot that is easily accessible.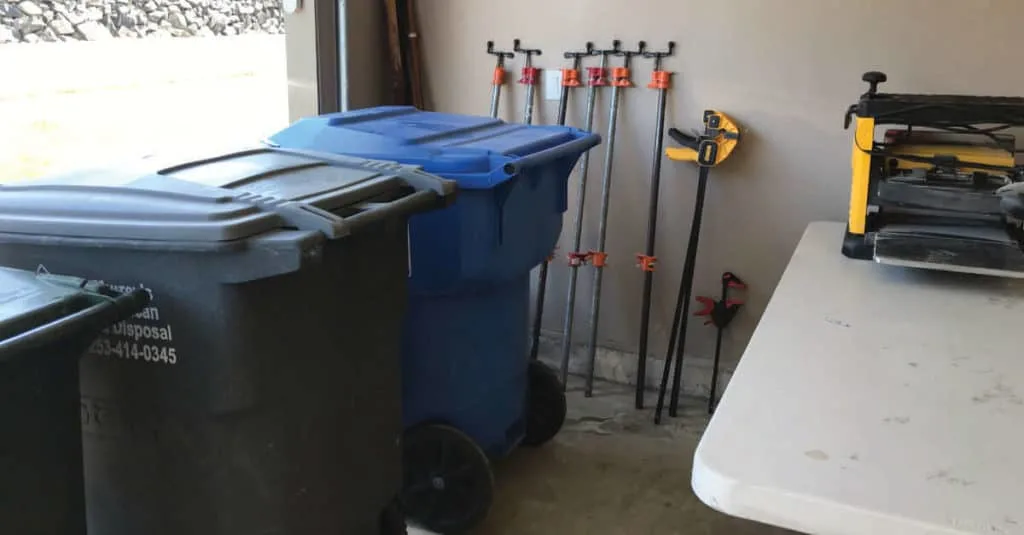 Use A DIY Garage Parking Aid To Maximize Your Space
A DIY Garage Parking Aid will help you maximize your space for storage while guiding you to park perfect in the garage, every time!
---
One thing to keep in mind is that you don't have to have the perfect garage systems in place all at once. Instead, organize with what you have and live with it for a bit so you can decide what organization systems would work best for you. Take your time and slowly purchase things that will help you organize your garage in a way that works hard for you and allows you to avoid expensive storage unit rentals and unnecessary backyard sheds!
It's amazing how much you can fit in your garage, when you have the right tools, to help you organize. After all, the garage needs room to park your cars, too!