Who knew Sinking Fund Envelopes were a thing?
We love Sinking Fund Charts but what if you could have your sinking fund chart and money together, in the same place? With our Sinking Fund Envelopes, you can do just that! Don't you love efficiency?
Sinking Fund Envelopes
We don't suggest you keep thousands of dollars in envelopes at home.
Sinking Fund Envelopes are here to make your life easier!
For example, you decide to sell things you no longer need or use, on the Facebook Marketplace, in order to save toward your emergency fund. Instead of running to the bank each time someone buys something from you, place it in the envelope and color in the appropriate lines. Then, when you do your regular banking, deposit that money into its' designated account.
You know if it doesn't go straight into the envelope, it will go in your wallet and get spent in unintended ways. Am I right?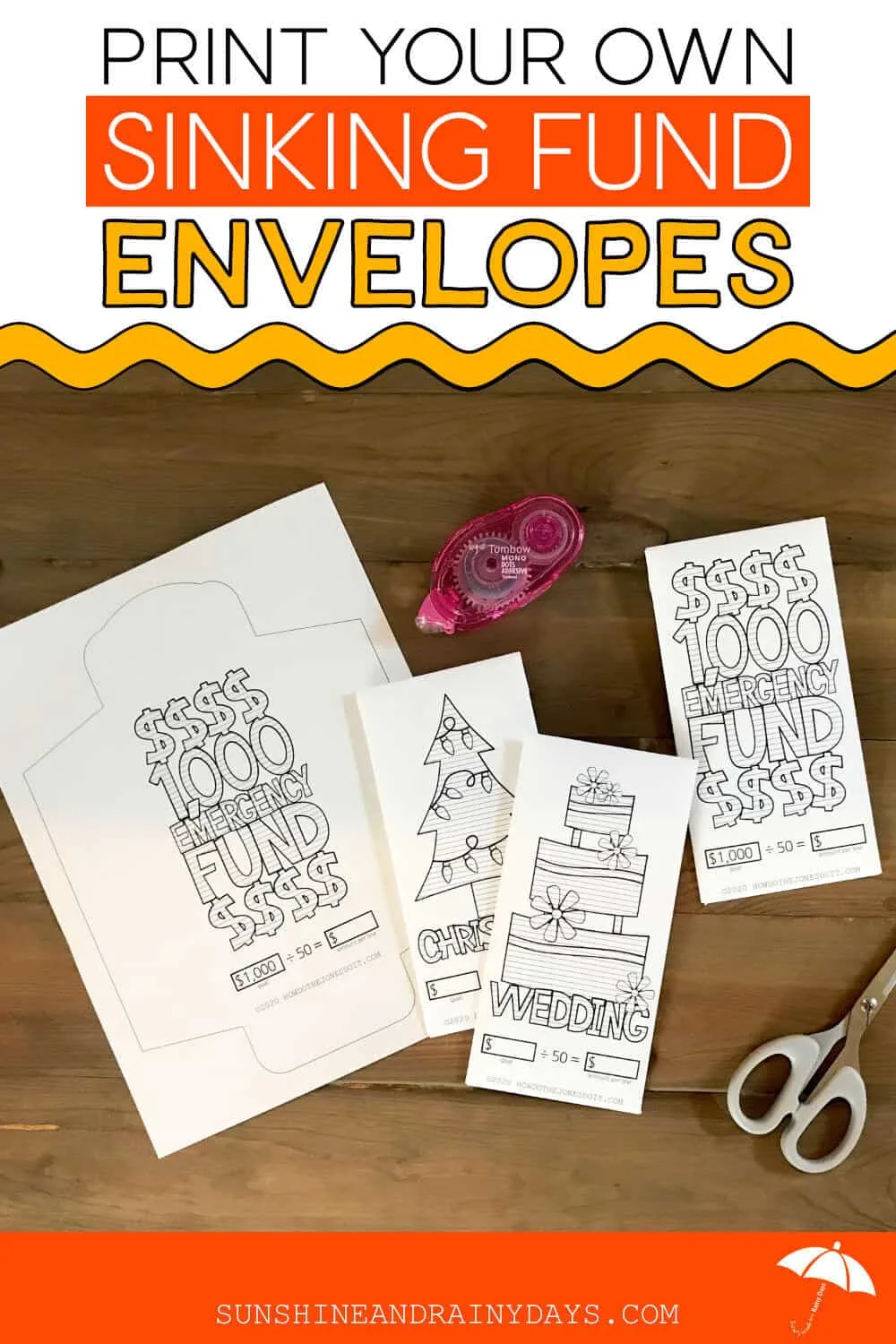 Sinking Fund Envelope Supplies
This post contains affiliate links. When you purchase through an affiliate link, we receive a small commission at no additional cost to you. Disclosure.
Printer
Paper
Sinking Fund Envelope Printables – found below
Scissors
How To Use The Sinking Fund Envelopes
Gain access to your Sinking Fund Envelopes below!
Print the Sinking Fund Envelopes that would be helpful to you.
Assemble your Envelopes.
Determine how much you would like to save for each Sinking Fund and write the number in the GOAL Box. For example, for the $1,000 Emergency Fund envelope, you would write $1,000 in the Goal Box.
Divide your saving goal by 50. For example, if you want to save $1,000 for your emergency fund, the math would look like this 1,000 ÷ 50 = 20.
Write the number in the AMOUNT PER LINE Box. For the $1,000 Emergency Fund, that amount would be $20.
As you save, color in the lines! If your goal amount is $1,000, each time you put $20, in the envelope, color in a line!
Make your Sinking Funds a part of your monthly budget! If you would like to save $500 in 10 months, you need to incorporate $50 a month into your spending plan.
When you head to the bank, deposit large amounts in their appropriate account.
Have fun saving, coloring in the lines, and reaching your goals!
Sinking Fund Envelope Printables
Click on the picture or link below and a PDF will pop up for you to print!
More Cash Envelopes
Printable Cash Envelopes For Easy Money Management
More Sinking Fund Charts