Learn how to sell printables on your blog and make money doing it by creating a digital product, setting up a shop, and marketing your product online.
The online world is incredibly amazing! Who knew you could create a helpful printable and other people would actually like it and want to buy it. People who don't want to take the time to make a printable they need, themselves.
There are a few lucky people that have claimed to make millions selling their printables online. I'm not one of them. This article is aimed at real people who hope to make and sell printables to earn real money. Not stupid money. Money to pay for groceries, your next vacation, or to help your teenagers pay for college.
How To Make Money Selling Printable Products Online
Selling printables isn't as easy as creating a digital product, listing it online, and watching the big bucks roll in. It takes a lot of hard work and tenacity to create a printable business that will work. A bit of luck doesn't hurt, either. There are a lot of moving pieces to navigate, when you create printables to sell, and you'll have to figure out which direction makes sense, for what you want to do.
Come up with a printable idea.
Make a quick sketch of your design.
Set up your page in the design software of your choice.
Design your printable.
Include your URL and copyright symbol.
Print your design to try it out.
Save as a PDF.
Upload your printable to your shop.
Market your printable through blog articles, social media, or Facebook ads.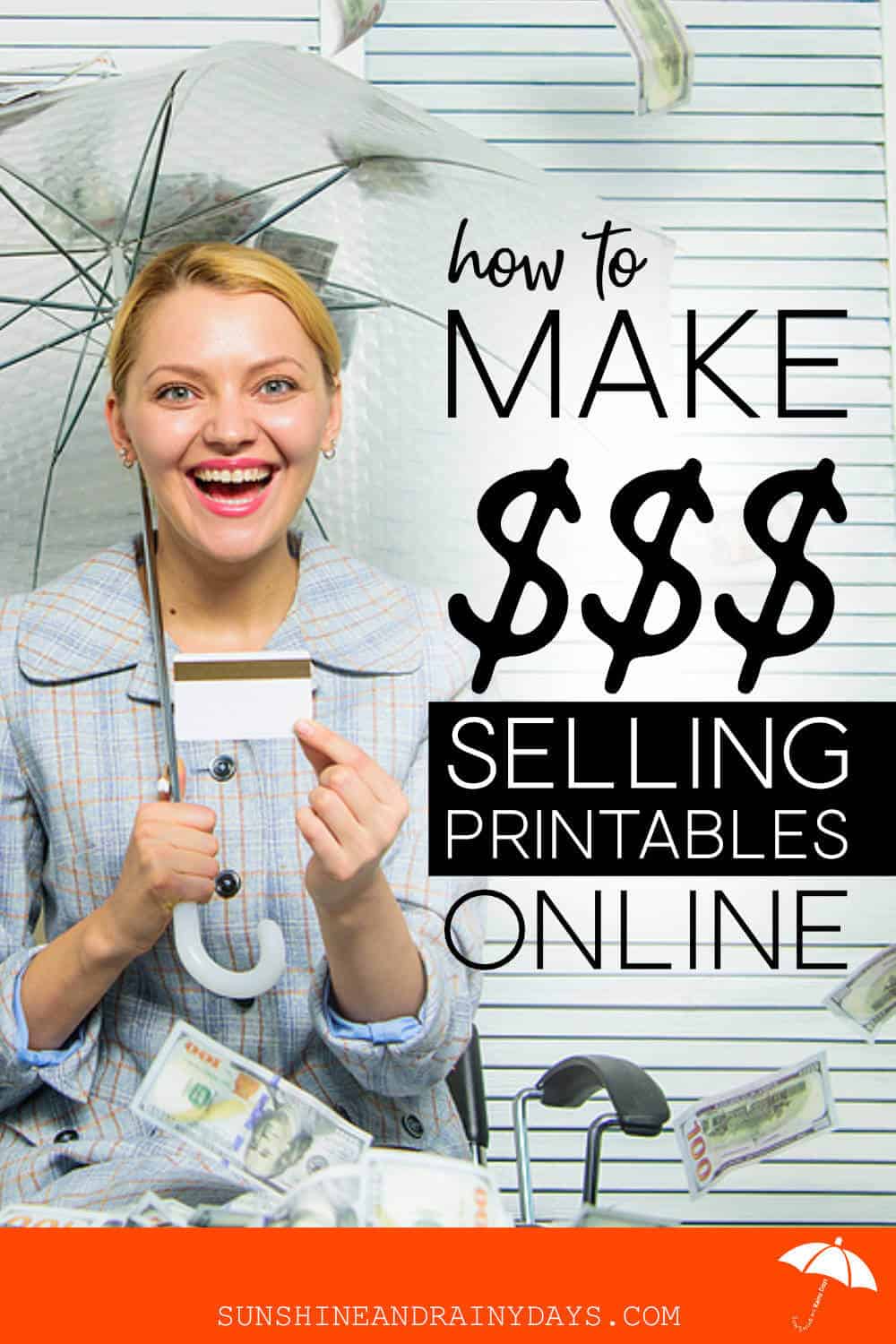 What Is A Digital Product?
A digital product, also known as a printable, is a file that you can download to your own computer and print, right at home!
Printables can be as a simple as a checklist and as comprehensive as a teaching tool.
Examples Of Digital Products
Checklists
Worksheets
Games
Artwork
Gift Tags
Coloring Pages
Envelope Templates
Planners
Binder Pages
eBooks that Teach
Benefits Of Digital Products
Instant Delivery – Digital products are delivered through email and can be downloaded to your computer right away.
Can Be Used More Than Once – Printables can be used over and over again. Unlike a physical product, you can print pages to use more than once.
Easy To Sell – Printables are less work for the seller since there's no inventory to track, postage to purchase, or physical returns to process.
How To Create A Digital Printable That You Can Sell?
The BEST ideas for printables are the ones that you would actually use, in real life!
When my daughter started college, it helped my mom heart to gather fun things and send her care packages. I created box decor printables for every season and reason and then sold them online, for others to send to their own college students.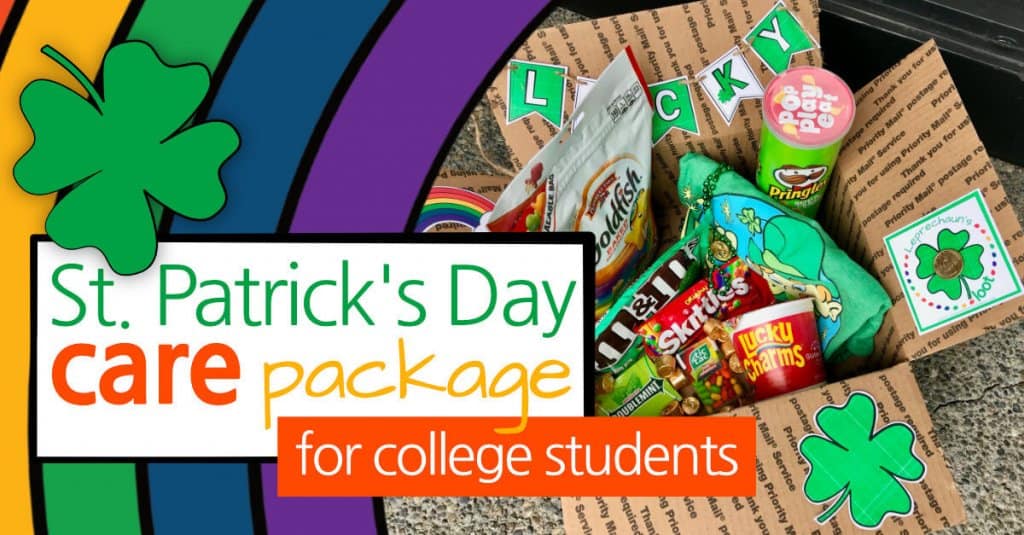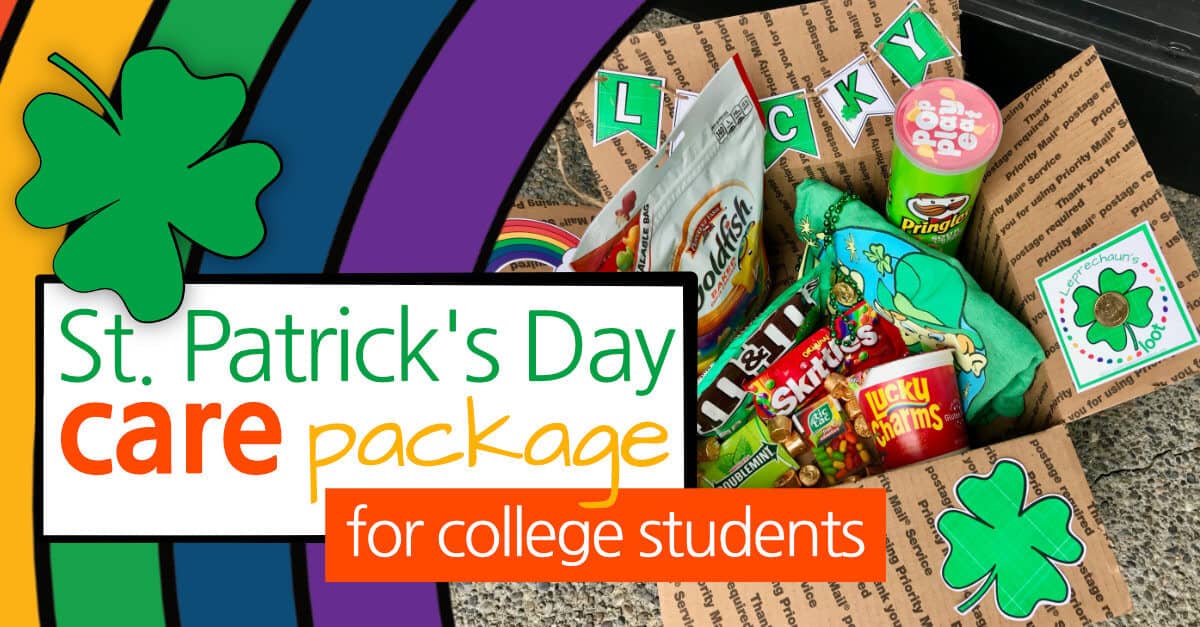 I like to stay organized so … when I was diagnosed with Hashimoto's (a thyroid disease), I created a printable medical binder to keep track of my own medical records. Of course, I sell the medical binder in my shop, too.
A pet sitter info sheet became a popular opt in on my blog so I built an entire pet binder to go with it.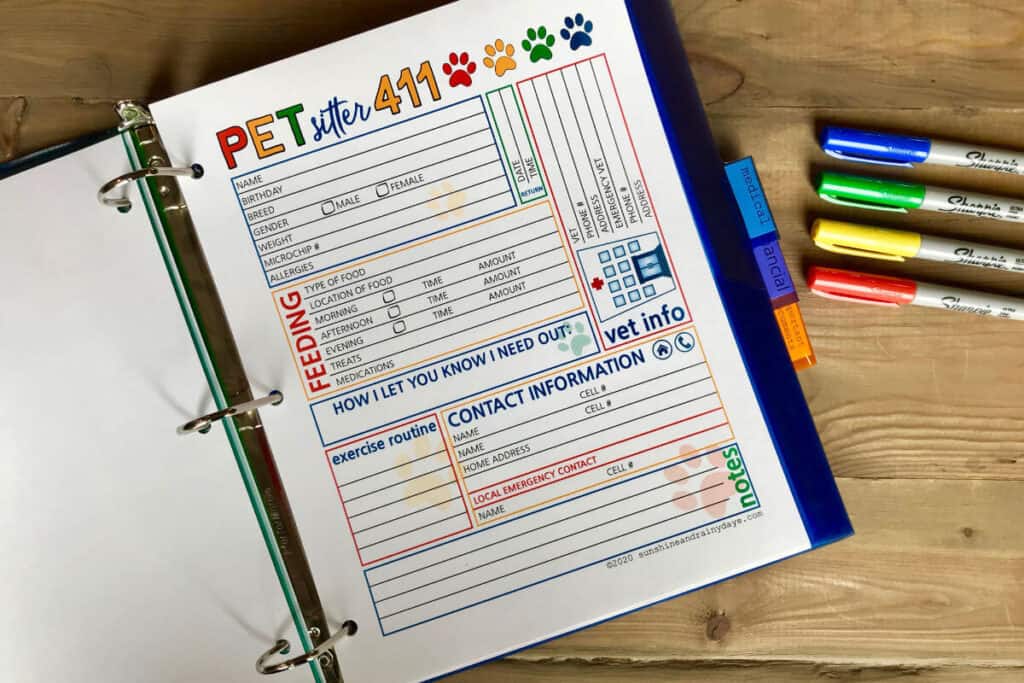 How To Brainstorm Ideas For Your Printable Downloads
Write down every printable idea you have no matter how silly you think it is.
Take note of your popular blog posts and determine if there is a printable that could accompany it.
Think about printables that could help you stay organized, in your everyday life.
Figure out seasonal printables that people would like.
Dream up printable ideas that would make your day to day more fun!
Where To Find Fonts And Graphics For Commercial Use
It is important to make sure the fonts and graphics you use on your printables are okay to use for commercial use. Many fonts and graphics are okay to use in images but not okay to use in products you sell.
To avoid reading a bunch of fine print, I enjoy creating my own graphics, using Affinity Designer! It takes a bit of time, especially at first, but it saves money on commercial licensing.
There are times where it's easier or beneficial to purchase fonts and graphics. When that is the case, be sure to read the fine print and purchase the right license. I recommend (because I have used) the following:
How To Use Canva To Make A Printable
I have only dabbled in Canva a bit, when I first started blogging so I asked one of my blog besties, who uses Canva regularly, to share how to use Canva to create a printable.
Here's Tanya from Tidy Life, Happy Wife:
Canva is a very robust, easy to use, online design program that makes printable creation easy. It has a free option as well as a paid one. The free option doesn't have as many features as the paid version, but it's still sufficient for making printables. The paid version includes additional features like a huge photo library, resize option, and remove background option, just to name a few.
Sign up is super easy and you can navigate to Canva.com to get started right now. Once your account is set up, get a head start by selecting one of the templates from the library. The template library includes everything from planners and calendars, to worksheets and infographics. Open your template and have some fun. You can change the backgrounds and fonts, add and remove design elements, change the opacity, add an overlay, create checkboxes, and so much more. Can't find a template that fits your needs? You can create a brand new design and add whichever elements you need. Once you've completed your design, just download it as a PDF and you're all set. Free Canva is the perfect program for making free printables.
Collaborate & Create Amazing Graphic Design for Freecanva.com
How To Use Affinity Designer To Make A Printable
There are many platforms you can use to design printables to sell. The one I started with is Affinity Designer. I like Affinity Designer because it has a one time, affordable fee (with occasional updates). You can also create your own graphics in Affinity Designer.
There is an entire course on how to use Affinity Designer to create printables to sell called the Printables Playbook.
In a nutshell, make printables to sell in Affinity Designer:
Set Up Your Page – This will include your paper size, orientation, DPI, margins, and color format.
Add The Header – Try to limit yourself to two fonts. A sans serif along with a cursive or handwritten font works well. This is a great place to add clip art as well.
Design The Body Of Your Printable – It could be a chart or lines that people can fill in. If you are designing wall art, a game, coloring page, or card, you can skip the header and jump right to it!
Include Your URL And Copyright – If people love your printable, you'll want them to know where to go to get more! Your URL will tell them.
Save As A PDF – The best way to deliver your printable to purchasers is in the PDF format. Click Save As and then choose PDF.
Print Your PDF – It's super important to make sure your printable prints just the way you expect it to. You will save yourself a lot of trouble by taking this important step.
Affinity Publisher is a great tool to use if you plan to make and sell printables with multiple pages.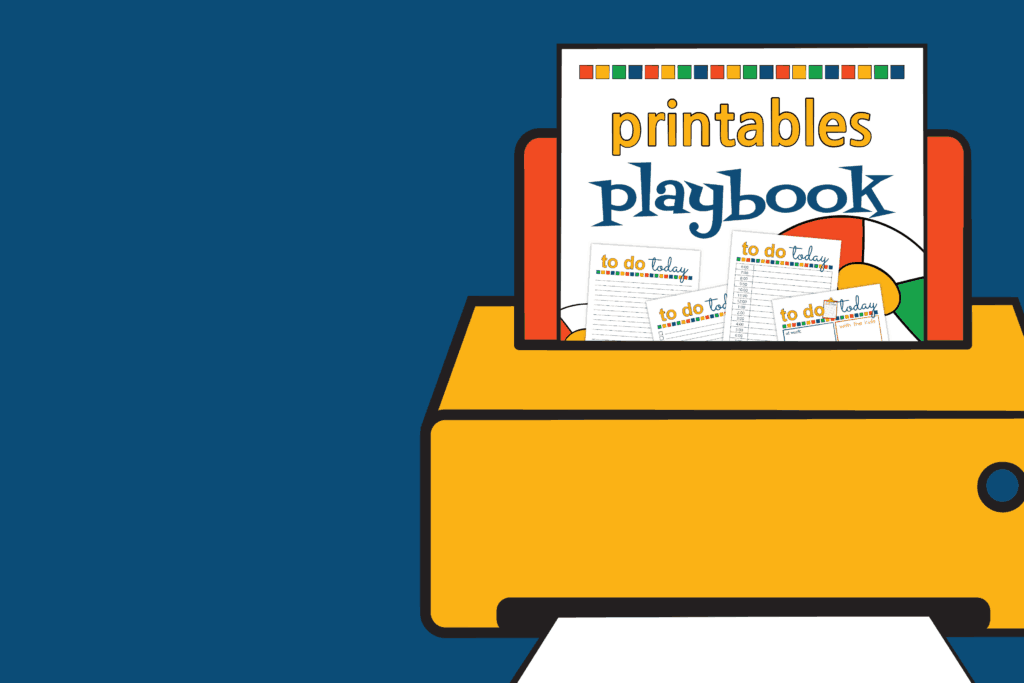 How To Get Started Selling Printables
This post contains affiliate links. When you purchase through an affiliate link, we receive a small commission at no additional cost to you. Disclosure.
How To Sell Printables Directly From Your Blog
You can set up an eCommerce store to sell printables, right on your blog, using something like WooCommerce, BUT I don't recommend it.
When you have eCommerce set up on your blog, it can slow down your site and cause problems for you. Instead, I suggest selling your printables on a third party platform that you link to your blog through hyperlinks, buttons, or images.
Best Places To Sell Printables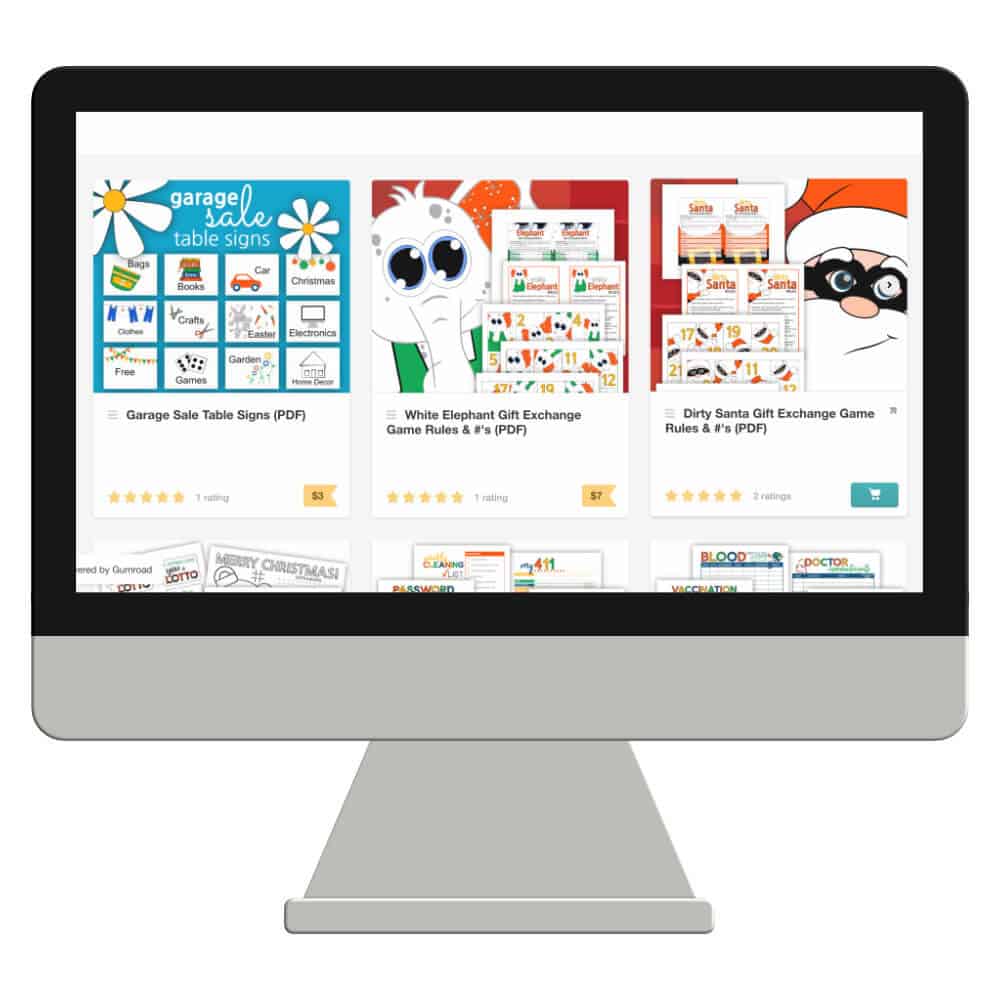 How To Sell Printables Online Using Gumroad
Gumroad was the first platform I used to sell printables. I like it because they have a free version. You pay more to sell a product but you don't have to pay a monthly fee. This is a great way to get your feet wet and see what you can do with the printables you create.
Set Up Your Account
Click The Products Tab
Choose New Product
Classic Is Pre-Selected
Type The Name Of Your Product
Type Your Product Price
Push The Next Button
Add A Description And Image Of Your Product
Upload Your File
Change The URL To Your Product Name
Push Publish
Copy URL
Link URL To An Image, Button, Or Hyperlink On Your Blog
Choose Profile To View Your Listing On Gumroad
I still have listings on Gumroad and make sales there organically!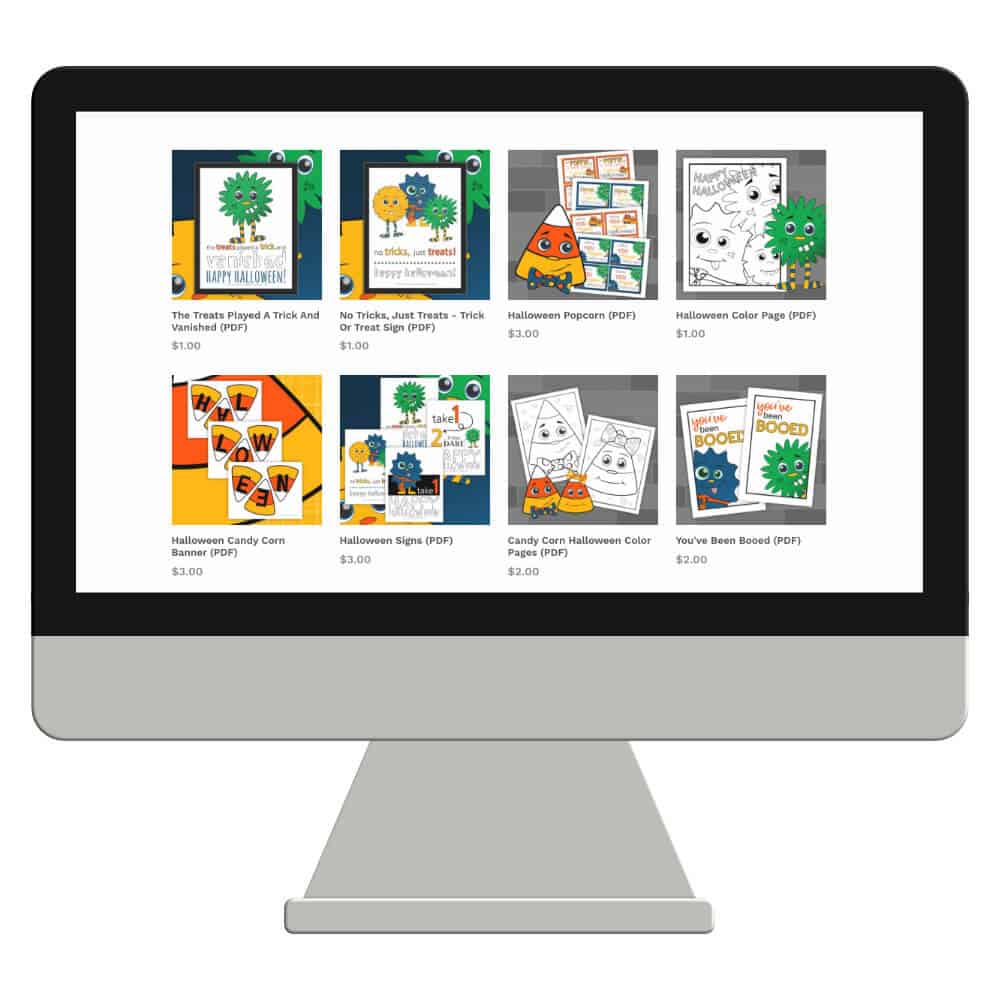 How To Sell Printables On Shopify
I currently use Basic Shopify to sell my printables. It has a monthly fee of $29 and does everything I need it to do!
Once you have your Shopify store set up, it's pretty easy to list your printables for sale. Be sure you have added the Digital Downloads app so you can upload the printable you created. Here are the steps:
Go To Products (on the left hand side)
Choose Add Product (green button on upper right)
Add Your Printable Title
Type A Description Of Your Printable
Drop In Images Of Your Printable
Add A Price
Determine If You Need To Charge Tax
Uncheck Track Quantity
Uncheck This Is A Physical Product
Under Product Status, Choose Active
Choose A Product Type
Choose A Vendor
Add Your Product To A Collection (if applicable)
Type A Few Tags
Press Save (green button on upper right)
Choose More Actions (from the dropdown at the top)
Choose Add Digital Attachment
Upload Your PDF File
Next To Online Store (in the left menu) Click The Eye To See Your Product In Your Store
Go Back To Your Store Admin
Choose Products (from the menu on the left)
Pick The Digital Product You Want To Link To Your Blog
Click The Dropdown Next To More Actions (at the top)
Choose Create A Checkout Link
Click The Copy Link Button
Link URL To An Image, Button, Or Hyperlink On Your Blog … Or All Three!
Apps To Use On Shopify
These are the apps I currently use for my Shopify store:
ConvertKit – This is my email service provider. The ConvertKit app tags customers with their purchase so I can create a follow up email, if I'd like to.
Digital Downloads – This is the app that allows you to upload your PDF files so your customers will automatically receive them.
Flexify: Facebook Product Feed – This is how I connect my account to Facebook. You may not need this app until you run Facebook ads.
Fraud Filter
Honeycomb Upsell Funnels – You can suggest other printable products, using this app.
Pinterest – This app connects to my Pinterest account and shows my products under the shop tab.
Product Reviews – This allows customers to leave reviews on the digital downloads they purchased.
Shop Secure – With this app you can block individual countries from being able to purchase from your store.
Stamped.io Reviews & UGC – With this app you can send emails to customers, asking them to write a review.
How To Make Money Selling Printables On Etsy
Etsy is a platform that I have never used for selling printables but many people use it, successfully, to sell their printables. The nice thing about Etsy is, if you keyword your printables well, customers may find them easier. The downside is there is a LOT of competition on Etsy.
As I was writing this post, I came across this post in one of my Facebook blogging groups:
'A long post about selling printables. Some of you may remember that I have wailed here several times that I can't seem to sell a printable to save my life. I took printables courses, re-did some of them, got feedback on a sales page, and re-did that multiple times, created more printables, created tripwires, grew my email list … no matter what I did, I sold next to nothing! Well, I still haven't been able to sell anything to my email list …… BUT! I set up an Etsy shop about four months ago and just had my 38th sale there, and have made exactly $100, selling printables, on Etsy. I'm still definitely in the hole, when you consider the money I spent on both the printables courses and the clip art. (I also paid someone to make a few of the printables for me.) HOWEVER, at this point I am confident that I will break even in a few months and then FINALLY start generating some printables profit, so I'm pretty pleased. Not thrilled, but pleased. SO … just thought this was interesting and worth sharing, if you sell printables or are thinking about it. By the way, I do NOT pay for Etsy ads and I currently have 42 total Etsy listings, all of them digital printables.'
You can check out Jen's Printable Shop here!
How To Use Fiverr To Kickstart Your Printable Business
There are freelancers on Fiverr that you can hire to create printables or graphics for you. If you don't want to take the time to learn how to create printables, this could be a good option to get you started.
How Much Should You Price A Printable?
One Page
A one page printable is priced at $1 – $7. On the low end is a simple, straight forward printable. On the upper end is a more in depth printable with a lot of information, artwork to hang on a wall, a game, or a printable that can be used for gifting.
It is important to keep your selling fees in mind, when you price your product. The transaction fees listed below are as of 12/15/2020 and are in USD.
As you can see, a printable sold at $1 can give you a profit of 61¢ – 75¢ but if you sell a $7 product, your profit will be $6.10 – $6.50.
At first glance, it may seem that Etsy has the best fees but, if you take a closer look, items at a higher price point would profit you more through other stores, depending on your sales volume.
Multiple Pages
A multiple page digital file is generally priced $3 – $47. The expertise and popularity of the seller plays a big part in how much they can charge for a multiple page document. The number of pages in the printable also plays a big role in the price. Printables that teach on a particular subject will warrant a higher price tag, while printables that have repeated pages, such as a planner, will be sold for less.
It has been my experience that multiple page documents have sold well at the $3, $7, and $14 price points. For others, prices that end in 9 work well.
How To Handle Refund Requests
Business owners may choose to give a 30 day money back guarantee, on their printables, and feel this creates trust in purchasing their product. Not many take them up on their money back guarantee but they do have a few who take advantage of their generosity. These business owners are okay with that and accept it as a cost of doing business.
Many business owners, who sell digital products, do not give refunds because it would be easy for customers to download an item and then turn around and ask for a refund, getting the item free.
It is important to let purchasers know what your refund policy is, up front, by using verbiage like this, right on your product sales page:
30 Day Money Back Guarantee
Due to the digital nature of this item, there are no refunds.
There is the thought that, even if you don't accept refunds, if someone asks … you should probably give it to them, in order to avoid bad publicity. If this is the case then, perhaps, you should give a 30 day money back guarantee if you plan to accept refunds, anyway. Or, if you have a no refund policy, you can take refund requests on a case by case basis. For example, if you can see that the purchaser has not downloaded their digital file, you may be more apt to give them the refund.
Selling Printables is fun and a great way to make some extra money!
Every time I get an email that says I have sold a printable, it's totally exciting. Exciting because people LIKE the printables I create to sell. That's pretty sweet!
Selling printables online has not put me in the millionaire club but I have made enough, through my printable business, to put a $3,000 down payment on a car for my son, help pay for college tuition, and am now working on our family emergency fund!
My BIG message to you is to NOT be discouraged when you create what you think is the best printable ever and you get nothing but crickets. That's totally normal. You just have to keep fighting until you find the right products that will sell for you.