I always suggest investing your time and a bit of money into making DIY Garage Sale Signs, but it is also helpful to have a few smaller printable garage sale signs on hand to keep customers on the right path!
Consistency in your garage sale signs is super important. That means the wording and colors should be the same whether you've made your signs or printed them. So, if you are mixing A-board signs with printed signs, be sure to print your signs on card stock that is the same color as your A-board signs.
Imagine this … a potential customer sees your beautiful hot pink A-board sign and follows the arrow. Then, they see a bright green sign stapled to a wood stake down the road. Next, there's a yellow sign taped to a stop sign. The customer may follow the signs because it leads to a garage sale (although it may not be the one they originally intended to go to), or they might drive on looking for another hot pink sign. Avoid the confusion and keep your signs consistent so your customers know they're on the right path!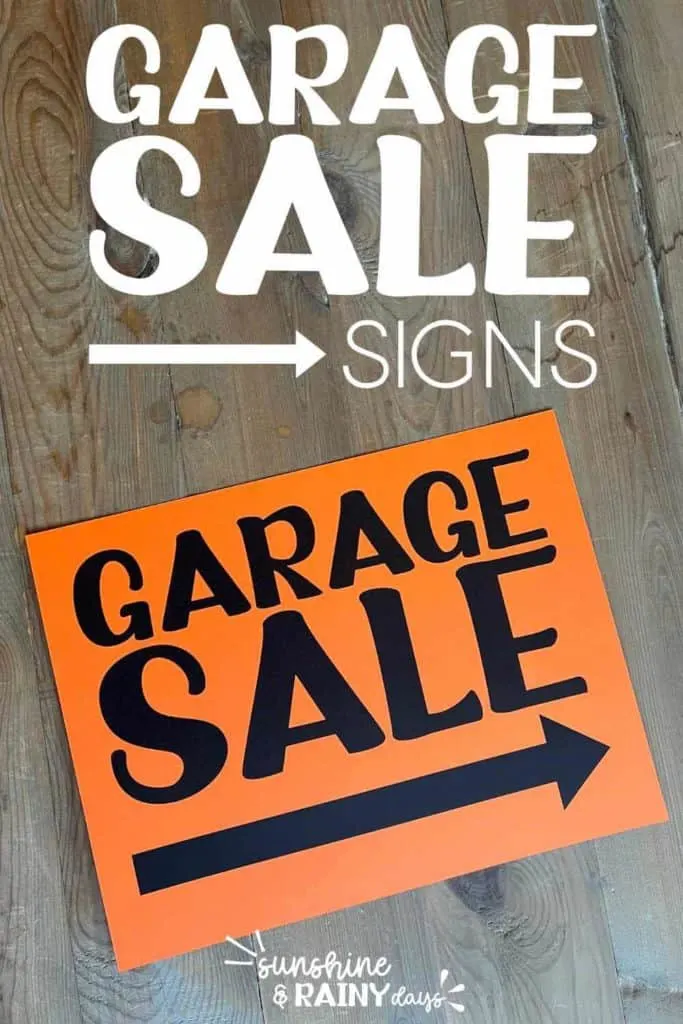 How To Use The Garage Sale Sign Printables
Print the Garage Sale Signs of your choice on card stock. The simple designs look great and stand out better on color card stock! I suggest sticking to one design style and printing on one color to avoid confusing customers.
Laminate your signs for durability – optional (depending on the weather).
Place the signs at each turn and if there's a long stretch between turns, place a straight-ahead arrow.
Be sure to place a sign right in front of your garage sale so your customers know they landed at the right place.
Where NOT To Put Garage Sale Signs
Poles – Ahem … speaking from experience, you do NOT want to staple signs to poles. We made this error once and couldn't figure out why we didn't have any customers. My husband went to check on the signs, and they had been ripped off of the poles. Not only were they ripped off, but they were also GONE! We couldn't figure out why someone would steal our signs unless they wanted to use them for their own garage sale. Then, we found out a policeman was taking down our signs and leaving them at the police station. We then learned that attaching signs to poles with staples or nails puts utility workers' lives at risk.
Sidewalks -It's never okay to block sidewalks with garage sale signs.
Stop Signs – This one is debatable, but a persnickety rule follower might remove your garage sale signs if you've taped them to a stop sign.
Out Of View – If a shrub or landscaping is blocking your sign's view, you're better off choosing a different corner to place your sign.
On Private Property -It's likely that neighbors won't appreciate you placing your signs on their grass, especially if they've planned to do a bit of yard work. We once found one of our A-boards lying on the ground and realized a neighbor at the end of the street thought we put the sign too close to their property.
Where To Place Garage Sale Signs
Public Spaces -We've found it works well to place signs on the strip between a sidewalk and the road or in grass strips that are common areas in the neighborhood.
In Highly Visible Areas – When you are driving, think about where your eyes go and place the sign there. For example, we often place signs near stop signs where cars can see them from both directions.
In Front Of Your Garage Sale – Placing a sign right in front of your sale will let customers know that they've followed the signs to the right sale.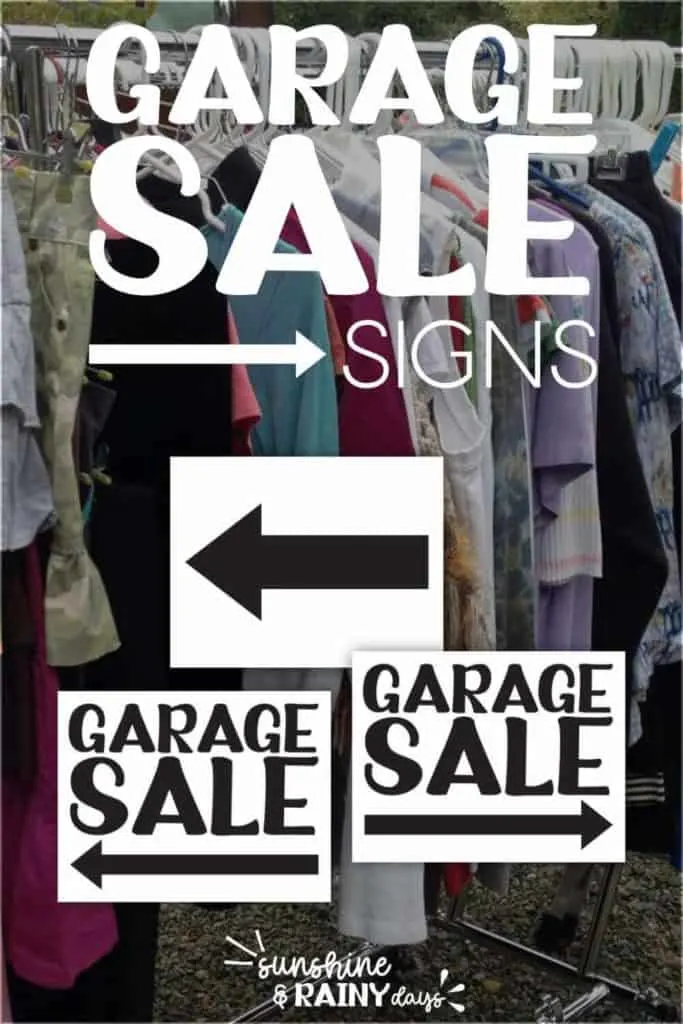 What Do You Attach Printable Garage Sale Signs To?
It's always best to make your garage sale signs free-standing. That means your signs can stand on their own without being attached to street signs or poles. There are a few ways to do this.
A-Board Sign – Attach your signs to an A-board sign. Of course, if you have an A-board sign, you may choose to paint right on the A-board, but you can also attach garage sale signs to the A-board if it is used for other things too.
Wood Stake – I have seen garage sale signs stapled to wood stakes that have been pounded into the ground. You may want to put the stake in the ground first and then staple a sign to each side so the signs aren't in the way when you pound the stake into the ground.
Boxes – A neighbor of ours attached garage sale signs to the front and backside of a large box and put enough rocks in the box to keep it from moving. They even taped shiny pinwheels or balloons to the boxes to attract attention.
Get Your Printable Garage Sale Signs Here
There are a few different designs included in this garage sale sign printable.
Garage Sale (Landscape) – This sign has black lettering and left, right, and straight-ahead arrows. Perfect for printing on color card stock.
Garage Sale with room for times (Portrait) – This sign option gives you space to write in the times of your sale and comes with left and right arrows. Printing these signs on color card stock will help them to stand out on the road!
Garage Sale With Banner (Landscape) – These signs have a little extra flair with a black and yellow banner printed on the top. It comes with left, right, and straight-ahead arrows. Best printed on white card stock.
Garage Sale With Banner (Portrait) – These signs come with left and right arrows and a black and yellow banner printed on top. Best printed on white card stock.
Garage Sale (Landscape) – This sign has just the words GARAGE SALE and can be used with the arrow signs.
Arrows – There are two arrow signs; one is a solid black arrow, and the other is an outlined arrow for those who are ink conscious. Use these arrows to point in any direction!
I prefer the plain garage sale signs that print well on color card stock, but I also created fancier signs with banners for those of you who like a little extra flair! The main thing is to get the message across to drivers as they drive by. They won't have time to read addresses or a list of everything you have for sale.
The most important part of garage sale signage is consistency! With a little creativity, you can use these printable garage sale signs to lead customers to your sale so you can get rid of stuff and make a little cash while you're doing it!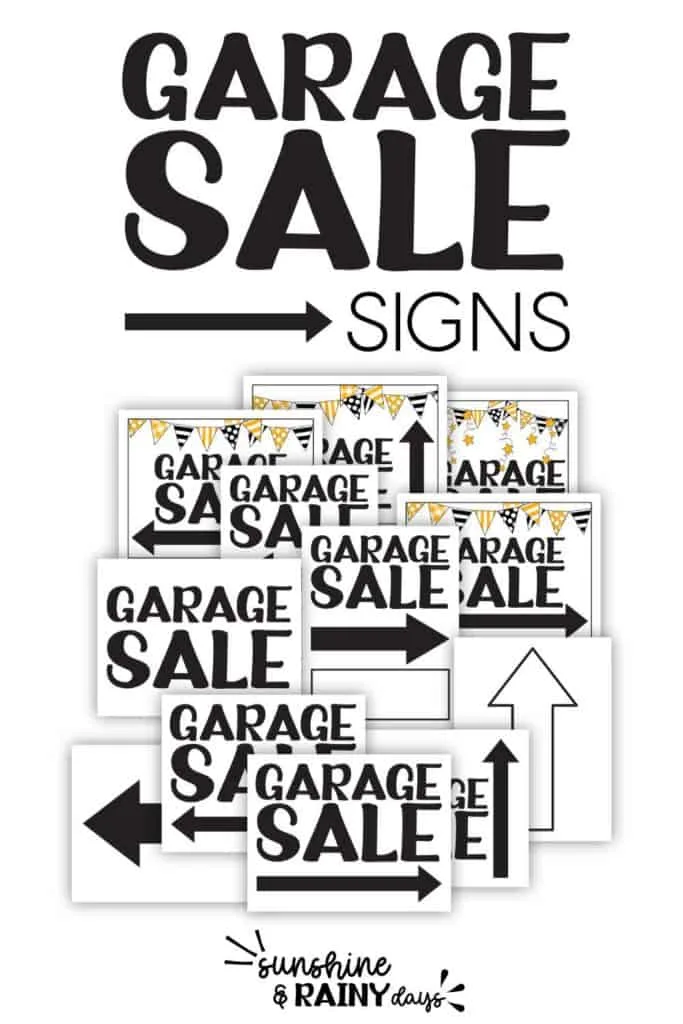 More Sign Ideas
More Garage Sale Ideas