Location, location, location! That's the ticket to a successful Garage Sale! We have always combined forces with family and held our garage sale at a primo location just off a major highway. Alas, that location has been sold. What's a person to do? Our only option was to hold a garage sale at *gasp* OUR HOUSE!
Our house that is tucked away on an off shoot, off a cul-de-sac, up the hill, with a steep, sloped driveway that in no way shape or form would leave merchandise on a table if we dared to pull them out. There is NO CHANCE for a stealthy drive by at THIS location and parking is a nightmare.
The bonus is, garage sale goers will get a mighty fine work out walking up to this sale!
With fear and trepidation, we pressed forward doing all the garage sale stuff you're supposed to do, not knowing if any sane soul would make the treck.
To our pleasant surprise, there were customers galore! Sure, some were sweaty and moving slow by the time they made it to the garage BUT they made it! They bought stuff too! After all, the treck back down is much easier!
What convinced these folks to go over the river and through the woods for a garage sale?
Signage!
Simple Garage Sale Signs are the most important step to a successful Garage Sale.
It seems so simple, right? Time after time I thanked customers for finding us in our out of the way spot and you know what they said?
'We figured with signs that good, it was worth checking it out!'
'Your signs are so clear and easy to follow!'
'I LOVE your signs!'
Over and over again, customers raved on our signs! It's not that they were terrific or anything fancy. No balloons or fanfare. Just simple BIG signs on A-Boards!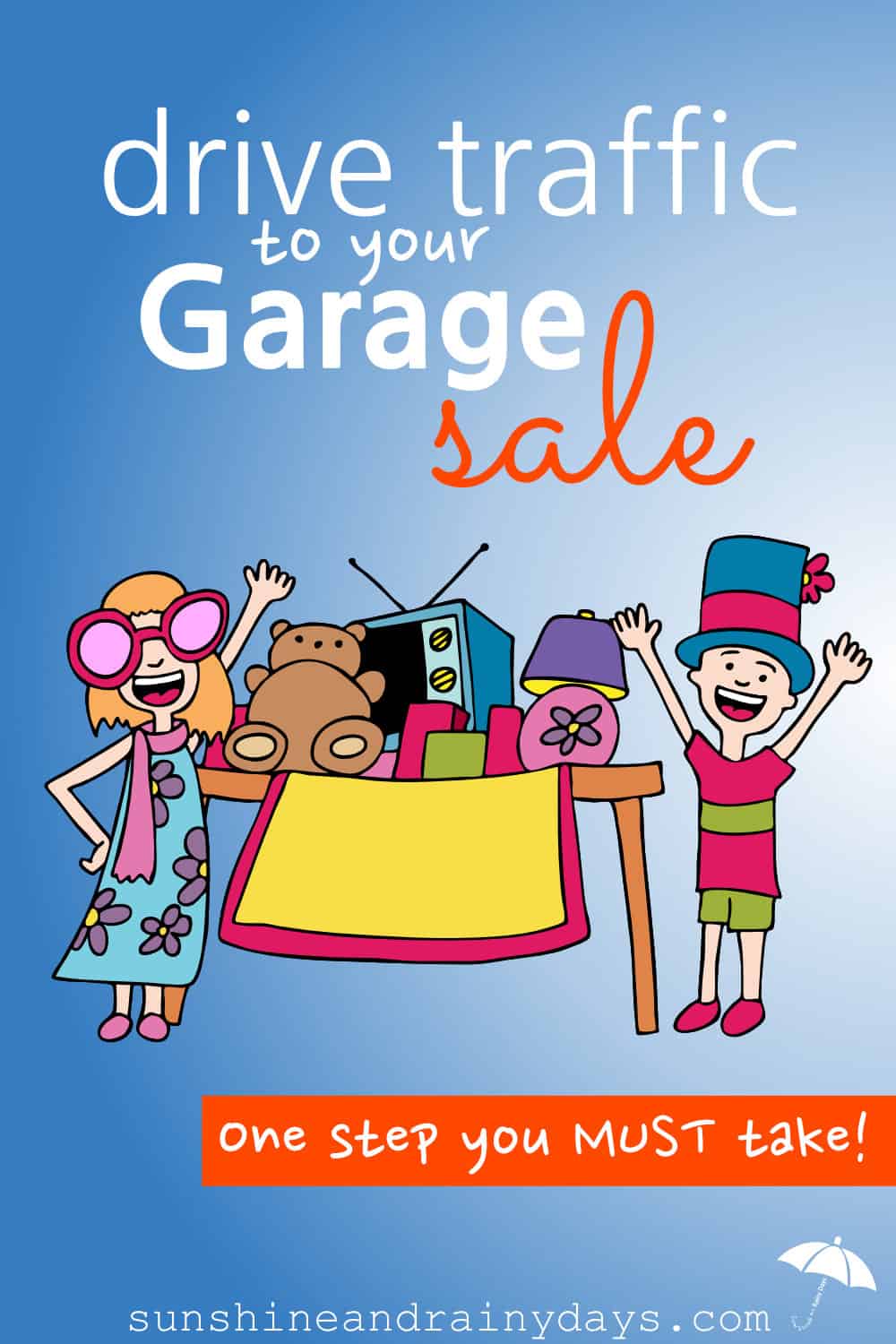 Garage Sale Sign Supplies
This post contains affiliate links. When you purchase through an affiliate link, we receive a small commission at no additional cost to you. Disclosure.
Poster Board
Pick two attention grabbing colors! Use ONE color for the background and the other color for arrows! For our latest sale, we used bright green and hot pink. You can easily find poster board at Rite Aid, Wal-Mart, or even The Dollar Tree.
Sharpie Chisel Tip Permanent Markers
These markers are perfect for getting the job done!
Heavy Duty Staple Gun
You may already have one! If not, you'll find a staple gun is useful for so many things. Use it to staple your signs onto A-Boards.
Remember not to staple or nail any signs on telephone poles. Those pole climbers will thank you for it!
A-Boards
A-Boards can be a big investment but they are incredibly effective!
Discover how to build your very own A-Boards Signs!
Your A-Boards should be 24″ x 36″ in order to hold a standard poster board size of 22″ x 28″
Place an A-Board at each turn from the main road.
We happen to have six A-Boards and utilized each one although we could have easily gotten away with four!
Keep Your Garage Sale Signs Simple
Potential customers need the basics and they need them FAST as they drive by.
You really only need three things on your sign:
What kind of sale: Garage Sale, Moving Sale, Yard Sale
Time
ARROWS! You gotta have arrows!
There's no need to list what's for sale, an address, or even dates and days.
If you list Thursday, Friday, and Saturday, everyone will know the sale has been picked over by Saturday and won't bother stopping.
You may want to be all cutesy and write funny things on your signs. While that may be incredibly fun, most people won't have time to read your clever words, they just want arrows!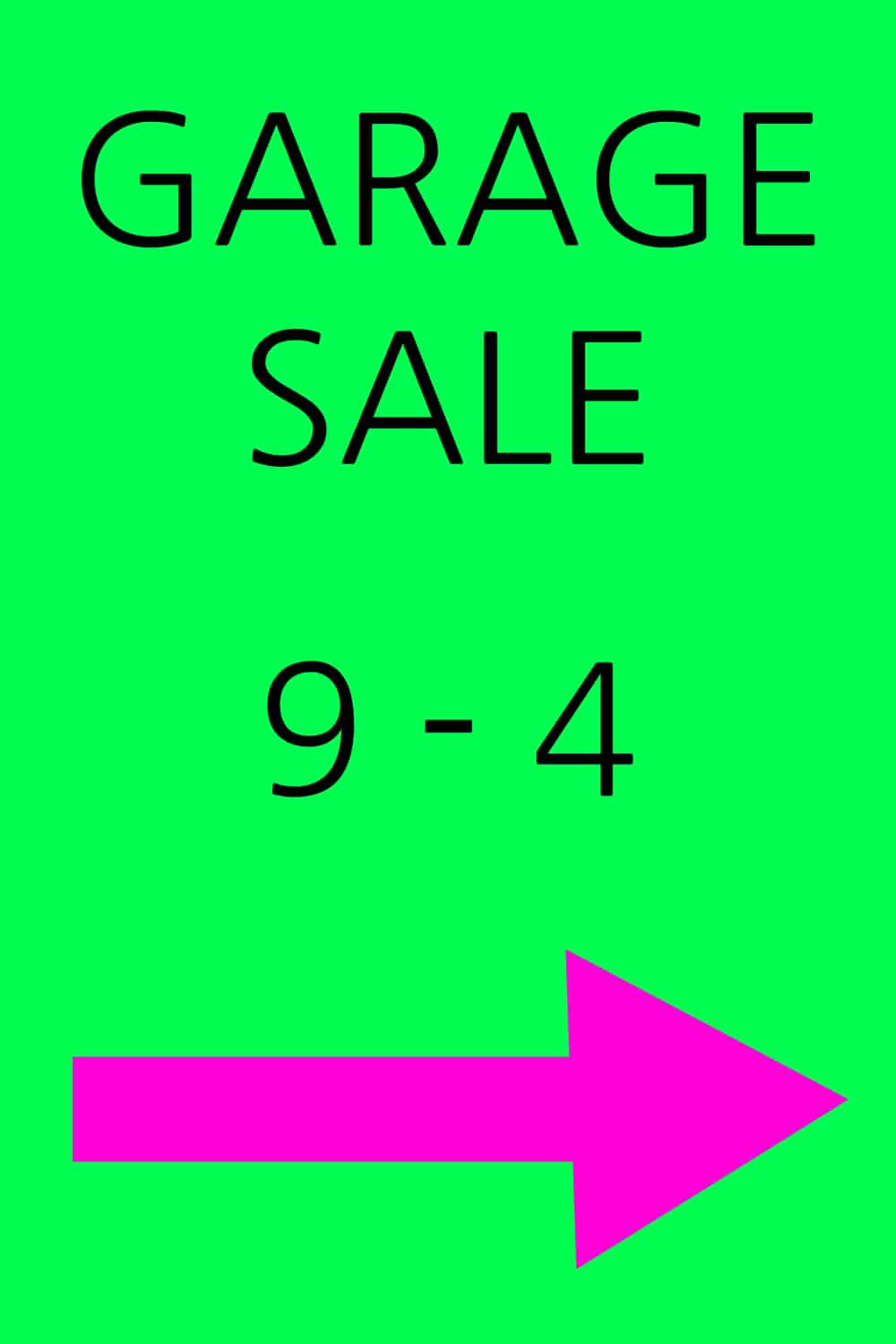 Tip: If your sale is close to a main road, you can boast '3 Blocks' (or whatever it is) and you're certain to compel more people to stop in!
That's it! Super simple, BIG, clear signs with giant arrows on A-Boards. It's the one step that will drive traffic to your garage sale even IF you live over the river and through the woods, and up a hill with no good parking! I've got $758.68 to prove it!
More Garage Sale Resources
Garage Sale Tips For A Successful Sale