Send a Sunshine Box to anyone, at any time of year, to brighten their day! These Sunshine Box Ideas and Printables will make your Sunshine Care Package EXTRA special!
We have an extended family member who will be in the hospital for a lengthy amount of time. He has three little kids, at home, who miss him and could use a fun surprise to brighten their day! We took a trip to Target and found YELLOW things that we think they might like, I created printables to decorate the box, a Prayer Journal that I hope they'll love, and a Sunshine Popcorn Tag to put on a bag of microwave popcorn! Our hope is to send a little sunshine, in a time that is rocking their world.
A Sunshine Box would be perfect for college students, family, friends, and anyone you would like to do something special for!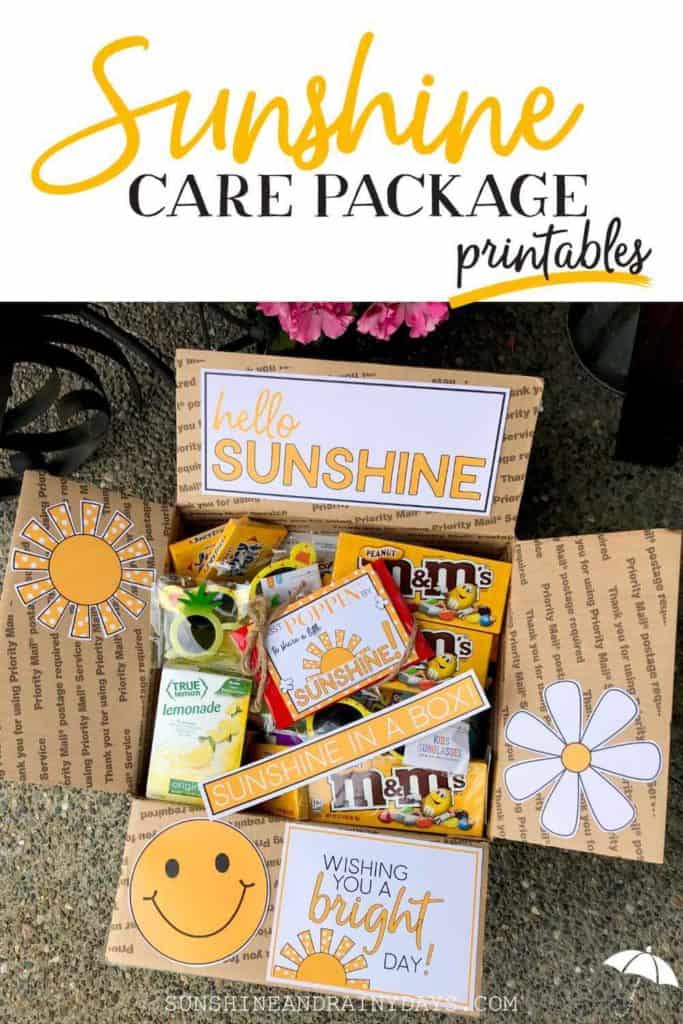 Sunshine Box Supplies
This post contains affiliate links. When you purchase through an affiliate link, we receive a small commission at no additional cost to you. Disclosure.
Printer – I have this one and I love it!
Sunshine Box Printables – found below
Scissors and Paper Cutter (optional)
Lots of fun YELLOW snacks and toys
How To Assemble Your Sunshine Box Care Package
Print the Sunshine Care Package Printables on card stock. There are 2 options for box décor – 1 for large box flaps (fit perfect on USPS Regional Rate Box B) and 1 for small box flaps (fit perfect on USPS Regional Rate Box A).
Cut the Sunshine Care Package box décor and use an adhesive applicator to adhere the box décor to your box flaps.
Print the Sunshine Activity Sheet and place it in the bottom of your Sunshine Box!
Print the Sunshine Popcorn Tags, on card stock, and adhere to microwave popcorn with jute.
Fill your box with everything YELLOW!
Seal and send your Sunshine Care Package to brighten someone's day!
What To Put In A Sunshine Care Package
Everything YELLOW! The age of your Sunshine Box recipient will determine what you put in the box but here are a few ideas:
Bubble Wands
Yellow Play-Doh
Peanut M&M's
Sunshine Popcorn (microwave popcorn with a printable tag – found below)
Goldfish Crackers
Burt's Bees Lip Balm
Butterfinger Candy Bar
Sunshine Activity Sheet – found below
Head to the store and have some FUN picking out everything YELLOW!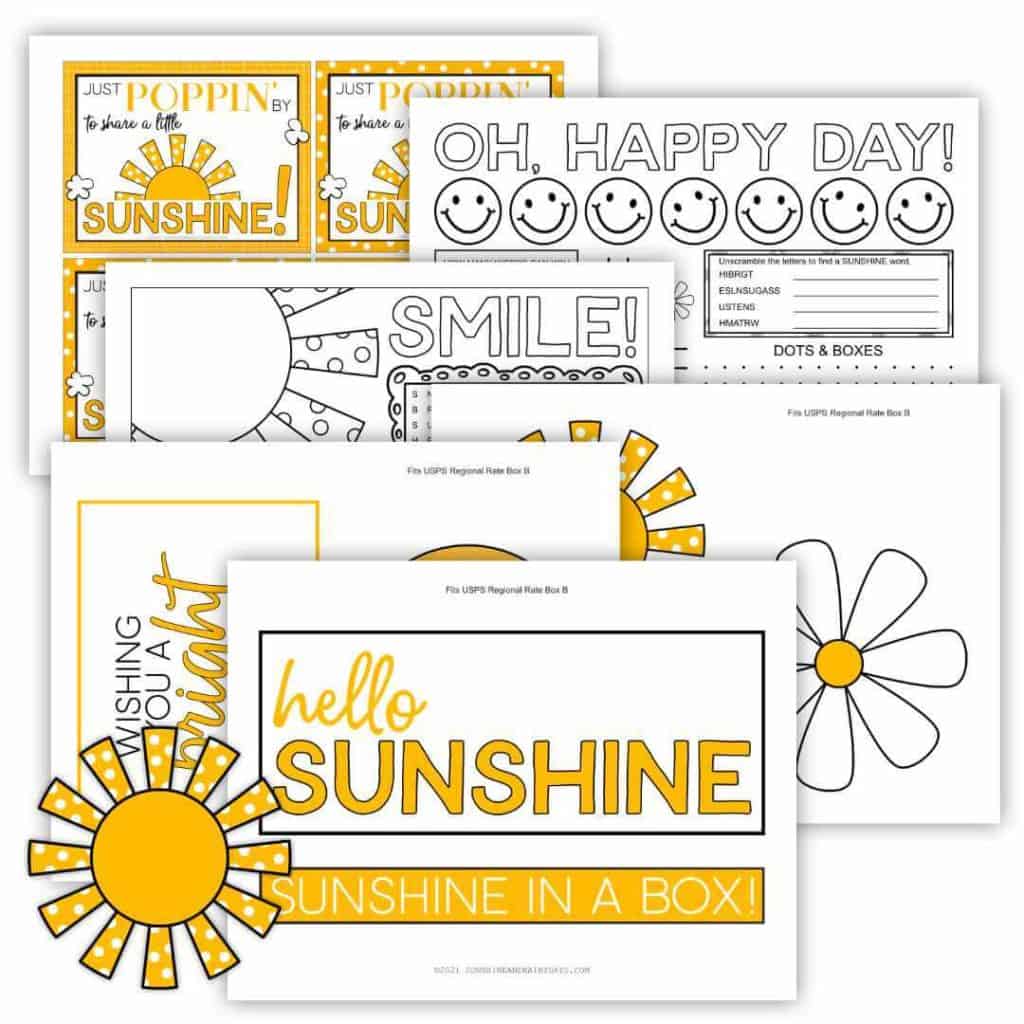 More Care Package Ideas
Care Package Ideas For College Students