My nephew just bought his first house and I wanted to send him a box full of essentials and the comforts of home! Check out these new home care package ideas and send the BEST care package to the new homeowner in your life!
What to get someone who is moving out for the first time?
The possibilities are limitless! You could do a themed box or a box with the comforts of home. Here are a few ideas:
Cleaning Supplies
This post contains affiliate links. When you purchase through an affiliate link, we receive a small commission at no additional cost to you. Disclosure.
Cleaning supplies are essential to a new home but one of those things new homeowners really just don't want to spend money on. Start the new homeowner off on the right foot with a box full of cleaning supplies!
Cleaning Rags – I like to use white washclothes, purchased in bulk at Costco but microfiber cleaning cloths are another good option.
Scrub Sponges – These come in handy for cleaning.
Cleaners – Sal Suds is a good all purpose cleaner.
Spray Bottle – To whip up cleaning concoctions in.
Mr. Clean Magic Erasers – They really are magic!
Hydrogen Peroxide – A good thing to have on hand.
Squeegee – A window squeegee is a must for streak free windows and shower doors.
Scraper Tool – I recently purchased these Scrigit Scrapers and am thoroughly impressed!
Tools
You don't realize how much you'll need tools until you want to hang a picture or need to repair something. Save the new homeowner a trip to the hardware store with a few basics.
Hammer
Picture Hanging Kit – This will come in super handy and should last quite a while!
Tape Measure
Level
Screwdrivers
Utility Knife
Pliers
Duct Tape
Drill … if you want to spend a bit more.
Safety
This type of care package for the new homeowner could go a few different directions but we'll stick with the basics.
Flashlight
Lantern
Candle
Fire Extinguisher
Battery Powered Or Hand Cranked Radio
Extra Batteries
Cell Phone Charger
Gardening
This is a fun one! Whether the new homeowner plans to grow their own vegetables or just wants to keep their yard well maintained, there are many ideas for a gardening box.
Sunscreen
Garden Clogs
Sun Hat
Flower Bulbs
Entertainment
Whether you gift snacks for a movie night or the makings for s'mores, an Entertainment Care Package for the new homeowner will give them the tools to entertain as soon as they move in!
S'mores Box – Include everything you need to make s'mores.
Movie Night Box – Full of boxed candy like you can buy in the theater, microwave popcorn, fun drinks, and a DVD or Netflix subscription (if you want to go all out).
Game Box – Filled with snacks and a few games.
Dinner Box
How nice would it be to have everything for a meal, ready to go?
Pasta and sauce for spaghetti night.
Soup and crackers.
Peanut butter and jelly, along with a loaf of bread.
Laundry
Laundry is another one of those things that are essential.
Laundry Detergent
Fabric Softener
Lint Brush
Delicates Bag
Stain Remover
Outdoor Fun
A new house with a yard all their own will make the new homeowner want to get out and play!
A new backyard brings out the kid in all of us!
Comforts Of Home
My nephew has a few things for his new home, from his college days, but a new house all his own means he could use quite a lot. Here's what I chose to put in his box:
Game – Nothing says home like being able to enjoy a game with those who visit! I chose Mancala for the box.
Puzzle – Another comfort of home is a good puzzle on the coffee table waiting to be put together. This Blockbuster Animal House Puzzle was my choice. My husband and daughter approved!
Dish Soap – Because it's a necessity that will get used!
Dish Towel – Another necessity that you can never have enough of.
Hand Soap – One of those things you don't think of until you've moved in and need to wash your hands.
Snack – Because home is where nourishment is and a good snack will come in handy while everything is unpacked.
Fake Plant – Every space needs a bit of green and a small fake plant can be used anywhere!
Band-Aids – Just in case!
Get Your New Home Care Package Printables Here!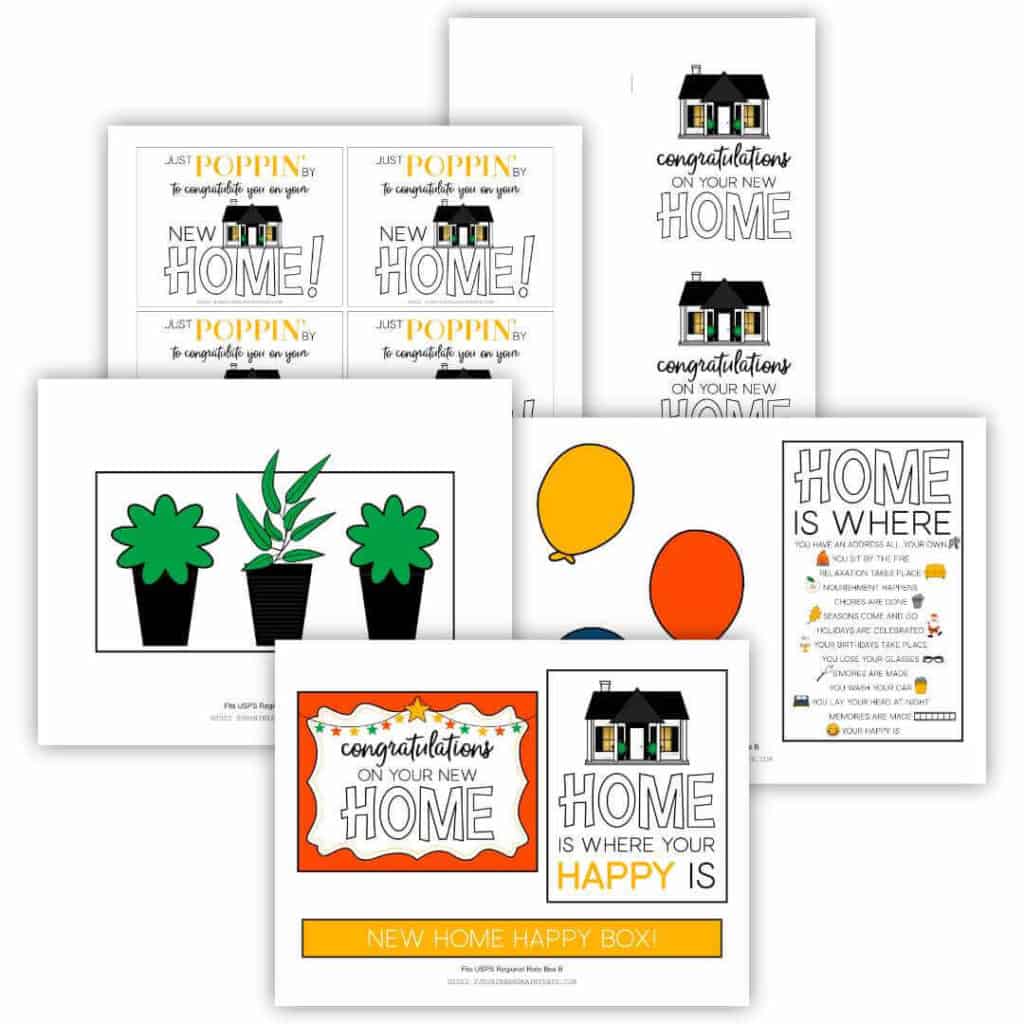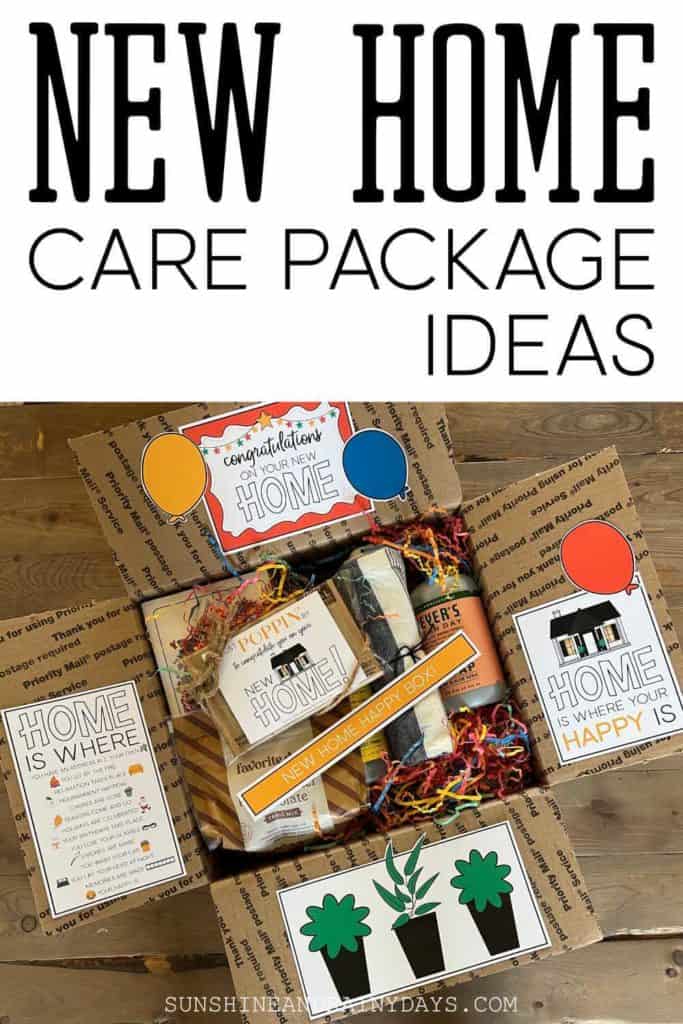 Pick a theme and go walk the isles of Target or WalMart, looking for inspiration. Don't want to leave the house? Order online! But most of all …
Have fun creating your new home care package!
More Care Package Ideas
More Home Ideas
Home Management Binder System For Young Adults