Do you have stuff to save for but don't know where to start? Give yourself a visual with our Sinking Fund Charts! A visual will help keep you motivated and give you focus.
Sinking Funds are an excellent tool to use to prepare for expenses that are not a part of your regular monthly spending plan.
What Is A Sinking Fund?
A Sinking Fund is a fund formed by setting aside money for the gradual repayment of a debt or replacement of a wasting asset.
It's like a savings account for a very specific purpose.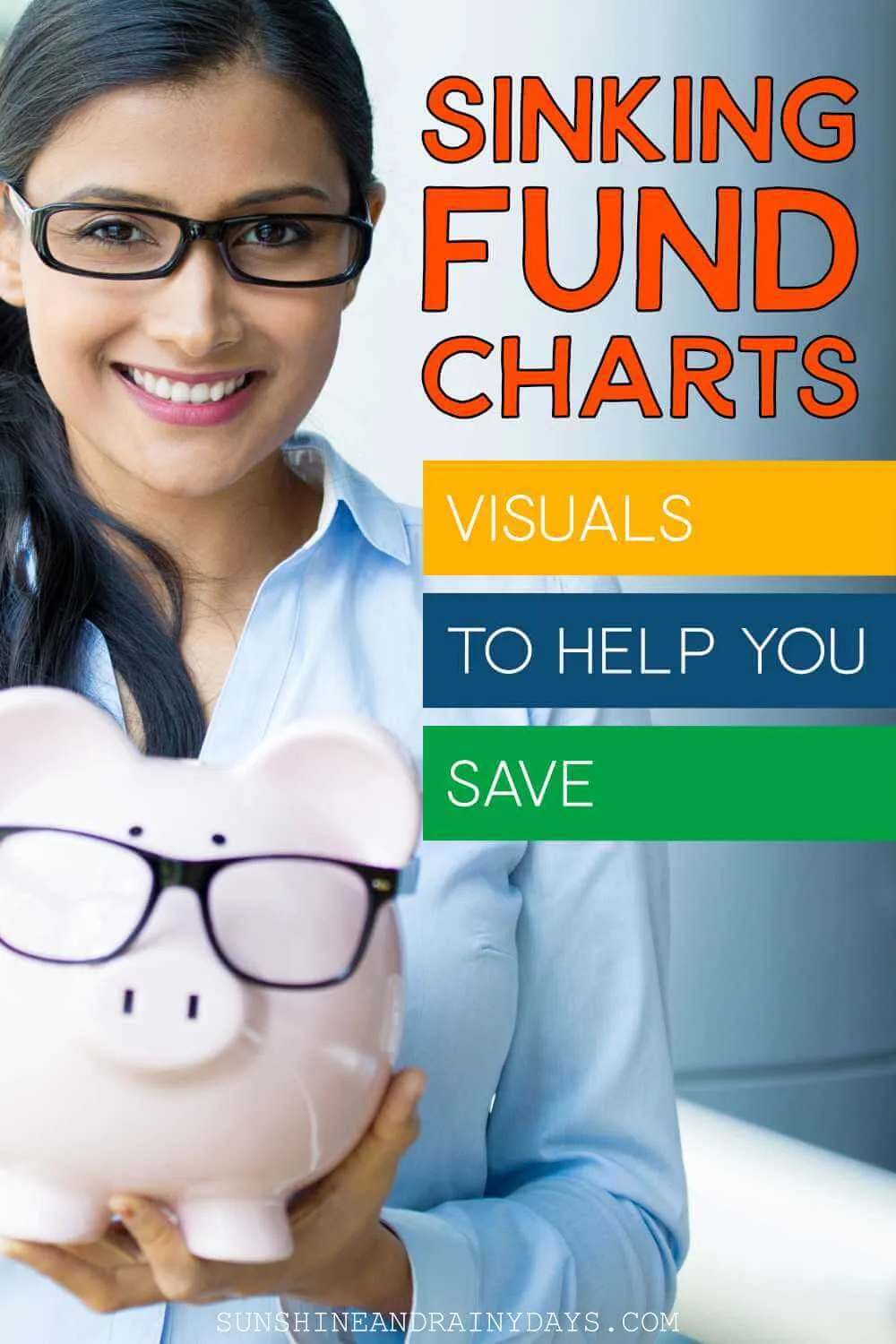 What Kind Of Sinking Funds Should I Start?
You can really create a sinking fund for anything and everything!
Just don't have too many going at the same time or you might end up taking years to get anywhere.
Keep the basics:
Car Replacement, Maintenance, and Repairs
Home Maintenance
Vacations
Gifts
Christmas
Clothes
Yearly Insurance
Emergency Fund
… and then add in some FUN stuff too!
Sinking Fund Chart Supplies
This post contains affiliate links. When you purchase through an affiliate link, we receive a small commission at no additional cost to you. Disclosure.
Sinking Fund Chart Printables – found below
How To Use Sinking Fund Charts
Print the Sinking Fund Charts, of your choice. When you print, I suggest using Card Stock for durability.
Determine how much you need to save for your sinking fund and write the amount on the Goal line.
Record the date you would like to have your sinking fund fully funded.
Divide your saving goal by 10.
Write each increment on the lines shooting off the graphic with the smallest on the bottom. If you plan to save $15,000, you would write $1500 on the bottom line, $3000 on the next line, etc.
As you save, color in the lines! Each increment consists of 10 lines to fill in. If you plan to save $15,000 and each increment represents $1500, each line would represent $150. For every $150 you save, color in a line.
Make your Sinking Fund a part of your monthly budget! If you plan to save $15,000 and you want to save it in 10 months, you need to incorporate $1500 a month into your spending plan.
Sinking Fund Chart Printables
Jump To The Sinking Fund Chart You Want To Print Here
Learn More About Each Sinking Fund Chart Here
---
---
---
---
---
---
---
---
---
---
---
---
---
---
---
---
---
---
---
---
---
---
---
---
---
---
---
---
---
---
---
---
---
---
---
---
---
---
---
---
---
More Sinking Fund Ideas
Learn More About Sinking Funds