Most people, shopping garage sales, are on the hunt for deals too good to be true or good enough to resale, at a profit. They don't expect to pay marketplace prices or even thrift store prices. This can leave you feeling used and abused if you sell high quality merchandise at a fraction of the original price. But the neighborhood is hosting a garage sale and you want to participate so, how do you make more money at a garage sale?
Price garage sale merchandise at the price you are willing to sell it for.
You may not mind pricing many of your items super low because you just want them gone but you probably have a few things that you aren't willing to part with for mere pennies and that's okay! Price those items at an amount you are willing to sell them for.
At our last garage sale, we had a chair for sale. I really liked that chair but it didn't go with our newly remodeled basement. We priced the chair at an amount I'd be okay with letting it go. Guess what? It didn't sell and I was okay with that and plan to make it work in our home!
Be patient!
This post contains affiliate links. When you purchase through an affiliate link, we receive a small commission at no additional cost to you. Disclosure.
Not every garage sale shopper will know the worth of your items. You need just the right person to come along who does know the value and has been in the market for that very thing.
My daughter sold her dorm fridge, at our last garage sale. We sold it as a package, along with an Elfa rolling cart with drawers. It was the perfect set up for a dorm kitchen! New, the Elfa cart is $170 and the fridge was $150. We asked $150 for both. Many scoffed at the price and asked if we would sell just the fridge or cart, separately. I stood solid on selling it as a package deal, knowing the right person would come along who knew the worth of these items and was willing to pay the asking price for their dorm bound student. The set sold to a mom who knew what a great deal it was and wanted to set her daughter up for success in her dorm room!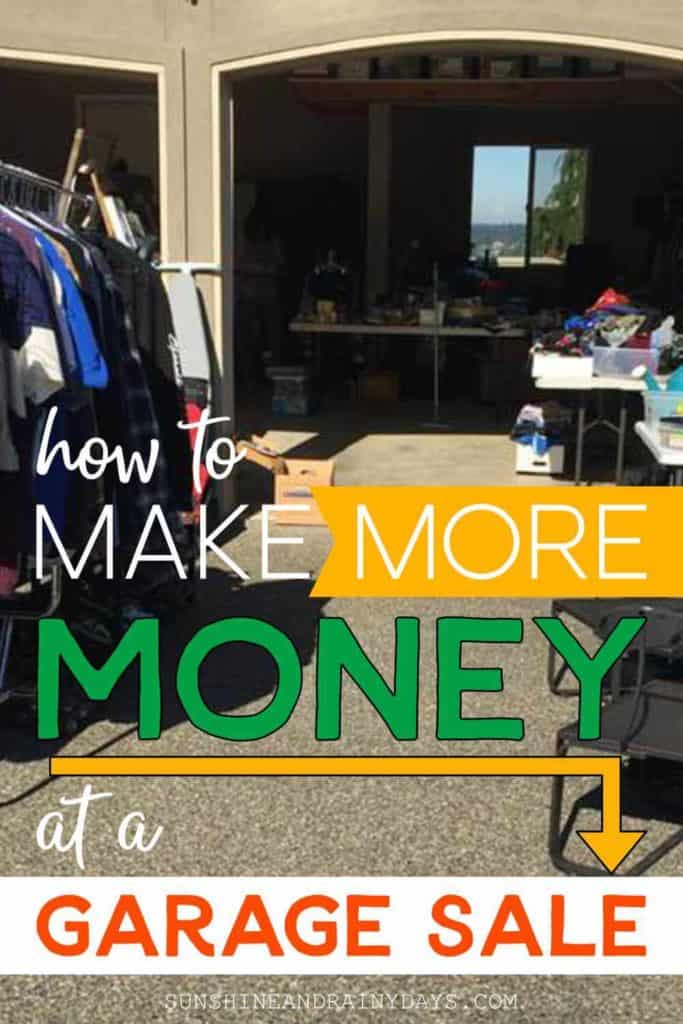 Use signage that tells what the item is used for or tells a little about it.
Many shoppers will overlook items they actually could use because their brain isn't registering what the item actually is. Shoppers will pause to read signs. Keep paper and a Sharpie on hand and write a little about your merchandise, along with the price. Do this on a few items and, as they sell, do it on a few more, when you have a lull between shoppers.
We placed signs on a few things at a time and it was fun to watch shoppers stop to read and tell their shopping buddies about the item. It was like an aha moment, when they read the signs.
Place your merchandise strategically.
When your garage sale opens, you may have merchandise piled high and low because there's just so much. After that first morning rush, you will be able to move things to more visible, easy to see spots. You may also find certain spots where things sell fast.
Shoppers don't seem to linger, right in front of you. They do, however, take more time to look at things that are outside, on the driveway. We had a student desk for sale, sitting on the driveway, and I noticed that as soon as I put something on the desk to sell, it would go. Throughout the day, I continued with a steady flow of merchandise on that desk. As one item sold, I would move another out on the desk. It was quite comical how well it worked!
Combine items and raise the price.
You know a certain item you're selling is good but no one is giving it the time of day. Is there another item you could pair it with to make it more valuable?
We had a shower curtain rod with a $2 price tag sitting on a table and shower rings, with the same price on the same table. Since both were good quality and still in style, I was surprised that no one was interested. I placed the shower curtain rod and shower rings, together, in a spot all its own and priced it at $5 for both. It sold within 10 minutes of making this change. Not only did they sell, but they sold at a higher price than what I was originally asking.
Don't be bullied.
Don't feel bad if someone scoffs at your price or tries to make you feel dumb. They want a better deal, you want a better price. Stand firm!
There was a young-ish girl who came to our garage sale with her friend. She looked at a price tag and proclaimed that this was an expensive sale. Then, jokingly asked her friend if she wanted the free wood we had available. Another lady came toward the end of the sale, asked my sister for an outrageous deal, was denied, and then said, 'you guys don't want to get rid of your stuff, huh?'. Actually, no, we don't want to get rid of our stuff so bad that we'll be bullied into ridiculous prices!
There may even be instances where you'd rather keep an item than let it go for too low of a price and that's okay!
Know what your items are worth.
You won't be able to price things right if you don't know what they are worth. If you have no clue, do a quick search on eBay to see what that item is selling for and price it accordingly.
My son put a binder, full of Pokemon cards in our garage sale. He said to take offers on the cards. Right away a young man was interested in the cards. After selling him three cards at $2/each, he proudly stated that one of the cards was worth $300. We hadn't done our homework and lost out!
My son pulled the binder from the sale to do further research!
Make more money at a garage sale by pricing your items at their worth!
After our garage sale, I placed that chair on Marketplace, to see if I would get the full $75 there. A potential buyer tried many tactics to get me to sell at a lower price but I stood firm. The chair now resides, happily, in our home!

Remember, it's okay to say no! You know the worth of your items and get to call the shots! Don't be left realizing someone is making huge amounts off of your generosity.
More Garage Sale Ideas
How To Make A Garage Sale Sign
Garage Sale Table Signs To Organize Your Sale
One Step You Must Take To Drive Traffic To Your Garage Sale