I wanted to give a practical gift, a gift that would actually get used … and who wouldn't use a Costco Gift Card? The thing is, gift cards are kind of like money … super boring to give, right? SO, quick as a flash I made up this printable to attach the gift card to. So quick, in fact, that I missed a typo and wrote, 'we've sprung for a full mean deal' instead of 'we've sprung for a full meal deal'. Oh my! I guess the typo could work, too?
It's practical and humorous … at least I thought I was SO FUNNY! Of course, I don't expect the recipients to use the Costco Gift Cards for dinner but thought it was a clever way to deliver an otherwise boring gift.
If you have someone you'd like to give a practical gift to, you're in luck! I've got the printable for you, minus the typo.
How To Use This Hilariously Funny Costco Gift Card Holder
You KNOW it's funny! Go ahead and laugh … either at the gift card holder or me … I don't mind!
This post contains affiliate links. When you purchase through an affiliate link, we receive a small commission at no additional cost to you. Disclosure.
Pick the Gift Card Holder that fits your occasion.
Print on card stock.
Cut in half.
Adhere a Costco Gift Card in the space provided.
Wrap it up and gift to someone who would appreciate the practicality and humor!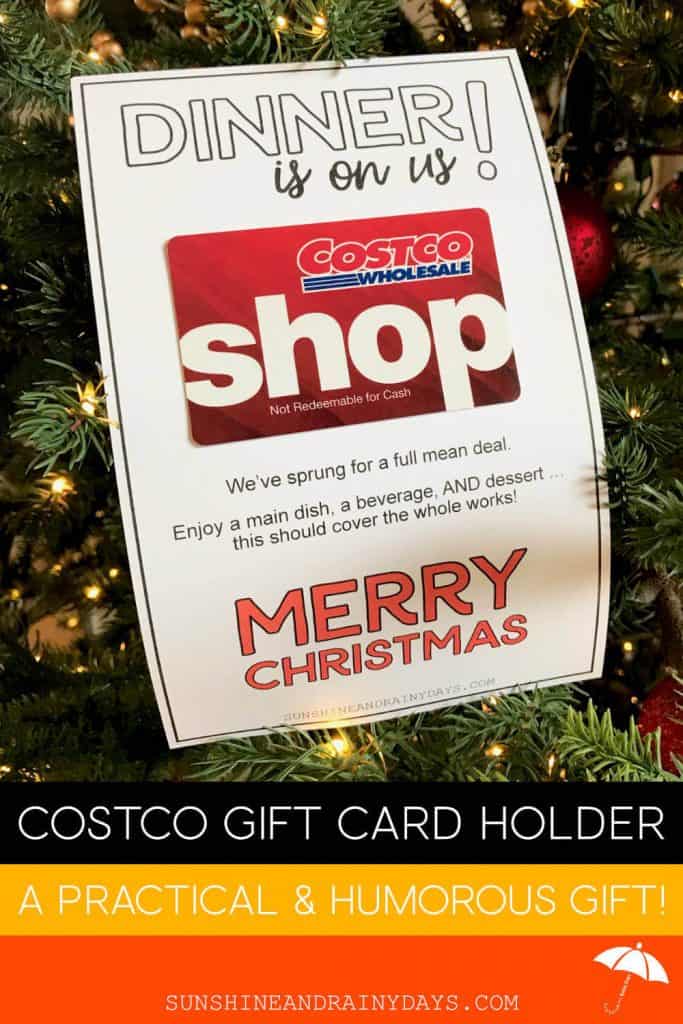 Get Your Printable Gift Card Holder For Costco Gift Cards Here
There are four different versions of the gift card holder to help you with ALL your gifting needs.
Merry Christmas
Happy Birthday
Happy Anniversary
Because You Rock – good for any occasion!
A Costco Gift Card is the perfect gift for your friends and family that appreciate practical gifts. Give them what they want … because whatever they want, can likely be found at Costco!
More Printable Gift Ideas