Just because they're in college doesn't mean they can't have a little Christmas Advent Calendar FUN!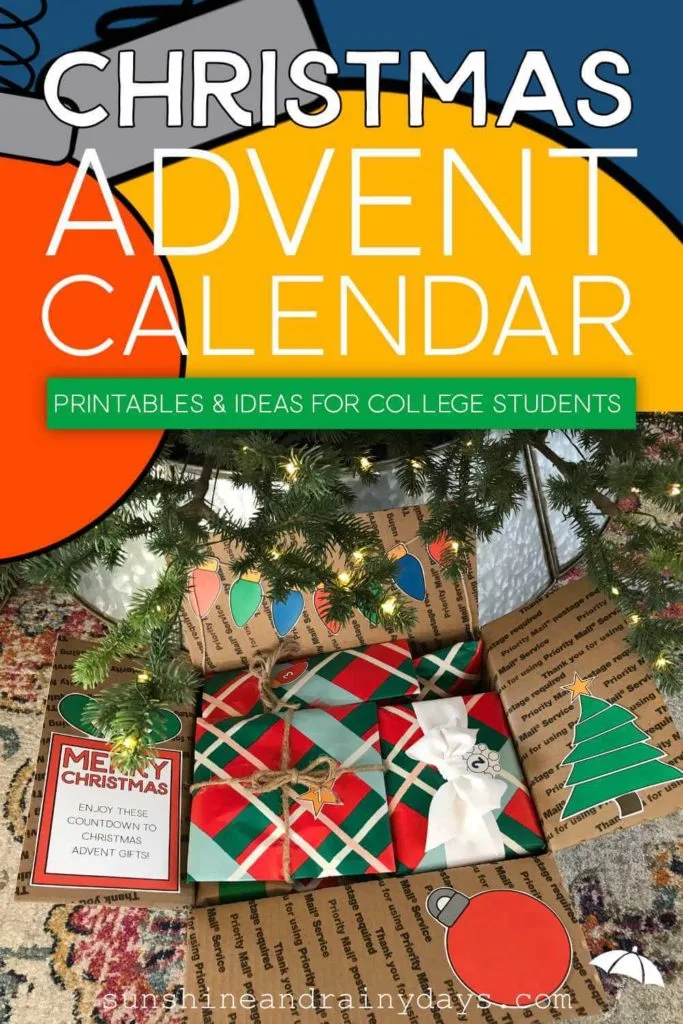 Christmas Advent Calendar For College Students
This is not your traditional Advent Calendar with cute little boxes that fit perfectly in another box. NOPE! This Advent Calendar is an assortment of small gifts to wrap and adhere Advent Calendar Numbers to!
We plan to send the first 14 gifts to open at college and will have the rest waiting at home when she arrives!
This post contains affiliate links. When you purchase through an affiliate link, we receive a small commission at no additional cost to you. Disclosure.
Advent Calendar Supplies
Printer – I just purchased this one and it is ah-mazing!
Advent Calendar Printables – found below
1/8″ Hole Punch (for Christmas Light Banner)
Jute (for Christmas Light Banner)
Scissors and Paper Cutter (optional)
Stuff to put in the Christmas Advent Calendar Box <<< Ideas listed below.
What To Put In The Christmas Advent Calendar For College Students
I asked my college freshman daughter to help me out with this project. I know, I know … she won't be surprised by a lot of these Advent Calendar gifts but I needed the expert! Plus, she will be thrilled to actually GET these fun little items we've picked out!
Listed below are Advent Calendar Ideas for College Students, picked by our very own College Student!
We hope it inspires you to create your own Advent Calendar YOUR way!
Stress Balls
Faux Succulent
Burt's Bees Holiday Gift Set
Burt's Bees Facial Cleansing Towelettes
Food
Chocolate Covered Espresso Beans
Ache Cream
Screen Cleaner
Grocery Store Gift Card
Favorite Book
These are items we found at our local Target:
Play Foam
Travel Pack of Christmas Tissues
Play-Doh
Yoobi Mini Stickers
Yoobi Plush Push Pins
Yoobi Stamp Set
Rudolph Adhesive Bandages
It's a Surprise Toy – unwrap to reveal a surprise!
Happy Binder Clips
Kirby Squishme
My college freshman asked for coloring pages to help her de-stress. I'm all about helping her to have less stress so I'm including this Christmas Coloring Page in her Advent Box.
A few of these Gift Ideas I was able to split up and use for my son too!
How To Use The Christmas Advent Calendar Printables
Print the Advent Calendar Box Printables on card stock.
Cut out the Christmas shapes.
Hole punch the Christmas lights and thread jute through them to create a banner.
Use an adhesive applicator to adhere the box décor to your Advent Calendar Box flaps.
Gather 24 small Advent Calendar Gifts.
Choose which style Advent Calendar Numbers you like. Do you want to cut shapes or want the straight forward squares you can cut with a paper cutter? Print and cut your choice. Place numbers 1 – 24 out, in a row.
Place gifts in the order you would like them to be opened, next to the numbers.
Wrap each gift and attach the number.
Place gifts in your decorated Advent Calendar box and mail!
You did it! Just load your Advent Calendar Gifts into the box to send to your college student!
But WAIT … only send the Advent Gifts for the days your college student will be at school. Save the rest for when they come home!
For example … my college freshman will come home December 15th. I will send Advent Gifts 1 – 14 and keep Advent Gifts 15 – 24 here, at home!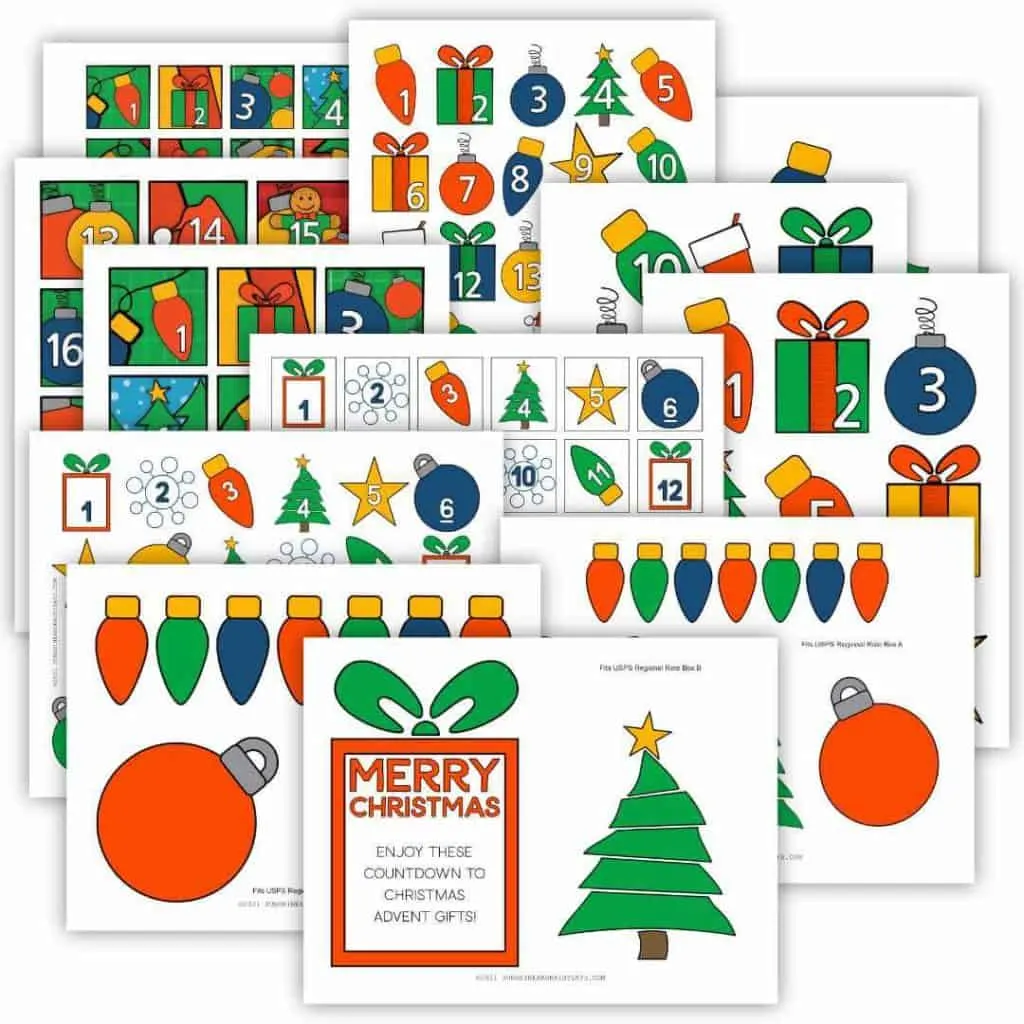 Pre-Made Advent Calendar Options
If making an advent calendar isn't your thing, there are plenty of great pre-made options available! Advent calendars come in all shapes and sizes from LEGO, to Funko Pop, or the classic Advent with chocolates. There is an advent calendar for everyone.
Toy/Figurine Advent Calendars
Classic Candy/Chocolate Advent Calendars
Miscellaneous Advent Calendars
More College Resources
How To Send A College Care Package The Smart Way
Thanksgiving Care Package For College Students
How To Make Your College Transition Easier For Your Mom