It's time! Your college student is settled into dorm life and working hard on papers, speeches, and keeping up with laundry. You have settled into an empty or emptier nest and are ready to send a Fall Box to let your awesome kid know how much you love them!
We showed you How To Send College Care Packages The Smart Way and now we're ready to share WHAT to put in a Fall Box along with fun fall printables to use in that box!
Fall Box Supplies
This post contains affiliate links. When you purchase through an affiliate link, we receive a small commission at no additional cost to you. Disclosure.
Fall Box Printables – found below
Scissors
Box
Snacks and Goodies for your College Student <<< Ideas listed below.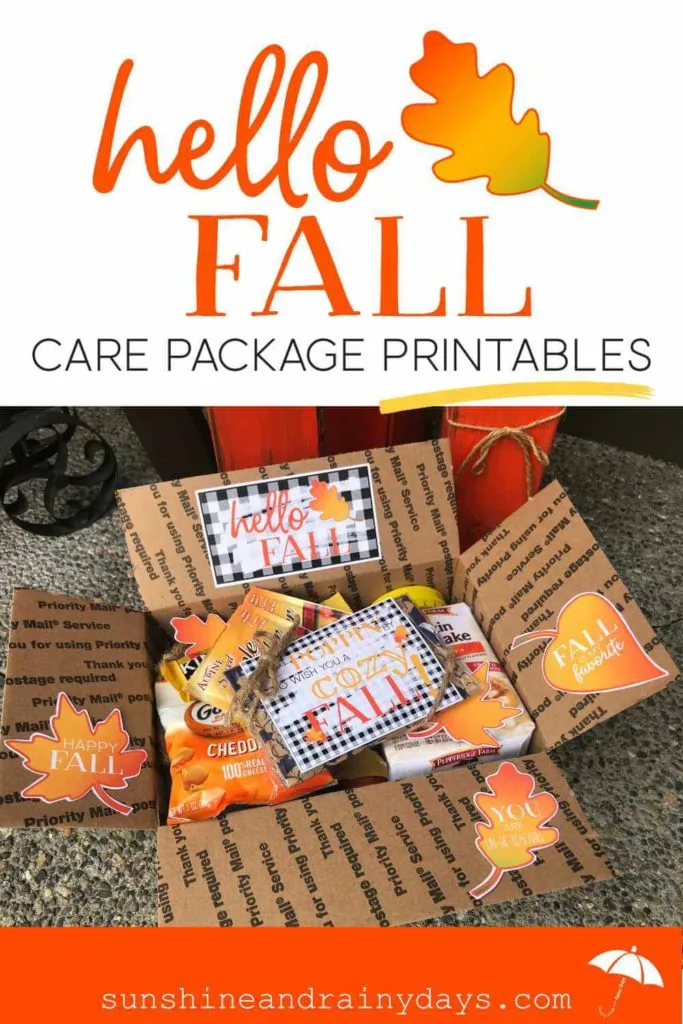 What To Put In A Fall Box For College Students
Preferably, anything you put in a box for your college student should be something you know they will use, eat, or love. Space is a huge commodity for them so needless stuff will be a waste and end up in the trash.
Listed below are Fall Box Ideas to get your creative juices flowing.
These are actual items I sent to my very own college freshman!
Organic Granola Cereal, Pumpkin Seed + Flax
My daughter has said it is much easier to eat breakfast in her room before she heads off to class. This Pumpkin Seed + Flax Granola will be a fun fall breakfast for her!
Nabisco Belvita Pumpkin Spice Breakfast Biscuits
Alright, these just looked festive. I have no idea if they're any good. I'll let you know what I hear!
Apple Cider
A warm drink on a cold fall night. What's better than that?
Mrs. Meyer's Fall-Scented Hand Soap
Hey, they can USE it AND it's festive! Woot!
My daughter actually requested hand soap so … there you go!
Pumpkin Seeds
YUM! What a great snack to munch on as they work on papers, tucked up at their desks, under their loft beds.
Lentil Soup
There's nothing like a bowl of soup on a rainy fall night. Especially when you can't fathom a walk to the cafeteria in the pouring rain.
Kind Minis
We sent a few Kind Bars in our daughter's first box and had a request for more!
This time we've sent full-size Kind Bars and Kind Minis!
4X4 Pumpkin
This 4X4 Pumpkin is handmade! If you aren't about the trouble to make a 4X4 Pumpkin, a mini pumpkin will do!
Just a little something to put on the windowsill that says Fall!
Nerf Football
Because what says fall more than football?
Give your college student a reason to take a break and get out and play with their new friends!
Here's another option: Foam Football
Miniature Candy
Bite-size candy fills the Fall Box in quite nicely!
Fall Printables
Print the Fall Printables on card stock or sticker paper and adhere to the inside flaps of your Fall Box! (I put the pumpkin in the bottom of the box.)
You DID IT! You created a Fall Box your college student will be super happy to have. A box that will take them away from the busy and put a smile on their face! You ROCK!
More College Resources
More Care Package Ideas