You dropped your 18-year-old off at college and it was hard. The drive away from campus was just plain weird. It was emotional, heart-wrenching, exciting, or all of the emotions at once. One thing is for sure. You want to let your college student know they are in your thoughts with a College Care Package!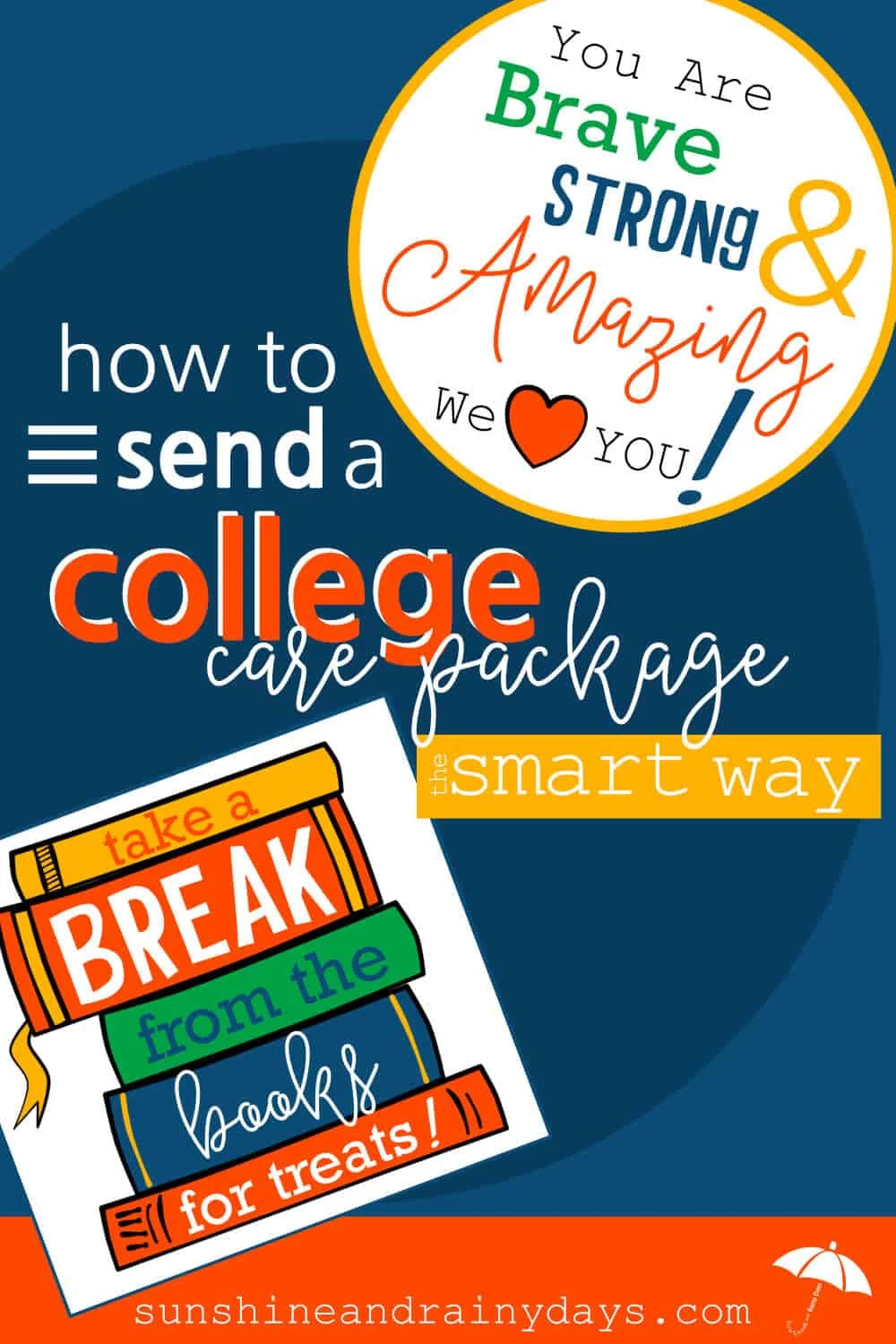 There are loads of awesome Care Package ideas on Pinterest but you want to keep it simple. You want to send a College Care Package the SMART way!
This post contains affiliate links. When you purchase through an affiliate link, we receive a small commission at no additional cost to you. Disclosure.
College Care Package Supplies
How To Send A College Care Package The Smart Way
1) Choose a box.
Order Priority Mail Boxes from USPS. They're FREE! Find Priority Mail Box 7 here and order a set of 10 or 25 to be delivered to your door. I have found this to be a great size for College Care Packages.
Pick Your Own Box. You may have a lot of boxes laying around from online orders and they could be the perfect fit. If so, you may want to order free Priority Mail Sticker Labels in case you ship Priority Mail. When I used to sell items on eBay, I would place a Priority Mail Sticker on each side of the box so no matter how a postal worker looked at it, they could see it was Priority Mail. The one time I ran out of Priority Mail Stickers, the package arrived late and the buyer wasn't happy. Even though the label said Priority Mail and the lady at the post office told me it didn't matter, I found out the hard way how important it is to make it clear.
2) Order Click-N-Ship Single Labels OR simply print your postage label on regular paper and adhere it with packing tape.
Find Click-N-Ship Single Labels here.
3) Order a scale.
You have to weigh your package at home in order to save money! A scale will save you a lot of money, in the long run.
4) Print the College Care Package Printable (found below) on card stock and cut.
This College Care Package Printable is designed to fit on 5″ box flaps.
Find College Care Package Printables for every occasion here!
5) Gather snacks and goodies you know your college student will love.
Find Care Package Ideas For College Students here.
6) Pack all those goodies into your box.
Make sure it is packed well so items don't shift.
7) Adhere the College Care Package Printable pieces to the inside flaps of the box.
Find Care Package Printables for any occasion here!
8) Go to Pirate Ship and enter your information.
Create a free account, enter your information, and determine the best rate. Pirate Ship will give you options from both USPS and UPS. I have found the rates to be much better through Pirate Ship than through USPS or UPS.
9) Pay for and print your label.
You need to print your label at home to save money on shipping.
10) Adhere your label to the box.
11) Schedule Package Pick Up
Here's more awesome news! You can order your package to be picked up from your doorstep. Yay! You can also drop your package off at the post office or your local UPS pick-up location or drop box.
12) Start gathering goodies for your next College Care Package!
If you don't want to sit around and cry over your empty nest, DO SOMETHING! Gather the supplies you need to create an awesome College Care Package. You know you will want to do more than one. That'll keep you busy and excited for your student!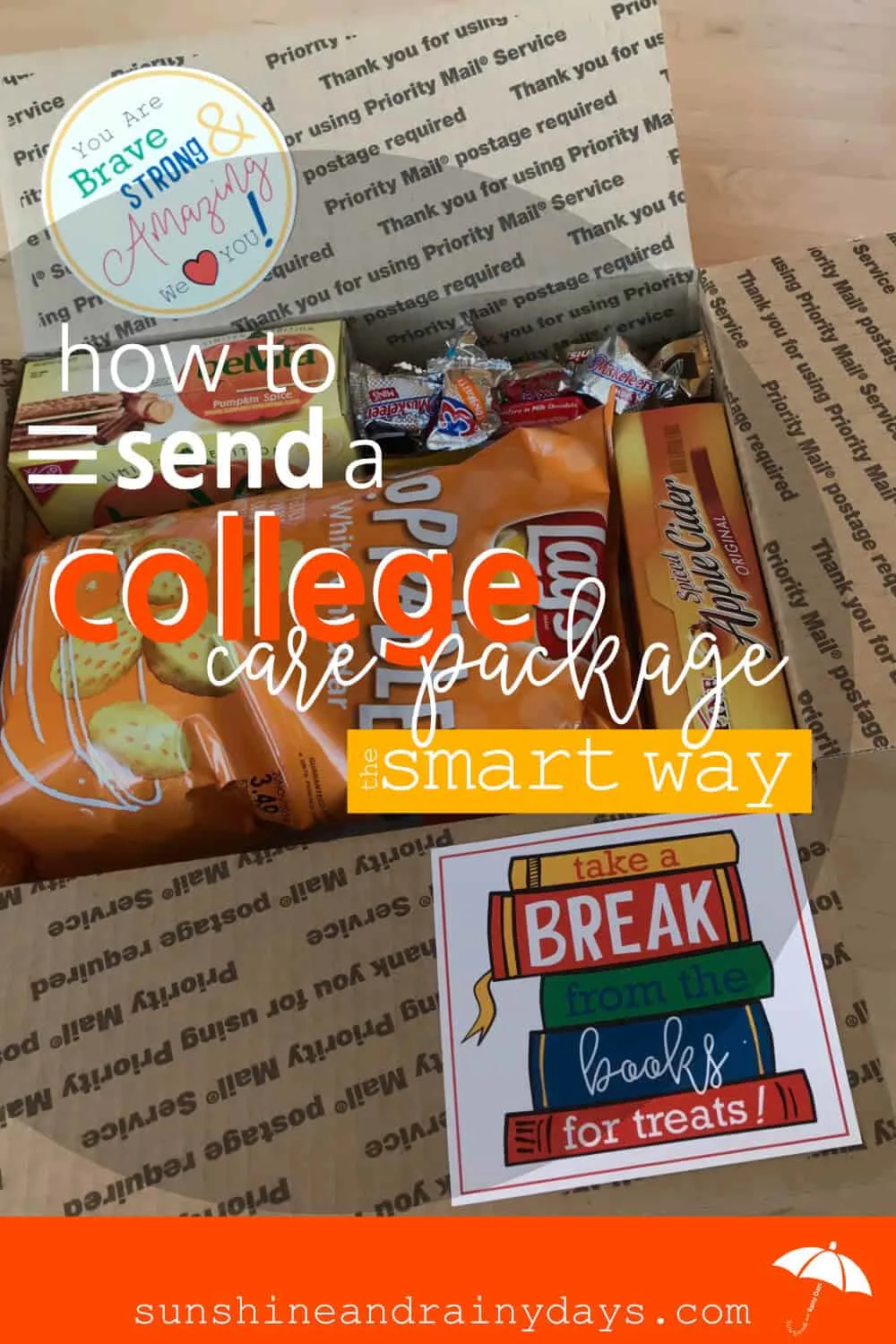 More College Resources
How To Make Your College Transition Easier For Your Mom
The ideas for College Care Packages are amazing. Some even wrap the inside of the box. Totally cool!
More Care Package Ideas
Care Package Ideas For College Students