Looking for a way to bring Christmas cheer to friends without the dreaded awkwardness of reciprocation? You've Been Tinseled is your answer!
Give the gift of FUN and Tinsel your friends! It will surely make them feel all holly and jolly!
In years past, the kids each picked a few homes to Tinsel and we added a few too.
We piled 10 boxes in the car and drove around Tinseling. My husband would pull up to a house, and one of the kids would jump out and run the box up to the doorstep, ring the bell, and run, run, run back to the car where we abruptly drove off into the night before being seen.
We Tinseled about 10 homes in all and it was so much fun! Of course, thinking back, teenagers running through the dark from the car … hmmmm … Tinsel at your own risk.
This post contains affiliate links. When you purchase through an affiliate link, we receive a small commission at no additional cost to you. Disclosure.
You've Been Tinseled Supplies
Printer
You've Been Tinseled Printable – found below
Paper Cutter or Scissors
Gifts!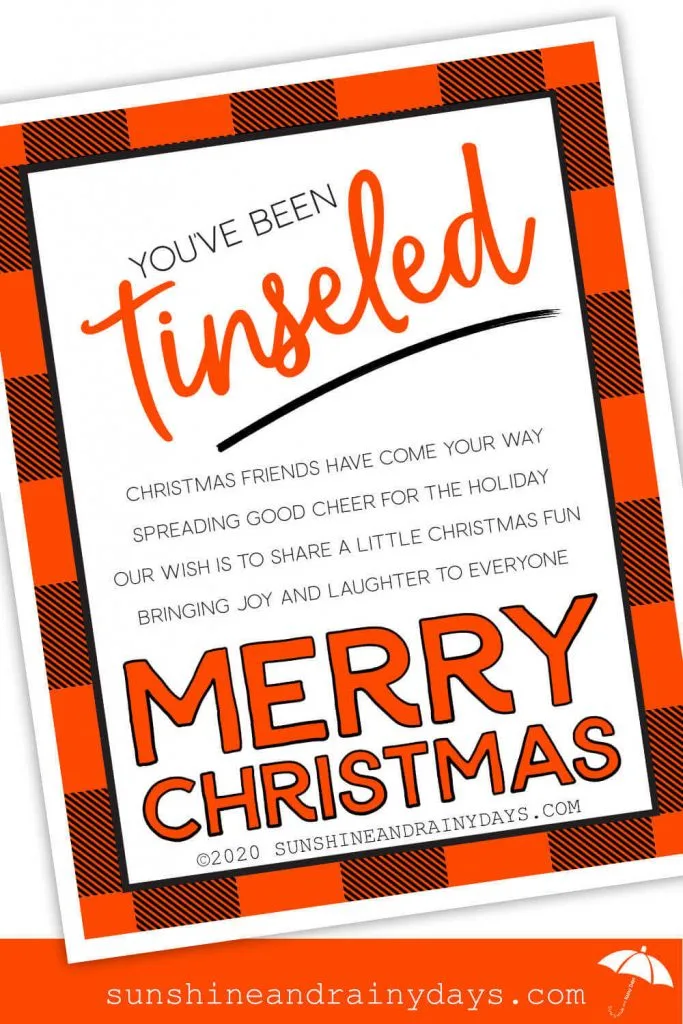 How To Use The You've Been Tinseled Printable
1. Print the You've Been Tinseled Printable – We suggest using card stock to print. The printable comes with two per sheet for extra fun!
2. Decide What Gift You Would Like To Give – Since it's called You've Been Tinseled, we recommend tinsel along with a few other treats. Find gift ideas below.
3. Gather Supplies – Our favorite places to find supplies for Tinsel Gifts are Michael's, The Dollar Tree, and Walmart!
4. Assemble Gifts Along With The Printable – Put on a Santa hat and get in the Christmas spirit!
5. Deliver Your Tinsel Gifts! – Place your You've Been Tinseled Box on your recipient's doorstep, ring the bell, and head back to your car.
You've Been Tinseled Box Ideas
Christmas Shoe Box
You need something to put all that good stuff in! Michael's craft store sells Christmas shoe boxes at a great price, on Black Friday. Tuck the lid underneath and use it like a gift basket! These boxes are even useful after the Holidays for storing Christmas decorations.
Poinsettia
You can often find small poinsettias for 99¢, on Black Friday, at hardware stores. We purchased ours at Walmart. What says Christmas more than a poinsettia?
Oh, the smells of Christmas!
What a great way to bring Christmas cheer to the kitchen!
Christmas Kisses
Any kind of treat will do! Prepackaged is best, especially since your friends won't know where the gift came from. Take a handful out of the bag and sprinkle around the box of fun!
Small classic toys like a kendama, Chinese jump rope, bouncy ball, et cetera, because Christmas brings out the kid in all of us!
Tinsel is not only festive but it works as an excellent filler!
These items fill the box perfectly and certainly add the sights, smells, tastes, and laughter of Christmas Cheer to our friends' homes!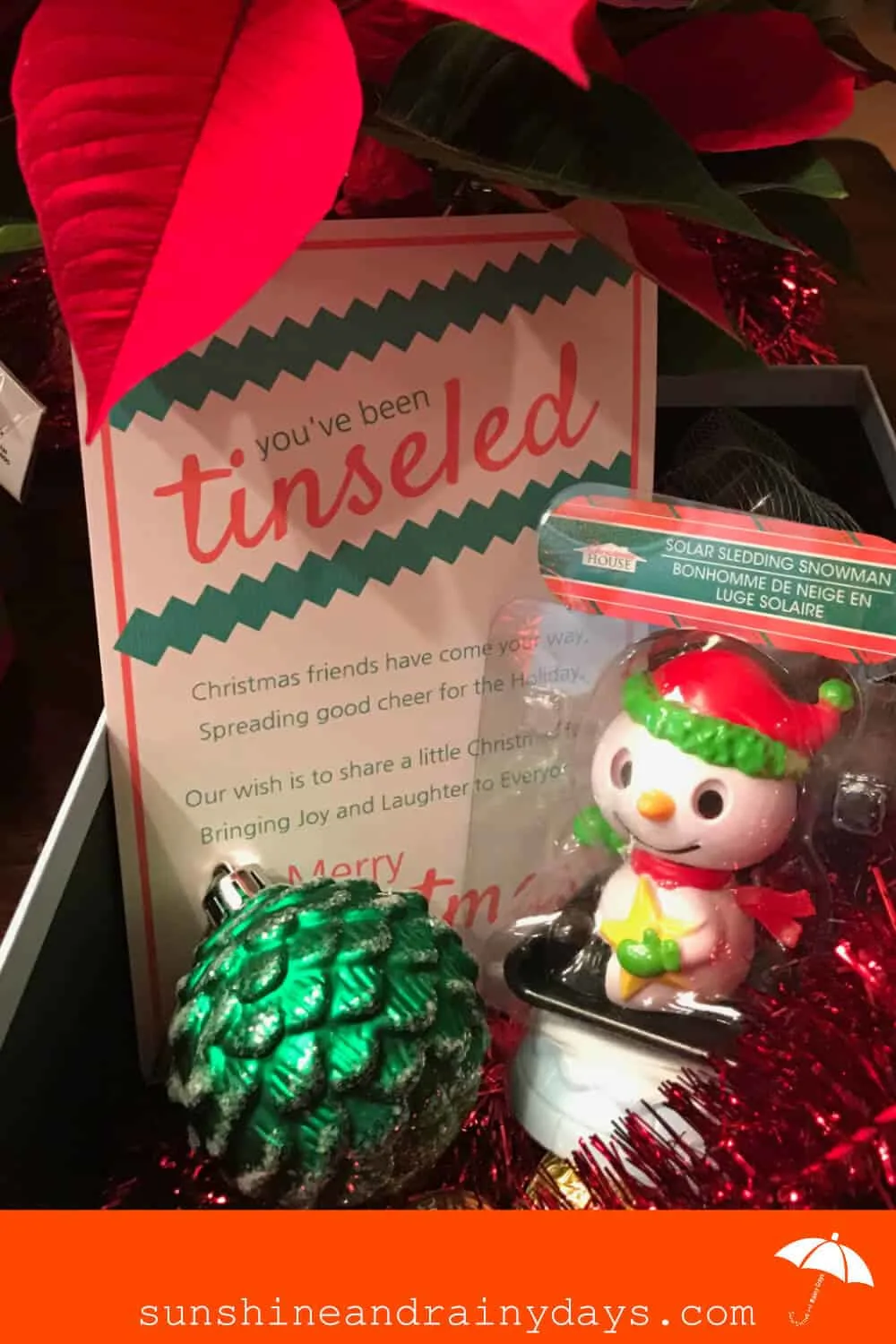 Another Idea for a You've Been Tinseled Box
Christmas Movie Box
Add a fun Christmas movie, microwave popcorn, movie candy, a You've Been Tinseled card, and tinsel, of course! What a fantabulous way to 'Christmasfy' your friends!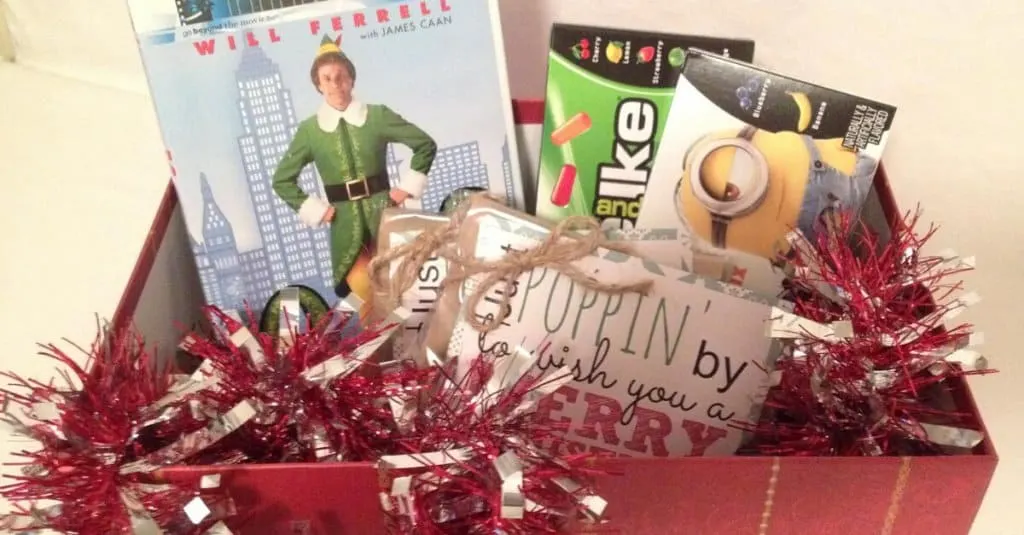 When you TINSEL, not only does it bring Christmas Cheer to others, it gets you all Holly and Jolly too!
Happy Tinseling!
More Christmas Gift Ideas
You've Been Grinched – Funny Gift Idea
You've Been Elfed – Christmas Gift Idea