Say WHAT? Why in the world do we need Dirty Santa Gift Tags? After all, Dirty Santa gifts go in a big pile and aren't supposed to be marked!
Let's talk about it!
Why You Need Dirty Santa Gift Tags
Dirty Santa Gift Tags Keep You Organized!
We LOVE to enjoy wrapped presents under the tree so we tend to wrap gifts as soon as we purchase them! That means the gifts need to be marked since we will not be able to remember who or what they are for.
I wouldn't want to mistakenly send my son's pajamas to my husband's work Dirty Santa Party!
This post contains affiliate links. When you purchase through an affiliate link, we receive a small commission at no additional cost to you. Disclosure.
Dirty Santa Gift Tags Ensure You Take The Right Gift To The Right Party!
If you will be attending multiple Dirty Santa Gift Exchanges, you can make a little note on the back of the Dirty Santa Gift Tag with the name of the event. Leave names off! Instead of writing, Sally's work DS Party, write Subway (or workplace name), Office, Teen, Family, Church, Small Group, etc.!
What if you had a Build A Boyfriend book wrapped up for your daughter's Dirty Santa Party but took it to the family party instead? Awkward!
Why You DON'T Need Dirty Santa Gift Tags
If you wrap your Dirty Santa Gift as you walk out the door to a Dirty Santa Party, you don't need a Dirty Santa Gift Tag! Nope! This isn't for you!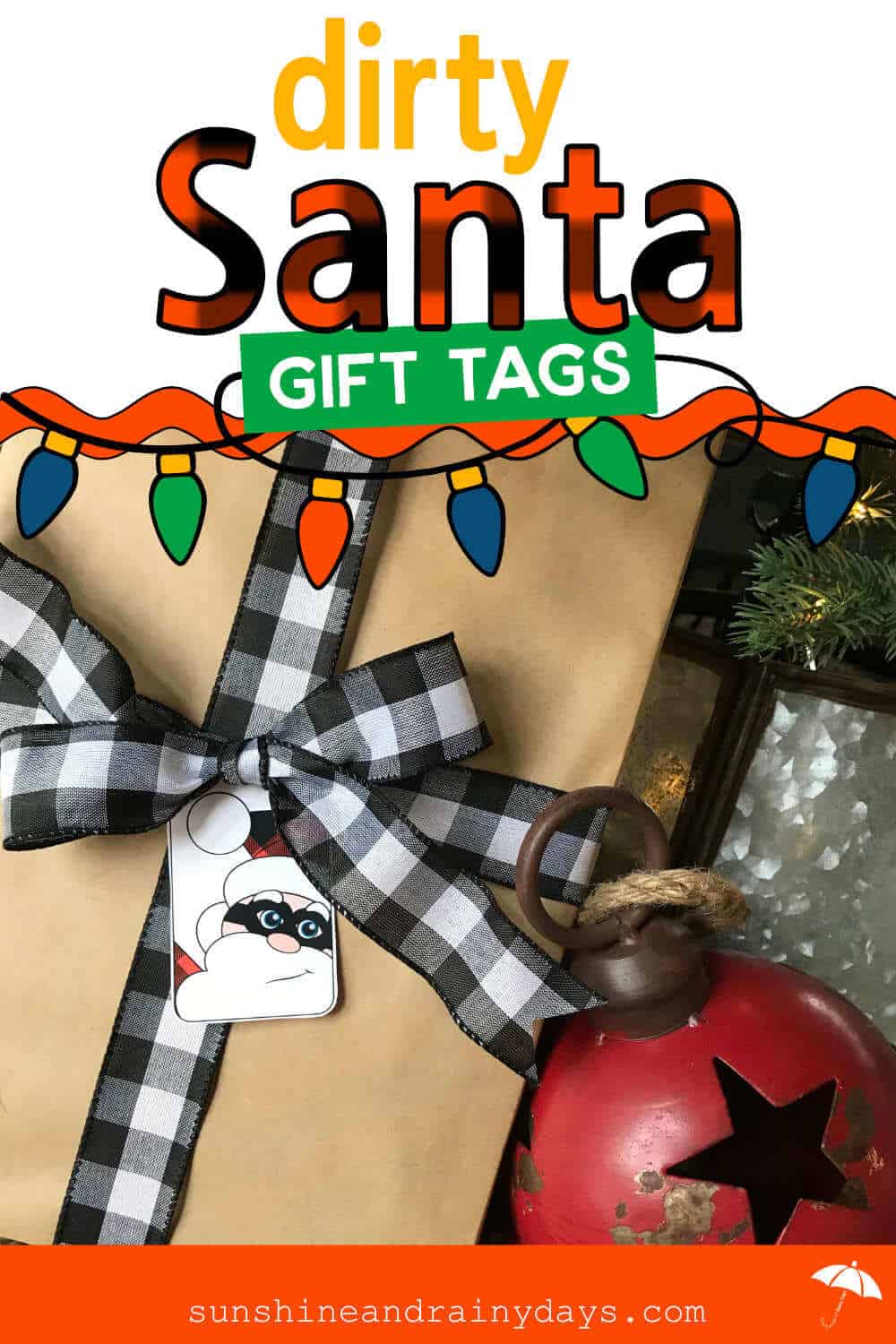 You may choose to remove the Dirty Santa Gift Tag before you enter your Dirty Santa Gift Exchange Party, especially if you've written any identifying information like, Ted's Office Party. That just won't work!
The Dirty Santa Gift Tag is here to keep you organized and the gifts going in the right direction!
More Dirty Santa Ideas
$10 Dirty Santa Gift Exchange Ideas
$10 Dirty Santa Gift Ideas For Teens
Dirty Santa Printable Rules and Numbers
More Ideas For Gift Exchange Games
White Elephant Rules and Printables