You've been invited to a Christmas party where there will be a Dirty Santa gift exchange and you're looking for the perfect gift. The MOST WANTED gift. The gift that is stolen so many times that it is frozen. After all, that's what makes the Dirty Santa gift exchange so fun!
Although it's name might suggest otherwise, the Dirty Santa Gift Exchange is a family friendly game! It is called dirty because game participants steal gifts from each other in the attempt to end up with the best possible gift.
Gifts for Dirty Santa are typically something fun, new, unique, and in good taste.
Unlike the White Elephant gift exchange, Dirty Santa gifts are usually items the recipients will want and use.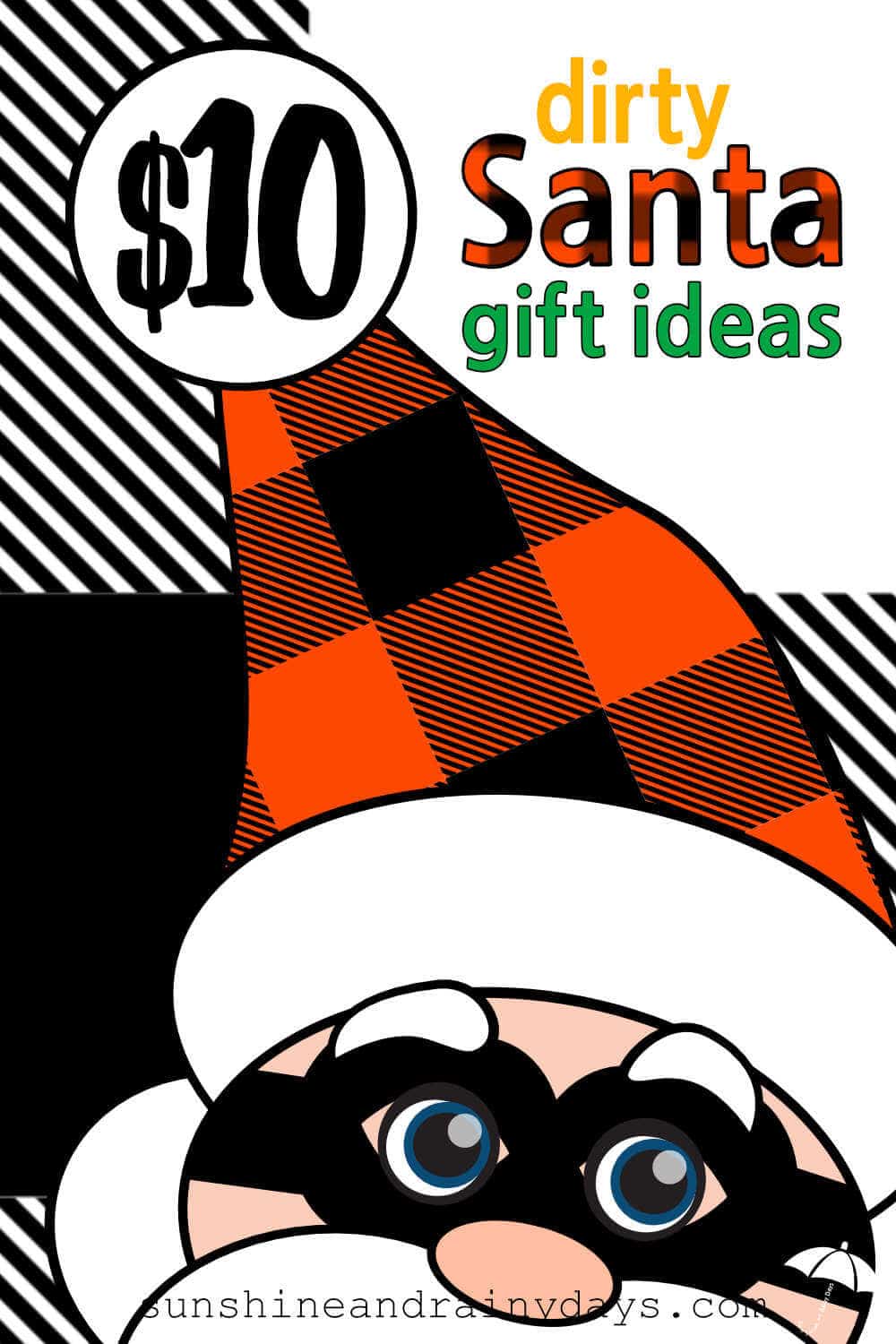 $10 Dirty Santa Gift Ideas
This post contains affiliate links. When you purchase through an affiliate link, we receive a small commission at no additional cost to you. Disclosure.
This neat little gadget attaches to the back of your phone to create a grip. The BEST part is you can use it to tilt your phone while you're sitting at the table to eat your lunch (only if no one is eating with you, that'd be rude).
No more using your mom's glass pumpkin she made with her own two hands to prop up your phone … ahem …
This is such a simple little thing but so useful!
We all could use a phone charger!
It's just one of those things we never get around to buying.
Put it in a Dirty Santa mix and it's sure to be a hit!
Who wouldn't love this?! It's a mason jar turned wine pop glass with a fancy stem and a lid! It's just fun enough that it might be a Dirty Santa hit!
Every kitchen needs bag clips to keep food from getting stale.
Why not make them cute with these adorable little monsters?
Let's just say I would totally go for these keychain screwdrivers.
I often find our regular screwdrivers … the ones that should be in the garage … in random kitchen drawers.
My husband likes to keep them handy, in the kitchen.
I like them in the garage.
These portable screwdrivers would be the perfect compromise for the kitchen!
This was one of the gifts that was stolen so many times at our party last year, that it was frozen.
If you're not into the baseball hat style, this Flashlight Beanie Cap will do the trick!
Okay, so I just don't get the appeal, but a socket set was popular last year too.
How handy would this wristband be when you're working in the garage?
Is there a team that everyone loves?! An NFL hat would be a huge hit!
Throw Blanket
Throw Blankets seem to be a hit year after year. It seems everyone likes to snuggle up under a fuzzy blanket this time of year!
There you have it! I can't guarantee you'll be the life of the party, but these Dirty Santa Gift Ideas are sure to create some fuss!
More Dirty Santa Gift Ideas
$10 Dirty Santa Gift Ideas for Teens
Dirty Santa Printables
More Gift Ideas
Can't get everyone together, in person, for a Dirty Santa Gift Exchange? How about hosting a Virtual Dirty Santa Party?