Whether you are hosting A Teenage Christmas Party  or your teenager is planning to attend a Dirty Santa Party, you need a great gift! The gift they will all love but, more importantly, the gift that brings laughter and fun! We've hosted a few of those parties and I like to think I'm in tune with what my own teenagers are liking (although they remind me daily, I'm not all that). Anyhow, check out these teen approved Dirty Santa Gift Ideas For Teens!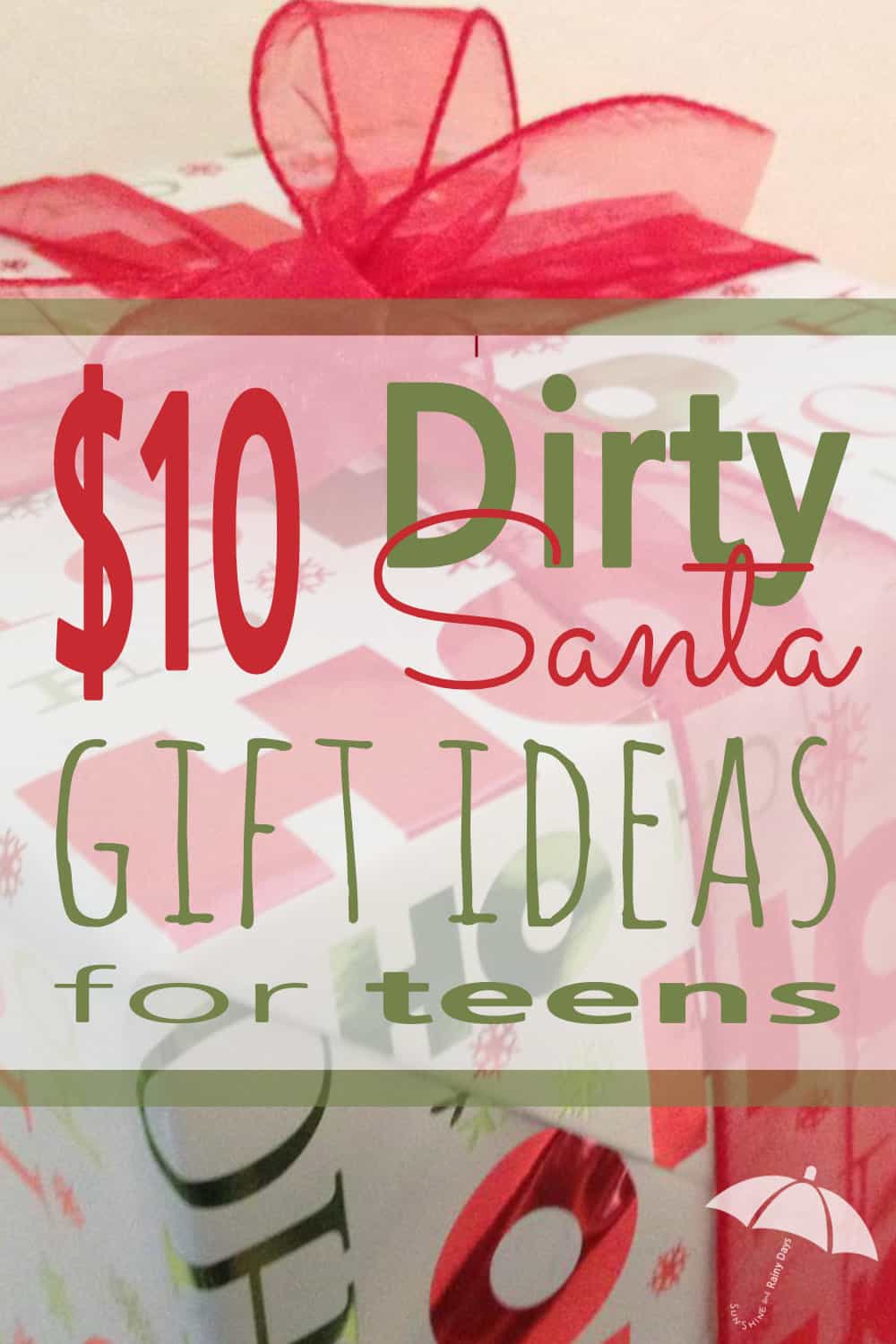 $10 Dirty Santa Gift Ideas for Teens
Although it's name might suggest otherwise, the Dirty Santa Gift Exchange is a family friendly game! It is called dirty because game participants steal gifts from each other in the attempt to end up with the best possible gift.
Gifts for Dirty Santa are typically something fun, new, unique, and in good taste.
Unlike the White Elephant gift exchange, Dirty Santa gifts are usually items the recipients will want and use.
This post contains affiliate links for your convenience. If you purchase through an affiliate link, we receive a small commission at no additional cost to you. Disclosure.
Retro Handset
Fits most smartphones, has a one-touch answer button, a handset volume control, and reduces cell phone radiation. All that with a cool retro style! My daughter purchased the Retro Handset for a Dirty Santa gift one year and it was stolen so many times, it became frozen! That's what I'm talkin' about!
Build A Boyfriend
This is sure to provide hours of fun with 1,728 possible combinations to create the perfect boyfriend. Okay, really it's good for a whole lot of laughs (as evidenced by my teens standing in the middle of Fred Meyer laughing their heads off)!

Strathmore Sketch Book
With 100 sheets of lightly textured 60-pound weight paper, this 9 x 12 sketch book will call to those teens to create! Hey, anything to get them off their phones, right?
Aviator Sunglasses
We all know these sunglasses are the rage! Just don't let those teens break them with all the fighting that will ensue!
Cell Phone Charger
Who knows a teen that can't keep their phone charged? Now that they have this handy dandy cell phone charger, there is no excuse to call home!
Whooz iPhone Identification Stickers
It's not uncommon for a single household to have multiple iPhones, iPads and iPods — which means multiple white power cords plugged into every available outlet. Shared charging stations at airports, libraries, and coffee shops are a sea of identical cords, too. When you're seeing iOS accessories here, there and everywhere, Whooz makes yours different.
Oh my goodness! We need these now! I can't ever find my charger OR earbuds.
Find more designs at The Grommet!
Gravity Falls Dipper's and Mabel's Guide to Mystery and Nonstop Fun! (Guide to Life)
Gravity Falls is huge with teenagers and this book is a jam-packed guide featuring tips, activities, and the show's trademark quirky humor. It features 160 pages of hilarious journal entries, full-color images, and a double-sided pull-out poster.
Aviator Hat
Who doesn't like a good aviator hat? One of the characters, in the aforementioned Gravity Falls, sports an aviator hat, making it the cool thing to wear!
Christmas is sooo much fun and it doesn't have to break the bank with these $10 Dirty Santa Gift Ideas! Host a party and add to the festive Holiday spirit! Your teens will thank you for it … or not … but they're sure to love the memories!
More Dirty Santa Gift Ideas
$10 Dirty Santa Gift Exchange Ideas
Dirty Santa Printables
More Gift Ideas