Do you have an amazing memory and KNOW who each and every gift is for by the sheer weight and size? Are you THAT super organized person that has a different gift wrap for each family member and a cheat code to go along with it?
These free printable Christmas Gift Tags are not for you! You delightful person, you!
This post is for those of us looking for something that's a step up from the Sharpie on the back of the package or carefully folded and cut wrapping paper in the shape of a card. Remember that?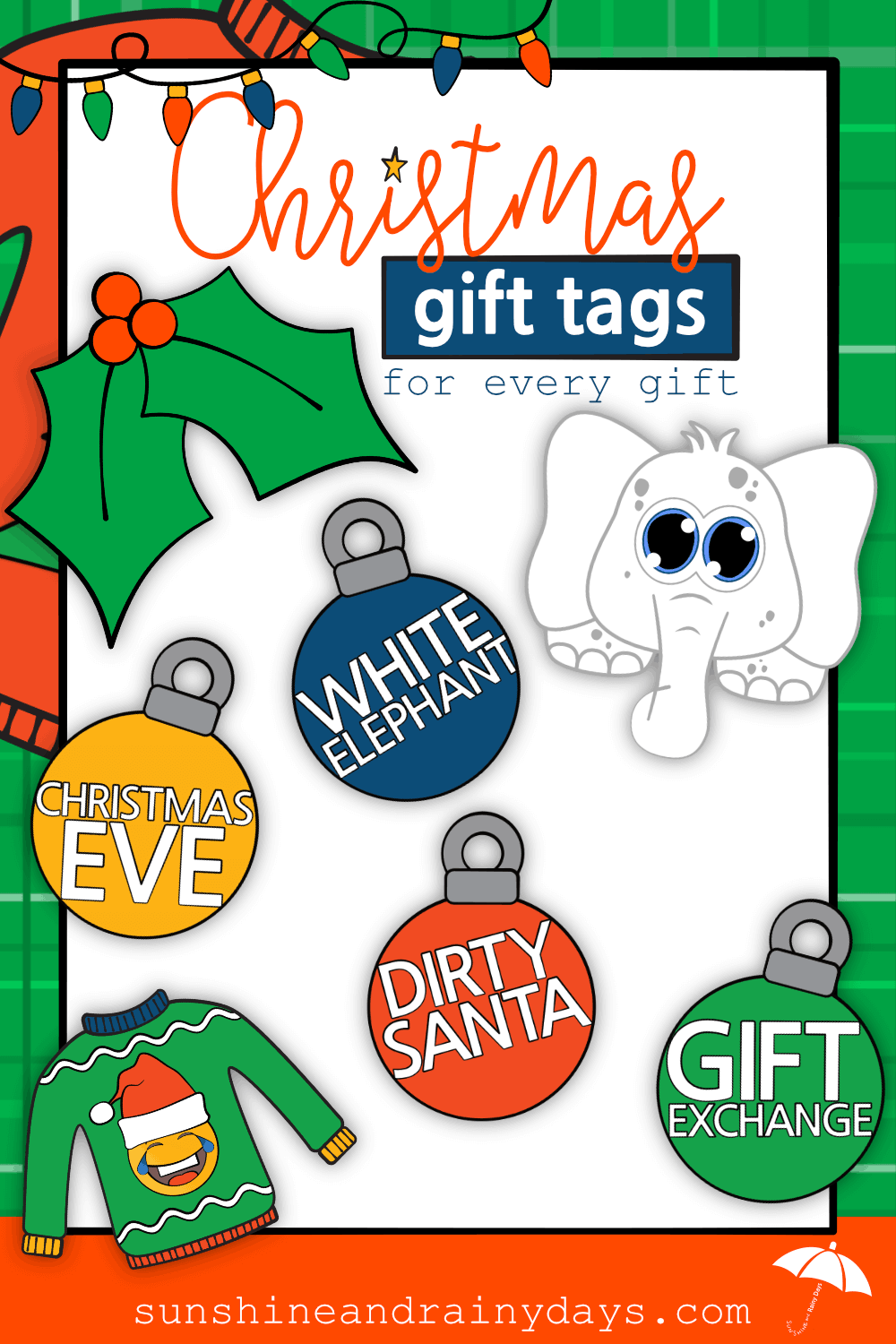 Free Printable Christmas Gift Tags
As I wrapped presents this past weekend, I realized how awesome it would be to have gift specific gift tags.
Our family does a Gift Exchange Game every Christmas so we have four gift exchange gifts to wrap. What if I had pre-made gift tags that said Gift Exchange? How easy would THAT be?
It is also tradition for our kids to open one gift on Christmas Eve. Instead of scrawling Christmas Eve on a tag, I created a tag with those words! Bada Bing Bada Boom!
This post contains affiliate links. When you purchase through an affiliate link, we receive a small commission at no additional cost to you. Disclosure.
Christmas Gift Tag Supplies
Printer – I have this one and I love it!
Christmas Gift Tags Printables – found below
Scissors
Christmas Gift Tags
Below you will find Christmas Gift Tags for every gift on your list … almost!
Dirty Santa
White Elephant
Gift Exchange
Christmas Eve
Ugly Sweater
Christmas Holly
Christmas Ornaments
Just print, cut, and write who the gift is to and from on the back (unless it's a gift exchange gift, then leave the back blank).
So maybe we don't have photographic memories and have to have names on gifts for fear Uncle Sal will get Cousin Sue's fuzzy wuzzy socks. That's alright! We've graduated from Sharpie on the box to awesome printable Christmas Gift Tags!
Or will you be getting out that Sharpie? It's alright, really! No guilt here!
Get Your Christmas Gift Tags Here: