Although its name might suggest otherwise, the Dirty Santa Gift Exchange is a family friendly game! It is called dirty because game participants steal gifts from each other in the attempt to end up with the best possible gift.
Gifts for Dirty Santa are typically something fun, new, unique, and in good taste.
Unlike the White Elephant gift exchange, Dirty Santa gifts are usually items the recipients will want and use.
Use our Dirty Santa Rules And Numbers to add an extra special touch to your Christmas Party!
Dirty Santa Rules And Numbers
If you are hosting a Dirty Santa Gift Exchange there are a few things to keep in mind.
Many party goers don't know the difference between Dirty Santa and a White Elephant Christmas party.
Clarify Dirty Santa gifts are typically something fun, new, unique, and in good taste.
Choose a dollar amount and let your guests know their Dirty Santa Gift should be valued under that amount.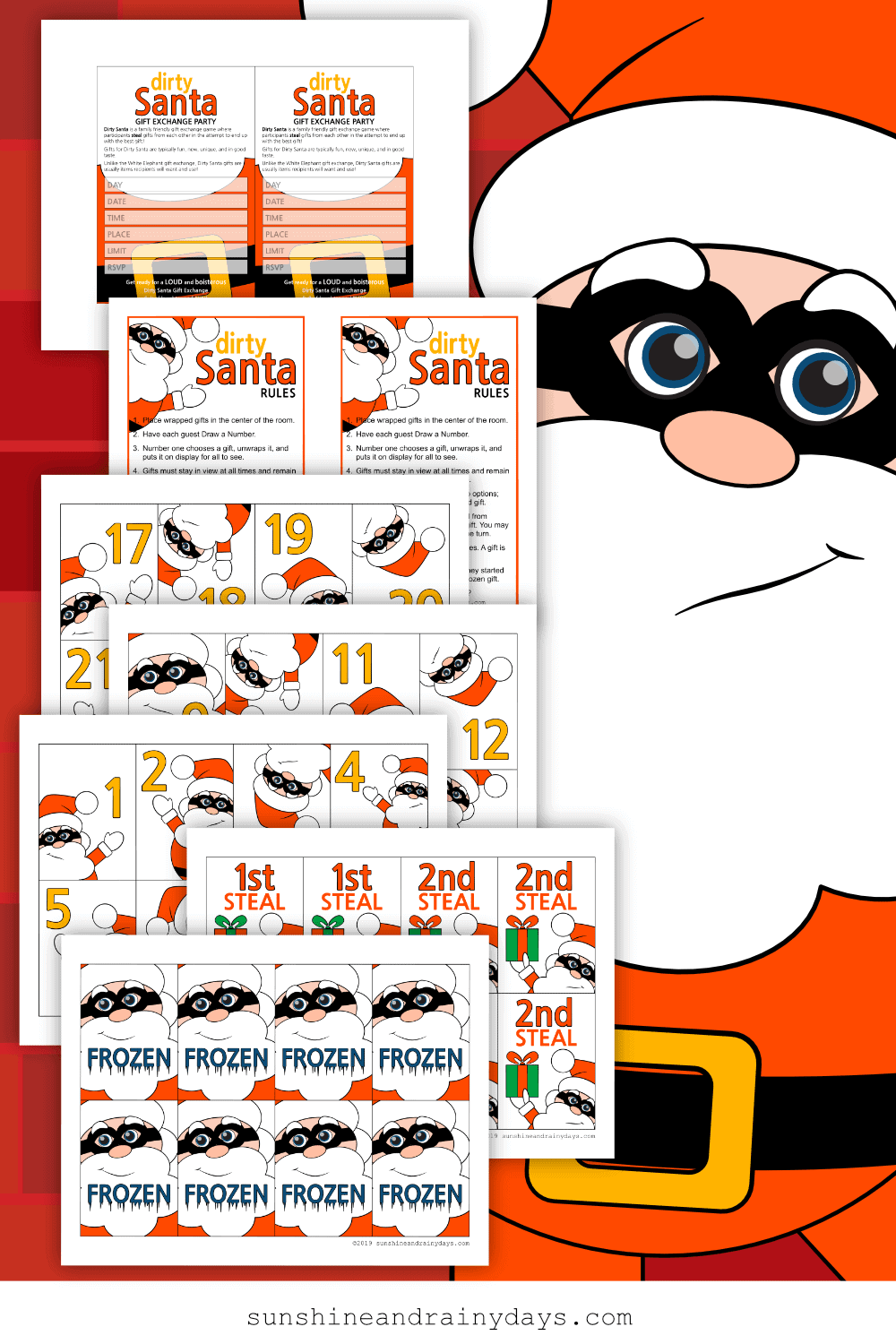 This post contains affiliate links. When you purchase through an affiliate link, we receive a small commission at no additional cost to you. Disclosure.
Dirty Santa Rules
Place wrapped gifts in the center of the room. When entering, have your guests place their gifts just inside the door to keep gifts anonymous.
Have each guest draw a number. It's easy to scratch numbers on paper and pass them out BUT, if you want something Extra Special, check out our printable Dirty Santa Game Cards (found below)!
The guest holding #1 goes first. Who would've guessed?
Number one chooses a gift, unwraps it, and oohs and aahs before putting it on display for all to see. Gifts must stay in view at all times and remain in their original packaging, if applicable. NO EATING THE CHOCOLATE!
Each subsequent guest has two options; they can either steal a gift from a guest who has gone before them or choose an unopened gift from the center of the room. My sister put on the Dirty Santa Thief Mask to inspect everyone's gift and decide what to steal. She's a crack up and always makes our parties fun!
If a guest has their gift stolen, they can either steal from another or choose an unopened gift. They may NOT steal the same gift that was just stolen from them until the next round.
Gifts can be stolen up to three times. A gift is frozen with the fourth owner. Encourage your guests to steal. Stealing makes for a fun, lively game!
If number one has the same gift they started with, they may choose to trade with any unfrozen gift.
The game is over! Wasn't that FUN?
There are many variations to Dirty Santa. Just be sure you all are in agreement before you get the party started!
No one wants smiles to turn upside down.
Print off a few Dirty Santa Rules and leave them scattered throughout the room.
When that persnickety guest questions your motives, it's all in fine print!
Dirty Santa Gift Exchange Game Pack
The Dirty Santa Gift Exchange Game is a 12 page PDF and includes the following:
Cover – Our cute Santa, donning his thief mask, is ready to encourage you to steal gifts at your Dirty Santa Gift Exchange.
Dirty Santa Cover Page – This is the legal stuff … blah!
Dirty Santa Party Planner – Get your party ideas out of your head and on paper! The Party Planner provides space for party details, decor ideas, activities and games, food, drinks, dessert, prizes, and party favors.
Dirty Santa Party Action Plan – Write down the things you need to do to make this party happen! The Action Plan has room to write to do's, supplies to buy, groceries to buy, and people to call.
Dirty Santa Guest List – Who are you going to invite to your Dirty Santa Party?
Invites – Our Dirty Santa Invitations leave no question unanswered! Guests will know what kind of gift to purchase and what the limit is, clear as day. Designed two to a page to fit into an A4, 4-1/4 X 6-1/4 Envelope.
Dirty Santa Rules – It's important participants know the Dirty Santa Rules from the start so there's no question once the exchange is in full swing! There are two rule sheets on one page.
Numbers – The Buffalo Plaid Dirty Santa version includes seven sheets of numbers from 1 – 56. There are 8 cards per page, designed in playing card size, and ink friendly. The Original Dirty Santa version includes eight sheets of numbers from 1 – 64 (for the extra BIG parties). There are 8 cards per page, designed in playing card size, and ink friendly.
Steal Cards – This page consists of 4 – 1st Steal cards and 4 – 2nd Steal cards. The Steal Cards make it easy to know where each gift stands.
Frozen Cards – This page includes 8 Frozen Cards. Once a gift has been stolen 3 times, it is frozen. No one else can steal the gift. It belongs to the fourth owner, forevermore.
Tip: I used a corner punch to round the edges of each card, making them even more like a deck of cards!
The Dirty Santa Gift Exchange Game is sure to encourage Stealing, Laughter, and FUN!
Get Your Dirty Santa Invitations, Rules, And Numbers Here
Are you ready for a Dirty Santa Christmas Party?
I'm wishing you a loud and boisterous Dirty Santa Gift Exchange full of laughter, fun, and new, unique, gifts that are in good taste!
More Dirty Santa Ideas
More Ideas For Gift Exchange Games