There are often times when everyone can't get together for Christmas, in person. You may have family that lives in another state and isn't able to travel or work might prevent family from taking a short road trip for a gift exchange, at your home. No worries! It's time to think outside the box and figure out How To Do A Virtual White Elephant Gift Exchange so you can still get together and have FUN … although you're far apart!
The Virtual White Elephant Gift Exchange is a perfect way to have fun and not brake the bank, buying gifts for everyone. Instead, you purchase one gift, at a set dollar amount, and watch the craziness ensue!
Will you be celebrating Christmas, in person, this year? Check out the White Elephant Gift Exchange!
How To Host A Virtual White Elephant Exchange
This is where the FUN comes in! You get to make the rules and come up with an awesome virtual gift exchange that works for your situation.
Choose a date and time that will work for your party guests.
Make a guest list and invite guests to join you via Zoom or Google Meet, at the specified time. You can share your meet up link through Facebook Messenger, text, email, etc.
Let your guests know they should each purchase a White Elephant gift, wrap it, and have it in view for the meet up. Be sure to specify a dollar amount for the gift. Alternatively, they may wrap a picture of the gift and have it sent directly to the recipient from Amazon or another retailer.
Decide which activities and games you will play. The White Elephant Gift Exchange will be played but do you want to add other games to keep the boisterous laughter going? Do you want to make it an Ugly Sweater Virtual Party?
Gather a few prizes. If you plan to play games, besides White Elephant, grab a few prizes to mail to the winners.
Make or print a copy of the Virtual White Elephant Gift Tracker. If you'd like to record White Elephant gifts, as the host, on paper, you can print it here: Virtual White Elephant Gift Tracker – Hard Copy. If you'd like to use Google Sheets, to record gifts on your shared screen, you can make a copy here: Virtual White Elephant Gift Tracker – Google Sheets.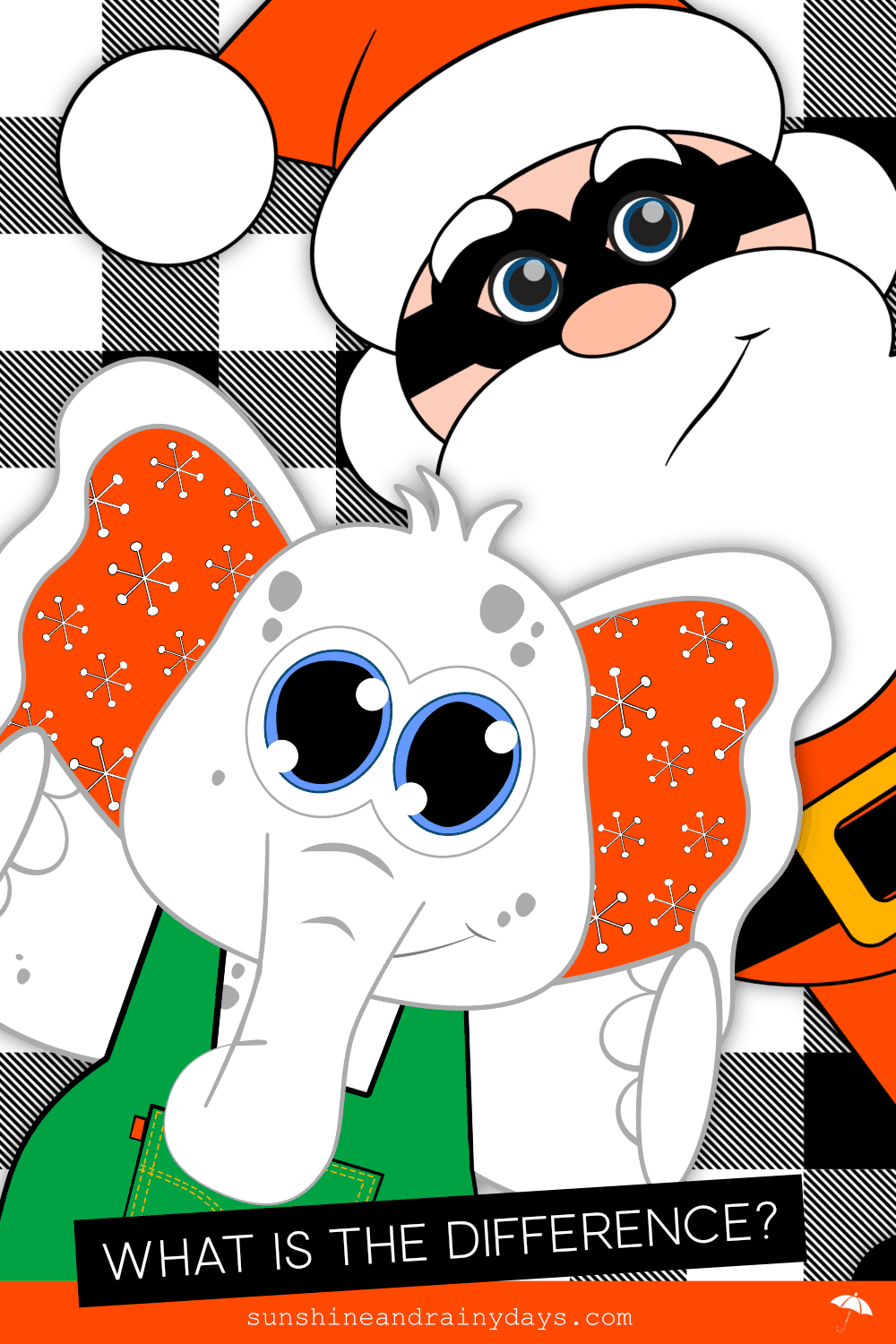 What Is The Difference Between White Elephant And Dirty Santa?
According to Wikipedia, the distinction between White Elephant and Dirty Santa has been blurred. Originally, the difference between the two was the type of gift brought by party goers.
White Elephant Gifts
White Elephant Gifts are usually humorous 'gag' gifts or something a person has laying around the house and no longer wants. They are generally more funny than useful.
Why Is It Called White Elephant?
The White Elephant is defined as a possession that is useless or troublesome, especially one that is expensive to maintain or difficult to dispose of. Supposedly, the King of Siam gifted rare albino elephants to courtiers who had displeased him, that they might be ruined by the animals' upkeep costs.
Dirty Santa Gifts
Dirty Santa Gifts are generally fun, new, unique, and in good taste. They are usually items others will want and actually use.
Why Is It Called Dirty Santa?
Despite its name, the Dirty Santa Gift Exchange is a family friendly game where participants STEAL gifts from each other trying to end up with the best gift. It is called Dirty because participants STEAL gifts from each other.
Dirty Santa tends to be more popular in the South and White Elephant is not tied to a specific region.
Both White Elephant and Dirty Santa gift exchange games are played in a similar way so it is easy to understand how the lines have blurred.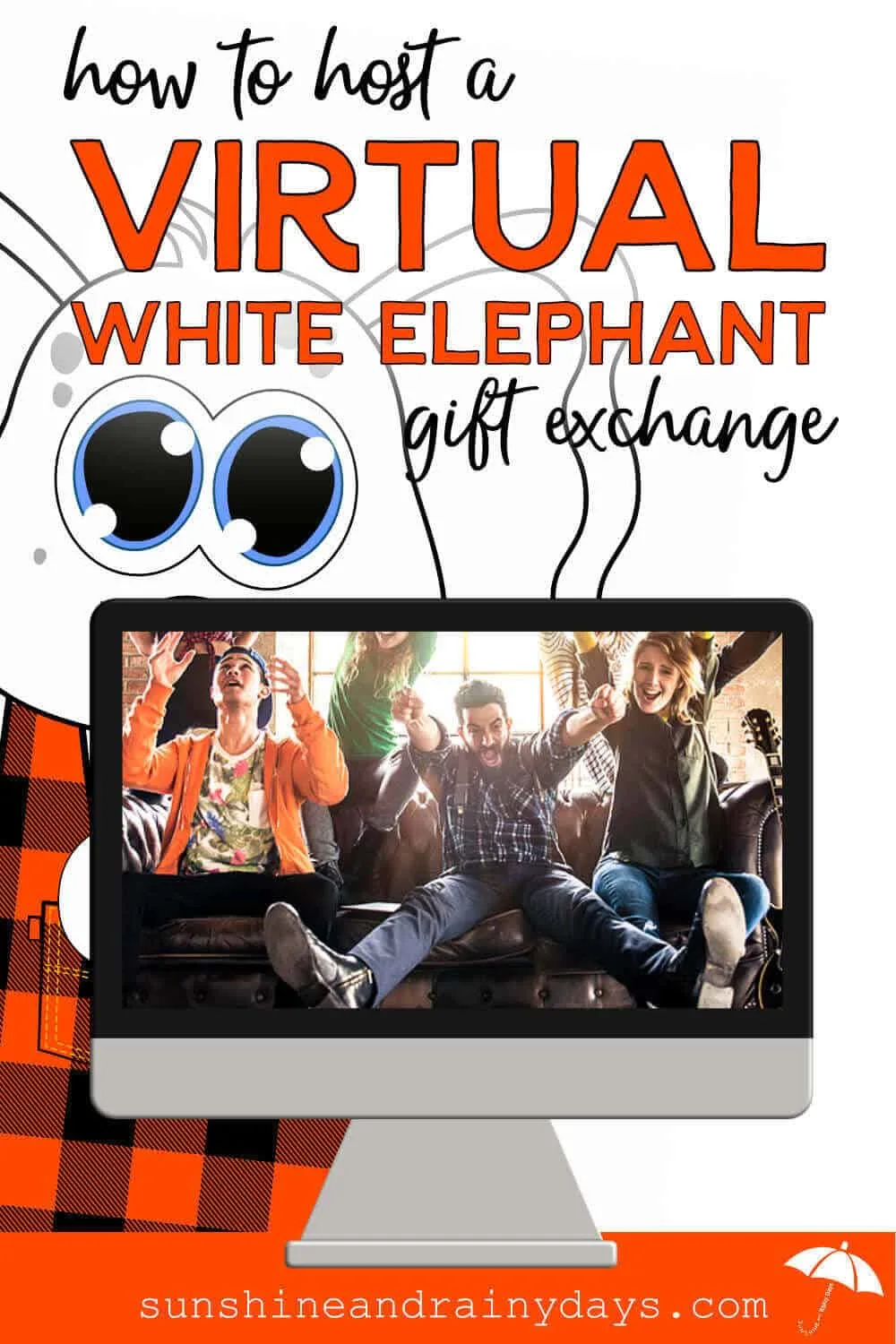 Gameplay Options
There are many variations of the White Santa Gift Exchange that people have come up with, over the years.
No-Steal Virtual White Elephant
Stealing is what makes the White Elephant Gift Exchange boisterous and fun. If you choose to host a No-Steal Virtual White Elephant Party, what you're really doing is more like Secret Santa. Call it what it is!
Steal-Friendly Virtual White Elephant
This is the way White Elephant was meant to be played! However, you could do variations off of the White Elephant Gift Exchange, such as:
Gifts have a certain theme.
Gifts are all from one company, like As Seen On TV.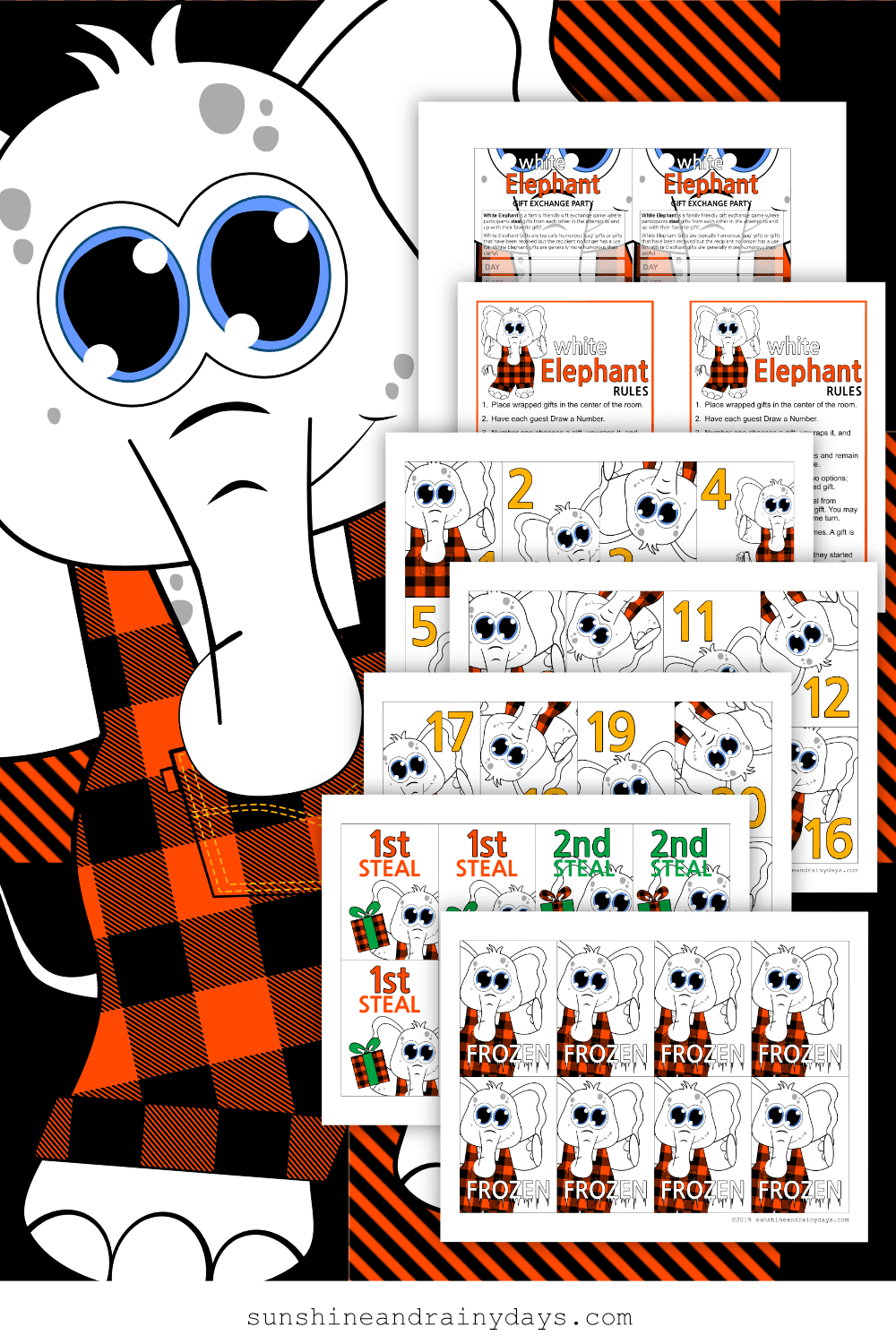 Virtual White Elephant Rules
At the pre-determined time, log into your meet up and welcome your guests. Share your screen, with the White Elephant Gift Tracker Google Sheet.
Fan your White Elephant Game Card #'s out, facing the screen, so you can't see the numbers.
Call on a guest and pick a number for them.
Record their name and number on the White Elephant Gift Tracker. It would be nice to have each person say a little about what they're up to, as you record their number.
To start the game, #1 chooses a person to unwrap their gift. The host records the Gift, next to the gifter's name, and the person who chose the gift, under the Recipient column. The gifter should keep the gift in view, for all to see.
Each subsequent number has two options; steal a gift that has already been opened or choose an unopened gift. If a gift is stolen, the host should record the person's name, next to the gift stolen, under the appropriate column … Steal #1, Steal #2, or FROZEN.
If a guest's gift is stolen, they may steal an opened gift from another guest or choose an unopened gift. They may NOT steal the gift back, in the same turn. The host will record their name next to the gift they chose.
Gifts can be stolen up to three times and is frozen with the fourth owner.
If number one has the same gift they started with, they may trade with any unfrozen gift.
Each gifter will mail their gift to the giftee, following the party.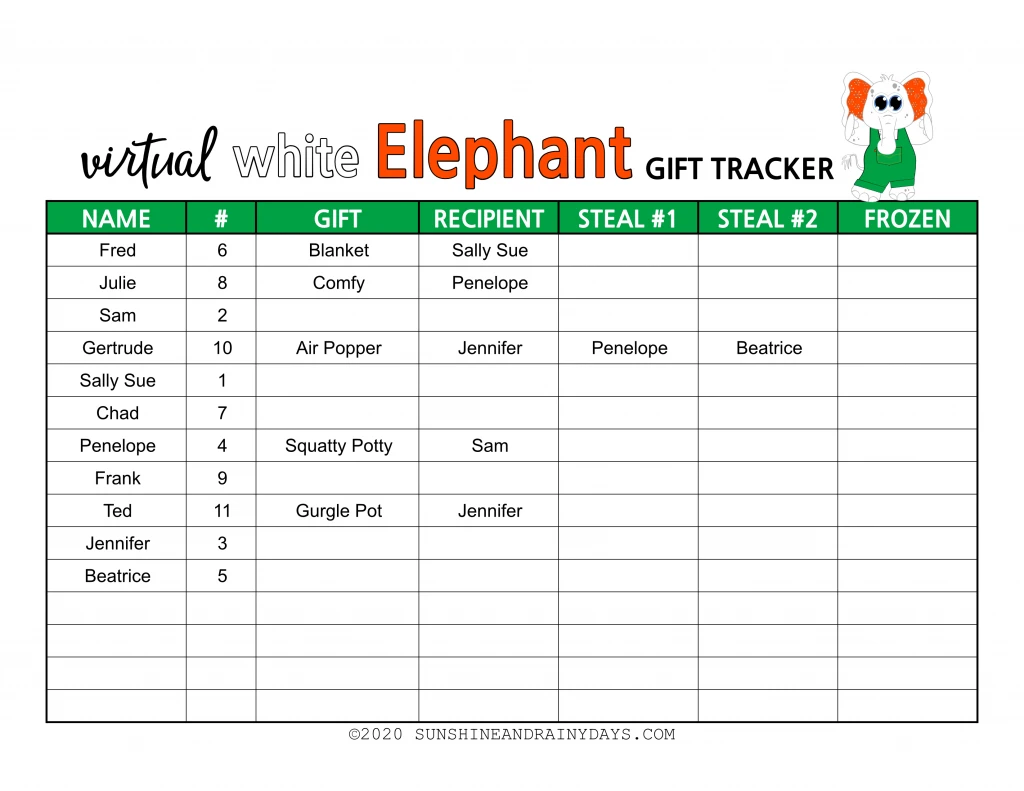 Tips On How To Pick The Best White Elephant Gift
You want to pick the BEST gift. The gift that will get stolen so many times that it becomes frozen. How do you know what that gift is?
Take the White Elephant Party Attendees into consideration. A Virtual White Elephant Gift that would be perfect for a friend gathering may not be appropriate for family or work.
Ditch the idea of Grandma's flowered wall clock in favor of a gift that will bring a smile to the recipient's face, every time they use it.
Choose a gift that is funny and takes up more space than it's worth but yet has an actual use.
Purchase a humorous gift that you would steal and you think others would steal, too.
Abandon the idea of a real gift … you don't want to be the person who brought a real gift to a Virtual White Elephant Christmas Party.
Find a gift that is useful but ridiculous because of the space it takes or the laughs it will invoke, from others.
White Elephant Gift Ideas Perfect For A Virtual Exchange
This post contains affiliate links. When you purchase through an affiliate link, we receive a small commission at no additional cost to you. Disclosure.
If you'll be mailing your White Elephant Gifts, after the party, you'll want to keep in mind the shipping costs. While the Squatty Potty may be a great gift idea, it might be best to have it shipped, directly from Amazon, to the giftee, since its size may make it a significant expense to ship.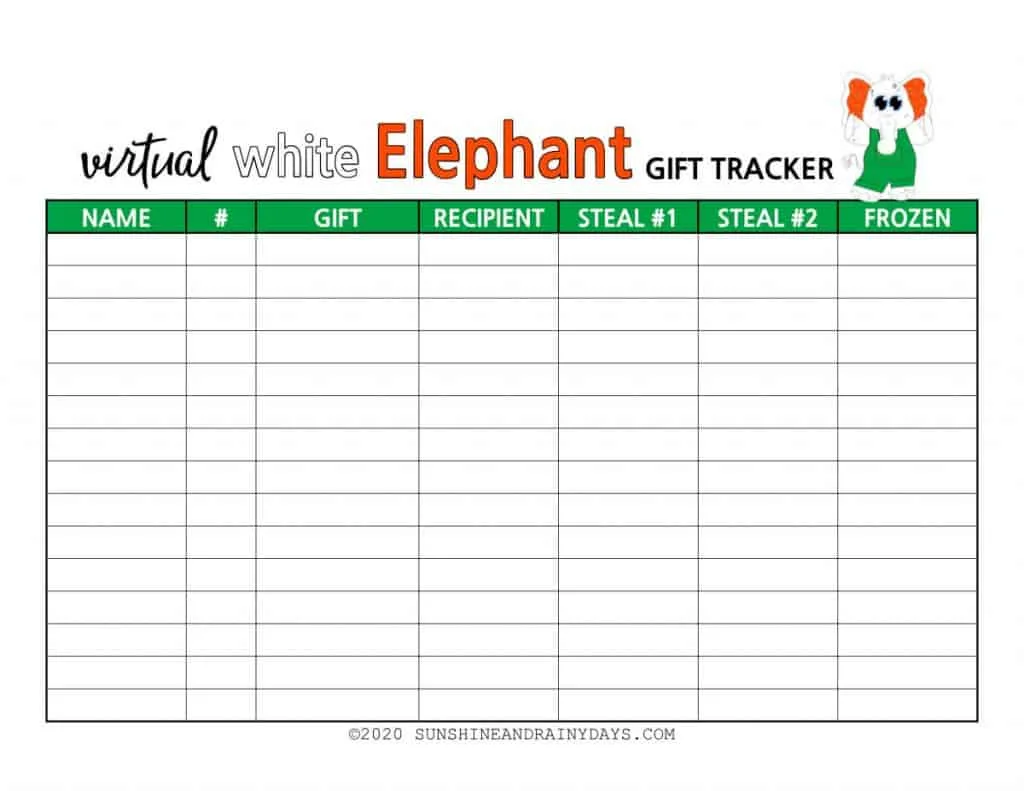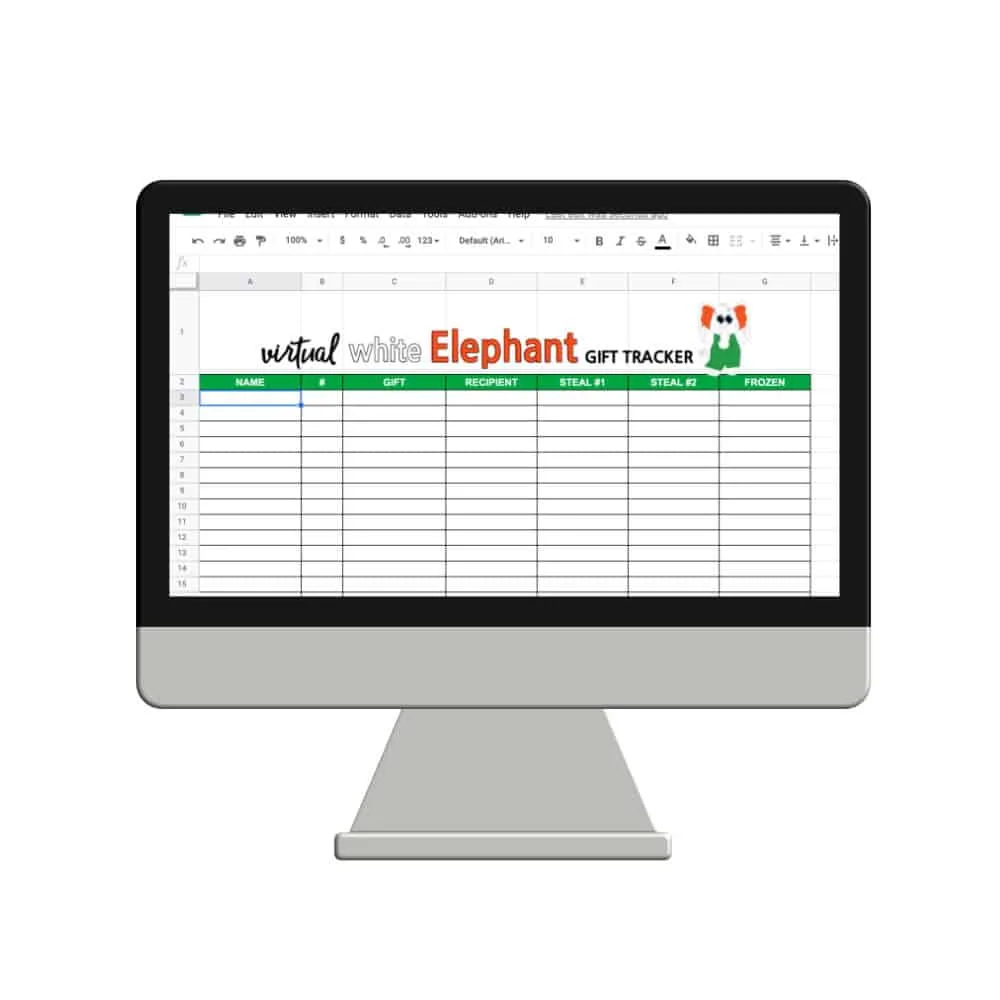 It may be a drag that you can't get together with your family and friends this holiday season but you can still have FUN with your own Virtual White Elephant Game!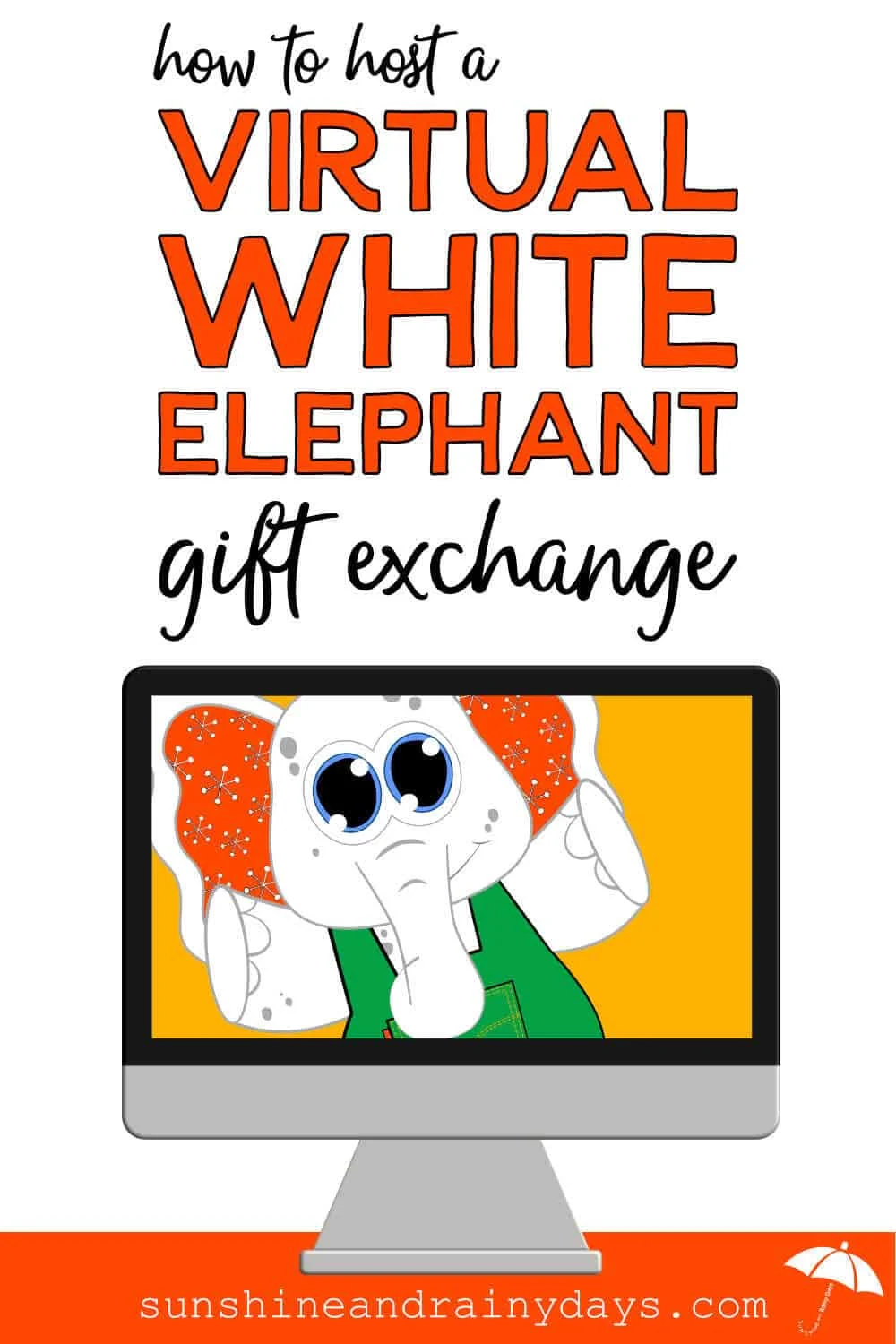 More White Elephant Ideas
White Elephant Rules And Numbers
White Elephant Gift Ideas You Have To See
$10 White Elephant Gift Exchange Ideas
More Virtual Christmas Party Ideas