The Elf Gift Exchange Game is perfect for any Christmas Party where you plan to exchange gifts!
Unlike the Dirty Santa or White Elephant Gift Exchange Game where participants are encouraged to steal gifts from those who have gone before them, the Elf Gift Exchange Game takes the stealing out of your guests' hands with directions to trade or open a gift, right on each numbered card. Many of the directions include quotes or references that capture the whimsical and heartwarming spirit of "Elf" for up to 24 guests.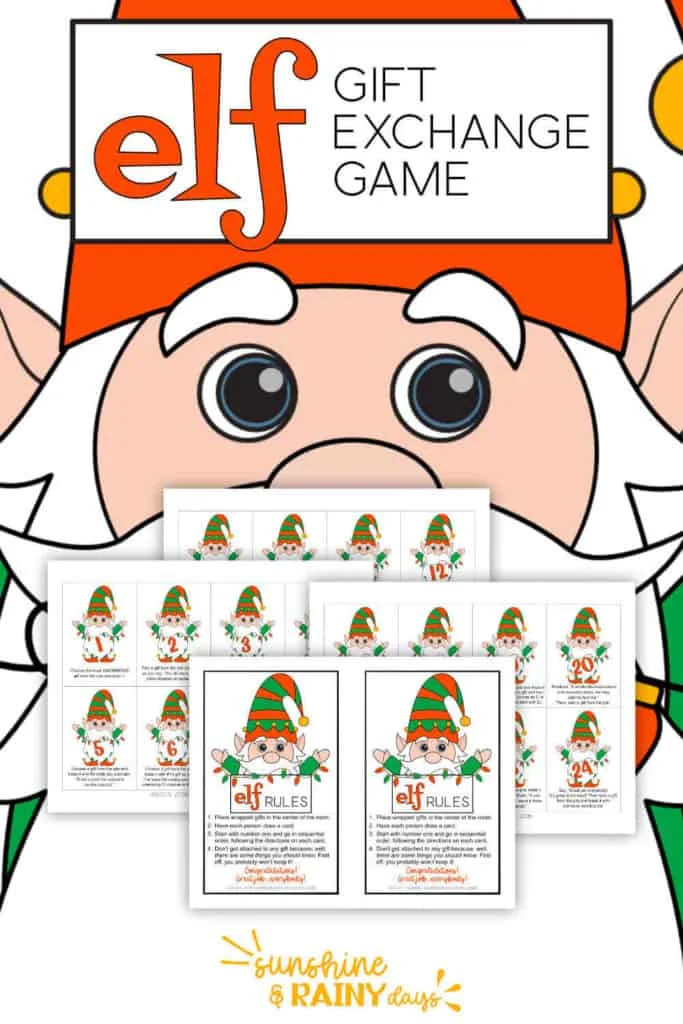 Elf Gift Exchange Rules
Place wrapped gifts in the center of the room. (Each guest brings a gift worth a pre-determined amount. I suggest $10 or $25.)
Have each person draw a card. (This game was designed to be played with 24 people or less.)
Start with the number one and go in sequential order, following the directions on each card.
Don't get attached to any gift because, well, there are some things you should know. First off, you probably won't keep it!
Elf Game Cards
Each game card directs game players to trade or open gifts as they quote lines from or make references to the movie "Elf".
Here are a few examples: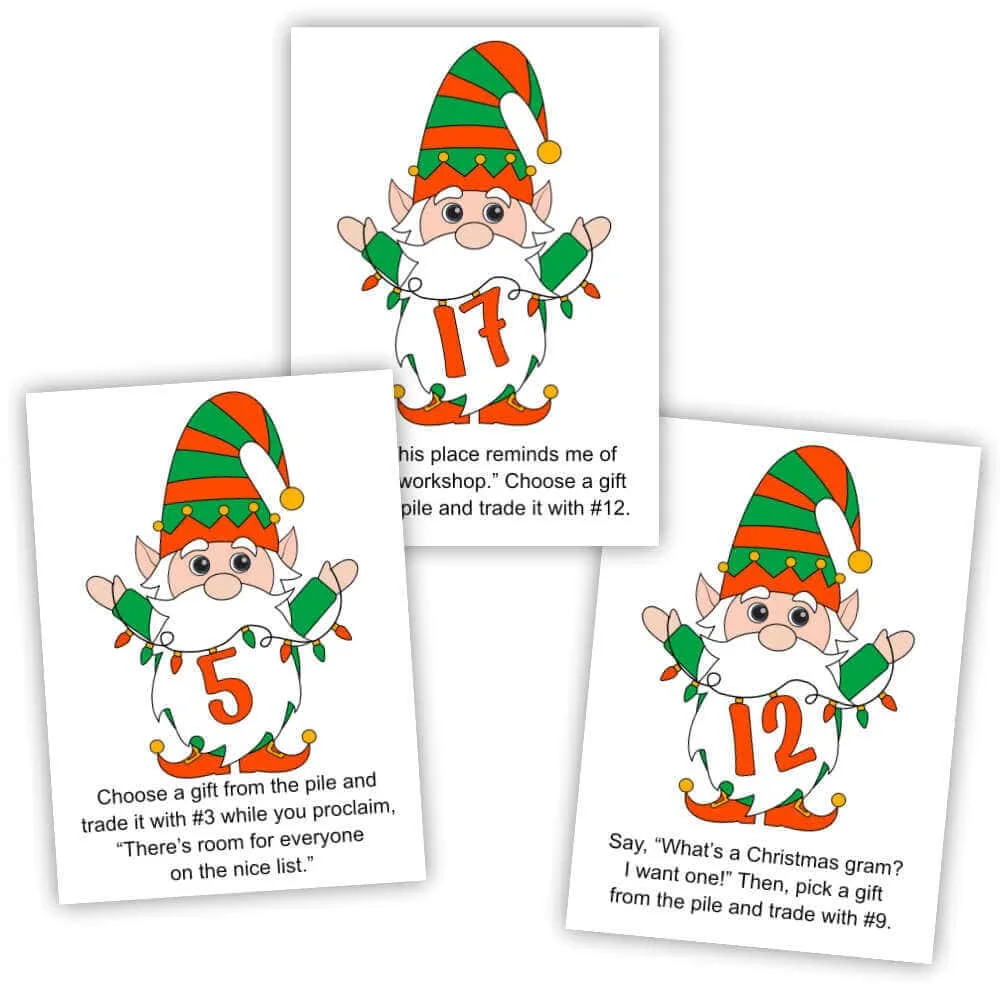 This gift exchange game was created for those who enjoy the movie "Elf" which has become a festive favorite for many!
Buy The Elf Gift Exchange Game Here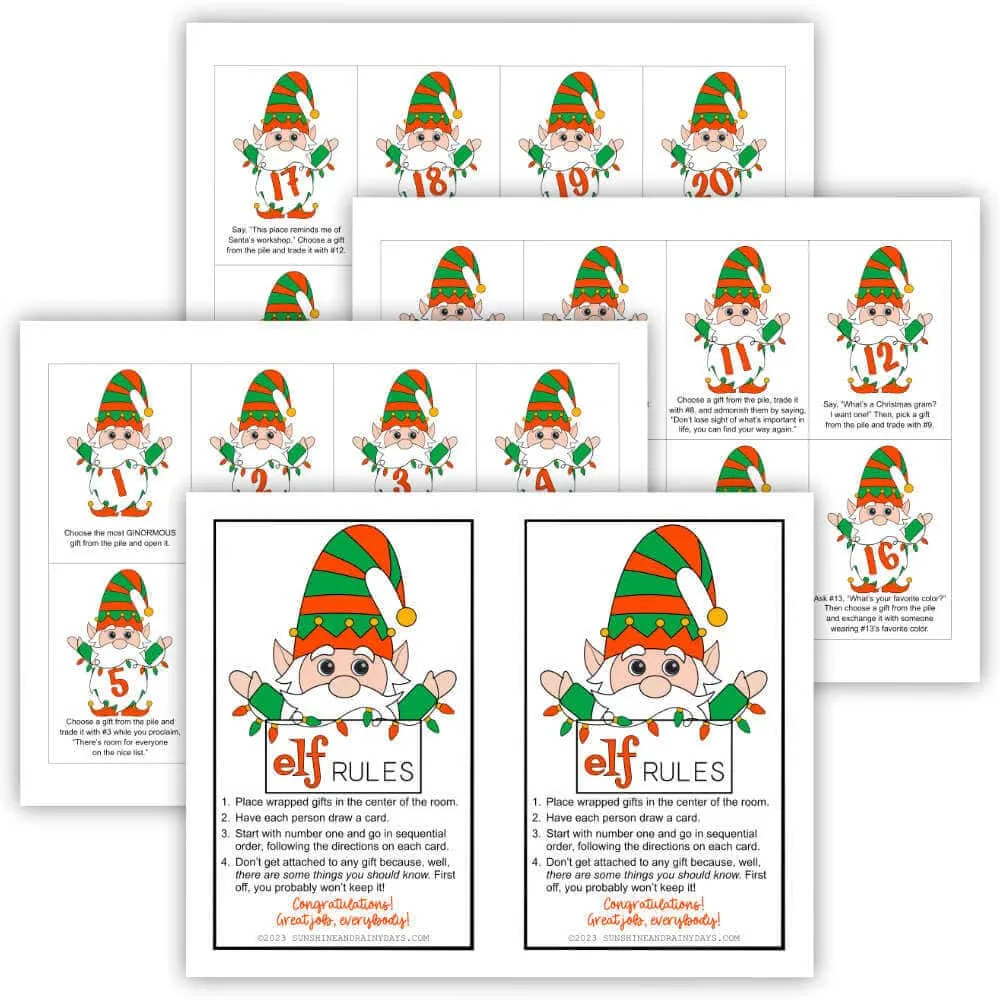 Gift Ideas For An Elf Gift Exchange
This post contains affiliate links. When you purchase through an affiliate link, we receive a small commission at no additional cost to you. Disclosure.
Gifts for an Elf Gift Exchange should be light-hearted and fun!
Here are a few ideas to get you started:
You've Been Elfed Box full of all the makings for Buddy's spaghetti dish.
Etch-A-Sketch – Buddy the Elf has a humorous encounter with an Etch-a-Sketch at a department store, creating abstract drawings on it while marveling at its magic.
Lincoln Logs – Buddy mentions Lincoln Logs while listing some of his favorite toys and activities as an elf in Santa's Workshop.
Jack-in-the-Box – A giant jack-in-the-box is one of the toys on display at the department store where Buddy works. It's also where he encounters Jovie, one of the store's employees.
Snow Globe – Buddy's dad, Walter Hobbs, is a children's book publisher, and one of his office decorations is a snow globe. This snow globe becomes significant later in the film.
Candy, Candy Canes, Candy Corn, and Syrup – These "four main food groups" are a humorous representation of Buddy's childlike and sugar-filled diet as an elf, emphasizing his playful and whimsical nature.
When purchasing a gift for an Elf Gift Exchange, put on your childlike wonder hat and find something that will put a nostalgic smile on the recipient's face!
The Elf Gift Exchange Game will turn your Christmas party into festive fun full of Buddy's enthusiasm and childlike wonder!
More Gift Exchange Game Ideas
More Grinch Ideas
More Christmas Game Ideas