There are many popular quotes from Christmas movies that bring smiles and warm-hearted feelings to those who have watched them. The Who Said That Christmas Game was created to bring that JOY to your next Christmas party as family and friends guess Who Said That from your favorite Christmas movies.
Who Said That – Christmas Edition
If you're planning a Christmas Party, it's good to have a few good Christmas games on hand to get your friends and family involved in the festivities.
The Who Said That Christmas Game will get your party guests thinking as they reminisce on their favorite Christmas movies.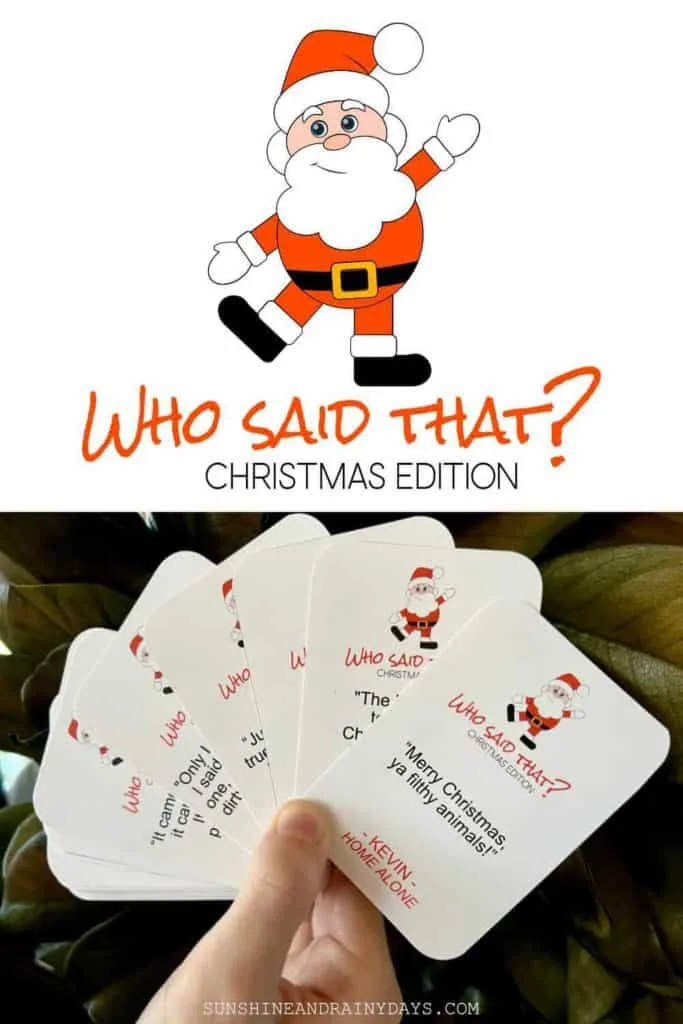 The Who Said That Game Includes The Following
Who Said That Game Rules
6 pages of Who Said That Cards (8 per page) for a total of 48 Who Said That Cards
How To Use The Who Said That Game
This post contains affiliate links. When you purchase through an affiliate link, we receive a small commission at no additional cost to you. Disclosure.
Print the Who Said That Game on card stock.
Cut the Cards. (I like to use a corner rounder punch on my cards.)
Choose one person to read the Who Said That Quotes.
The first person who guesses Who Said That, correctly, gets the Who Said That Card.
The person with the most Who Said That Cards, at the end, wins!
Game Prize Ideas
It's always a good idea to have a prize or two on hand for Christmas Game winners. A $10 gift card to a local store or coffee stand is always a hit. Lottery cards are another fun prize idea!
A prize that fits the game theme will make you an over the top hostess with the mostest!
Christmas games create memories in the making. Memories your guests will likely think of fondly, for years to come!
Get Your Who Said That Christmas Game Here
More Christmas Game Ideas