Gift cards are one of the most popular gifts to give and get. Unfortunately, scammers continue to come up with new ways to retrieve the money from your gift cards. Since we had the money from a $100 gift card stolen, I took a deep dive into how to avoid gift card scams and spot them.
When we purchased this specific gift card, we carefully picked four gift cards to buy and took them to the register. The cashier loaded $10 onto three of the gift cards. However, he couldn't get the fourth gift card to work, so my husband ran to get another one. There was a line, so there was no time to select the gift card carefully. We went through a few gift cards before he finally found one that worked. I later learned that the store was supposed to pull some of the gift cards, but it's quite an impossible task to go through the gift cards to find the correct ones to pull, so, instead, they just set those aside when they don't work.
We gifted that card to our daughter for Christmas in a yarn snowball, and a few weeks later, she went on a shopping spree only to find out the gift card had nothing on it. We had given her a gift of nothing.
Facebook Community Message About Gift Card Scams
I was frustrated and wanted to warn other community members of this gift card scam, so I went to my Facebook community group and posted the following:
---
To avoid a lot of hassle and possibly throwing money away, you probably don't want to purchase gift cards.
We purchased a $100 Gift Card to give as a gift for Christmas. When she went to use it today, there was nothing on it.
I took the original receipt and gift card to customer service and was given a number to call. When I called the number, they said the gift card had been used six days after it was purchased.
The store is willing to investigate how the card was spent. It is a 7 – 10 day process of jumping through hoops to see if they *might give us the money back.
Mean people are putting some kind of sticker on gift cards, and, when they are activated, they have a system that runs #'s on it to gain access to the money. I was also told it happens a LOT.
So … if it happens a lot … it seems we need to change how we sell gift cards? Not sure, but that would be my assumption.
What if I hadn't saved the receipt?
What if the person you give a gift card to doesn't tell you it has nothing on it?
This happened in a small town of 22,000 people in Washington State.
---
From that Facebook post, there were 126 comments and 25 people who stated the same thing happened to them. One had a favorable result and was issued a new gift card; a few said the store and the company the gift cards were from pointed fingers at each other and they were out the money, and others were waiting for the results of an investigation. I also found out that this scam is happening across many stores in the area.

How Are Gift Card Scams Done?
There are multiple ways scammers are stealing money off gift cards purchased off racks in stores. They continue to get more and more sophisticated but here are a few ways I've found they can take money off gift cards you've purchased.
Scammers print barcodes on stickers from gift cards they have activated. Then, they place the stickers over the barcodes of gift cards on the rack. Once you purchase the gift card, the money goes directly to the scammer's gift card, and the gift card you just purchased is worthless. You couldn't even use it a minute later.
Thieves uncover the pin to gift cards, take a picture, and steal the money once the card is activated.
Criminals scratch the code and cover it with an official-looking sticker. Once the gift card is activated, they have access to the money.
Scam artists get the gift card # and run bots to get the pin so they can use the money on the gift card.
The question is, how are scammers messing with gift cards on the rack without anyone noticing? I've heard they take a stack home and then replace them once they've done their work on them. They even go as far as carefully removing packaging before placing stickers and then putting the packaging back together again.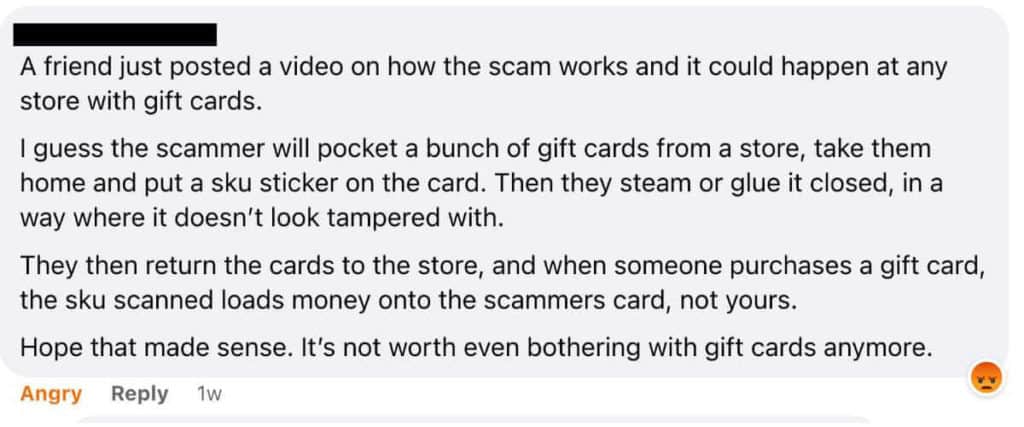 The bottom line is, even if you carefully check the gift cards you purchase, you may still be in for a surprise. Stores continue to take steps to stay ahead of scammers but the scammers catch up quickly.
How To Spot A Gift Card Scam
Check the bar code on the gift card. Don't buy it if it appears to have a sticker over the barcode.
Make sure the pin has the official covering. If you aren't sure, compare it to other gift cards to see if it's the same.
Pay attention to the packaging to see if it looks like it's been tampered with.
Even if you take these basic steps of checking the gift cards you plan to buy, there's always the possibility that you can still be scammed.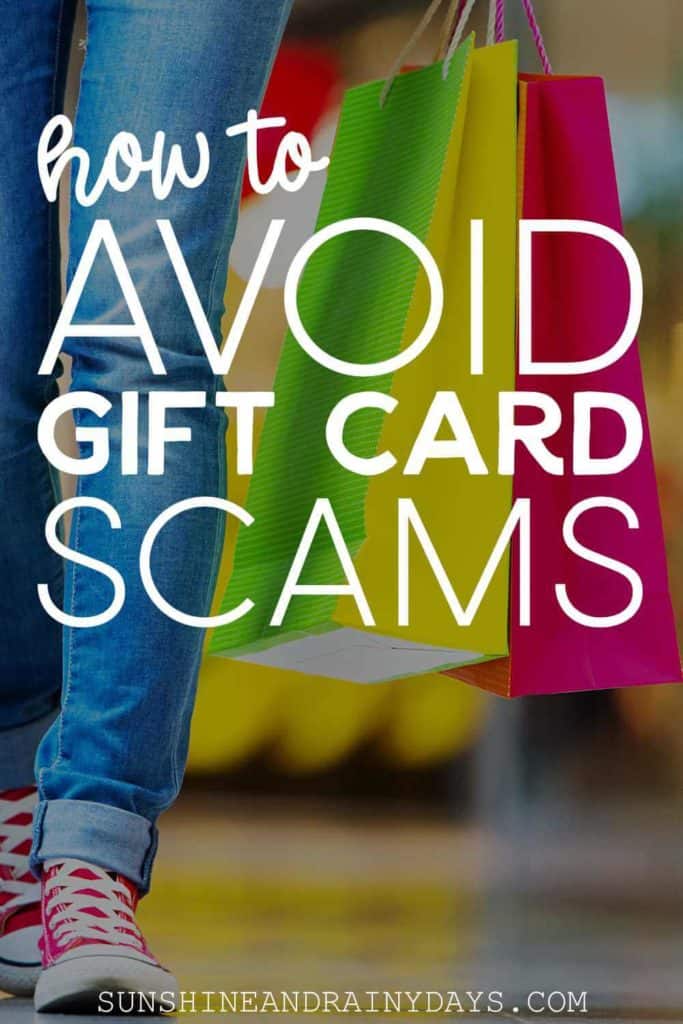 Tips To Protect Yourself From A Gift Card Scam
Since you can never be completely sure that a gift card you buy off the rack is actually good, consider purchasing gift cards in a different way or just gifting cash. I realize it can be boring to give cash but it's a gift that the recipient can use however they please. We often end up purchasing gift cards from our kids so they can use the cash to buy exactly what they want and need.

Don't buy gift cards off sales racks. Go to customer service and ask to purchase a gift card there. They usually have gift cards that they use to give store credit for returns. They aren't pretty but they should be a safer alternative.
Purchase e-gift cards. Of course, this could have its own set of issues.
Examine the gift card. Check to make sure there aren't stickers over barcodes and the pin has its original cover. Also, make sure the cover hasn't been tampered with.
Buy gift cards directly from the store the gift card is to be used. Your chances of being reimbursed in the case of a scam will be greater.
Have the cashier scan the gift card in front of you. Then, check your receipt to make sure the number on the receipt and the gift card are the same.
Keep your receipt or give it to the gift card recipient.
Register your gift card with the store as soon as possible. Avoid embarrassment and check the balance of your card before you shop.
Use the gift card right away. It's important to not let gift cards sit around. Use them as soon as you can so scammers have less time to use the money on them.
What To Do If You've Been Scammed
In our case, the store did its investigation and said they will replace our gift card!
Contact the store. We went to the store and spoke with customer service, where we were given a phone # to call and told the investigation would take 7-10 days (it took 8 days for us).
Jump through the hoops the store requires. I Called the # and was given a case # and told we would receive an email. Once we received the email, I replied with a picture of the receipt with the case # written on it and a picture of both the front and back of the gift card. If you gave a gift card to someone who wasn't in your household, taking pictures of the necessary items could be challenging.
Be persistent.
Exercise patience. Eight days later, I received an email saying, "Thanks for your patience while we reviewed your gift card. Great news! We're happy to inform you that we're able to replace your gift card…"
Our Gift Card Scam Timeline
December 3rd, 2022 purchased a $100 gift card.
Six days later the gift card was used, unbeknownst to us.
December 25th gave the gift card to our daughter as a gift.
January 8th she tried to use the gift card and was told it had a zero balance. We went back with the receipt and called customer service where we were given a case #. We emailed a copy of the receipt and a picture of both sides of the gift card.
On January 16th, we received an email stating our gift card would be replaced within 14 days.
January 25th, the new gift card came in the mail.
Although our outcome was favorable, it caused embarrassment, frustration, and a lot of time. The gift card recipient shops and goes to checkout, only to be told the gift card doesn't work, then has to choose to use an alternate payment method or cancel the order. Next, they have to go to the person who gave them the gift card to let them know and then, together, jump through hoops. The whole process can take up to three weeks.
If this is happening a LOT, and stores are giving favorable outcomes to those who can and will jump through the hoops, then why don't stores change how they sell gift cards? Aren't they losing a lot of money? Or could it be that many people wouldn't tell the person who gave them a gift card that it was no good, or most people won't have the necessary items of proof, so stores actually end up ahead?