Are you ready to buy a new car but not sure where to start? Our Car Comparison Chart is here to help!
A few months ago, our Tahoe's engine light came on so we took it to the dealer. After a few hours, at the dealership, we were told it needed a few thousand dollars worth of work. Ugh! Since it had 97,000 miles, we decided to weigh our options and headed to another dealership to see what our trade in value would be.
You guessed it … we left at 10pm that night, with a new (to us) car. I'm still not sure if we made the right decision and continue to second guess myself.
I did learn a lot from that car buying experience and am adamant that NEXT TIME I will TAKE MY TIME and NOT RUSH into any decision. The Car Comparison Chart should help me do just that.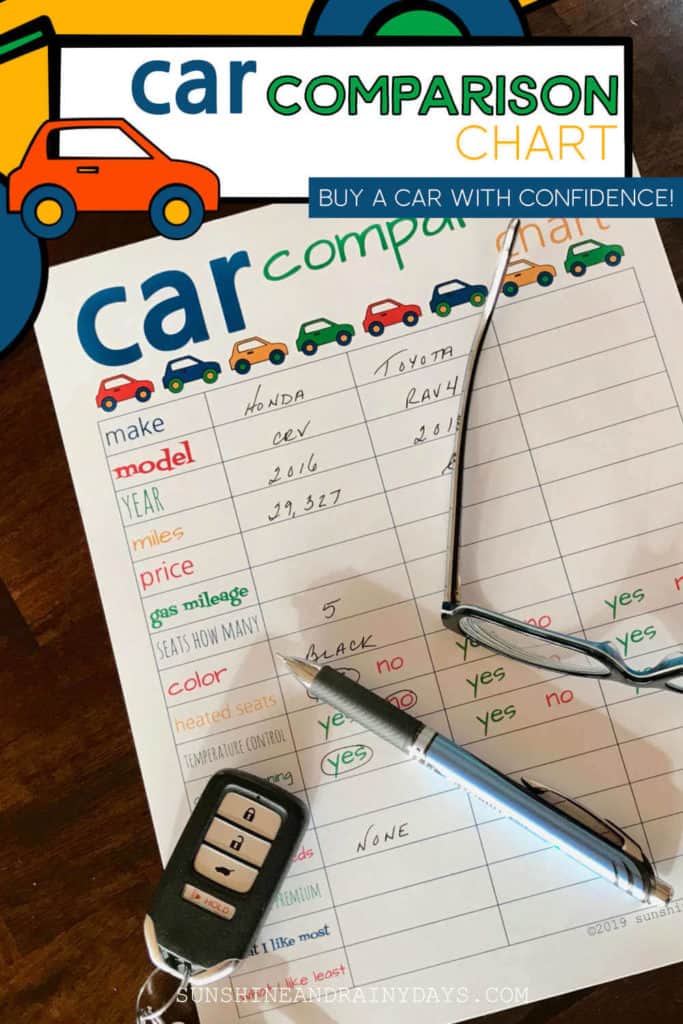 Buying a car is a BIG DEAL! There's no need to rush. Take your time and buy the car that's right for you.
The Car Comparison Chart provides space to compare stats on up to three vehicles:
Make
The Make of a car refers to the brand or manufacturer of the car.
Common Makes are: Chevrolet, Honda, Toyota, Ford, etc.
Model
Car Models are specific products that a manufacturer produces.
Some well-known Car Models are: Prius, Civic, Corolla, Mustang, etc.
Do a little research and drive a few different models before you make a final decision. Don't buy the first car you drive!
Year
Record the year of the car.
Would you rather have a newer car, with the latest and greatest, or will an older car work just fine?
Miles
How many miles does the car have? This is a BIG factor in making your decision.
Price
Here's where dealerships get you. They like to tell you what your monthly payment will be and how leases are not what they used to be.
Know the actual price! And, preferably, pay cash! Just don't tell the dealer, until you're ready to pay, because they don't like cash. They want to make money on your loan.
Gas Mileage
Man, oh Man! It's easy to overlook this one but it makes a huge difference to your bottom line.
I loved my Tahoe but I'm saving $150/month, in gas alone, with my CRV!
Seats How Many
This may be important to you if you have young kids or a lot of guests.
When our kids were younger, we often took extra kids to school and different activities. It was awesome to have seven seats! These days, the kids drive, so we don't need that many seats.
Color
Is color important to you?
My husband always laughs at me when I'm adamant about a certain color but it matters to me. I know, I know, dealerships will make a better deal on a car on their lot, right? Well, I'll travel for the right color!
Heated Seats
On cold winter mornings, heated seats make a difference! You just gotta figure out if it's a deal breaker for you.
Temperature Control
This one probably sounds strange but one of the things I miss the most about my Tahoe is temperature control. I'm always fiddling with the temp in the CRV, where I never had to think about it in the Tahoe.
Does it make a difference to you?
Air Conditioning
Do all cars have air conditioning these days? They probably do but make sure! You don't want a car without it!
Safety Rating
Safety is a huge concern, especially when you purchase a smaller vehicle.
Check out your potential car's safety rating here: Vehicle Safety Rating
Work It Needs
Whether you buy new or used, there may be things you want to do to the car, to make it yours. Be sure to take that work into consideration.
Insurance Premium
Take the time to call your insurance agent to see what the insurance premium would be on the car you're looking at. You might be surprised.
My CRV was only $100 less a year than the Tahoe. Apparently, according to my insurance, Chevys are cheaper to fix than Hondas.
What I Like Most
What makes you Happy when you sit in the car?
Is it comfortable?
Is it clean?
Does it have low miles?
Do you like the look?
What I Like Least
What are your concerns with this car?
Would you be embarrassed to drive it?
Does it cost more than your parents paid for their first home?
Is it missing features you've grown to love?
I gotta say, I sat in a few crossovers and they just felt weird. I wasn't comfortable. We ended up with a crossover that was comfortable.
When you have made your final decision on a car, be sure to check the history of the car at CARFAX before any money changes hands.
We ended up with a great car that fits our needs. It's great on gas and it's easy for the teenagers to drive. Best of all, there's no car payment … or lease. If only it was orange!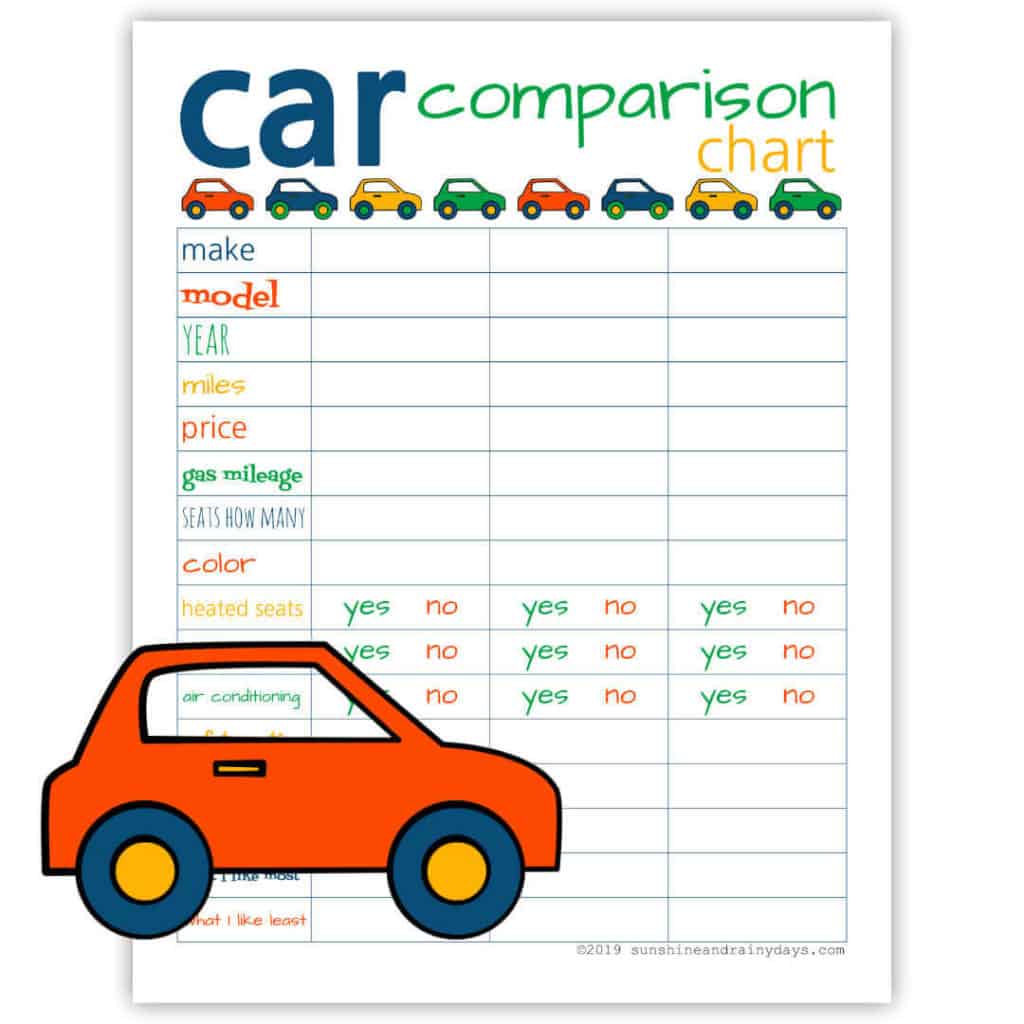 More Car Posts