Moving can be an emotional experience especially when you're moving out of a home that has held many memories. Although we wrote a Welcome Home Letter to the new owners of our home when we moved out of our last house, it was weird not knowing anything about the new homeowner so I wanted the owners of the new house we moved into to know a little about us. Is it necessary? Absolutely not but I wanted to write a letter to the previous owner of our home so they, hopefully, wouldn't feel as weird about leaving their home of many years to strangers like I did.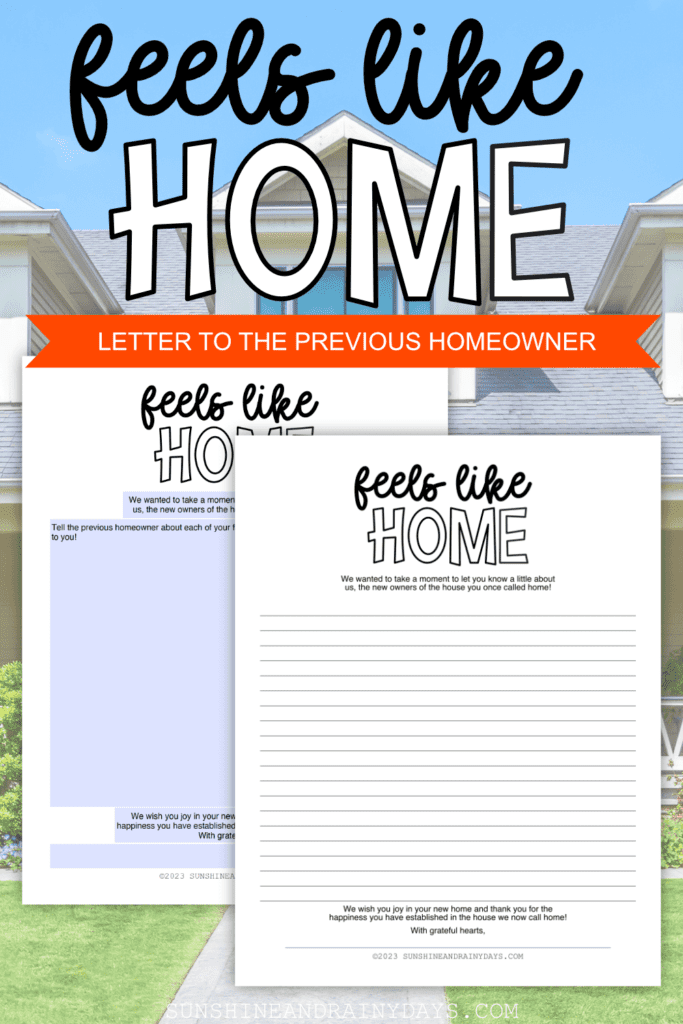 Sample Letter To The Previous Owner Of Your Home
Although moving is a tiring job, I took time to sit down and write a letter to the previous owners of our new home. Looking back, I may have gotten a little too personal but I'm sharing what I wrote to help you figure out what you do or do not want to include.
Penelope (the name was changed for privacy),
I just wanted to write a quick note to let you know a little about us! I found it strange when we sold our home of 13 years that we knew nothing about the new owners. It was an emotional time for me. We took great pride in our home, and many fantastic memories were created there. One of the last times in our home, I walked through the empty shell of our house and took a video talking about the memories. On closing day, we went as a family and prayed over the home. I was a hot mess.
A little about us …
Steve was raised in Kansas in situational poverty after his dad died of colon cancer when he was eight years old. His mom did her best to raise the three boys by working multiple jobs. One of those jobs happened to be at a local bar. She became an alcoholic and was not home much. Steve turned to sports and looked to his high school football coach as a mentor. He gained a football scholarship to Fort Scott Community College and then to Pitt State, where he was injured. After losing his football scholarship, Steve joined the U.S. Army. We met when Steve was stationed at Fort Lewis!
As a preacher's kid, I was born and raised in Puyallup, WA. I spent many summer nights performing in the play Jesus Of Nazareth at the outdoor amphitheater on South Hill. When my family left the church, I had the opportunity to live in Florida and Bend, OR! After graduating high school, I chose to move back to Washington and worked with my sister at a lumber mill as the bookkeeper. My parents soon followed, and I lived at home until age 21 when I bought a duplex in Edgewood.
Steve and I were married in 1994 and spent our first six months of marriage with Steve in South Korea before moving to Fort Campbell, Kentucky. Somehow, I convinced Steve (who had planned to make the military his career) to finish his degree. We moved back to Washington, and he attended PLU to complete his bachelor's and then went on to receive his Master's in Education. He was honored to have the excellent opportunity to work under Frosty Westering as an assistant coach for the Lutes while attending school and for many years after!
In 1996, I was diagnosed with malignant melanoma. At that point, we weren't sure if children would be in our future or what our future would look like. I'm thrilled to say in 2000, Justine came into the world, then, in 2002, Jack made our family complete!
In 2003, we moved out of our duplex and into our new home in Milton! That home saw many Birthday parties, Holiday events, slumber parties, music, laughter, and more Nerf Wars than I can count!
Steve worked as an 8th-grade science teacher in the Pierce (name changed) School District for many years and got his Principal's Certificate in 2010! He works incredibly hard to ensure our kids have a better childhood than he had!
I have enjoyed the role of a stay-at-home mom and volunteering at church and schools!
Justine is a junior at City (name changed) High School. She plays the electric bass guitar and enjoys hanging out with her youth group. She is wise beyond her years! She is a quiet girl with a witty sense of humor and a straightforward, common-sense approach to life.
Jack is a freshman at City (name changed) Junior High and will move to City (name changed) High next year. He plays the electric acoustic guitar and is one of those kids that doesn't study much for tests but gets good grades anyway. You will often find him in his room, playing and singing. The boy has some pipes!
We are thrilled to call your house our home and fill it with love, family, prayer, music, and FUN!
Jack's 15th Birthday is soon and he is excited to have friends over to celebrate in our new home!
We wish you joy in your new home and thank you for the happiness you have established in the house we are ready to call home!
With A Grateful Heart,
Bridget Jo
Get Your Letter To The Previous Homeowner Template Here!
Let the previous owners of your new home know a little about you and why you are grateful to call their old house your home!
Bridget creates practical printables and DIYs to help you organize your life and celebrate special occasions! It's her mission to inspire you to get creative and find joy in the everyday!