Living in an HOA can be a thing you love or it could end up being a community you can't leave fast enough. It's good to know the ins and outs of HOA's before you make the commitment to buy a house in an HOA. Our last neighborhood had a pretty relaxed HOA but our current neighborhood's HOA is so intense that we aren't sure that we would choose to live in an HOA again.
What is an HOA?
HOA stands for HomeOwner's Association.
An HOA is a private organization that establishes rules and regulations and oversees the management of residential communities and neighborhoods. It is run by a Board of Directors that are elected by community members to enforce rules and take the actions necessary to care for common areas.
Oftentimes, an HOA hires a management company to contact homeowner's when rules and regulations have not been followed. The management company may send letters, emails, or make phone calls to residents letting them know of non-compliance issues.
What are the pros of living in an HOA?
Property values aren't affected by unruly neighbors – Since HOA communities uphold standards for the exterior of your home, you shouldn't need to worry about a neighbor with an unkempt yard or unsightly signage affecting your property value.
The HOA will contact neighbors so you can avoid confrontations – When a neighbor chooses not to follow the rules of the HOA, you can contact the HOA to take care of the situation for you. Of course, you need to maintain a good relationship with your neighbors so choose your battles wisely. For example, if your neighbor doesn't maintain their backyard, and you're the only one who sees it, the neighbor will know you're the one who complained. Is it worth it to you?
Amenities may be provided that make your life easier or more fun – Parks, trails, swimming pools, or even a golf course may be a part of your HOA community. If you use those amenities, it is convenient to have them in your community!
Community events that bring neighbors together – An HOA community board may plan special events for neighbors like neighborhood garage sales, picnics, parades, Easter egg hunts, and more!
What are the downsides of living in an HOA?
You can't always do what you want – Want to put out a sign for your favorite politician, plant a tree that will grow to great heights, or take a week off mowing the lawn? What makes an HOA good can also feel like it stifles you from doing what you want with your own property. For example, our HOA recently announced that artificial grass is not allowed in our neighborhood so if you wanted to save time on maintaining grass and money watering it, it's a no go here.
Your HOA is only as good as those managing it – Your HOA board members may end up being a group of friends that live in the neighborhood who have an agenda. The board makes decisions and your HOA dollars go towards the decisions they make, whether you like them or not. They also choose how persnickety they will be at sending non-compliance letters and fining community members. If you have a board full of retired people, they may not prioritize community parks for children or community parades. Or, conversely, a board full of young parents may prioritize those things more than they should.
HOA fees can be raised – HOA fees may be doable when you move in but those fees could be raised to an amount you aren't comfortable with or special assessments can be made for improvement projects that you could care less about.
Unrealistic demands can be made – If a board sees it fit, they have the power to make demands of what you are required to do on your property. When we first moved into our home, we received a call from our property management company asking when we planned to paint our home. To our knowledge, our home didn't need to be painted but the property management company stated it was not their job to tell us why they came to that conclusion and gave us nine months to have the job done. This was a job that would cost us 10K with no reasoning behind it. Thankfully, I pushed and pushed until the demand was lifted but it caused a lot of stress and made us second guess our decision to live in an HOA community.
Who should live in an HOA?
Buyers concerned about property values – If it is important to you to live in an area where homes are well taken care of and your property value won't be affected by neighbors, an HOA may be a good fit for you!
People who enjoy extra amenities an HOA provides – Depending on your lifestyle, an HOA may provide amenities that are convenient for you.
Those who don't mind following rules – If you don't mind being told how to care for your property, for the sake of keeping the neighborhood nice, an HOA could be a good option for you.
Who should not live in an HOA?
A strong-willed person – A strong-willed person doesn't like to be told what to do and HOA's are great at telling you what you have to do or you will face a fine.
Those who want freedom to do what they'd like with their own property – You own the property but you don't have complete freedom to do as you wish, with your property, when you live in an HOA. Want to paint your house pink? Probably can't happen in an HOA. Would you like to plant clover instead of grass or let your lawn go brown during the hot summer months? That will get you a fat fine. Do you have a business truck you need to park somewhere? You likely won't be able to park it in your driveway.
Boat or motorhome owners – Unless you have a garage to park your recreational vehicles, an HOA will not allow you to park them in your driveway for an extended amount of time.
People who want to be able to make improvements to their property without first asking permission – Have dreams of growing wisteria on a trellis? You must first ask permission of the Architectural Control Committee. Changing the trim color on your home? The ACC must approve your color. Replacing your roof? You guessed it … the ACC has to be notified and give approval.
Are HOA fees worth it?
HOA fees can range from $100 a year up to $1,000 a month. The fee depends on the services and amenities available in the community.
Some HOA communities may include landscaping in their fee, in order to make sure the area keeps a consistent look. Others might have a community pool, a gym, playgrounds, and more!
Then, there's the bare bones HOA communities that have a few common areas to keep landscaped and perhaps an entry sign.
In our current HOA community, we have a playground, an entry sign, and common areas to maintain. This includes watering and mowing grass, in the common areas. We pay $360 a year for our HOA fee.
An HOA fee is only worth what you are happy to pay for the amenities and services provided.
Why would you want to live in an HOA?
Many people like the convenience of living in an HOA. For those who work or vacation a lot, it would benefit them to live in an HOA that takes care of their home's exterior.
There are also those who want to ensure that their property values don't take a dive if someone moves in next door that doesn't take care of their property or is involved in illegal activities.
Then, there are families who enjoy amenities like swimming pools, gyms, or even a golf course that are included in some HOA communities.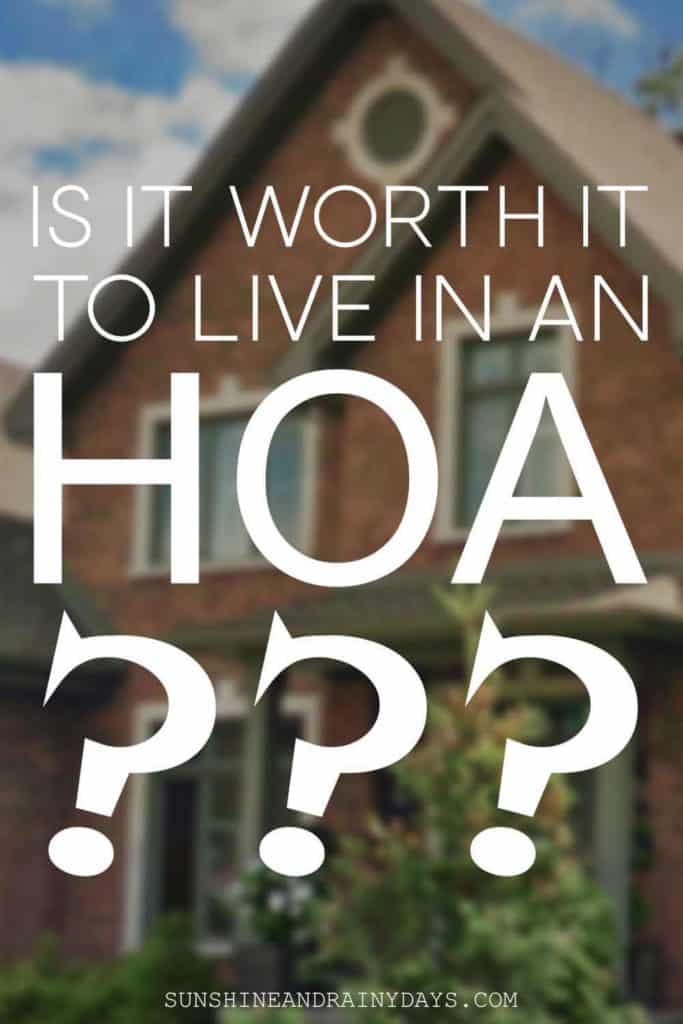 What happens if you do something without HOA approval?
If you make changes to your property, without HOA approval, you may be fined by the HOA, a stop order may be placed on the work, and you may be required to deconstruct the work you have done.
In our neighborhood, you will receive an automatic $1,000 fine if you choose to re-roof your home without getting approval from the ACC (Architectural Control Committee).
How much are fines in an HOA?
Fines may be anywhere from $25 to $1,000 and up, with additional fines for work that isn't completed in the allotted timeframe.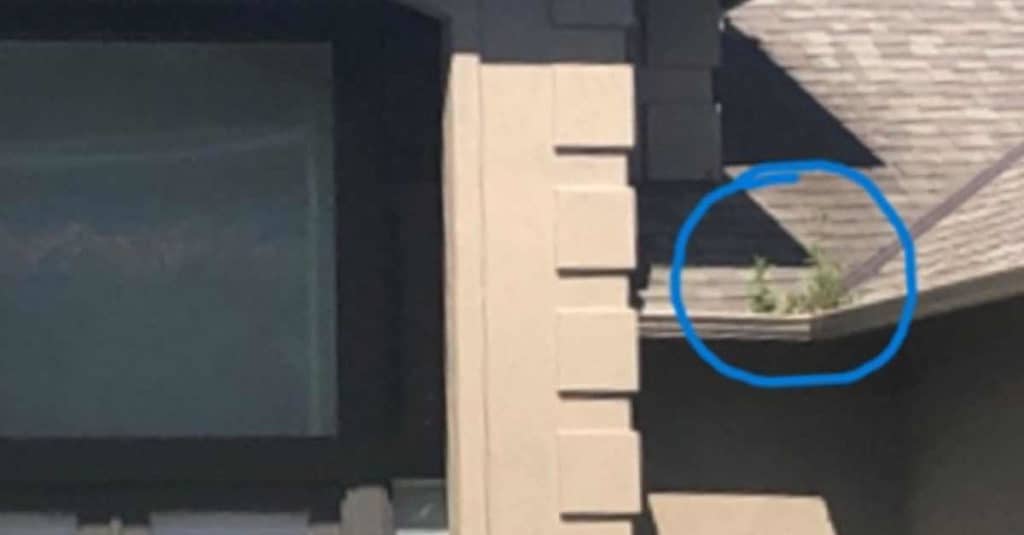 You will also be fined if you don't respond, in quick fashion, to the HOA demands. For example, we had a few weeds in our gutters. We were given 15 days to remove the weeds or would face a $100 fine. If we chose not to remove the weeds, we would then be assessed a fine of $150 every 15 days. That would add up fast!
I'd rather live in peace with a messy neighbor than live in an HOA with the threat of fines and persnickety board members.
We like our home, our neighbors, our neighborhood, and the view of the valley. It is our goal to stay off our current HOA's radar and just avoid them, altogether, until we pay that yearly HOA fee. In the meantime, we kind of live on edge, not knowing whether or not we will receive another non-compliance letter, threatening to fine us if we don't do as they say. When we eventually do move, I'm certain it will not be in an HOA community.