Who doesn't love the movie, Elf? The Elf Trivia Game will have your Christmas Party Guests, on the edge of their seat, scrambling to get the answer out before anyone else. It will be LOUD, it will be full of energy, and it will be FUN … as long as you don't invite a bunch of cotton-headed ninnymuggins.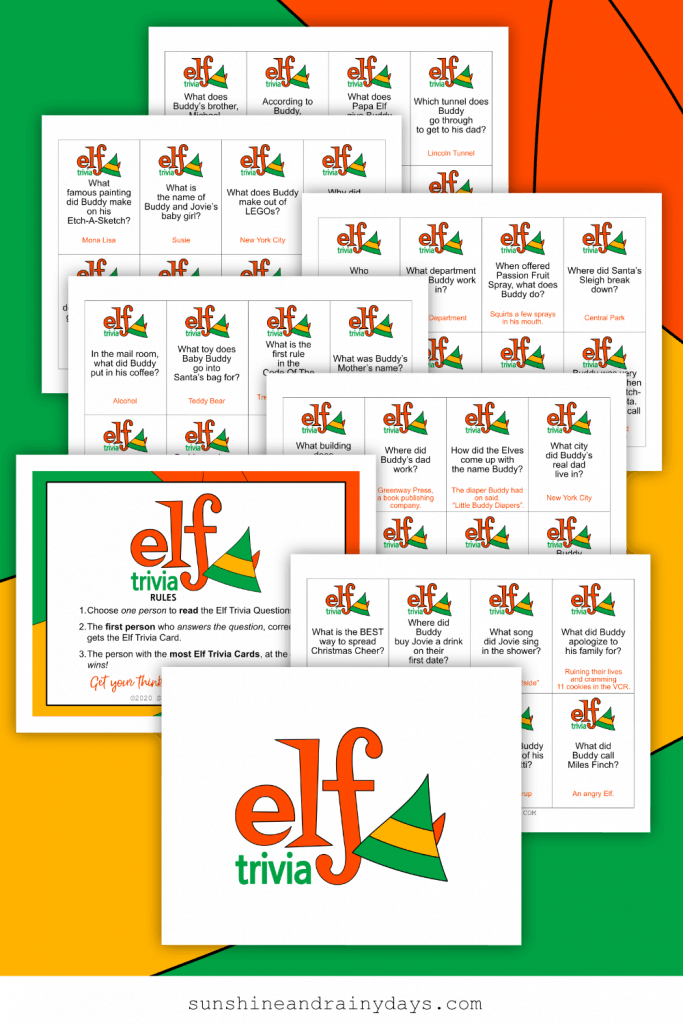 Elf Trivia Game
If you're planning a Christmas Party, you'll likely want to have a few games on hand for when there's a lull in conversation or you just want to amp up the energy, in the room.
The Elf Trivia Game will test your guest's knowledge on the popular movie, Elf, and have your guests rolling, with laughter! Laughter is what makes a party memorable and YOU the hostess with the mostest!
The Elf Trivia Christmas Game Includes The Following
Elf Trivia Game Rules
6 pages of Trivia Cards (8 per page) for a total of 48 Elf Trivia Cards
How To Use The Elf Trivia Game
This post contains affiliate links. When you purchase through an affiliate link, we receive a small commission at no additional cost to you. Disclosure.
Print the Elf Trivia Game on card stock.
Cut the Elf Trivia Cards. (I like to use a corner rounder punch on my cards.)
Choose one person to read the Elf Trivia Questions.
The first person who answers the question, correctly, gets the Elf Trivia Card.
The person with the most Elf Trivia Cards, at the end, wins!
Game Prize Ideas
It would be fun to have a prize or two on hand for the Elf Trivia Game winner and maybe even the second place winner. A prize that fits the game well, like an Etch A Sketch or the Elves' four main food groups of candy, candy corn, candy canes, and syrup.
Make your Christmas Party one worth remembering … a party your guests will talk about for years to come!
More Christmas Game Ideas
Name That Tradition Christmas Game
Who Is Most Like An Elf Christmas Party Game
LEGO Brand Retail
More Elf Ideas
You've Been Elfed – Christmas Gift Idea
Who Is Most Like An Elf Christmas Party Game