Although you'd like to fill a care package with high-quality items every time, you also want to be able to send care packages often and that means you need to be fiscally responsible. Here I'll share cheap care package ideas that the recipient will love and are easy on your wallet!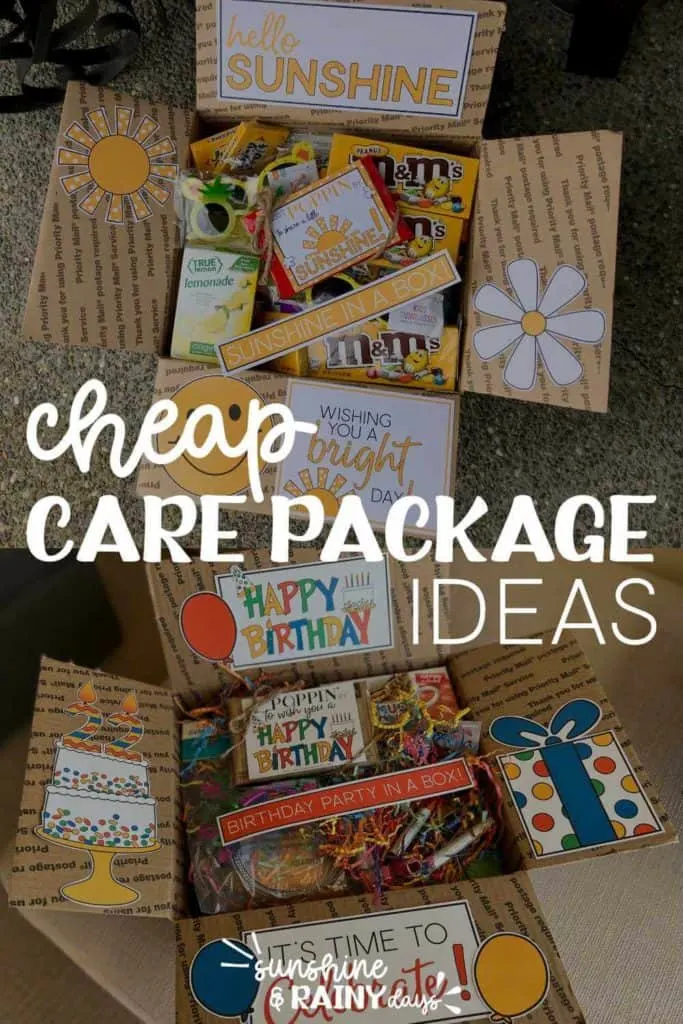 How To Create A Care Package That Doesn't Cost A Lot
I believe that the BEST care packages are those you create yourself with decorations and favorites you've gathered at the store. Cheap Care Packages are obtainable when you DIY!
When you make your own care packages, there are many ways you can make them inexpensive. Here are a few of those ideas:
Use A Small Box – A small care package will cost less simply because you'll have less space to fill.
Create Your Own Box Decor – This is where you can get creative and have fun! Decorate the box in the theme of your choice to make your care package extra special. If you'd rather buy care package box decor, I have created quite a few care package ideas that you can purchase, download, cut, and adhere to your box. It's DIY with a bit of help!
Send Things That Will Get Used Up – Things you can eat or use (think hand soap, etc.) are usually inexpensive to buy.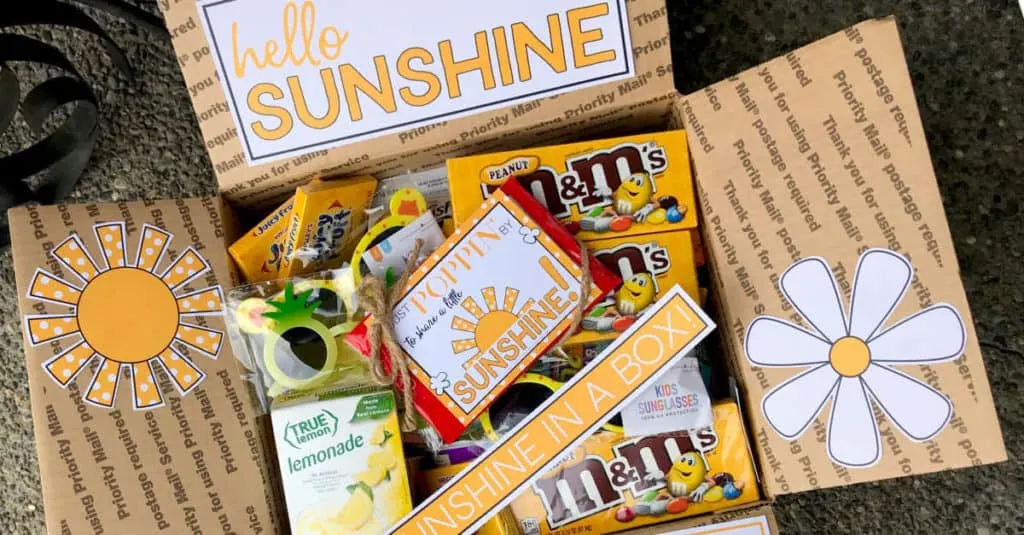 Cheap Care Package Ideas
A thoughtful and budget-friendly care package will bring joy to someone's day without breaking the bank. Here are a few affordable care package ideas that can be incorporated into any care package theme:
Something Homemade – Whether you do a little baking or crafting, something made with love, from home, will be a hit.
Snacks – Fill the box with their favorite snacks like popcorn, chips, nuts, or candy.
Hot Drinks – Depending on the season, warm drinks with a cute mug are the perfect addition to a care package. Cider in the fall, hot chocolate in the winter months, and coffee any time of year. My daughter had a Keurig so I often sent seasonal coffee pods.
Handwritten Letters – Be sure to include a handwritten note in your care package to make it personalized just for them.
Craft Kits – A fun little craft or activity is always fun. A few I've sent in the past were wood pumpkins to paint for decor or a miniature Christmas tree to decorate with miniature ornaments, lights, and a star.
Something To Read – A few magazines or a book you know they would like.
Self-Care Items – Face masks, skin care products, chapstick, shampoo, and even seasonal hand soap are things that will get used.
Something To Make Them Laugh – These printable exam jokes would be perfect to add to a care package around the end of the quarter.
Office Supplies – Nice pens, markers, a journal, and sticky notes are a few good ideas to make them smile.
Easy Meals – If the recipient is living the dorm life, they will appreciate any meals they can microwave on those days they don't want to leave their room.
Something To Get Them Active – A Nerf football in the Fall, a frisbee or beach ball in the Spring, and a yo-yo to use indoors in the winter are all fun ideas to get them moving.
Games or Puzzles – There's something about games and puzzles that bring people together! Send a new game or a fun puzzle to help them socialize a bit.
Local Favorites – Share a favorite from where you live. This could include chocolate or caramel from a local candy shop, a souvenir, or coffee from your favorite roaster.
Seasonal Decor – Seasonal decor from the Dollar Tree or Bullseye's Playground Dollar Spot (at the front entrance of Target) is a nice way to help the care package recipient decorate and be festive without a high cost. You also don't have to feel bad about those items ending up in the garbage after they've been used since they were inexpensive to buy.
When you personalize a care package according to the recipient's interests, it will show that you care, no matter the size or cost of the items you include.
Cheap Care Packages You Can Buy
Don't want to make your own care package? I found a few you might like that are on the inexpensive side. Just be sure to check the box size so you're not disappointed with a tiny box. (Also, keep in mind that many care packages you can buy online come with candles so you'll want to make sure candles are allowed where the recipient lives before choosing that option.)
This post contains affiliate links. When you purchase through an affiliate link, we receive a small commission at no additional cost to you. Disclosure.
Cheap care packages can share as much joy and happiness as the expensive alternatives. Focus on the thought and effort you put into gathering things your recipient will appreciate in order to create a memorable care package that shows your thoughtfulness. Whether it's a surprise for a friend, a family member, or a college student, these affordable care package ideas are sure to bring smiles and comfort, which means it's the thought behind the package that truly matters.