Fifteen year old boys are adjusting to high school life, thinking about their future, learning to drive, and trying to enjoy their youth. Gift ideas for 15 year old boys have a wide range depending on their interests.
Is the 15 year old boy in your life enjoying his youth, does he want to grow up, or is it a mixture of the two?
We happen to have a 15 year old boy who isn't afraid to enjoy his youth and ask for things he knows he will love and use!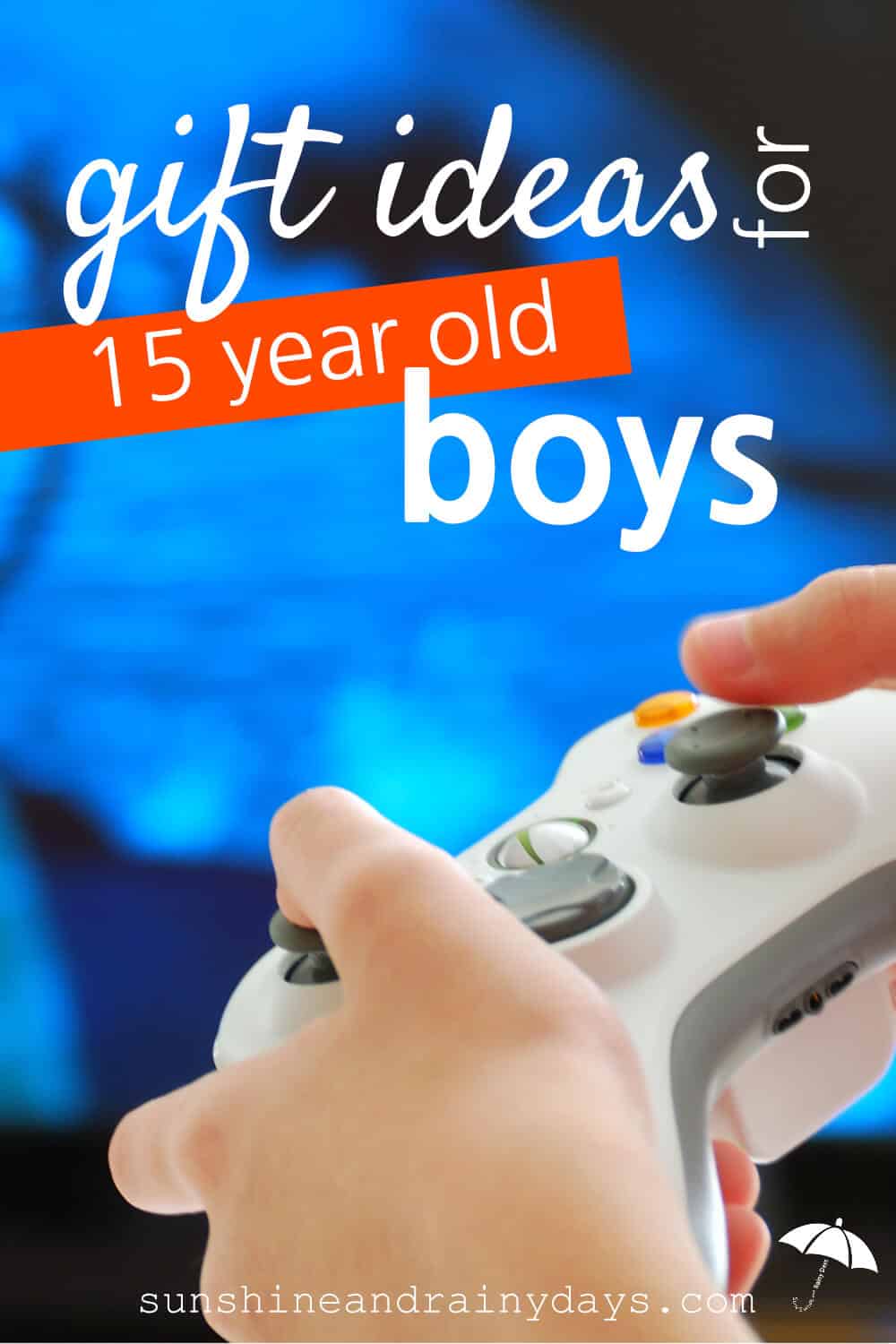 Gift Ideas For 15 Year Old Boys
For frame of reference, this gift guide was created by our very own 15 year old son in October 2017.
This post contains affiliate links for your convenience. If you purchase through an affiliate link, we receive a commission at no additional cost to you. Disclosure.
I wanted this Lego set because I grew up on the Lego Ninjago TV show and Jay was my favorite character. When the Lego Ninjago Movie came out, I was very excited to go see it and it was great! After I saw the movie, of course, I wanted to buy all of the sets made for the movie just for the sake of nostalgia, but I decided that was unreasonable and just asked for this one.
I am a HUGE fan of Star Wars, and my favorite parts of those movies are the space battles. So, naturally, I wanted the most iconic spaceship in the Star Wars franchise, the X-Wing. It's a bit of an older Lego set but I've been wanting one for awhile and figured that I would ask for it this year.
Destiny 2 is the sequel to the popular game Destiny. I had the first game but I got it a bit after it's prime so I didn't get to enjoy it fully. I'm really excited to give the sequel a shot, with all of it's Sci-Fi coolness.
I'm a big fan of Pokémon so I was very excited when, a few years ago, they announced a Pokémon fighting game for the Wii U. I never got around to buying it though and, soon enough, Nintendo announced their new console, the Nintendo Switch. Luckily, they decided to update the game with new Pokémon, battle modes and stages, and put it on the Switch. I'm really excited that I have another chance to play such a cool game!
Pokemon Center Decidueye Poké Plush (Large) – 12″
With the recent release of Pokémon Sun and Moon, there have been a whole new group of Pokémon to catch and battle with. One of my favorites of the bunch is Decidueye, a rad shadow owl that shoots arrows. When I saw they had made a plush for it on the Pokémon center website, I thought it would be pretty cool to get one.
While the original EA Star Wars Battlefront was fun, it didn't really excite me all that much. It only had characters and places from the original Star Wars movies and, as much as I adore those films, it felt like it was limiting the awesome universe that I grew up learning about and loving. I mean, the original EA Battlefront didn't even have space battles! I couldn't pilot an X-Wing like I've always dreamt to (at least, unless you bought a DLC for the game, then you could get like 1 or 2 space missions). But the new EA Star Wars Battlefront 2 fixes all the problems I had with the original. They have space battles and stuff from all of the movies, the new ones, the old ones, and everything in between. I'm really looking forward to it!
iTunes Gift Card
It's always nice to have some iTunes gift card money. I generally use the money for music and I've been meaning to buy the new Imagine Dragons album on iTunes for awhile now. But you can use it for apps and games and in-app purchases. It's a nice thing to have!
From LEGOS and video games to Pokémon plushies, we hope Jack's Gift Ideas For 15 Year Old Boys has inspired you to find a great gift for the 15 year old in your life!
More Gift Ideas