If you're deciding on dorm vs off campus housing, here is an easy way to learn about the benefits of both living on and off campus.
My daughter, Justine, has spent one year in a dorm, a year studying abroad, and two years in off campus housing. In this post, she shares her experience living in a dorm and in off campus housing.
College is a big step. You have to worry about balancing college level classes, homework, your social life, sleep, eating and so much more. Along with all these adult responsibilities also comes the need to find housing. Of course, this is not the case for everyone. There are plenty of college students who commute to school everyday. However, housing is a very real and stressful part of college for a lot of people. Will I find the right fit? How much am I willing to spend? The questions go on. For those who are in the age old debate of whether or not to live on campus, let me help you. Here is an easy way to learn about the benefits of both living on and off campus. Hopefully, it will make it easier to decide.
Pros and cons of living on campus.
Living on campus is usually required for freshman at most universities. Some universities even require that sophomores (dare I say even juniors and seniors) live on campus, too. So if you are not allowed to live off campus, the decision is pretty easy for you. However, if you are in that weird limbo where some people in your grade are living on campus while some are living off, it can be hard to decide. Here are some pros and cons.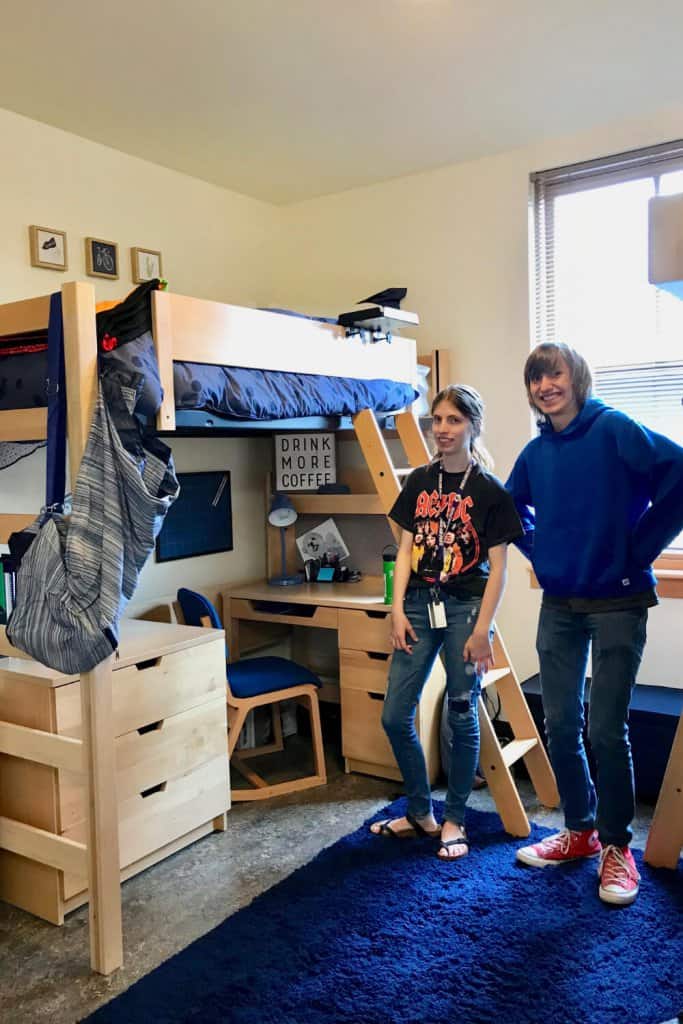 Pros of campus living:
Close to classes – You can hit the snooze button a couple extra times. You probably won't have to drive to get to class either.
Built in events – Wherever you live on campus probably has some sort of events. Whether it be events hosted by an RA (resident assistant) or events for the entire building you're living in, there is always something going on.
Less furniture – On campus, housing usually comes furnished, or you live in a dorm where you only need to bring minimal things. No need to bring a huge sectional or dining table.
No Utility Bills – The university takes care of that for you. How nice is that?
Close to food – Being on campus also means being close to campus dining halls. Quick and easy meals, in a walkable distance.
Cons of campus living:
RA's – They're like that obnoxious babysitter that you have to be on your best behavior for. RA's aren't the devil incarnate but still a nuisance.
Quiet Hours – Not necessarily a bedtime, but close to it. If you are okay being told when to be quiet, this isn't a big deal.
Close proximity to a lot of people – Dorms are cramped. Walls are thin. Pray that the people on either side of you aren't the loudest people known to man.
Potential public showers – Campus living usually comes with lots of options. However, the underclassman normally have to deal with public restrooms and showers. Sharing three+ showers with everyone on your floor isn't the easiest.
Less independence – If you share a room with another person, you have to consider their lifestyle and be respectful of it. You can't throw ragers, or even have people over after a certain time (in most cases). There are a lot of rules.
Roommates – A lot of underclassman get stuck with a roommate they don't know. Living in the same room as a stranger can be hard. Especially if personalities clash.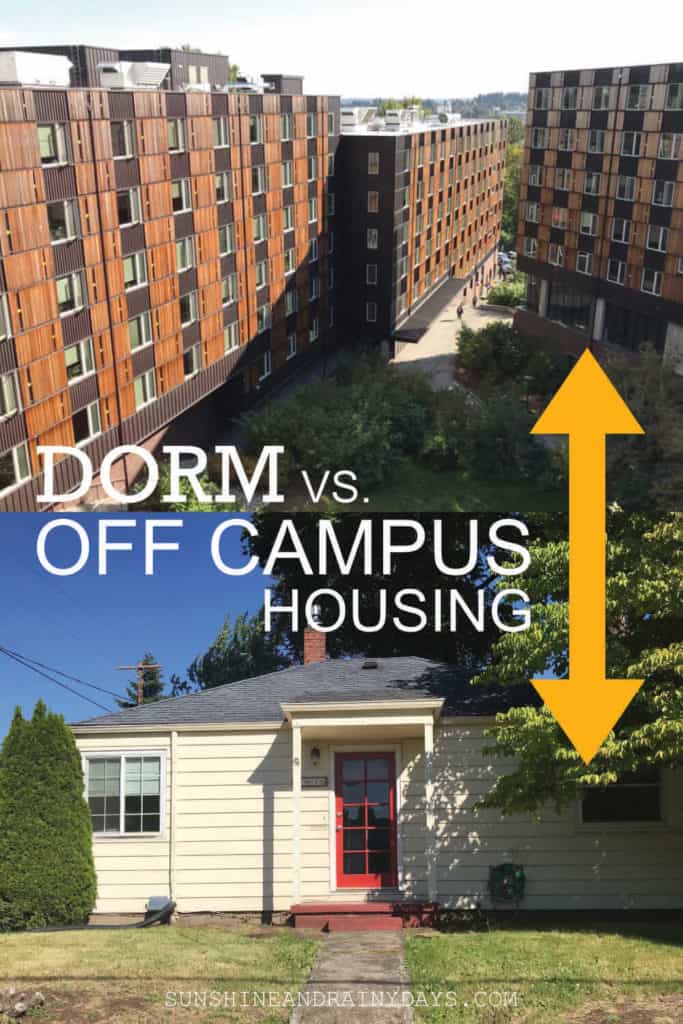 Pros and cons of off campus housing.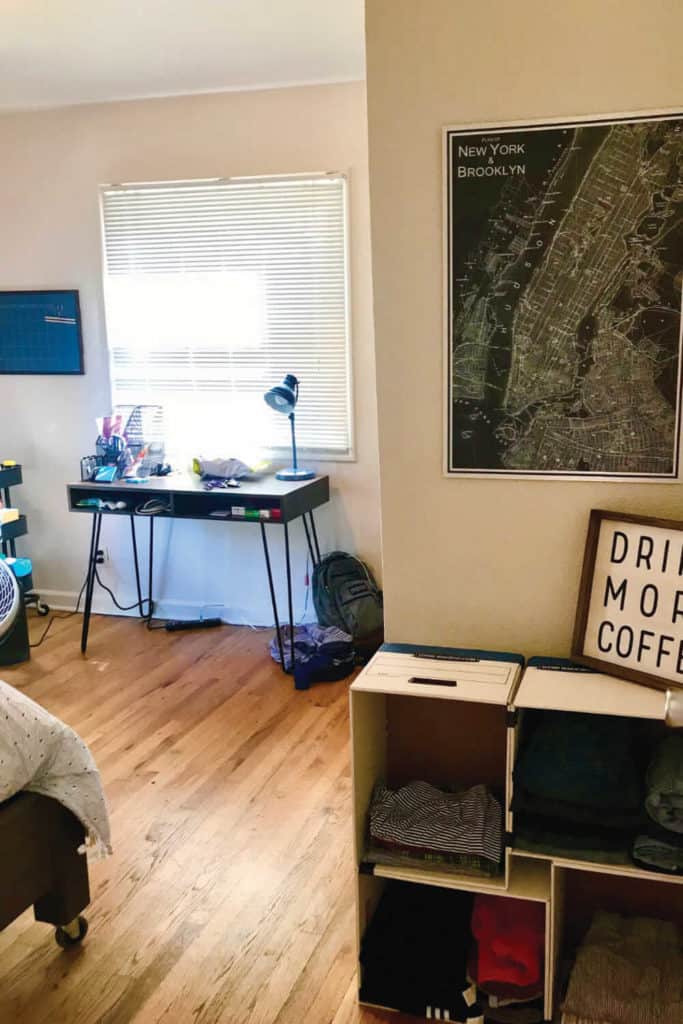 Advantages of off campus housing:
Own space – You get to spread your wings. A lot more space, with a lot less people. You usually get your own room too. No sharing and you get to add more personal touches to a space.
No RA's/babysitters – No RA knocking on your door if you are being too loud. Of course, you should still be respectful of your neighbors. But being a little louder is an option.
Easier to cook – You have your own space. You can clean the kitchen as you please. No dealing with pots and pans from the 1980's in a dorm kitchen. No dealing with food in a community fridge that has been moldy since you were born.
Private – There aren't a bunch of people living on top of each other. No hearing anything and everything your neighbor says.
Control budget – On campus, housing is usually a flat rate or fluctuates slightly. Off campus, the options are a lot more flexible. It's a choose your own adventure really.
Choose Roommates – Most of the time, you get to choose your own roommates. You and your friends can decide to find a house together. Great if you want to live with people you know and love.
Disadvantages of living off campus:
Commute to classes – Thankfully, most universities have affordable housing within walking distance of them. However, this isn't always the case and driving/taking the bus is sometimes necessary. It may be a lot more effort to get to class.
Farther away from dining halls – Not always a bad thing. Sometimes dining hall food SUCKS. But if you aren't into cooking, this may be a challenge.
Bills – Guess who has to pay the bills? Thats right, you! There is no one doing it for you, and if you forget to pay, bye bye amenities.
Have to bring a lot of furniture – Usually off campus housing means a house or apartment that's normally unfurnished. If you want your place to be homey you have to shell out a lot more money. Couch, chairs, kitchenware, bathroom supplies, etc. You can get creative and refinish free furniture finds to save money like we did on our kitchen table. I also refinished my mom's childhood chest of drawers!
Living on campus vs off campus cost.
There is no one answer of how much on campus vs off campus costs. Either can be more expensive. As I mentioned above, you have more control over your budget when you live off campus. You can find a cheaper deal off campus with enough research and willingness to compromise. However, off campus can be more expensive, if you spring for a really nice place, with high utilities and fancy furniture. It all depends on you.
I hope this shed some light on the differences between on campus and off campus living. Hopefully, it also helps you decide which is right for you. I personally enjoy the freedoms of off campus housing, but it is not for everyone. So, spread your wings, enjoy independence, and go find a place to live!