Rakuten, formerly known as Ebates, is a service that gives the consumer money back on their purchases. Is Rakuten Worth It? The application is great for those who love online shopping but don't love the bill. You pay nothing to join and get a percentage back on qualifying purchases. I have found Rakuten to be worth it to sign up and shop through!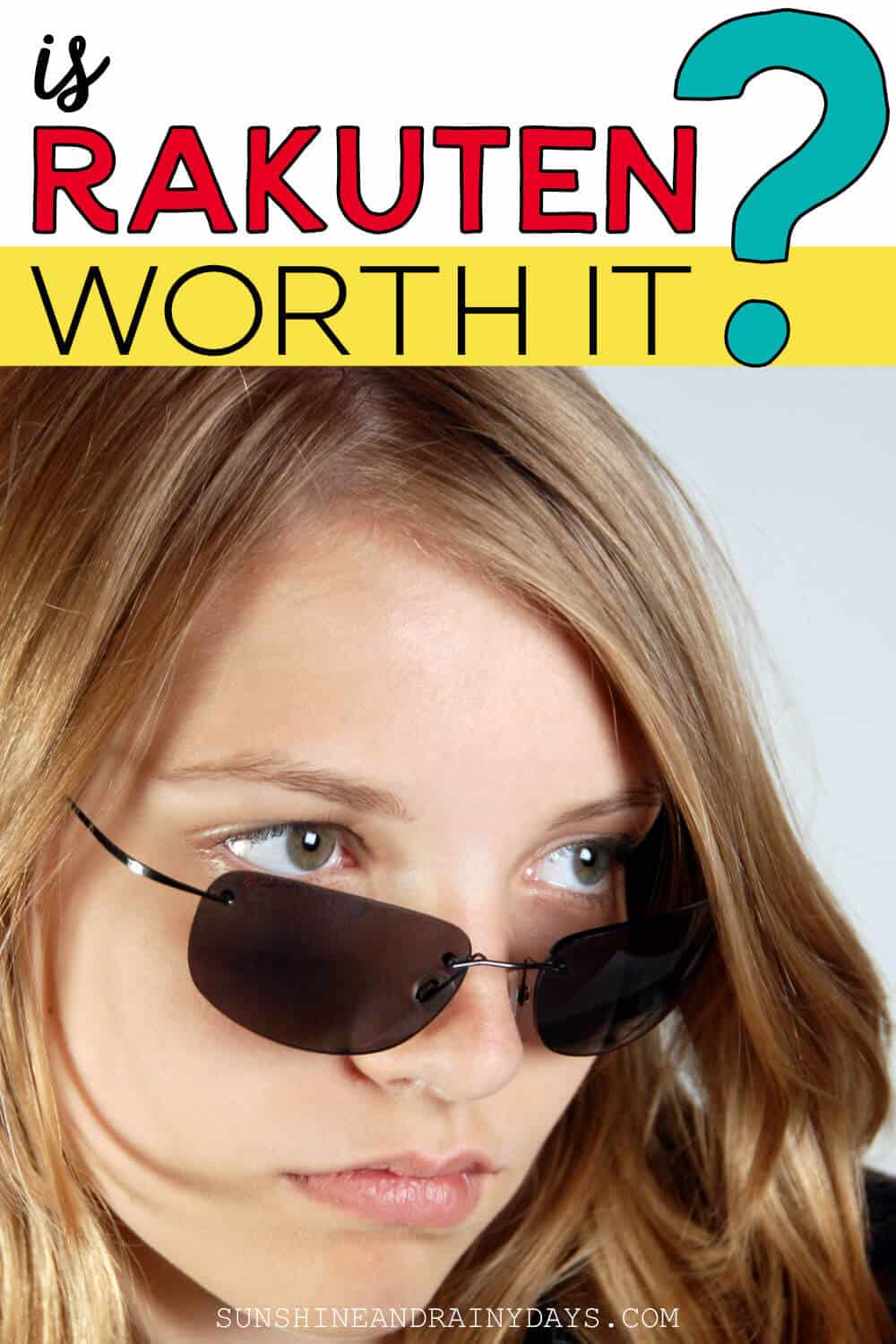 This review of Rakuten was written by my daughter, Justine @ Justine Lorraine! I also use Rakuten and appreciate it as a no fuss way to earn cash back on my purchases! To date, I have earned $126.99, in the form of a Big Fat Check <<< that's what they call them!
Rakuten is an application that gives you money back on your online purchases. Cash back on purchases is offered through many different companies and websites. Rakuten offers a browser extension that you can download. When you click on a site to shop, the extension will pop up letting you know if you can get cash back on a purchase through that website! Usually, Rakuten will offer a percentage of money back on your purchase. The percentage usually ranges from 0 to 10%. Sometimes the percentage can go as high as 40%!! Once you purchase your items, Rakuten will then calculate the amount of money you earned back and put it into your account.
New to Rakuten? The best part is you can sign up for free and get a $10 cash bonus or $10 Walmart gift card! Also, if you refer friends and family, Rakuten offers benefits such as money in your account for references.
How To Shop With Rakuten
Shopping with Rakuten is easy. You can do it multiple ways. One way is to log in to Rakuten and type in the name of the website you have the desire to shop on and see if there is cash back available. If there is, click on the "Shop Now" link in Rakuten's website and it will redirect you to the website. You can shop away and Rakuten will take note of your purchases and cash back earned.
The second way is a bit easier. Rakuten offers a browser extension that can be downloaded. With the extension, every time you go on to a website with Rakuten cash back available, a pop up will appear letting you know. If you plan on making purchases on the website, all you have to do is click on the pop up and Rakuten will immediately register your purchases and cash back.
Is Rakuten A Scam?
When I have told friends and family about Rakuten, some are excited, others are a bit more skeptical. Yes, it can be hard to believe that Rakuten offers cash back for your purchases without a catch. Rakuten isn't asking to steal your identity or for you to sell your soul in return for cash back. Signing up is free, and so is the money you get back. I have been using Rakuten for awhile now. I have gotten all my money as promised, no ifs, ands, or buts. If you don't trust what I am saying (which would hurt), there are plenty of other reviews that will tell you Rakuten is not a scam.
How Will I Get Cash Back On Purchases?
Rakuten makes it easy to get money back. My account is set up to receive money in check form. If you have PayPal or an American Express you can also get your money back those ways as well. You need at least $5 in cash back in your account to receive a check from Rakuten. Never fear, your cash back on purchases never disappears or expires! So, even if you're not an avid online shopper, when you do make purchases with cash back through Rakuten available, the money will stay in your account!
The Pros And Cons Of Rakuten
Now for the fun part … the Pros and Cons of Rakuten!
Pros
Free to Sign Up
$10 Signing Bonus
Easy to Use
You Get Money Back on Purchases!
Cons
Can be Annoying Waiting for Checks from Rakuten in the Mail
No Way to Directly Put Cash Back into Your Bank Account
Rakuten is a great way to get money back on purchases from many of the biggest and most well known companies. It is free to the user and not a scam, I promise. The Pros of using the platform outweigh the cons. Not to mention, who wouldn't want to shop and get a little money back from it?