The College Food And Dining Points Tracker was designed by none other than our very own college freshman!
I remember the day like it was yesterday. I had saved and saved and purchased a duplex at the age of 21 and was finally living on my own. All by my lonesome with no one to encourage me or give me that sideways eye if I did something out of the ordinary.
It was time for dinner and the world was my oyster. I could eat anything my little heart desired. I opened the fridge and then the freezer … mmmhmmm … you guessed right. I pulled out a gallon of my favorite ice-cream and ate almost the WHOLE THING for dinner … because I could!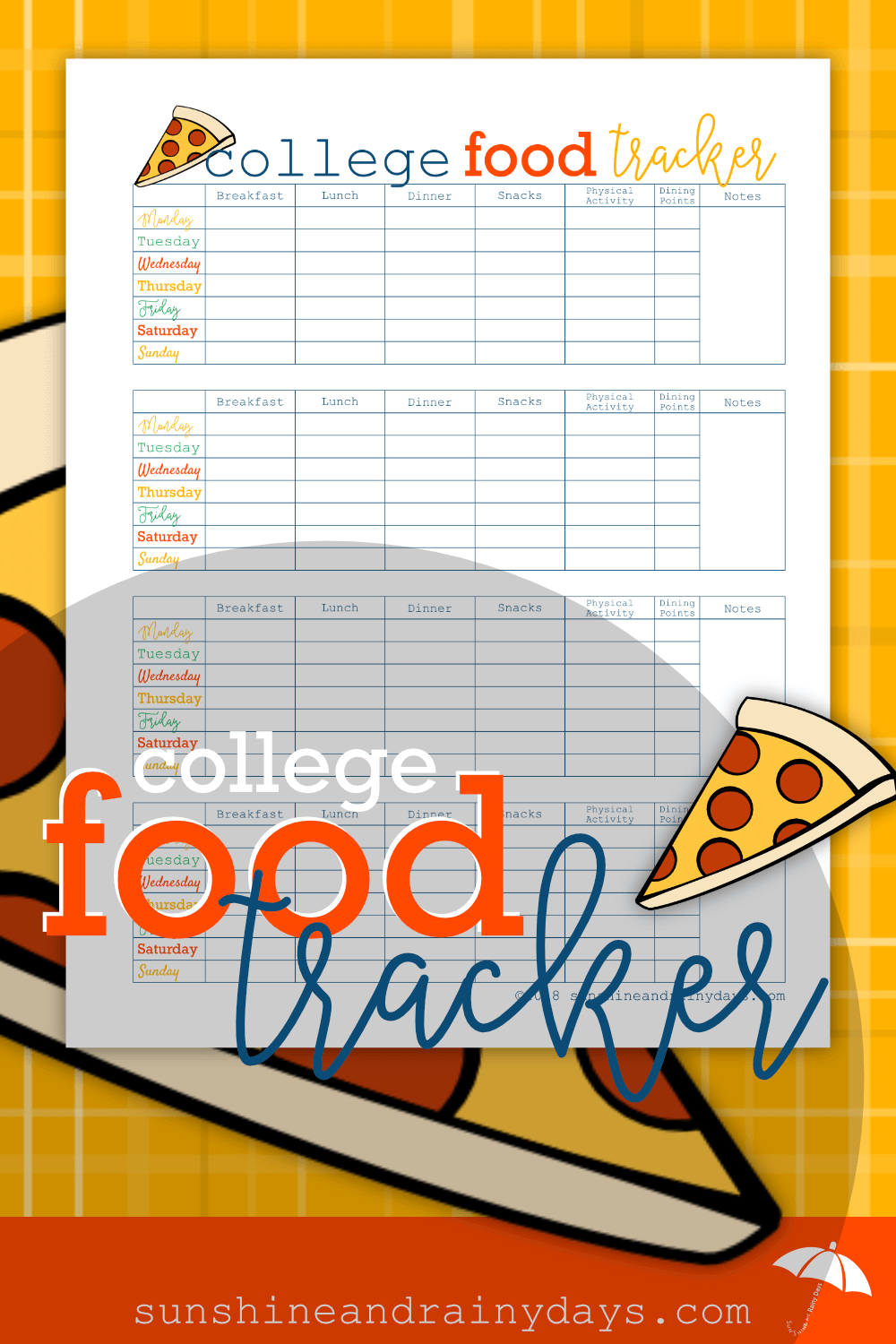 College Food Tracker
This section was written by our very own college freshman!
When running between classes, the library, and social events, it's hard for a college student to remember if they are keeping up a healthy diet or even eating at all.
The College Food Tracker helps students remember what they eat daily so they know when it is time to put down the junk food and pick up a vegetable or two. It also helps students to take note if they are skipping every other meal or eating cake every morning before class and, hopefully, create healthier eating habits.
The tracker also includes a spot to write down the dining points so students stay on track and are not starving by the end of the year.
This post contains affiliate links. When you purchase through an affiliate link, we receive a small commission at no additional cost to you. Disclosure.
College Food Tracker Supplies
Printer – I just purchased this one and it is ah-mazing!
Card Stock or Paper
College Food Tracker Printable – found below
Fun Pens!
How To Use The College Food Tracker
Print the College Food Tracker – found below.
Record what you eat for breakfast, lunch, dinner, and snacks.
Next, document any physical activity you did for the day.
Log the dining points you have left. This is a good way to make sure you're on track!
Write any notes you'd like to remember about your day!
Ice-cream didn't become the norm for dinner. I'm happy to say I figured out quite quickly that that lifestyle wasn't real sustainable for the energy I required to work a job to pay for my new abode.
More College Resources
The Most Important Items For College
How To Send A College Care Package The Smart Way
How To Make Your College Transition Easier For Your Mom
What To Put In A Fall Box For College Students