I always like to have a plan but, I have to admit, we tried meal planning for a few months and it just didn't stick. My husband enjoys cooking dinner every night. It's his way to unwind and decompress from the day and meal planning took the joy out of it for him. So, since he's the cook, I let it go BUT I created this printable weekly meal planner for those of you that like to plan your meals!
The sweet thing about this weekly meal planner is that you can either print it and handwrite your meal plan OR you can fill it out, right on your computer using Adobe viewer.
It's also completely customizable to work with the way you like to plan. The days and meals are editable in Adobe viewer so if you want your meal plan to go Monday to Sunday, you can change the days to reflect that. You can also change the meals or remove one altogether.
Benefits Of Creating A Meal Plan
For a few months, I was insistent on creating a meal plan because I think it has some true benefits, however, my husband's joy of cooking outweighed the benefits.
Helps in the creation of a grocery list.
Saves money because you are focussed on what you need for the meals you've planned.
Gives your family something to look forward to. (Then again, if the menu shows something your kids don't like, they may choose to hang out at their friend's house.)
Avoids last-minute decision-making because the decision has already been made.
Promotes eating at home since you have a plan.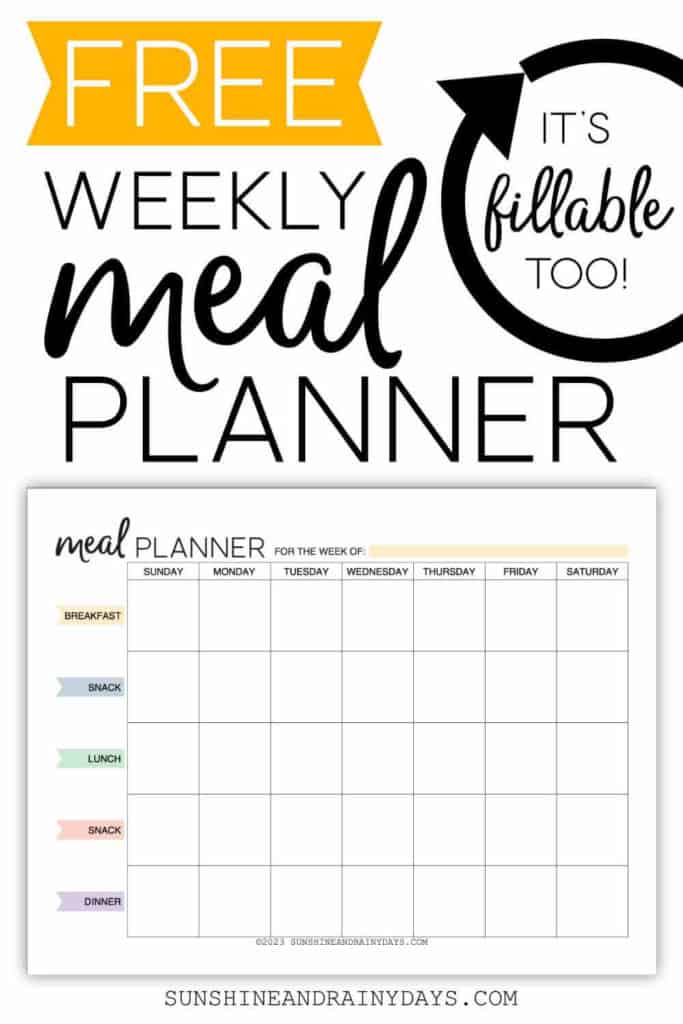 What Is The Easiest Way To Meal Plan?
Take a look through your refrigerator, freezer, and pantry to see what you have on hand. Pay special attention to the food that will go bad if you don't use it.
Check out foods that are on sale by looking at store apps or fliers you receive in the mail.
Consider recipes that your family has suggested and include a few family favorites.
Think about your schedule for the week, making sure to plan easier meals for the nights you won't have much time to prepare a meal.
Write or type in the meals you have decided on.
Plan how you will use leftovers or make one dinner a leftover night. You may choose to use leftovers for lunches so a leftover night may not work if that's the case.
Create a grocery list of the foods you will need to prepare those meals.
Stick to your meal plan!
Free Printable Weekly Meal Planner PDF – It's Fillable, Too!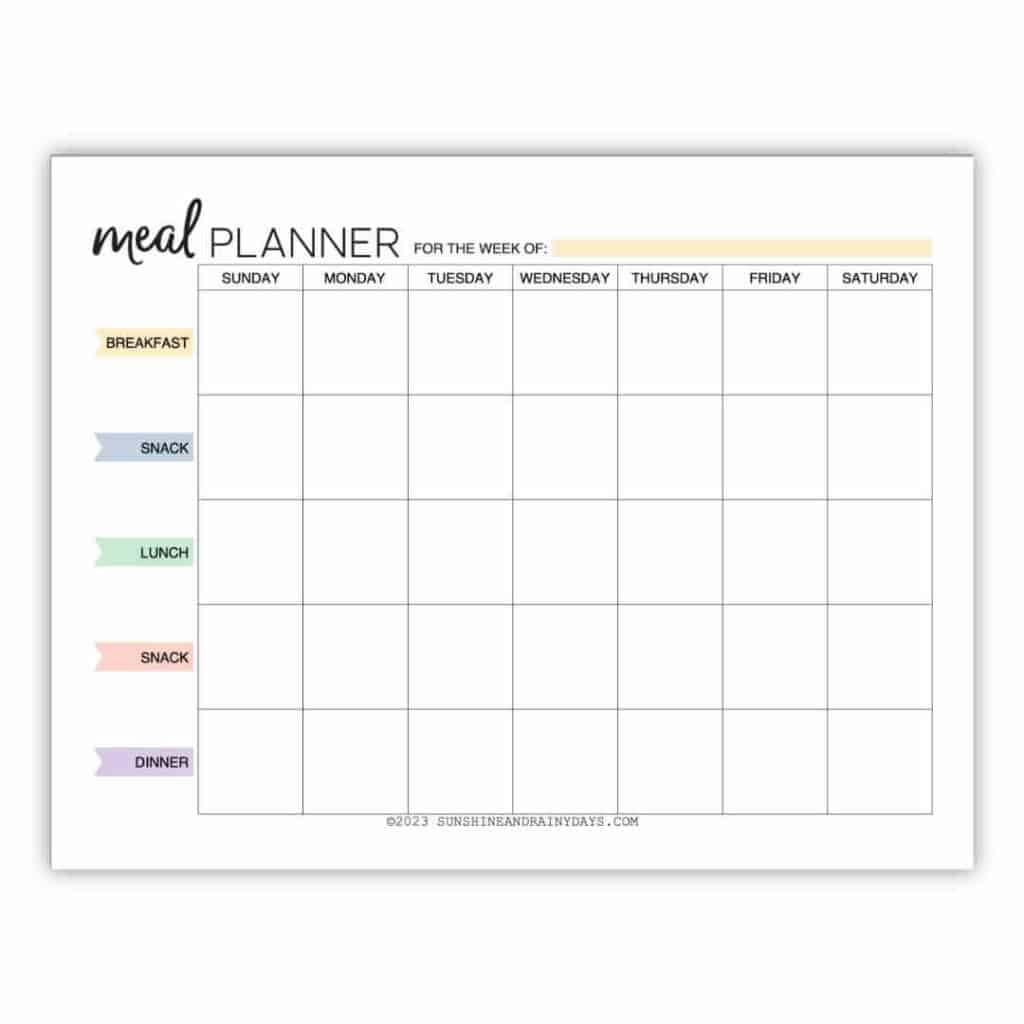 How To Use The Free Weekly Meal Planner
Click on the button or picture above to download the free meal planner PDF.
The meal planner is fillable, which means you can fill it out, right on your computer, before printing or you can print and fill it out by hand. The choice is yours! (The fillable meal planner works best in Adobe viewer.)
Keep the weekly meal planner in an easy-to-find place on your computer so you can use it week after week.
It's a great idea to try a meal plan if you never have before. It might work great for you! If you can't fathom the thought of planning your weekly meals, that's okay! Don't stress about it.