Organize your pets' records in one Pet Binder and never have to search for their paperwork again! The Ultimate Printable Pet Care Binder is the complete system to help you organize your pet's paperwork by using helpful printables to organize ALL of your pet's important information.
Our dog is a Shicon (Shihtzu-Bichon) who has hair instead of fur. That means he gets to go see the groomer, on a regular basis, for haircuts.
One day, the groomer told us that TeddiBear was a bit nippy when she touched his hip. I was certain my husband had taken him to the Vet about that issue but the next haircut day, the groomer told us she found a lump on Ted's hip. Oh no! That freaked us out a bit.
TeddiBear went back to the Vet and we found out he has a fatty deposit. That was a relief!
I decided right then and there that TeddiBear needed us to track his medical information, just like we do our own. Of course that set me on a mission to organize ALL of Bear's information and the Pet Binder was created!
Stay Organized With The Ultimate Printable Pet Binder
How much time have you wasted looking for your pet's medical records, stressing over what to tell the pet sitter, or wondering if family members have walked the dog? Stop wasting time digging through paperwork for your pet's important information and get organized!
Your pet means the world to you and he/she deserves a binder, just for him/her, so you can be sure to take great care of your pet!
How To Organize Your Pet Records
The Ultimate Pet Binder provides info sheets to help you track your pet's health, finances, important info, and info for pet sitters, too!
Printable Pet Care Binder Supplies
This post contains affiliate links. When you purchase through an affiliate link, we receive a small commission at no additional cost to you. Disclosure.
Paper
Dividers – These are my favorite … they have POCKETS!
Now that you have all those fun office supplies (don't you just love office supplies?), it's time to get your Pet Binder organized!
Why It's Important To Keep Your Pet's Files Together, In One Binder
How would you feel if you could …
Go on vacation, knowing your pet's routine will remain the same and she is having fun too!
Have an easy way to check your pet's medical records and avoid duplicate or unnecessary procedures, saving time and money.
Know right where to find your pet's microchip information, in case he becomes lost.
Track your pet's exercise and chores in order to NOT let your pet's care slip by, unnoticed.
Have a place to keep ALL of your pet's paperwork, in one, easy to find spot!
The Pet Binder will help you keep the information you need, at your fingertips!
What's Included In The Ultimate Pet Binder?
The Pet Binder has over 30 pages to help you organize your pet's paperwork.
Pet 411
Pet 411 Information Sheet – This sheet provides space to record all of your pet's important information. There is also a spot to include a picture of your pet.
Pet Sitter
Pet Sitter 411 – It's important for your pet sitter to have the information they need, in one place. The Pet Sitter 411 provides that place to record your pet's important information, feeding schedule, exercise routine, vet information, and contact information.
House Sitter 411 – If your pet sitter will be staying at your house, they will need to know the the ins and outs of your home. The House Sitter 411 provides space for contact information, garbage schedule, mailbox information, WIFI password, spare key location, security alarm codes, plant watering info, and even normal house sounds that might alarm someone who isn't used to them.
Exercise Tracker – You may want your pet sitter to track how often your pet gets exercise. The Exercise Tracker gives space for your pet sitter to make a note or doodle, of the exercise your pet gets, each day of the week! BUT the Exercise Tracker isn't just for pet sitters. It's a great tool for families to use so you will know, at a glance, if the dog has been walked!
Chore Chart – The Chore Chart comes in two versions; pre-filled and blank. On this chart your pet sitter, kids, spouse, or roommates can check off each chore, as it is done. Chores included on the pre-filled version are; morning potty break/check litter, breakfast, exercise, brush, afternoon potty break, dinner, evening potty break/check litter, clean up poop, play, bathe (as needed), bedtime potty break.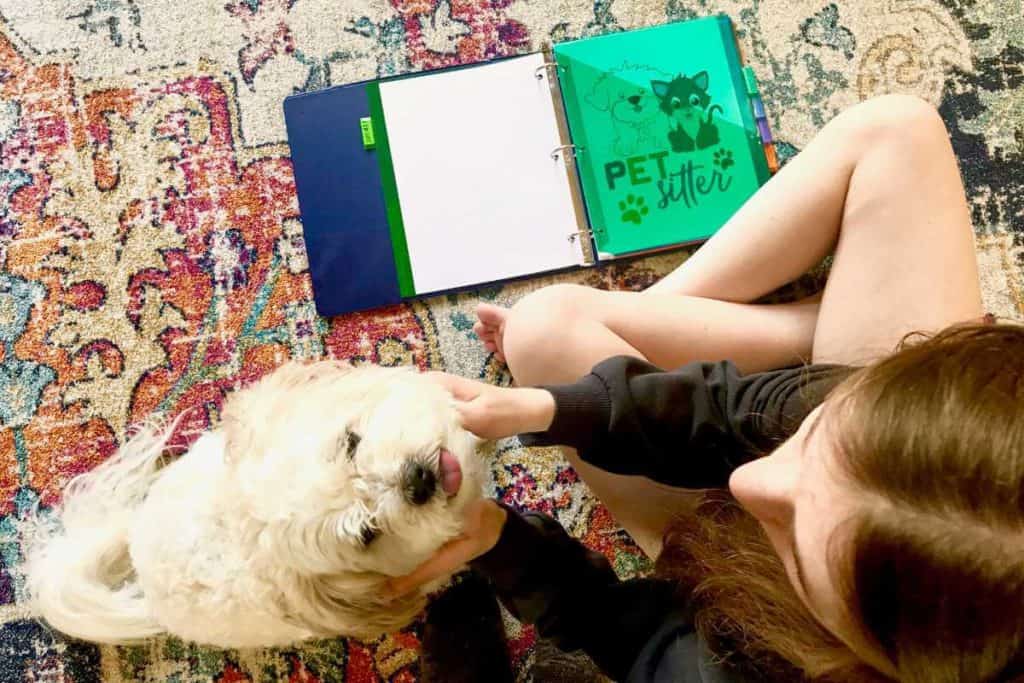 Medical
Medical History – With room for allergies, diagnosis, and surgeries, you'll be able to quickly recall your pet's medical history in order to make vet visits more efficient.
Animal Hospital – If your pet needs to visit the animal hospital, it's important to record the specifics, for future reference.
Veterinarian Appointments – Time flies and you can easily forget when your pet needs to visit the veterinarian again or you may need to refer to his/her past appointments to know what was addressed.
Questions For The Vet – Questions to ask the veterinarian will pop into your head but when you get to the office, those questions are often forgotten. Instead, write your questions down and record the vet's responses so you will have the information, for later.
Food Sensitivities – Many pets have or will develop food sensitivities. Don't rely on your memory, write them down!
Symptom Tracker – When your pet shows health symptoms, be sure to write them down, along with any notes that will give your veterinarian clues as to why your pet is having those symptoms.
Pet Care – Use the Pet Care Chart to record any visits your pet makes, outside of the veterinarian or groomer. This could include a daycare, etc.
Grooming Log – Keep track of when and where your pet is groomed so you know when he/she needs another spa day.
Vaccination Record – It's important to keep track of your pet's vaccinations so you know when they are due for more.
Pet Supplement And Medication Chart – It's hard to remember what supplements or medications your veterinarian suggests for your pet so be sure to write them down along with the specifics and any reactions they may have had.
Medication Tracker – Like the Exercise Tracker, this is the spot you will check off that you've given your pet their medication for the day so you don't accidentally double up.
Financial
Pets Sinking Fund Chart – If you want to save and pay cash for your next pet, the Pets Sinking Fund Chart will help you track your progress!
Puppy Sinking Fund Chart – The Puppy Sinking Fund Chart will help you track your saving progress to add a new puppy to your home.
Kitten Sinking Fund Chart – Saving for a kitten and all of his/her supplies? The Kitten Sinking Fund Chart will help you track your progress to pay cash!
Pet Care Cash Envelope – Cat – Your cat will likely have monthly expenses. Be sure to budget for those expenses and place the cash, in this envelope, so you will have it, when you need it.
Pet Care Cash Envelope – Dog – Your dog will have monthly expenses that you need to budget for. Place the cash, in this envelope, each month so you can be sure you have the money to pay for the things your dog needs.
Cash Envelope Transaction Register – Use this Transaction Register, along with your Pet Care Cash Envelope, so you can record incoming budget amounts and outgoing expenses.
Important Documents
In Case Of Emergency – The In Case Of Emergency sheet provides a card to place in the front window of your home so, if there's an emergency situation and you aren't home or able to come to the door, emergency workers will know there are pets, in the house. It also includes a card to place in your wallet and a keychain card you can laminate and place on your keychain.
Other Important Documents – This is where you will place additional pieces of important information like Avid microchip info or insurance policies.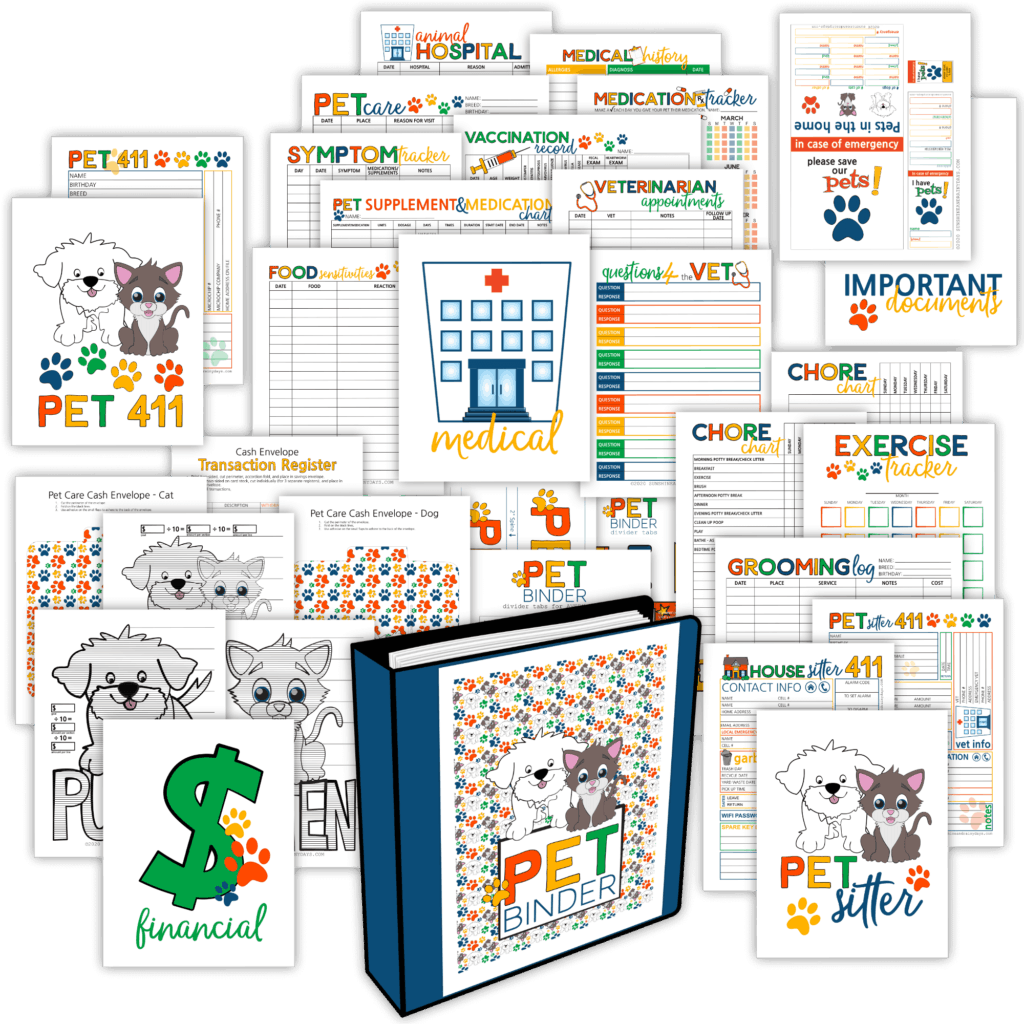 Next time we go to the groomer's we can take a look at Bear's chart and remember to tell them he has a fatty deposit that's a little sensitive.
Knowledge is power!
Keeping a Pet Binder can help you keep all of your pet's files and records organized!