When you sit down to work at your desk, it is important to have a workspace that will allow your mind to be free of distraction. A cluttered desk will not allow you to be as productive as a desk that is organized for success.
Keep Your Most Used Items Easily Accessible
Think of your desktop like you do your countertops, in the kitchen. If you use your toaster every morning, you may choose to leave it right on the counter, for easy access. The crockpot, on the other hand, will find a home in the cupboard because it may only get used once a week … if it's lucky.
If you work with numbers a lot and use a 10 key calculator, it should have a home, right on your desktop. When a tape dispenser is only used, on occasion, give it a home in one of your drawers.
Keep your most used items, handy, and organize the rest in your desk drawers, in order to keep your desktop clear of unnecessary items that will distract you.
Minimize Decorations
Your desk is there to hold the essential items you will need to have a productive workspace. Family photos, plants, and your favorite stuffed animals will only take up valuable space and draw your attention away from the task at hand.
Limit yourself to one or two small decor items that will put a smile on your face, without distracting you or taking the space of your important items you need to actually do the work.
Clean And Organize Drawers
This post contains affiliate links. When you purchase through an affiliate link, we receive a small commission at no additional cost to you. Disclosure.
It's amazing how fast desk drawers can accumulate items you don't really need. Take time every so often to empty your drawers, wipe them down, and only put back in what makes sense for your productivity.
Use dividers or containers to organize the small items, in your drawers. They don't have to be fancy or expensive. Take a look around to see what you have on hand that would work, to calm the chaos, in your drawers. An iPhone box, checkbook box, or even the bottom of a cereal box can work great as drawer organizers.
I have found that individual boxes work great for organization because they can be configured in many different ways and used in different spots.
If you don't have drawers, a desktop organizer may work perfectly for you, to contain your office supplies that would otherwise be scattered on your desktop.
Create A System
What do you do with your mail when it comes in the door? Does it sit in a pile on your kitchen island, clogging your mind and dragging you down? It needs to be sorted and gone through but it's such drudgery. Look no further. Here is a surefire way to take care of that mail and organize your desk for success!
It starts with a letter organizer. My organizer has five, easy to access, shelves and each shelf serves a specific purpose.
Pending – action items that I will get to in the next few days
Bills – this is where my ledger lives and incoming bills until pay day
Address Book and scratch paper – because we all need scratch paper
Password Book, Appointment Slips, and Cleaning/Maintenance Chart – although appointments are put into our google calendar right away, we hang onto the appointment slips, just in case
Hubbies Box – for mail he will want to see and any other paper type stuff he leaves laying around … there's a place for it!
The mail is either sorted on the letter organizer, goes in the recycle, or shredded. There's no need to let it pile up.
When it's time to pay bills … I know right where to go. I don't have to go digging through piles of mail or wondering where I put the light bill. I simply pay bills online and file them, as soon as they are paid.
Need a password or address … they are right there at my fingertips!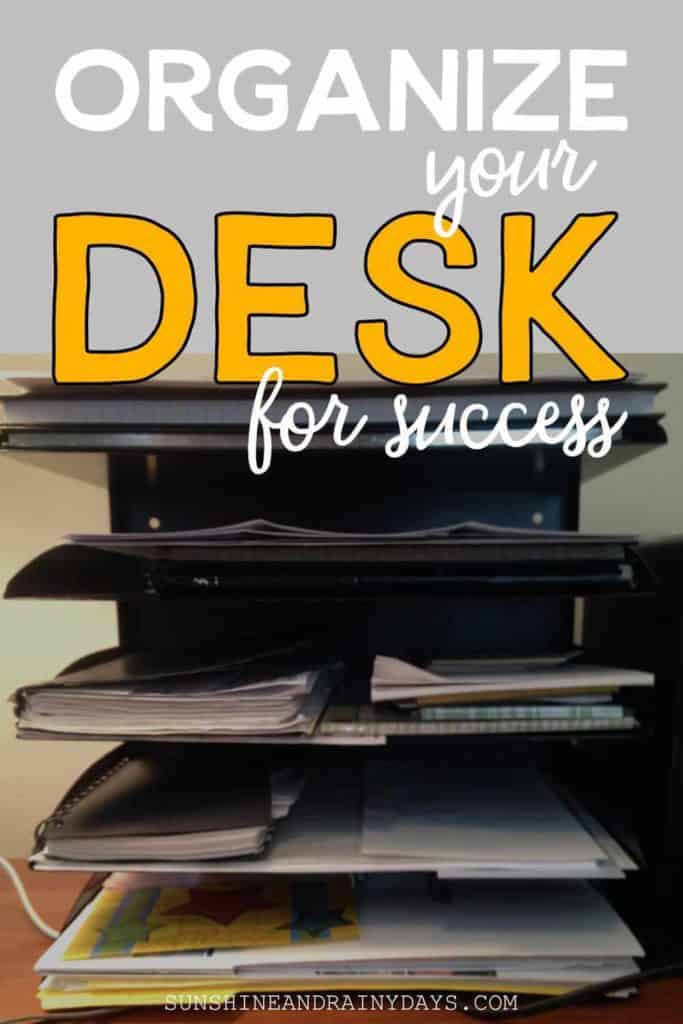 Take time to create a system that works for you and your household needs.
Pay Attention To Your Posture While You Sit At Your Desk
When you spend a lot of time, sitting at your desk, you'll want to make sure all that sitting doesn't leave you in pain.
The placement of your monitor, phone, and even your feet makes a big difference. Learn more about proper sitting workstation ergonomics, including chair height, from the people who know best!
---
Imagine, sitting down to work at your desk and feeling comfortable and at ease because you have taken time to clear your desk space of the non-essentials, minimized decor and distractions, organized your desk drawers, created a system that works for you, and took time to figure out the proper workspace ergonomics.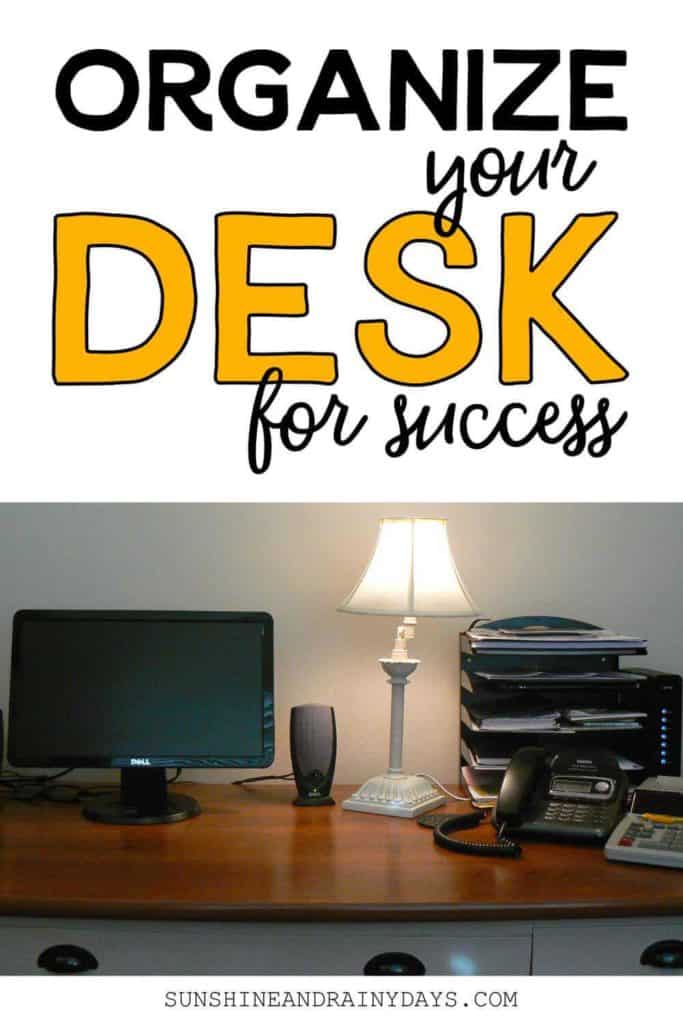 More Home Organization Ideas
The Best Way To Get Organized Once And For All
3 Ways To Organize Teens' Paperwork