It's the last place you go, before you leave the house, and the first place you go, when you arrive home. Everything you need is right there, by the door, so it would make sense to organize the coat closet to work hard for you!
Since we don't wear shoes in the house, the coat closet is the most convenient place for our shoes. They are right there, by the door, where we need them. Each family member has a few designated shelves for shoes and a basket or container for scarves, gloves, and hats. The kids' baskets sit under the shoe section, for easy access.
Tools For An Organized Coat Closet
This post contains affiliate links. When you purchase through an affiliate link, we receive a small commission at no additional cost to you. Disclosure.
Organization System
In order to make your coat closet work hard for you, it starts with an organization system. Our favorite closet system, and the one we have installed in every closet, is easyclosets.com. EasyClosets allows you to enter the dimensions of your closet and it either recommends a system for you or you can design your own. Think about everything you want to fit in the coat closet and design away!
Baskets And Boxes
If you don't have drawers, in your closet, baskets and boxes will come in handy for hats, gloves, scarves, and more!
Hangers
Of course, you will need hangers, to hang your coats, unless your coat closet consists of primarily hooks. We like to use wood hangers, in our coat closet, which gives us a nice uniform look.
Hooks
You may be able to utilize hooks, in your closet, for extra stuff like bags, umbrellas, or the random crutches you might need to keep on hand.
Our closet had a diagonal wall that we wanted to make good use of so we installed wall mounted hook strips. We also used Command Wire Hooks in a few places to make extra good use of our space.
How To Organize Your Closet Space
Clear Your Coat Closet
The first step, to an organized coat closet, is to clear the space. That means you should take everything out of the closet and make a big old mess with it, in the hallway or whatever space is nearby. You'll probably be amazed at everything you were able to fit into your coat closet, as your pile grows.
Remember, you are ready to make your coat closet work hard and a little (or big) mess, for a bit, will be worth the effort.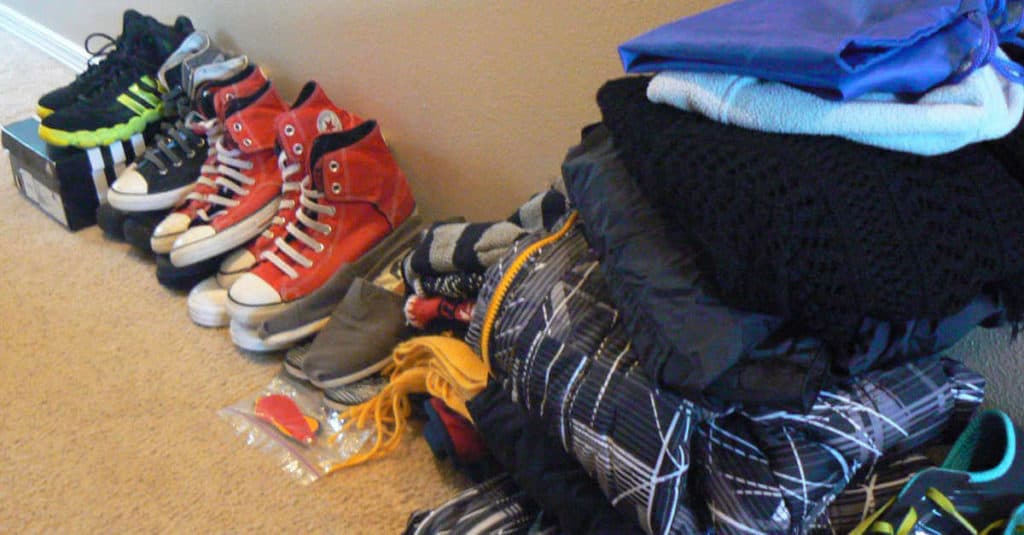 Clean Your Coat Closet
Wipe everything down, vacuum and wipe down the baseboards, and clean the floors. You will want to put your coats back in a clean closet and this is the BEST time to clean it.
Sort Your Coat Closet Items
Now that everything is out of your coat closet, it's time to sort the items, by category. Bags in one pile, coats in another, and shoes in another space. I would even go as far as sorting your coats and shoes by the person they belong to.
In this house, storage was scarce so we fit a lot into each space and had to keep it organized, in order to find the things we needed.
Decide If Any Of Your Sorted Categories Don't Belong In The Coat Closet
Once you have your belongings sorted, you may decide that some of the categories no longer make sense, for this space. Place those items in a box, to return to the home that makes sense for them.
Determine If You Need Additional Storage Containers
Now that you can see the categories that need to fit, neatly, back into your coat closet, you can decide if you need to purchase or reuse containers to help keep the closet organized. These containers can be as simple as a box, with the flaps folded in, and a label on the end or they could be a bit fancier like a basket or wood storage box. I have also been known to use Banker Boxes, for extra storage.
Place Your Smaller Coat Closet Items, Into Containers, By Category
Now that you have the containers you need, be sure to organize, by category, and ONLY put things in the containers that you want to keep. Put the rest in a donate or garage sale box.
Have each family member fill their own container, with the items they want to keep.
We have a basket, for each family member, that stores hats, scarves, and gloves. That way, we each know right where to look, for the things we need.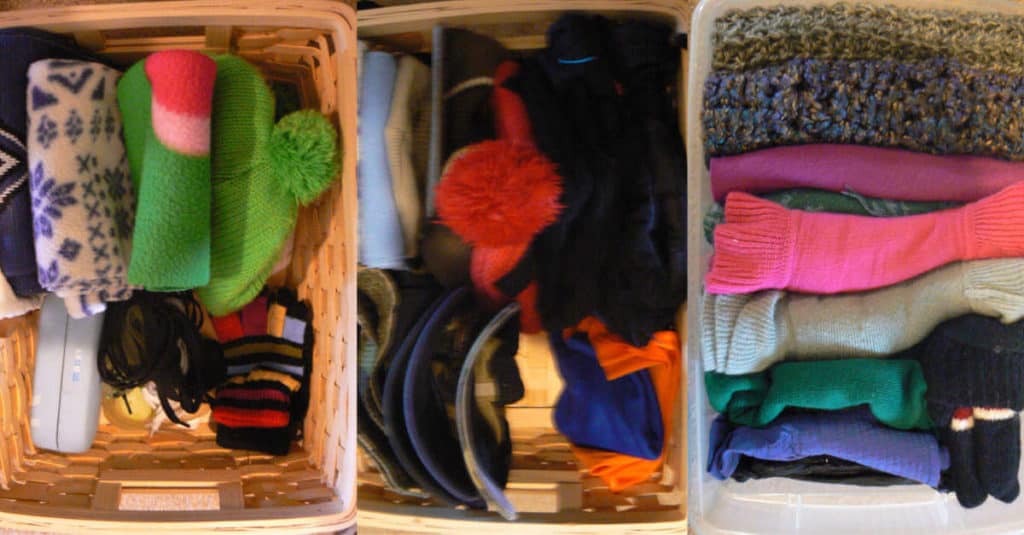 Label Your Containers
You probably have the same style containers, for each family member, so you'll want to be sure to label the containers so they won't have to pull out each container to figure out which one is theirs.
Fill Your Space
Now it's time to put the puzzle pieces together and figure out the best spot for each item. This is important! You will want to place things within easy reach, keeping the coats, shoes, and accessories, you use most, in the easiest spot to grab.
That will mean that if you have little kids, their shoes and coats should be placed on lower shelves and hanging rods so they can easily reach them, themselves.
This is also a good time to have each family member try on their shoes, before putting them on the shelf, and try on their coats, before hanging them, in their designated spot.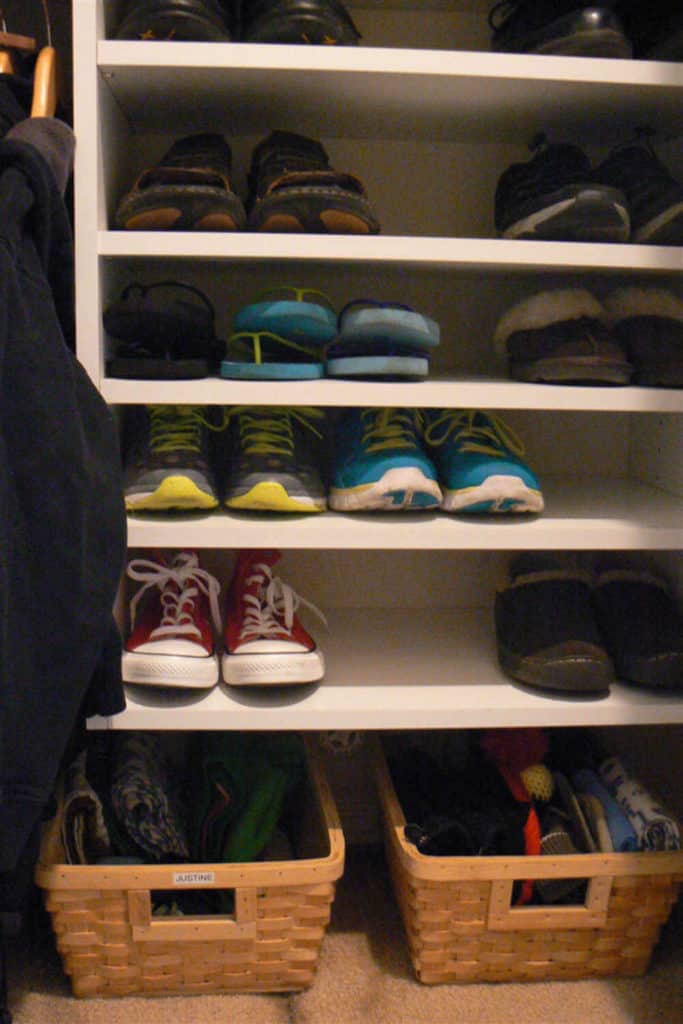 Steve and I each have our own area for hanging coats and Justine and Jack share. We use wood hangers in the coat closet. The top shelf is utilized for extra bags and purses as well as snow boots and snow suits. Hooks on the slanted wall hold the hubbie's hats, bags, umbrellas, etc. We even have room for storing crutches and a cane using Command Wire Hooks. The vacuum cleaner sits just under the hubbie's coats.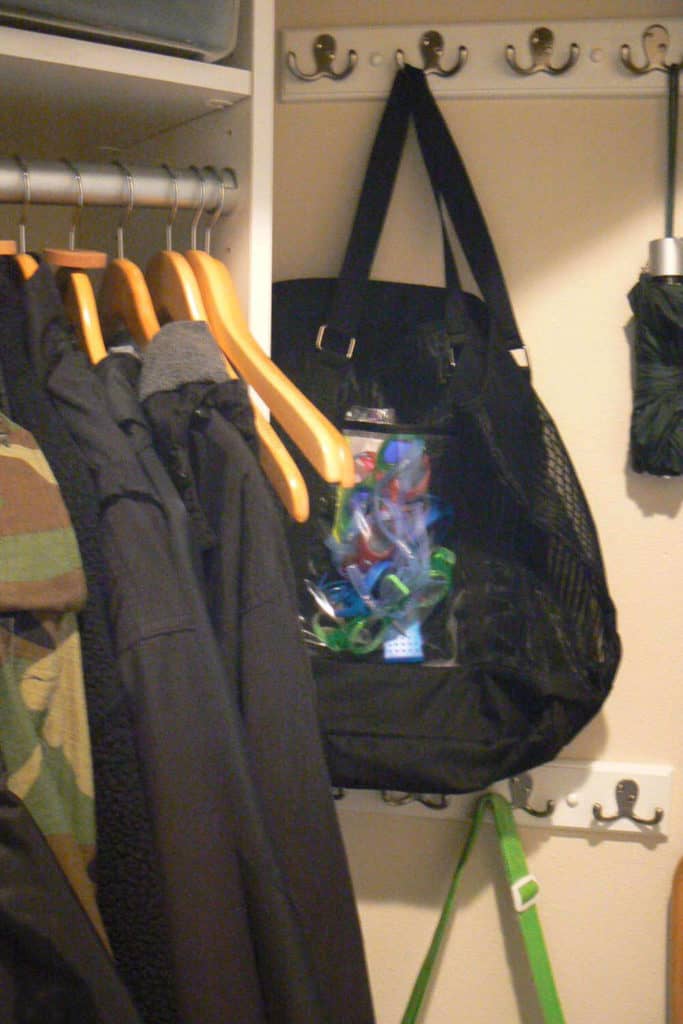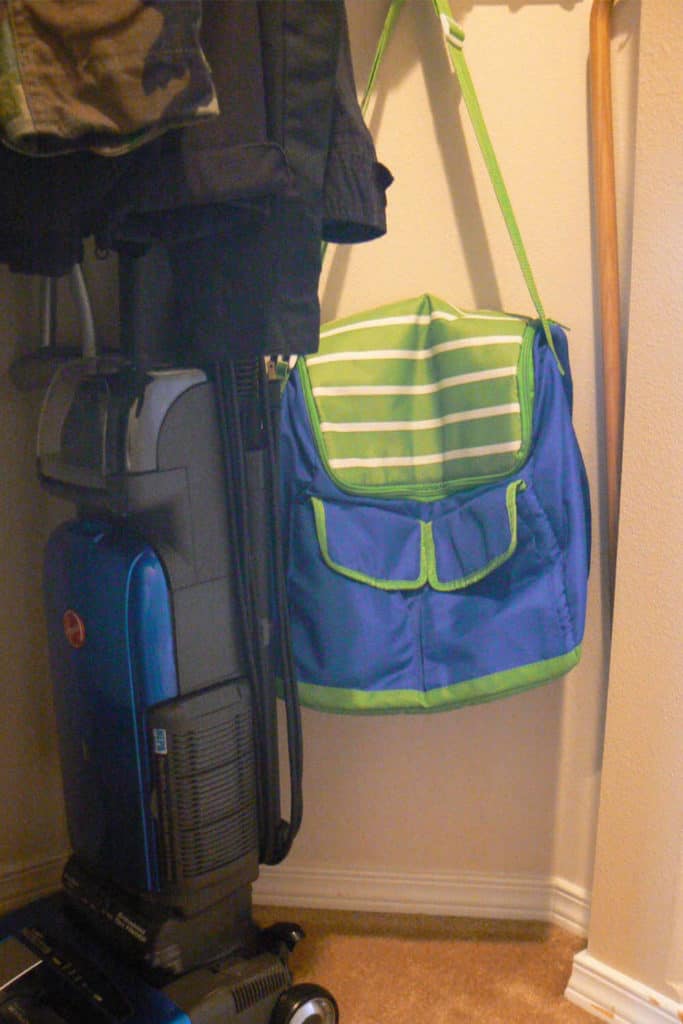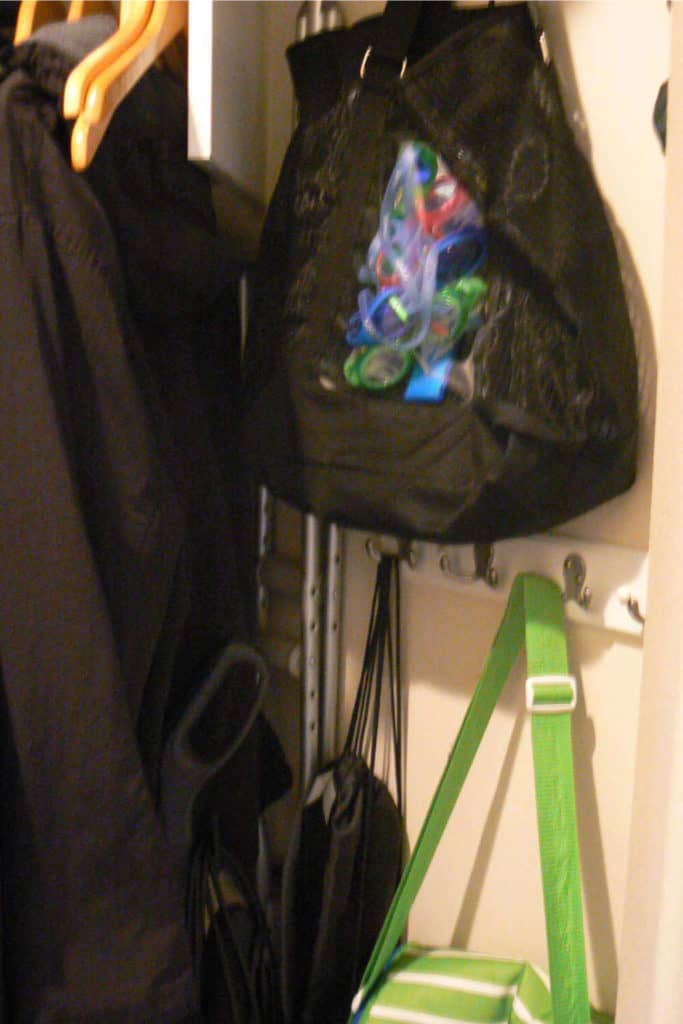 It's amazing how much you can get a coat closet to hold when you take time to use the right tools, to organize your space.
---
If you live in and enjoy your home, organizing is like a revolving door. By the time you get to the last closet in your house, it's probably time to tackle the first one again. You're never completely done. Closets need a little spiffing up here and there, however, the spiffing up is soooo much easier, when systems are in place!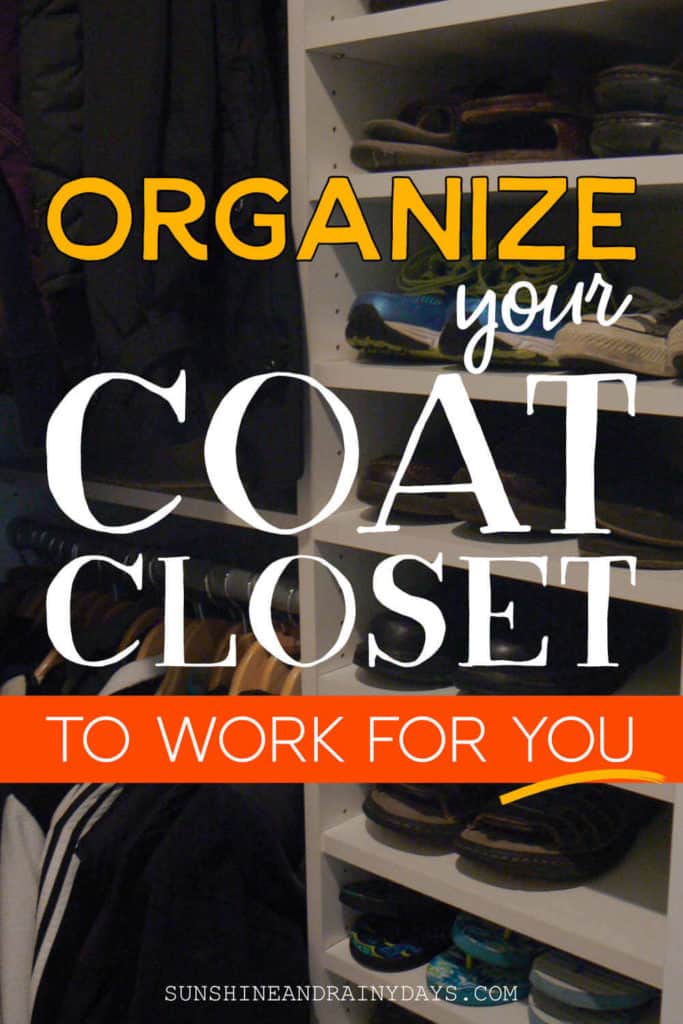 More Organizing Ideas
How To Organize Household Manuals