When sleep evades you, it may be time to start a Sleep Diary so you can look for clues of what's keeping you from getting a good night's rest.
What is the purpose of using a sleep diary?
According to the Mayo Clinic, 3 in 10 US adults don't get enough sleep. When sleep becomes an issue, it may be time to start a Sleep Diary so you can pinpoint what might be causing sleep disturbances or report your night wake up times to your doctor.
A Sleep Diary will:
Encourage you to pay attention to your sleep habits.
Allow you to see if there are patterns you can change, to improve your sleep.
Make you care about your sleep quality and work toward good sleep.
Give your doctor clues on how to help you get to a better night's sleep.
Let you monitor if the changes you make are effective.
What should be included in a sleep diary?
The following suggestions will give you a great start to being your own sleep sleuth!
How Long I Exercised
My Mood Today
Time Of Last Food Intake
The Hour Before Bed I …
Time I Went To Bed
Time I Fell Asleep (Estimated)
What Helped Me Get To Sleep
Falling Asleep Was Easy, Okay, Or Difficult
Night Wake Up Time
Cause Of Waking Up
I Got Out Of Bed At
I Went Back To Bed At
Morning Wake Up Time
Time I Got Out Of Bed
Actual Sleep Time
Actual Time In Bed
Rate Your Sleep Quality
Morning Mood
Notes
When should you fill out the sleep journal?
If you are consistently having sleep issues, it's time to break out the pen and paper to record what's actually happening during your nighttime hours.
The sleep journal should be filled out when the answers are fresh in your mind. Fill out your day time activities before you go to bed and then fill out the rest as soon as you wake up.
Get Your Sleep Diary Here
Your sleep is important! It's worth it to take the time to figure out why your sleep is disrupted and work to find remedies to help you gain a better night's rest.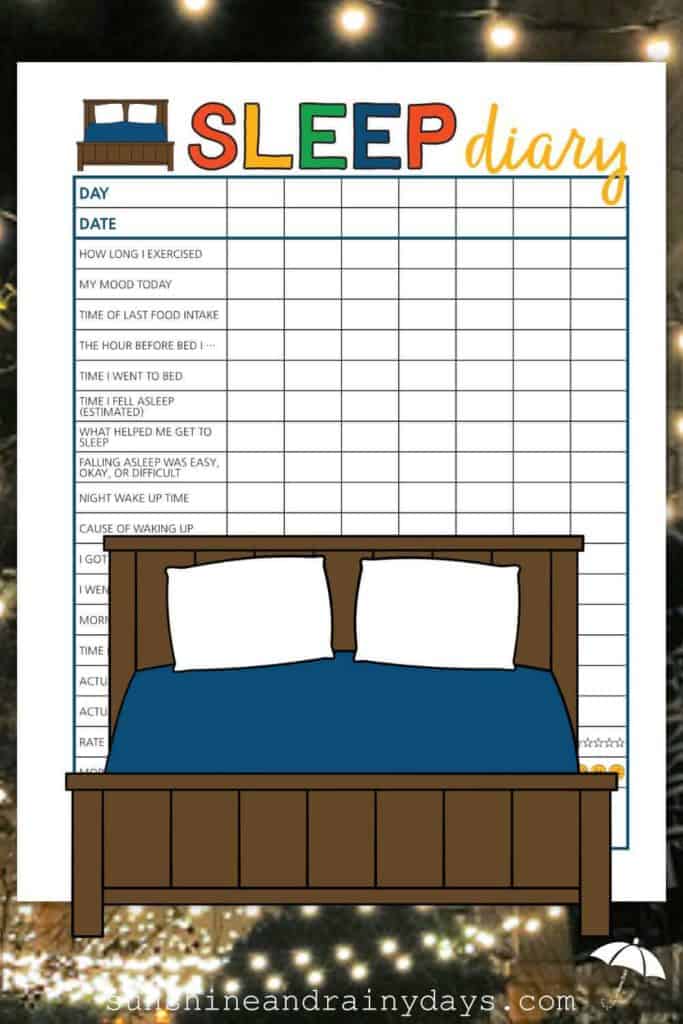 More Medical Printables