My son had a funny spot on his leg. I checked to see when his next dermatology appointment was scheduled only to discover he hadn't been to the dermatologist in over two years! Ugh!
I realize my dismay probably seems silly to most of you. What's the big deal? The big deal is I have a history of malignant melanoma which can be hereditary. We are on a schedule for the kids to see their dermatologist at least once a year, in order to catch questionable moles, early.
Had I kept track of Jack's dermatology appointments myself, rather than relying on the dermatologist's automatic reminders, this would not have happened.
With the Doctor Appointments Printable, there is no need to call the doctor's office to see when your last appointment was. You have the information you need right in your very own Medical Binder!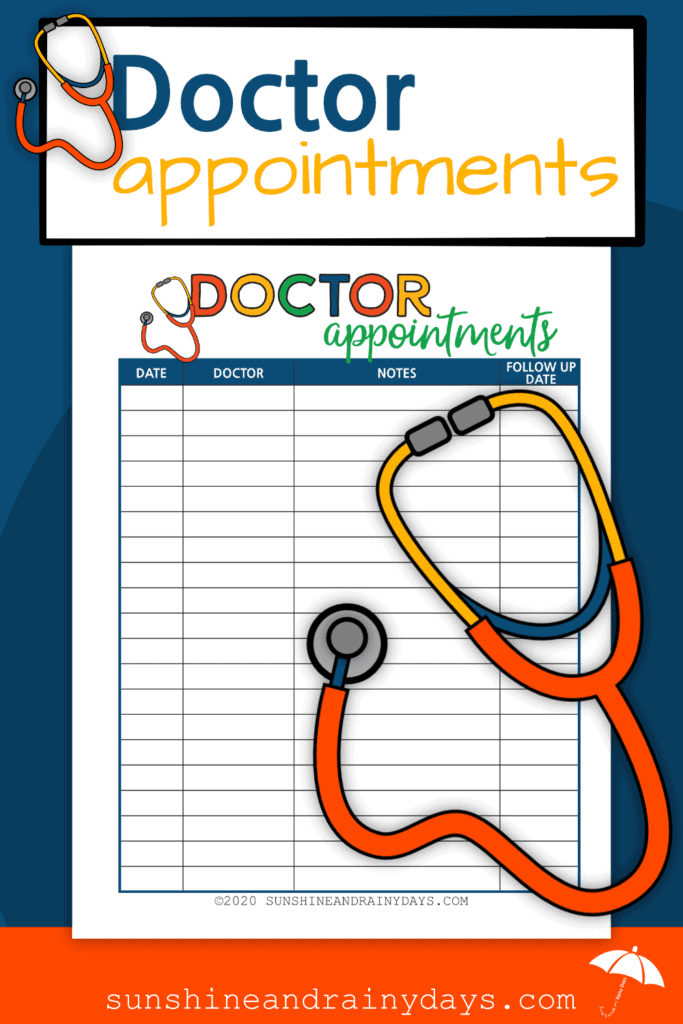 Benefits of Using the Doctor Appointments Free Printable
Quickly see the last time you visited your doctor.
Provides a place to jot a quick note about your doctor visit.
Lets you know when a follow up appointment is recommended.
Fits nicely in your Medical Binder!
How to Use the Doctor Appointments Free Printable
Each time you visit the doctor, write the date, doctor's name, a quick note, and the doctor's suggested follow up date.
You may use one sheet for all your doctor appointments or print multiple sheets for each doctor you see.
Refer to your Doctor Appointments log often to ensure you are staying on track!
We were able to get an emergency dermatology appointment, for Jack, the following week. That's no easy task with most dermatologists. They did a biopsy of the funny spot on his leg and, thankfully, two weeks later we found out we were in the clear! Whew!
I've learned my lesson and I'm keeping track of Jack's Doctor Appointments from now on!
Get Your Doctor Appointments Printable Here
More Medical Binder Printables